Salsa Timberjack Review
Salsa's Timberjack line of mid-range hardtail MTB trail bikes is aimed at intermediate trail riders and long-distance bikepackers.
They all feature relaxed frame geometry, dropper seat posts, and front suspension with 130mm travel. The popular range is back with some updated specs, colorways, and graphics.
The aluminum bikes keep the same frame geometry as before, with the awesome alternator dropout, XS to XL sizes, and 29" or 650b wheels selection.
---
Jump To
Availability / FAQ / Conclusions / Size
---
Salsa Timberjack Deore
27.5″ + / 29″
MSRP $1,249 / SR Suntour XCR 34: 130mm / 10-speed / Shimano MT201 hydro disc brakes / TranzX seat dropper-post
This hardtail MTB is the aluminum entry-level bike of the Timberjack range, with an SR Suntour XCR 34 Air fork and 2.8" WTB Ranger tires. It's a great bike for tackling tough singletrack or gravel trails and comes with a Tranz-X dropper seat post for any steep downhills. Shimano provides an 11-speed Deore drivetrain and its MT201 hydraulic disc brakes.
SR Suntour XCR 34 – Lockout, rebound, preload adjustable
Shimano Deore – Shifters, Rear Derailleur, Cassette
Crankset: Race Face Ride, 30T
Chain: Shimano HG54
The Salsa Timberjack Deore 29 is a decent entry-level hardtail mountain bike with some nice additions like the dropper seat post. However, it loses a few points on certain components like the heavy fork and average tires.
---
Salsa Timberjack SLX
27.5″ / 29″
MSRP $1,699
Fork: RockShox Recon RL: 130mm travel
12-speed
MT401 Hydraulic Disc Brakes
Dropper Seat-Post
The Salsa Timberjack SLX 27.5 inch hardtail has a blended 6066 and 6061 aluminum frame with 130mm RockShox Recon RL front suspension and a dropper seat post. The integrated Alternator Dropout allows easy changing between QR, thru-axle, freehub, or Rohloff gearing systems.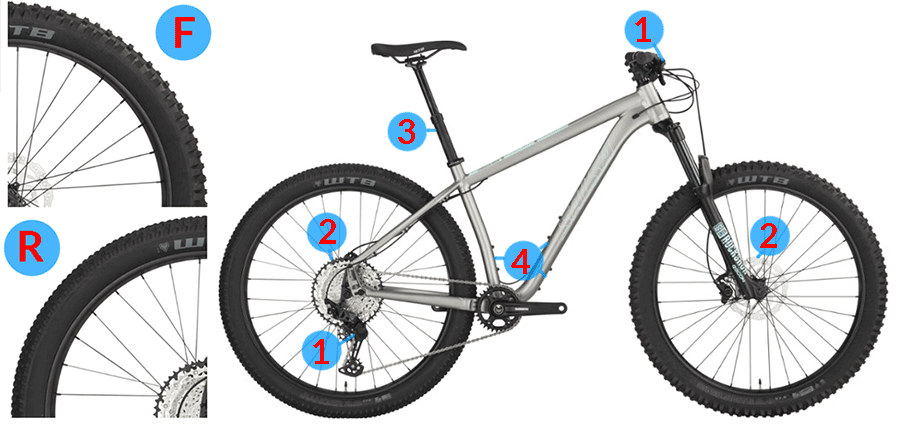 Front Tire: WTB Vigilante TCS
Rear Tire: Ranger TCS
1. Shimano SLX Shifters and rear derailleur
2. MT401 Hydraulic disc brakes
180mm rotors – Front
160mm rotors – Rear
3. Dropper post
4. Three bottle cage options options
Frame: Timberjack Aluminum 6061 Butted
Crankset: Shimano MT610, 32T
Chain:
Shimano provides the 11-speed SLX drivetrain with MT400 hydraulic disc brakes and on the wheels are WTB rims and 27.5 x 2.8" tires (29" also available). The Salsa Timberjack 27.5 SLX is a quality off-road machine and although it lacks dual suspension, it can certainly hold its own on rocky downhill trails.
---
Timberjack XT
27.5″ / 29″
MSRP $1,999
RockShox Sector RL 130mm
12 gears
MT501 disc brakes
Dropper seat post
The Salsa Timberjack 29 XT is a notable step up on the Timberjack range, with Shimano MT hubs on WTB STi i29 rims, an FSA Orbit headset, and quality WTB Trail Boss 2.6" tires. The hardtail XT features Salsa's blended aluminum triple-butted frame and RockShox Sektor RL front suspension with 130mm travel.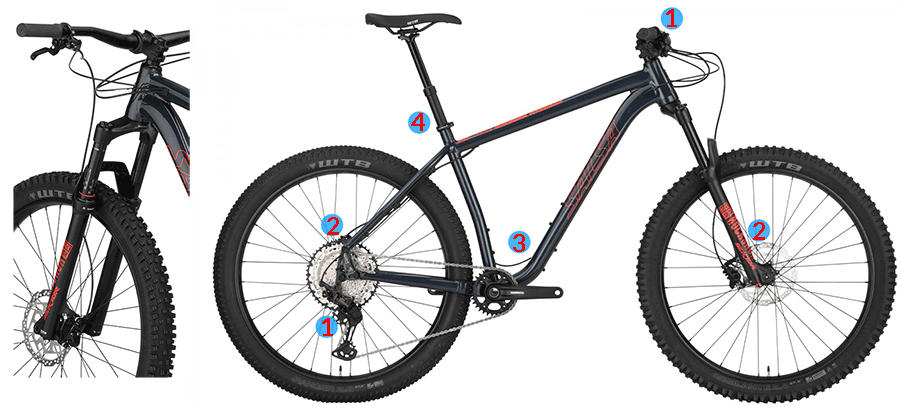 RockShox Sector RL – Offers a coil-like consistent feel throughout the travel. Proven Motion Control – Compression / rebound adjustments.
Shimano XT Shifters & rear derailleur
Shimano MT501 Hydro Disc Brakes – 180mm front/160mm rear rotors.
Multiple bottle cage holders
TranzX dropper seat post
Frame: TimberJack Aluminum
Crankset: Shimano MT610, 32T
Chain: Shimano SLX
Wheels & Tires
29″
WTB ST i29 TCS 2.0 Rims
TIRES – 29″ x 2.6″ WTB Trail BOSS G2 TCS – Light/Fast Rolling
27.5″
WTB ST TCS 2.0 Rims
TIRES – TCS Light/High Grip
FRONT 27.5 x 2.8″ – WTB 27.5 x 2.8″ Vigilante TCS
REAR 27.5 – 2.8″ – Ranger TCS
It's a quality ride and you can definitely feel the difference from the upgraded components, especially the Shimano XT shifters and rear derailleur. The cassette is a 12-speed SLX with a single 32t front cog.
---
Timberjack NX Eagle
27.5″ / 29″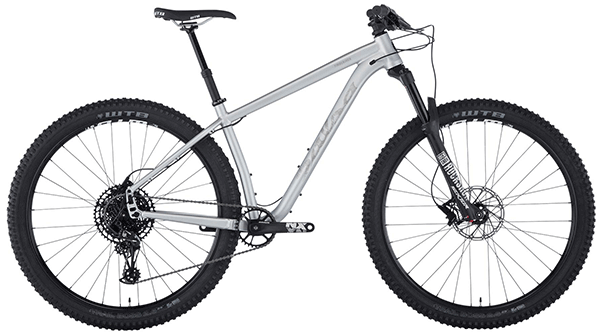 MSRP $1,999
RockShox Sektor RL: 130mm
12 gears
SRAM Level hydraulic disc brakes
TransX dropper seat post
For SRAM fans, Salsa has also released an NX Eagle version of its hardtail Timberjack. The Salsa Timberjack Eagle has a 12-speed SRAM NX Eagle drive chain with SRAM hydraulic disc brakes and an Eagle PS 32t front cog.
It's a significant upgrade from the 2018 model Salsa Timberjack NX1, with far superior WTB ST i29 rims and Trail Boss 29 x 2.6" fast-rolling tires (27.5" also available). It also has Salsa's blended aluminum frame with Alternator Dropout and the convenient TranzX dropper seat post.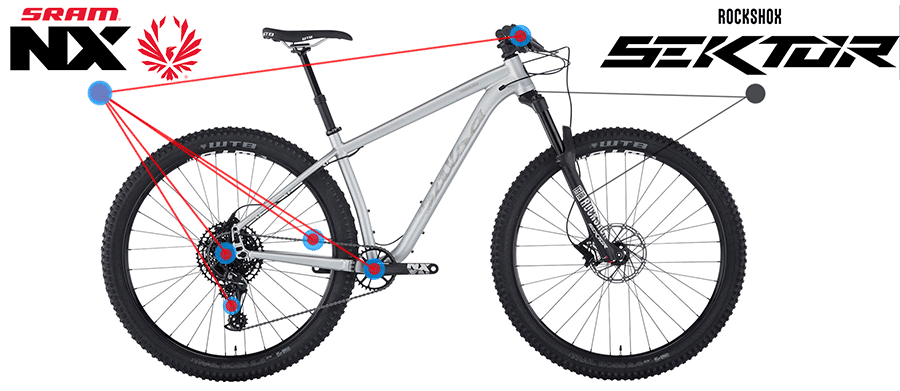 SRAM NX Eagle groupset
– Rear derailleur
– Cassette
– Chain
– Crankset
– Shifters
2.6″ wide tires
Rack friendly
Multiple bottle cage mounts (x3)
Internal cable routing
Alternator Dropout versatility
Weight: Approx. 30lbs (Md frame)
---
Salsa Timberjack Frame
Versatile Salsa Timberjack Alternator Dropouts – Compatible with single speed, geared, QR or thru-axle, freehub or Rohloff
MSRP $449 / XS-SM-MD-LG-XL
100-130mm suspension
420-437mm chainstays
135mm QR – 142mm thru-axle – BOOST-148
Dropper-post compatible
Weight: 4lb 12oz
6066-T6 & 6061 Aluminum frameset
6066-T6 double & triple-butted tubing to the main triangle with 6061-T6 chain and seat stays. – Light, responsive, and durable which creates a superb trail feel.
Salsa Timberjack Geometry – Longer top tube, a shorter stem for a consistent front-end control.
420-437mm chainstay makes it an extremely agile trail bike
Designed around 120mm travel suspension fork (51mm offset) – 100-130mm compatible
Wheel compatibility:
27.5″ x 2.8″ – 27.5″ x 3.0″
29″ x 2.6″
Bottle Cage Compatibility
XS – 2x bottle cages
M/L/XL – 3x bottle cage
Dropper Post Compatible – Full-length internal cable housing offers great performance in poor conditions and reduces maintenance intervals
Headset: Cane Creek 10
---
Salsa Timberjack TI Frame
Titanium
MSRP $2,449 / XS-SM-MD-LG-XL
The Timberjack hardtail mountain bike frame, made from custom titanium. Designed with a fast-handling geometry to put the rider in a confident inspiring position, ready for off-road. The Timberjack frame features super short chainstays for agility and Alternator dropout plates that accommodate multiple hubs, wheel, and tire configurations.
3/2.5 Seamless triple-butted titanium tubing, offering appropriate stiffness and compliance for a fantastic ride quality
Suspension fork compatible, designed around a 130mm travel (51 mm offset) suspension fork or Salsa's Firestarter carbon fork
Alternator dropouts support chainstay lengths from 420mm to 437mm long
Full-length housing internal cable routing
Internal dropper post compatible
Clearance for 27.5+ x 3.0" or 29 x 2.6" tires
---
Timberjack 20 – 24 SUS Plus
MSRP $449 – $549
8-speed
Rigid/SR Suntour XCM – 60mm travel
20″ x 3″ – 24″ x 3″ tires
Mechanical disc brakes
Salsa has also put together a decent kids range of its Timberjack MTBs, with 20 and 24" suspension and solid fork versions.
The tiny solid fork Timberjack 20" is ideal for first-time MTB riders, with 20×3" tires, 8-speed Shimano Altus gears, and WTB i35 rims. The 24" version has mostly similar specs with slightly larger tires for older riders from 4'7 to 5'2" in height. Both bikes have aluminum frames and Promax mechanical disc brakes.
The front suspension versions of the Timberjack kids' range include an SR Suntour XCT fork. This helps flatten out any pumps and get kids used to the feel of a hardtail mountain bike.
6061-T6 aluminum heat-treated frame
3″ plus-sized tires
Shimano Tourney Revo shifters
Promax mechanical brakes with 160mm (Front) – 140mm (rear) rotors
Salsa Timberjack 20″
For kids 4'1″ – 4'9″
20″ – MSRP $449 Rigid fork, 20″ x 3″ tires, 160-140mm rotors 4'1″ – 4'9″
20″ SUS – MSRP $549 Suntour XCT fork
AVAILABILITY
Salsa Timberjack 24″
For kids 4'7″ – 5'2″
24″ – MSRP $509 Rigid fork, 24″ x 3″ tires
24″ SUS – MSRP $549 Suntour XCM fork, 24″ x 3″ tires
AVAILABILITY
24″ Aventuron >
24″ Salsa >
---
FAQ
What Size Timberjack to get?
Salsa bikes size recommendations
XS – 5'2″ – 5'6″ / 157cm – 168cm
SM 5'3″ – 5'9″ / 160-175cm
MD 5'8″ – 6'0″ / 173-183cm
LG 5'11" – 6'3″ / 180-191cm
XL 6'2″ + / 188cm+
Salsa Timberjack vs Trek Roscoe
The closest you could get to the Timberjack series is the Roscoe series by Trek.
To get an idea of the Timberjack's value, we've compared it with the similarly priced and spec'd Trek Roscoe.
The 2020 Trek Roscoe 8 hardtail MTB comes in at just under $1,800, similar to the Timberjack SLX. Let's look at the parts:
Part
Trek Roscoe 8
Timberjack SLX
Drivetrain
SRAM NX Eagle 12sp
Shimano SLX 11sp
Fork
RockShox 35 – 120mm
RockShox Recon – 130mm
Frame
Aluminum
Brakes
Shimano MT501 hydro disc
Shimano MT400 hydro disc
Rims
Bontrager Line 40
WTB ST i40 TCS
Weight
32lbs / 14.6kg
30lbs / 13.7kg
As you can see, the bikes are very similarly specced and it might come down to simply a preference for SRAM over Shimano. Overall, the Roscoe 8 does have a slightly better finish with some nice touches on the small components but it is a bit heavier and more expensive.
Other similar hardtails:
Does the bike come with pedals?
Salsa Timberjack series bikes do not come with pedals, but Aventuron has created a special category for that!
How to maintain the Alternator Dropouts?
Salsa cycles recommend removing the bolts and cleaning the dirt and grime off the hardware periodically. When putting it back together, re-grease (not oil!) the threaded parts.
Conclusion
Salsa's Timberjack bikes come in at slightly above the average cost for hardtail MTBs but are built by a well-established, trusted brand and benefit from top-quality components. These bikes are clearly designed for dedicated trail riders or adventurous bikepackers who demand quality over savings.
On the cheaper models, the only downside could be the slightly heavy forks so if you are considering a Timberjack, I would recommend forking out the extra cash and getting the XT or NX. You won't regret it.
Where to Buy Salsa Timberjack?
Buy from Aventuron Buy from REI