Yeti ARC — The King of Hardtail Mountain Bikes

The mountain biking scene has seen some major upgrades in the past 5-10 years, especially in the full-suspension division. Today, carbon and full-suspension mountain bikes dominate the market, but it is the hardtail mountain biking where it all once started out.
If you are interested to learn about one of the most iconic, most legendary hardtail mountain bikes around—the Yeti ARC—take a look.
Down below we'll discuss why the ARC is still one of the greatest bikes out there.
Yeti ARC Review
---
Yeti ARC is a performance 29er carbon hardtail, built for either competing or for experienced athletes. The 130mm fork gives the impression of a trail or cross-country bike but don't be fooled – this bike can take on gnarly downhill sections surprisingly well. By using your legs for the rear suspension rather than a shock, you get better control and handling at speed.
After halting production in 2016, Yeti bikes has now re-released the ARC for its 35th anniversary, celebrating over three decades of race-winning hardtail MTBs. Besides the $10,000 35th anniversary edition build, you can also choose from five different builds ranging from $3,600 to $6,900 in price.
What is so special about the ARC?
The Yeti ARC is a hardtail carbon fiber mountain bike, built on one of the lightest yet stiffest TURQ series frames. The ARC has had a legendary run in the past, and the latest model has seen various upgrades after the 4-year manufacturing pause.
The prices of the Yeti ARC start from $1,900 for the frame only and $3,600 for complete builds.
No doubt that there is a more suitable bike out there to increase and meet your limits. The ARC is Yeti's only current hardtail, and there's a lot to expect from such a prestigious brand. Not to sound too biased, but we must warn you that the bike is suitable for perfectionists who take no exceptions on quality.
Even their entry-level C3 TURQ carbon boasts a finely tuned and well-blended mixture of specially picked components that have passed the initial 'trial and error phase'. The Yeti ARC history dates way back to 1993 when the early ARC models hit speeds of 60mph on Kamikaze DH events.
Why a hardtail mountain bike instead of a full suspension?
Although hardtail mountain biking is where it all started out, there is still a league of die-hard hardtail fans for a good reason. There's literally no other bike to tackle those specific trails where you'd need as little give to the bike as possible.
That being said, the geometry of the carbon ARC is best-suited for such playgrounds, and it is one of the top recommendations one could ask for.
The responsiveness of picking sharp and direct lines on demanding trails is only achieved by a hardtail MTB and you simply can't compare a sporty hardtail to any other bike on some specific trails – whether it is the 20ft gaps or bombing down a rutted trail, the ARC is built to hit demanding lines with the speed of a 29er.
We are not going to dwell on the ease of climbing, instead, hardtails are preferred by riders who like to stand on their feet and control the beast with little to no give when going down the line, fast!
The aggro characteristics don't stop there as the 130mm front travel for a hardtail is a bold statement. Add the fact that it is made by Yeti, you are guaranteed to be a top-line performance-focused beast in your control.
Yeti ARC Geometry
---
Trail spec, All-mountain ready
Headtube: 67°
Seat Tube: 76
Chainstays: 431mm
Front travel: 130mm
29×2.6″ (Clearance of up to 29×2.8″)
The new Yeti ARC incorporates modern geometry to keep in line with emerging trends in the trail and XC mountain biking. The relaxed 67° headtube angle is just steep enough for the best pedal efficiency, while an effective 76° seat tube angle is steep enough for aggressive riding.
At 431mm, the chainstays create a suitably balanced ratio of handling and comfort, putting the rider in a better position of control over the rear wheel. The lowered 310mm bottom bracket also helps to provide more stability at speed, solidifying the ARC's trailblazing personality.
With a lightweight carbon frame and no rear suspension, the Yeti ARC Hardtail weighs between 24 to 26.6 lbs (10.8 – 12kg). While not as light as some top-range carbon racing MTBs, this remains an impressive weight for a bike in its spec range. Unlike its predecessors, this anniversary edition Yeti ARC is designed as a limited-edition tribute, with fun in mind rather than a podium-winning, weight-watching design.
There are only 100 of the anniversary edition Yeti ARC's available in the traditional turquoise and yellow color. You can also get the standard edition in raw carbon, and blue turquoise mix with five different build models. Sizes include Small, Medium, Large, and Extra large.
29″ Maxxis tires
The Yeti ARC features 29×2.6″ Maxxis Minion DHF tires on the front & 29×2.6″ Maxxis Rekon on the rear. The combination gives you the best grip upfront while providing additional surface contact on the rear for more speed.
Yeti ARC Size Chart
---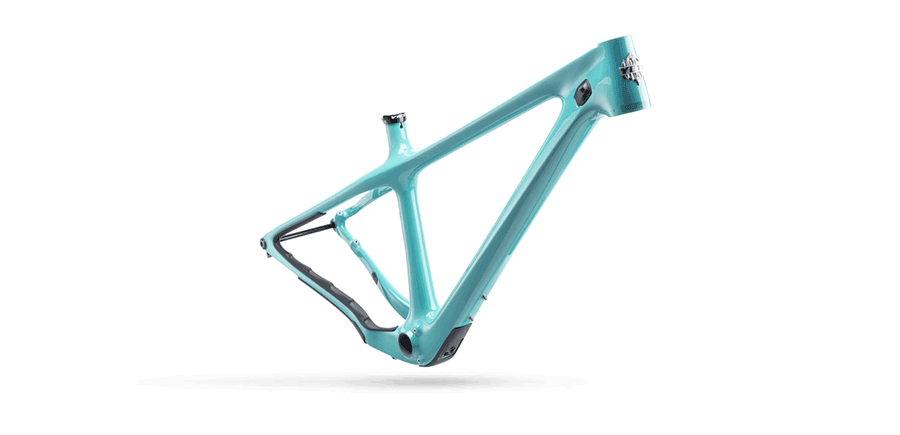 Luckily, choosing the correct frame size when buying Yeti ARC is super easy, thanks to the detailed size and geometry charts provided by Yeti.
S – 5'1″ – 5'7″ – [155 – 171cm]
M – 5'5″ – 5'11" – [165 – 180cm]
L – 5'10" – 6'3″ – [178 – 192cm]
XL – 6'1″ – 6'7″ – [186 – 200cm]
FAQ
---
What is the Yeti ARC?
Yeti ARC is a performance 29er carbon hardtail mountain bike.
Built for either competing, or for experienced athletic mountain bikers who are looking for a top-shelf hardtail made by a boutique mountain bike brand.
What does the Yeti ARC stand for?
Yeti ARC stands for Alloy Racing Composites and refers to the frame materials used to build the first ARC series bikes.
TURQ series carbon
The new Yeti ARC hardtail comes with several build kits, all of which use either standard carbon or TURQ carbon fiber frames and Fox 34 forks. The carbon fiber frames feature press-fit bottom brackets, internal cable routing, BOOST dropouts, and integrated derailleur hangers. You can also get two standard C1 or C2 carbon frame builds at a reduced price.
Why get a 130mm travel hardtail?
130mm of travel is relatively long for a hardtail bike, which offers certain benefits but also disadvantages. Naturally, you can attack larger drops with less chance of bottoming out but this also means you need the skill to take the impact on the back wheel. For this reason, a hardtail bike with 130mm of travel is aimed at a more professional level of riders with a decent amount of experience.
Why 29 instead of 27.5?
MTBs with 29″ wheels are designed to handle better at faster speeds, while 27.5″ bikes are more agile. If you are planning to do tricks or navigate down a tight, complex course, 27.5″ wheels could be better. However, for flat-out speed over rough terrain, 29″ wheels will provide a better experience.
JensonUSA.com