Rad Power Bikes RadCity 4 Review — Commuter Ebike with Great Accessories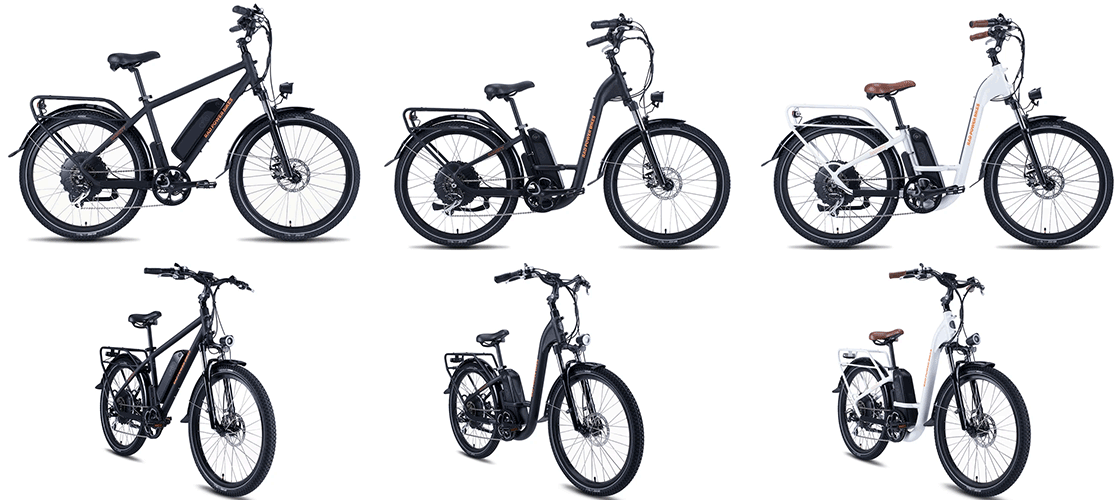 The RadCity 4 is a powerful city commuter with a comfortable upright seating position, thick puncture-resistant tires, front and rear lights, and a luggage rack on the back. It's the perfect bike to hop on and get going straight out the box.
The 750W pedal-assist motor will push you along at a decent 20mph (20km/h), helping you to get around town without breaking a sweat. The long-lasting battery will take you up to 45 miles on one charge and can be conveniently removed to charge indoors overnight.
RadCity 4 Quick Specs
Price: $1,599
Pedal & throttle assistance up to 20mph – Class 2 eBike
Range: up to 45+mi per charge
Max Capacity – 275 lb
7-Speeds, Shimano Acera drivetrain
26×2.3″ puncture-resistant tires, With a reflective sidewall
750W Direct Motor, Brushless direct-drive with regenerative freewheel
48V, 14 Ah Lithium-Ion Battery
100mm suspension fork, Coil-suspension
Integrated lights, rear rack, fenders, a kickstand
180mm rotor mechanical disc brakes
RadCity Size Recommendations
RadCity 16″ – 5'4″ – 5'11"
RadCity 19" – 6′ – 6'6″
---
1

. Rad Power Bikes – RadCity 4 Review
Tech Specs
---
The RadCity 4 runs a 750W Shengyi Direct Drive Hub Motor which provides up to 40 Nm of torque and features regenerative braking.
The pedal-assist motor offers 5 varying degrees of assistance controlled by a convenient Twist Grip throttle on the handlebar. To save battery, you can lower the assistance level and push harder on the pedals.
The integrated rear rack is welded from strong 16mm tubing and can hold up to 60lbs (27kg) of luggage. It fits all commonly available clip-on pannier bags and fits several other RadPower accessories.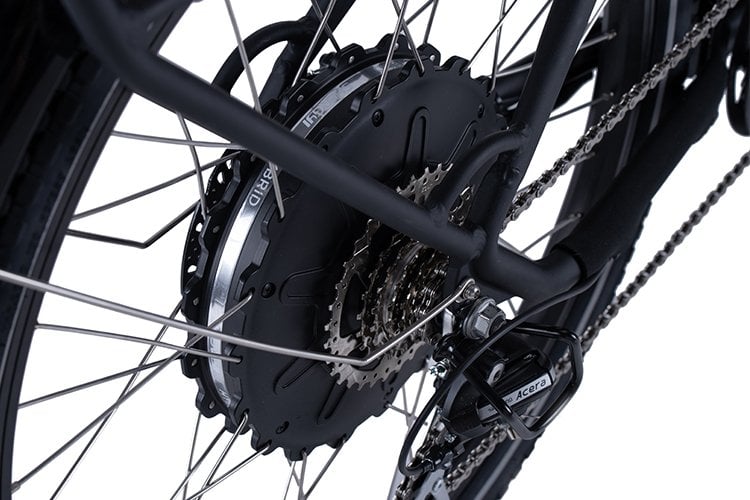 Complete 45 miles or more of effortless cycling every day with a single charge of the battery which also powers a handlebar-mounted, backlit LCD display. Pop it out and charge it overnight with a supplied 2A smart charger that runs off standard 100-240V AC power outlets.
For instant stopping power, you get Tektro mechanical disc brakes with 180mm rotors, providing more than enough grip to stop you in any weather conditions.
With a tough aluminum frame capable of carrying a payload capacity of 275lbs (125kg), you should easily be able to carry yourself and as much luggage as you can handle.
Electronics
---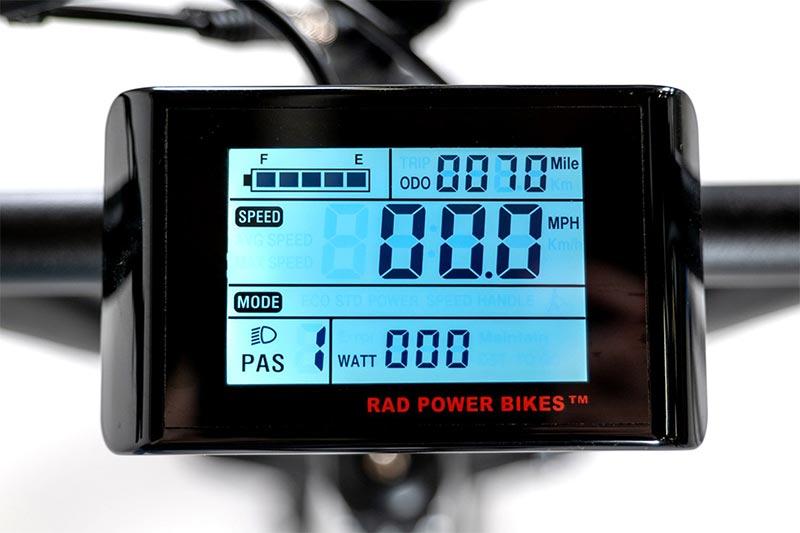 The rear hub motor is powered by a 672 Wh Samsung Lithium NMC Battery that can be removed and taken indoors to charge overnight. While attached to the bike it is secured by a keylock so that it cannot be stolen while parked.
The battery should last most cyclists an entire day of riding around town, typically covering up to 45 miles or more from a single charge. The battery also powers the front and rear lights plus the LCD Display which shows your speedometer, odometer, trip, watts, and pedal-assist level.
The RadCity 4 uses a Half Twist Throttle on the right handlebar grip so you could use this bike as a throttle-only. This allows you to easily increase the power without pedaling.
Front and rear LED lights are included for night riding, with a lever-activated brake light on the rear for extra safety. All wiring and connectors are water-resistant and you even get a useful 5V USB port on the display.
Frame and Geometry
---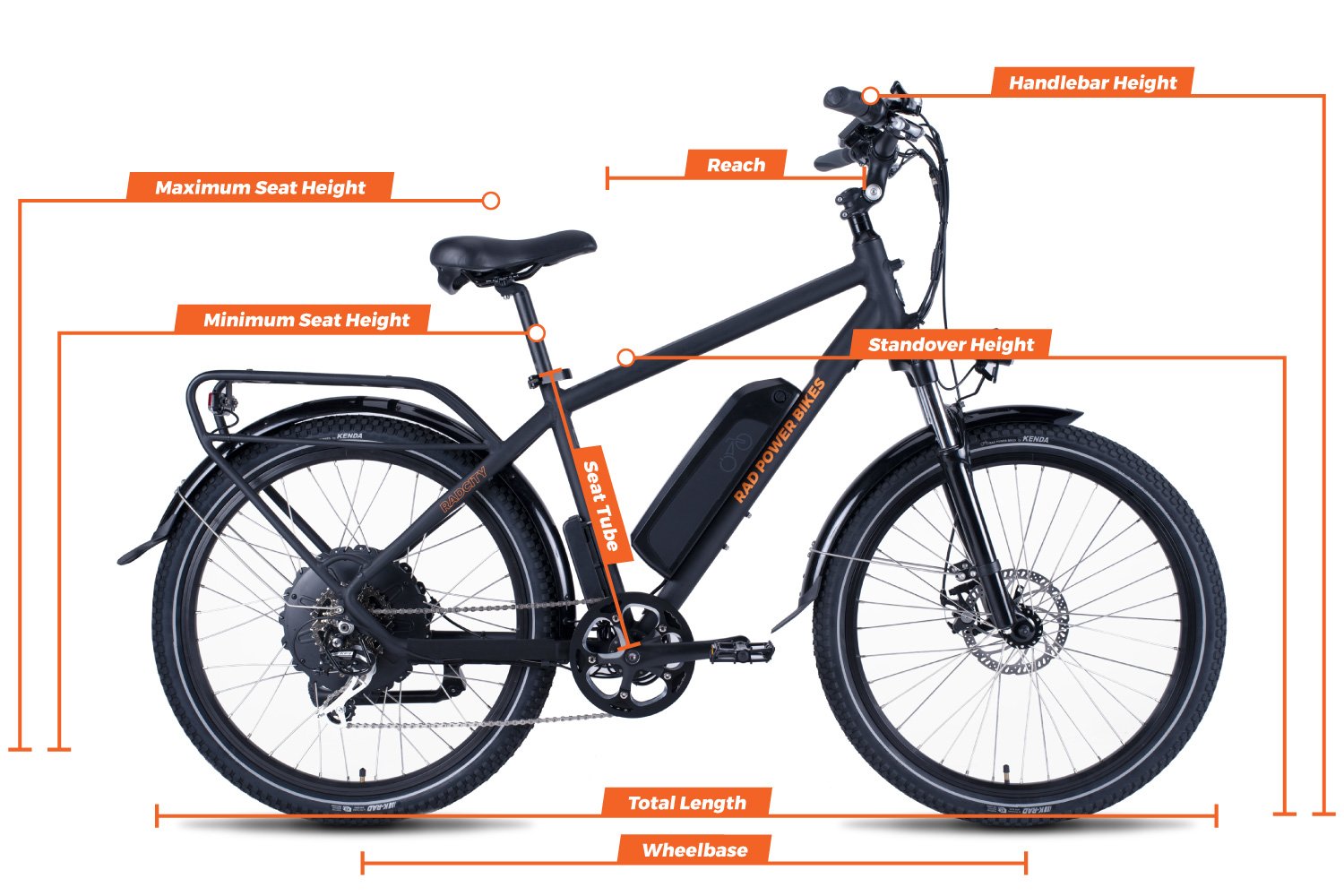 Unlike the previous RadCity which had both 16″ and 19″ versions, the new 4th-generation RadCity only comes in one size – 18.5″. However, it is very versatile with highly adjustable handlebars and a telescoping seat post, fitting riders between 5'11" and 6'5″.
The standover height on the standard version is 31″ with a seat height of 28″ – 37″. This means anyone with a leg length of about 2'3″ should be able to reach the ground while seated. There is also a step-through version for shorter riders.
The full length of the bike is 70″ across with a 43″ wheelbase and 14.5″ handlebar reach. The handlebars can be slightly adjusted for either a more upright or aerodynamic posture.
The frame is built from strong 6061 aluminum and features a front suspension with 100mm of travel, perfect for hopping curbs and bouncing over debris. You also get a heavy-duty kickstand, plastic fenders, and a 7-speed Shimano Altus drivetrain for gearing adjustments.
All this means the bike weighs a relatively heavy 64lbs (30kg) so it's lucky it has such a strong motor to help you along.
Wheels, Tires and Braking
---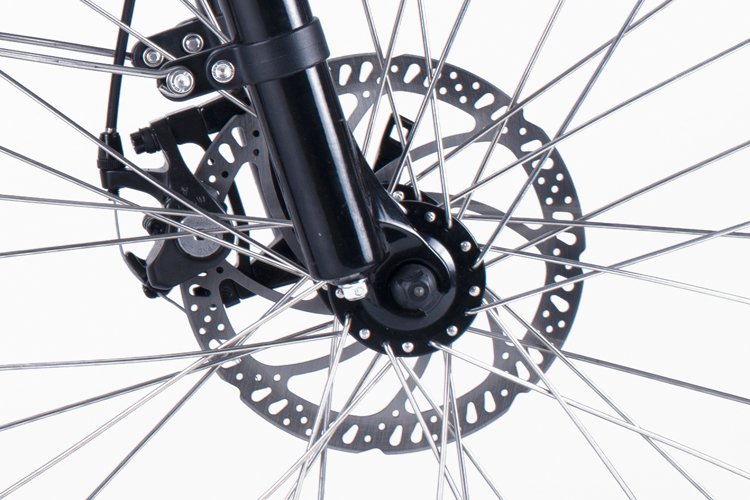 Rad Power Bikes use 26″ x 2.3″ K-Rad tires supplied by Kenda, featuring the K-Shield puncture-resistant lining. The wide, soft tires help to reduce vibration while rolling easily over most obstacles and debris on the road.
The tire & wheel size is quite small and narrow, which is quite uncommon for previous Rad Power bikes' fat ebikes.
They feature a medium-thick tread perfect for wet pavement or mild off-road riding through parks or along dirt tracks. The tires are fitted to 36H Weinmann Goliath alloy rims using strong 12-gauge stainless steel spokes.
Powerful braking is supplied on both front and rear wheels by Tektro mechanical disc brakes, using Tektro Aries levers and 180mm rotors. These provide excellent stopping power in all weather conditions and include a motor cutoff switch for extra safety.
---
3

. RadCity Competitors
---
Rad Power Bikes RadCity vs Ride1UP 700 Series
Overall, these two electric bikes are very similar. You can read the full overview of the RideUP 700 Series and see some main spec differences down here:
| | | |
| --- | --- | --- |
| | Ride1UP 700 Series | RBP RadCity |
| Price | $1,595 | $1,599 |
| Weight | 62 lbs | 64 lbs |
| Weight Capacity | 275 lbs | 275 lbs |
| Motor | 48V 500W | 48V 750W |
| Battery | 48V 14Ah | 48V 14Ah |
| Gears | 8 | 7 |
| Rims | 3D double wall | Alloy, double wall |
| Tires | 27.5 x 2.4 Schwalbe Super Moto | 26 x 2.3 Kenda K-Rad |
| Brakes | Tektro Dual Piston hydraulic brakes | Mechanical disc brakes |
---
3

. Accessories
Rad Power Bikes have a great variety of accessories for every electric bike they have. RadCity 4 is no exception.
Large basket
$79
This large rear basket is perfect for those that need to carry excess luggage that won't fit in pannier bags. Made from aluminum and painted black, it weighs an extra 1.9kg and the dimensions are 31cm x 49.5cm, with a side wall depth of 14cm.
Top tube bag
$25
This small bag attaches to your top tube, allowing easy access to items like phones, sunglasses, and snacks while cycling. It includes a convenient touch screen compatible vinyl insert on top to use your phone for navigation.
Made from nylon with adjustable straps, it features reflective branding and measures 7.6″ by 4.7″, and is 4.3″ deep (19.5 cm x 12 cm x 11 cm).
Handlebar bag
$25
This compact handlebar bag is the perfect size for a water bottle or soda can and features internal insulation to keep your drink cool. Measuring 6.2″ deep with a 3.9″ diameter (16cm x 10cm), it comes with daisy-chain straps for easy attachment to multiple points on your handlebars.
Saddlebag
$25
A saddlebag is a must-have item for most cyclists and is the perfect place to store your puncture kit, spare tubes, and other small items. It requires 135mm under the saddle to fit and measures 6.6″ x 4.7″ x 4.3″ (17cm x 12cm x 11cm).
Enhanced Comfort Saddle
$49
If you find long days in the saddle leave you chaffed and bruised, this enhanced comfort saddle will be your greatest gift to yourself. The extra-wide, super-soft gel-padded seat is made from nylon reinforced waterproof plastic and includes springs for extra shock absorption.
It's 10.6″ long, 10″ wide and 6.1″ high with 7mm steel rails to fit most standard seat posts.
Handlebar mitts
$79
If you live in a cold climate and often cycle through winter, you'll know the importance of good, warm gloves. These convenient handlebar mitts attach permanently in place of your bicycle grips, making it easy to slip your hands in and out without needing to take gloves with you.
Made from neoprene with a ripstop microfleece hinge, these excellent waterproof gloves are one-size-fits-all, allowing perfect control of the handlebars, brakes, shifters, and throttle while riding.
Hyban helmet 2.0
$79
This large full-ring helmet is made from a hard ABS outer shell and EPS foam inner with an additional 'bug mesh' for protection from insects. The Zoom Ace Urban adjustable ring system ensures the entire helmet fits snugly on your head and includes 5 air inlets and 8 outlets for excellent ventilation.
Not only that, you get highly visible reflectors on the sides and an integrated LED light on the back with 180-degree visibility. Sizes come in Medium (20″-23″)(52cm-58cm) and Large (22″-24″)(56cm-61cm).
Pet Basket Carrier
$109
Never leave your poor puppy at home again with this awesome, fully enclosed pet basket made from soft washable polyester fabric. It features breathable mesh windows, an internal leash ring, and velcro door plus a top section that can be entirely removed.
With a tarpaulin base and reflective trim, the Pet Basket Carrier fits snugly into the RadPower large rear rack, suiting any small dog or cat. Its dimensions are 13.3″ x 19.7″ x 12″ (34 cm x 50 cm x 31 cm).
Hollywood Racks Sport Rider Ebike Hitch Rack
$450
This strong hitch-mounting bike rack from Hollywood racks is ebike specific and carries up to two bikes at a time. The patented "No-Wobble Hitch System" ensures your bikes are solidly secured at all times and includes a keyed alike locking hitch pin, security frame, and locking frame hooks.
Takes bikes of maximum 80lbs (36.2kg) with a wheelbase of max 60″, perfect for the RadCity 4. When not in use, the rack folds down flat against the car and tilts down from the cargo door for easy access.
Rad mirror
$29
If you're concerned about unruly motorists cutting you off, make sure to get the Rad Mirror for extra protection while cycling. This funky little mirror connects to your left handlebar and gives you a full view over your shoulder without having to look back.
Fits any handlebar with an outside diameter between 21 to 26mm and can also be fitted to the right side if needed.
---
4

. Conclusion

The RadPower 4 is a top-quality electric commuter bike, fully equipped with everything you need straight out the box. It's no wonder it has already won the Best Commuting Electric Bike of 2021 from ElectricBikeReview.com.

It may not be the lightest of electric bikes and isn't built for speed or long distance but for getting around town, commuting to work, making deliveries, or collecting goods, it's perfect.