The Orbea's Orca model has been around with us for more than a decade now. During that time, it has gone through a lot of transformation and it has become a premium road bicycle. Specifically, the Orbea Orca M30 is a lightweight carbon bicycle that feels stiff and responsive and is the perfect partner for all of the racers out there.
The Orbea Orca M30 is definitely not a cheap bicycle. However, considering what you get when you buy it and comparing it to other much more expensive bikes out there, $2000 is not such an astronomical figure.
The Orbea Orca M30 is the perfect road bike for fast riders, smooth roads, and lots of demanding uphill riding.
The bike weighs only around 17.5 lbs which is still pretty light and perfect if you want to set new personal records, win some races, or conquer some steep hills. Take a look at some key specs and main features of the Orbea Orca M30 to see why this Basque two-wheeler is a good choice.
Key Specifications
Below you'll see a table with some key information explaining why this bike costs the money it costs and why that is justified. The full carbon frame and from coupled with the Shimano 105 5800 groupset will surely give you some cycling gains.
| | |
| --- | --- |
| Number of Gears | 22 |
| Frame Material | Full Carbon |
| Suspension | None |
| Brakes | Rim Brakes |
| Quality Classes | Shimano 105 (5800) |
Orbea Orca M30 Main Features
Now, let's take a deeper look into the main features of Orbea Orca M30 and see what's new in 2018 and what improvements we can expect to get. Is it any lighter? Does it roll better? How's the handling? All of the answers are coming below.
Full Carbon Frame
The Orbea Orca M30 comes your way in a feather-light competition due to its full carbon frame. The complete frameset weighs well below the 1kg (2.2 lbs) mark. This is a great basis if you want to slim it down even further in the future and go below the current 17.5 lbs for the whole bike.
The Orbea Orca M30 weight is 17.5 lbs.
The idea with the Orbea Orca M30 was to make it as stiff and as responsive as possible. This has made the bike handle beautifully and respond to power output with a lot of speed. However, it has also lost a part of the comfort in the process.
Drivetrain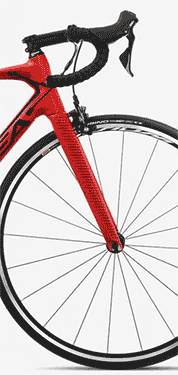 Due to its sportive-friendly drivetrain with gearings of 50/34 crankset and 11-28 on the cassette, the Orbea Orca is really a great companion for long-distance rides. Both the crankset and the cassette are part of the Shimano 105 5800 groupset, which is trusty, and pretty much standard in this range of road bicycles.
High-Quality Shimano 105 5800 Components
The Shimano 105 5800 are not top of the game Shimano components. However, performance-wise, riders have no complaints against them. They work well, they perform when needed, and they last longer.
Moreover, up to a price of about $1500 when you're buying a bike you're buying performance in components. After that mark, most of the component groups perform just as well, the only difference being in materials used and the weight.
Therefore, the Shimano 105 5800 is a great mid-range choice that will definitely not let you down and also offers reasonable weight saving.
Brakes
The brakes are also a point where the Orbea Orca M30 sheds some weight off since it comes with Shimano 105 5800 rim brakes. The cable for the rear brake goes internally through the frame, so the overall look of the bike or aerodynamics are not affected.
These rim brakes provide great stopping power and will make you fast when cornering, especially in dry weather. Again, similar to when we discussed the components in general, the Shimano 105 brakes perform just as well as some higher-end models.
Weakest Link: Tires
The stock tires that you get with the Orbea Orca M30 are Vittoria Rubino 23mm. According to user reviews online, they are a bit of a disappointment on the whole bike because of how fragile they are. They grip well on flat and dry roads, however, when the roads become rough, they are prone to punctures and tears.
However, when you are purchasing the bike, you can choose to upgrade the tires (or even the wheels as well if you want a lighter set) and we definitely recommend you do that. With a better set of tires, the Orbea Orca M30 will be an exceptional bike.
Saddle and Seatpost
The saddle on the Orbea Orca M30 is the Prologo K3 STN. This saddle uses Prologo's semi-rounded shape which ensures lots of comfort on both short and longer rides. It is a unisex saddle, so it will feel good to both men and women. The Prologo K3 STN is a lightweight and racing saddle, designed for those who spend more time in the saddle, so you will easily put in some good mileage without many sore spots.
The seatpost is made of carbon, so it is also extremely lightweight, but it is not aerodynamic in shape.
Should You Buy It?
Considering all aspects and looking at it objectively, the Orbea Orca M30 is a decent road bicycle at this price. If you buy it, you'll get lots of carbon, little weight, and a lot of stability and responsiveness. Moreover, the effective and tried-and-tested Shimano 105 groupset will serve you for as long as you have the bike, or until you decide to upgrade and make some weight savings.
Subjectively, you might or you might not like the feel of the Orbea Orca M30. It is a very stiff bicycle so it does not offer a lot of comfort. However, what it does offer is great power transfer, so when you press those pedals down you will feel how the bike just surges forward.
The only real point of improvement for the Orbea Orca M30 are the tires which might give in more quickly than the rest. If you live in an area where the roads are probably going to give your tires a beating, definitely consider to upgrade and avoid having to deal with multiple punctures. You'll lose some additional money, but you'll avoid lots of frustration in the long run.
Therefore, to wrap up, if you are looking for a racing bike that is wild in spirit, that goes fast, and is unforgivingly stiff, the Orbea Orca M30 will put a big smile on your face.
| | |
| --- | --- |
| Points of Improvement for Orbea Orca M30 | What we like about Orbea Orca M30 |
| Poor Vittoria Rubino tires | Full carbon lightweight frame |
| Not very comfortable due to stiffness | Responsive and easy handling |
| | Prologo K3 STN performance saddle |