Orbea MX 50 Review
The Orbea MX 50 is a relatively cheap, but good-looking bike that is definitely difficult to resist riding. With an aluminum frame and front suspension, it comes in a little bit heavy at 33 lbs, but this is the medium weight for this class and this price range. It is rolling on 27.5 wheels which are the most popular choice for mountain biking.
BEST FOR: Trail beginners
FEATURES: 100 mm front suspension, Hydraulic disc brakes, wide tires
Orbea MX 50 Key Specifications
---
As you're just about to see, the Orbea MX50 comes with Shimano components across the board, as well as a Suntour fork with a preload option that should absorb most of the road imperfections for a smooth ride.
Frame: Orbea MX Alloy
Fork: SR Suntour XCE 28 Coil 100mm QR
Tires: Kenda K1153 2.35″ 22TPI
Rims: Mach1 ER20 19c

Crankset: Alloy forged 22x36t 7/8S
Front Derailleur: Shimano M315 31.8mm
Rear Derailleur: Shimano TY-300
Cassette: Shimano HG200 12-32t 7-Speed

Shifters: Shimano SL-M315

Brakes: Shimano MT200 Hydraulic Disc
Saddle: Selle Royal 2058 DRN
Pedals: VP-537 Black

Number of gears: 14
Gender: Unisex
Orbea MX 50 Full Review
---
The popular Spanish bike company has sent another trail bike our way that is intended to be fun, strong, and versatile. The Orbea MX 50 is a relatively cheap but good-looking bike that is definitely difficult to resist riding.
With an aluminum frame and front suspension, it comes in a little bit heavy at 33 lbs, but this is the medium weight for this class and this price range. It is rolling on either 29″ or 27.5″ wheels, both of which are popular choices for mountain biking.
If you are really reluctant to buy an expensive bike and you do not see value in it for yourself, the Orbea MX 50 will be more than enough to satiate your recreational and fitness cycling desires.
The best bike that you can get is the one that you will ride the most. The Orbea MX 50 guarantees that thanks to some great features you get if you buy it. It has also evolved from the models of previous years, so this year it comes with some great improvements in terms of features and components.
Lightweight Aluminum Frame
The frame that the Orbea MX 50 is built on is sturdy but at the same time lightweight. It's an aluminum frame built from smart tubing where the excess material has been shaved off to reduce weight but maintain overall strength.
The frame is only optimized for disc brakes, so you will not be able to fit it with rim brakes if you ever intend to. We love the geometry of this bike because it looks attractive and aggressive but at the same time, it is a very good platform to just go out and enjoy a very comfortable ride. The Orbea MX 50 places the rider in a stable condition even on rough terrains and more challenging off-road rides.
100 mm Front Suspension
The Orbea MX 50 is equipped with a suspended front fork made by SR Suntour. It's an XCE HLO 28 model, with coil spring, and 100mm of travel. Unfortunately, the fork does not come with a lockout function, but it does have the preload feature.
This means you'll have some adjustability and you'll be able to set the fork to be more or less responsive to different amounts of pressure. This suspension kit will be more than enough to plow through any road vibrations, so your wrists, arms, and shoulders will just love it.
Drivetrain and Wide Gearing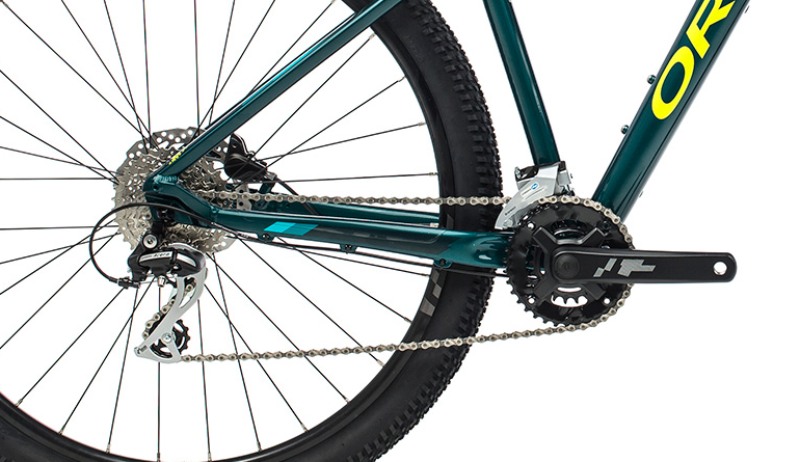 When you put some power through the pedals of your Orbea MX 50, the power transfer will be completed by a complete Shimano drivetrain. The crankset is a combination of 24 and 36 teeth, while the cassette has a range of 12-32T.
This gearing is really easy and suitable for riding over gravel, rough terrain, or steep uphill. However, there are enough gears to go fast on the flats as well. There are 14 gears that you can choose from with a 2×7 combo. It's not a common drivetrain, but it's interesting nonetheless.
The derailleurs and shifters are entry-level, but they will serve you well if you don't abuse them too much. Ride moderately and keep your bike clean and lubricated, and you will have no problems.
Wide Tires & Hydraulic Disc Brakes
Speed is not the only thing that is important when you want to go fast or have a comfortable ride. The tires and brakes are important as well. The tires on the Orbea MX 50 are Kenda K1153, with a 27.5" or 29″ diameter, which is the most popular nowadays for trail bikes, and a 2.35" tire width. The tires are pretty knobby; however, the knobs are not very deep.
Therefore, they might not have much traction on muddy and wet terrain, but they will offer more than enough grip on gravel and dusty roads.
The brakes are the best part of the Orbea MX 50. They are Shimano's hydraulic disc brakes so you will be able to stop whenever necessary, in whatever conditions, dry or wet. Hydraulic disc brakes are not very common on trail bikes within this price range, so it is a big surprise and a big plus for this Orbea.
Saddle And Other Features
The saddle on which the Orbea MX50 will accommodate you is not out of the ordinary. It is a Selle Royal 2058 DRN with a nice rounded profile and lots of padding. If you use the bike for commuting, it will feel really comfortable.
If you ride Orbea MX 50 a lot on rough terrain, the saddle and suspension will absorb a big portion of road vibrations.
The Orbea MX 50 does not come with any accessories, but it does have rear rack mounts ready. So, if you wish to take out on a longer multi-day ride, you will be able to easily do so. Also, you can just fit some bike panniers and do some grocery shopping. It's a can-do-all bicycle.
PROs & CONs
---
PROS:
Hydraulic disc brakes & 27.5″ – 29″ wheels
Four color patterns
Great price-value ratio
Orbea MX 50 Considerations
---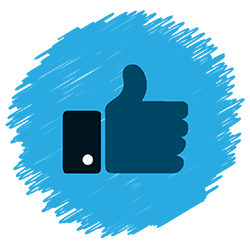 To put it shortly, the Orbea MX 50 is a very good bike for a very good price. If you buy it, you will have to pay around $500 for the 2020 model, but for that price, you get a lot of improvements compared to the previous models.
The Orbea MX 50 is an affordable and reliable bike but also one of the most fun trail bikes that you can ride.
At this price, it is relatively light, but you can easily shave off some weight with different components if weight is an issue for you. However, taking into consideration what this bike is intended to do, and that is to take you from one place to another and make sure that you have plenty of fun in the meantime, the weight is not a problem in the least.
Moreover, Shimano hydraulic disc brakes are not really standard equipment on many $500 trail bikes, so it is something that goes to Orbea MX 50's advantage. If there are lots of muddy trails and the weather is often wet in your area, you will be happy to have them.
All in all, this is a recreational bicycle that you will be able to take places that you have not tackled before. On top of that, you will not spend a crazy amount of money, so the Orbea MX 50 is a bike that you should at least shortlist if not outright buy.
Orbea MX 50 Size Guide
---
S (27.5") – 61.1″ – 63.0″
M (27.5") – 65.0″ – 70.9″
L (27.5") – 70.1″ – 74.8″
M (29") – 64.6″– 70.9″
L (29") – 70.1″– 74.8″
XL (29") – 72.8″– 78.7″