Orbea Laufey Review — An Affordable and Versatile Basque Hardtail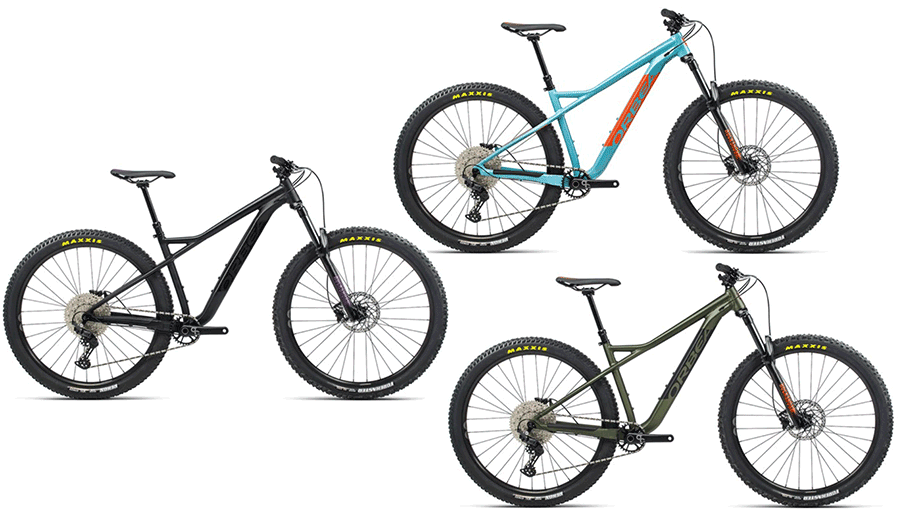 Whether racing uphill or shredding downhill, the Orbea Laufey hardtail has got you covered. Orbea describes this bike as their "most clever and versatile", given the careful engineering of the frame and geometry paired with a thoughtful choice of components.
The Orbea Laufey hardtail frame is made from butted and hydroformed aluminum tubing that is lightweight, stiff, and resistant to wear. This frame design means the bike can be a "jack-of-all-trades", built for hard riding, long-term durability, and maximum fun.
PROS:
Slack
Inexpensive
140mm travel
Strong 29er wheels coupled with superb trail tires
Awesome gear ratio
Tubeless-ready
Great brakes
Customizable pre-purchase
CONS:
As a 140mm hardtail, we'd like to see a carbon seatpost, but luckily it has got the triangular frame geometry that gets rid of the main vibrations.
Slightly heavy
Why choose a hardtail instead of a full-suspension bike?
Hardtail mountain bikes are the most versatile style of mountain bikes as you can use one for all sorts of environments – climbs and descents, gravel, and paved roads.
What speaks for these bikes is that they only use front fork suspension to take the impact of any bumps and shocks from the trail or road, compared to full suspension MTBs that have suspension in the rear.
With only front suspension, these bikes can perform better in many different environments, instead of specializing in one as a full suspension MTB does (XC, Trail, All-mountain, Enduro).
Additionally, they are less complex in terms of parts and mechanics, meaning they are easier to maintain and require repairs less frequently.
---
Orbea Laufey Quick Specs
This is an affordable bike, performing over its modest price take and suitable for many types of riders, whether you're a mountain biking veteran or a newbie with lofty ambitions. A huge benefit of this bike is that Orbea allows pre-purchase upgrades to many of the components.
Here are the main specs and geometry details:
Headtube: 65.5°
Slack. Nicely accommodates the 140mm travel fork
Seat tube: 75°
Steep enough to provide efficient pedal power
Chainstay length: 435mm
Coupled with slack head tube = longer wheelbase
Reach: 435mm
Goes well with the slack geometry
1×11 – 11-51T
Suitable for all MTB disciplines
Short seat tube
For longer dropper post
29×2.6″
Plenty of traction and stopping power
Hydroformed aluminum
Increased strength & reduced unwanted flex, weight savings
Forged Yoke
For maximum tire clearance & added rigidity
---
Orbea Laufey Model Range
---
Orbea Laufey H30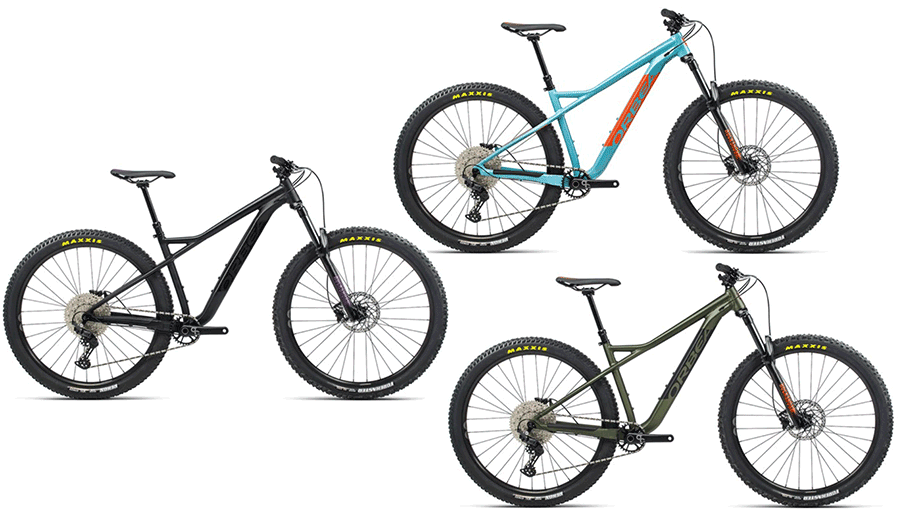 MSRP $1,699
Shimano Deore M5100 1×11 Speed drivetrain
Shimano MT 201 Hydraulic Brakes
Orbea OC1 29c Tubeless Ready wheels
Tires – Maxxis Forekaster (F) & Maxxis Rekon (R)
Orbea OC2 Dropper Seatpost
If you are new to hardtail mountain biking or want to upgrade from an old bike, the H30 is perfect for you.
The Laufey H30 is the entry-level choice among the three models. Although the components are a lower spec than the other two models, the H30 still has the same innovative frame design and durability which is standard across the range.
Many of the tubes on this lightweight aluminum frame are butted to reduce stress on the joints, while the aluminum is also hydroformed to increase strength and decrease unwanted flex. The geometry is optimized with a lower bottom bracket for better cornering and a longer cockpit and wheelbase leaving more room to move and increasing stability at high speeds.
Each Laufey has 29×2.6″ Maxxis Rekon and Forekaster tires. These tires help provide excellent traction while cornering and riding on loose surfaces and come on tubeless-ready rims. To improve your confidence and control in all conditions, you can rely on Shimano hydraulic disc brakes.
Buy on evo.com Buy on JensonUSA.com
---
Orbea Laufey H10
MSRP $2,199
Fork – Marzocchi Bomber Z2 140 QR 15x110mm
Brakes – Shimano M6100 hydro
Cassette – 12-speed SunRace 11-51T
Derailleur – Shimano SLX M7100 SGS Shadow Plus
Wheels – Orbea OC1 29c
Saddle – Selle Royal 2043
Step up your game with the Laufey H10. This is the mid-range version of the bike with improved components in almost every area to complement the sleek, durable frame.
With better components, you can not only expect improvements in performance but also greater durability and less maintenance overall.
The Marzocchi Bomber Z2 suspension brings improved performance over the H30's RockShox Recon, more than enough for the average rider. A mid-level Shimano SLX rear derailleur, more powerful M6100 disc brakes, and the Shimano MT511 are some notable improvements to this model.
Buy on evo.com Buy on JensonUSA.com
---
Orbea Laufey H-LTD

MSRP $2,500
Fork: Fox 34 Float Performance, 140mm | Derailleur – Shimano XT M8100 | Shifters – Shimano SLX
Brakes – Shimano M6120 hydro
Handlebar – Race Face Aeffect 35
Wheels – Race Face AR 30c
Saddle – Fizik Taiga S-alloy rail
Dropper Post – OC2
The H LTD is the best and most expensive version of the Laufey range. It comes with premium components across the board which combine to create a highly versatile performance and smooth ride quality.
This model is best suited to experienced mountain bikers or anyone with a desire to test the limits of their performance. This bike steps it up with a Shimano XT/SLX groupset, providing far more precision and responsivity over the other models.
The H LTD incorporates a Race Face handlebar, stem, and wheels. Race Face is a Canadian-based MTB company that designs professionally-tested components that are strong, lightweight, and durable.
Other notable features of this model are the inclusion of a premium Fizik Taiga saddle and the Fox 34 Float Performance 140mm suspension.
---
Orbea Laufey's Main Competitors
Orbea's H30 Laufey hardtail easily competes with the Surly Karate Monkey and Norco Torrent.
There is only $125 between these three bikes and even less to pick from their specifications. Both the Surly and the Norco use RockShox 35 Gold suspension which is a higher quality choice over the Recon RL on the Orbea.
However, the Laufey H30 has a more innovative frame designed specifically by Orbea with re-inforced butted tubes and hydroformed aluminum. This is certainly more favorable than the Karate Monkey's chronology steel or the 6061 aluminum on the Torrent.
Another place where the H30 falls short is the budget Selle Royal saddle and the 11-speed drivetrain, compared to the 12-speed on the competitors.
Finally, a great advantage for the H30 is the Maxxis Rekon and Forekaster tires which are found even on their premium H LTD model. These tires are a step above the Torrent's Schwalbe tires and the Surly Dirt Wizard tires.
---
Orbea Laufey Size Recommendation
4'11" – 5'5″ S 150 – 165 cm
5'3″ – 5'9″ M 160 – 175 cm
5'7″ – 6'1″ L 170 – 185 cm
6'1″ – 6'6″ XL 180 – 198 cm
---
Where to buy Orbea Laufey?
Buy on evo.com Buy on JensonUSA.com