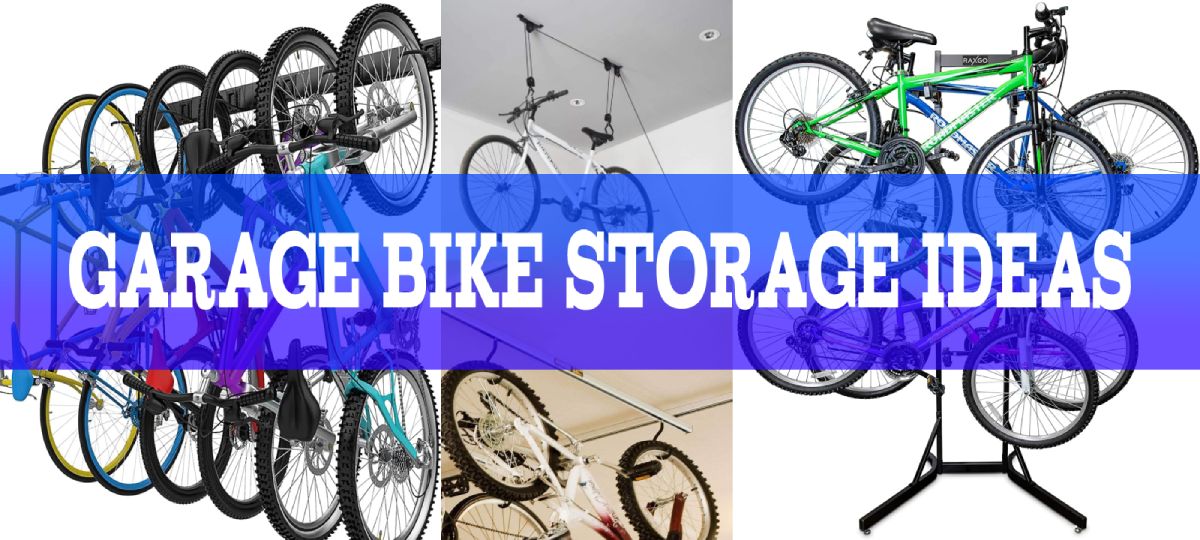 Bike storage racks for garages include various stands, wall racks, ceiling racks, and floor racks.
The best bike storage garage designs allow you to utilize the type of space available in your garage, be it a high ceiling, extra floor room, or wall space.
Floor and ceiling racks are usually not a good solution for apartments as they rarely have enough free room to fit them, plus ceiling racks don't look that nice inside a home.
The important features of garage racks are generally high bike capacity, broad compatibility with large bikes and small bikes, and maneuverability.
Vertical Bike Storage
Vertical storage is the best space-saving garage bike rack style for more than two bikes.
As each bike is stored side by side, you can store many bikes next to each other. However, you need a significant amount of space from the wall to mount and unmount the bikes, making them better for spacious garages.
These racks are relatively easy to use, and some can swivel, allowing you to push the bikes closer to the wall and maximize your floor space, like this.
PROS
Best for 3+ bikes
Excellent compatibility
A broad selection of models
Effortless mounting/unmounting the bikes
Use it anywhere in the garage/home
CONS
2+ installation points
Significant space needed from the wall
Most require drilling
Difficult for small kids to use
Horizontal Bike Storage

Horizontal wall bike storage can be hooks (pictured above) or stands (discussed below), both of which allow you to stack two bikes, one over the other, or place bikes side by side in garages with a lot of wall space.
These are a great way to store (or display) bikes compactly and affordably. Additionally, there are many different designs, most of which require minimal installation.
Stacking bikes helps utilize otherwise unused vertical space on your walls but makes the top bike harder to access. Many hook racks hold a single bicycle, making them great for individual bikes but costly and inefficient for more than two bikes.
PROS
Great selection of products
No floor space taken up
Straightforward installation
Show-off your bike(s)
Install almost anywhere you want
CONS
Difficult to mount the higher bike
Requires drilling
Requires lots of wall space
Wide handlebars may not sit correctly
Max two bikes stacked
Limited top-tube compatibility
Ceiling Hanging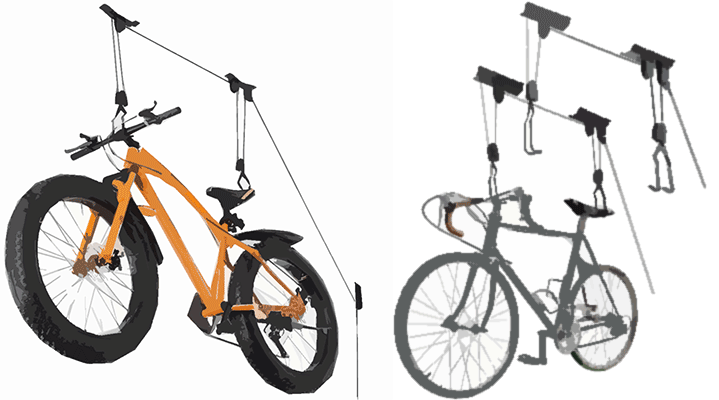 Ceiling bike hooks are an excellent way to take advantage of otherwise useless ceiling space.
One style of ceiling storage is the single-bike pulley system that suspends a single bike using one hook connected to the handlebars and another one to the saddle. The pulley system makes it effortless to lift heavy bikes.
The other style can be a multi-bike solution that holds bikes upside down by hooking each wheel independently. Unfortunately, these racks require the user to lift the bikes manually, limiting their function for heavy bikes.
PROS
Most efficient use of space
Doesn't require wall/floor space
Excellent compatibility with wheel sizes and frame shapes
CONS
Costly
Difficult to set up
Time-consuming to mount the bike with pulleys
High ceiling needed
Pulley systems fit a single bike
Bike Stands
A bike stand for garages can be one of two designs, supported or freestanding.
When loading the bikes, it's best to reverse the direction of each bicycle to avoid handlebar contact and have a balanced load.
Supported stands and freestanding racks work perfectly anywhere in the home as they generally don't require drilling. Plus, they provide a compact way of storing two bikes.
Freestanding Bike Racks
This is essentially a coat rack for bikes. A large base supports the loaded weight instead of using a wall. This design makes them easy to move.
PROS
Compact
Zero installation
Simple to move
Use anywhere
CONS
Limit of two bikes
Hard for kids to use
May have limited top tube-compatibility
Low weight capacity
Supported Stands
Pole bike racks and supported stands use the floor and ceiling or just a wall to support the weight, boosting the weight capacity but making it more complicated to move around.
PROS
Limited installation (without drilling)
Moveable
Can be used in the garage or apartment
Inexpensive
CONS
Two-bike limit
Hard to reach the higher bike
Poles require a specific ceiling height range
Handlebars may touch the wall
Read Next