Best Dirt Jump Bikes
A dirt jump mountain bike is essentially a mountain bike crossed with a BMX. This hybrid performs much like an oversized BMX, making it ideal for riding slopestyle, pump tracks, street riding, and your local skatepark.
The perfect dirt jump bike is characterized by strong 26″ wheels, jump-specific geometry, narrow handlebars, a short stem, tough, lightweight components, and stiff suspension. These features allow you to ride hard in a skatepark, whip your tail on dirt tracks, and crush big jumps.
Check out some of the best dirt jump bikes that we recommend below!
How to Choose a Dirt Jump Bike?
---
All best dirt jump bikes must have the following features:
Ultra-durable & lightweight frame (CroMoly or Aluminum)
24″ – 26″ Wheels
High PSI tires with mild tread
Gyro or long brake cables for spinning handlebars
Stiff fork suspension
Narrow handlebars with a short stem
Single-speed drivetrain
Hydraulic disc brakes
Should You Get a Dirt Jumper or BMX Bike?
A dirt jumper is more suitable than a BMX for riders who want to try out skatepark riding, test their skills, and develop their confidence before switching to the pure BMX jump bike.
With bigger wheels and wider tires, fork suspension, and a larger frame, the dirt jump MTB provides a great entry point for pump track or skatepark riding without fully committing. In addition, these bikes have the added benefit of being more comfortable for street riding and slopestyle riding when compared to a BMX.
Best Dirt Jump Mountain Bike Brands
GT
NS Bikes
Cannondale
DMR
Specialized
Kona
Marin
Choosing the Right Wheels
The most common wheel size for the dirt jump bicycle is 26″, making them one of the last bikes on the market using this wheel size.
Dirt jumper wheels should have a high number of spokes to improve durability. A high number of short spokes on these wheels makes them extra strong for landing jumps.
Occasionally, you can find models with 24″ wheels or even a 27.5″ dirt jump bike; however, this is unlikely as most manufacturers have standardized at 26″.
Should You Go for a Suspension Fork or Rigid?
One of the defining characteristics of dirt jump bikes is the suspension fork, distinguishing them from rigid fork BMXs.
That said, some cheap dirt jump bikes use a rigid fork along with the other features described above. The fork suspension on these bikes should be pretty stiff, offering just enough to take the edge off big hits and making this style of riding more accessible.
---
Best Dirt Jump Bikes
---
NS Bikes – Movement 1
MSRP: $1,599
X-Fusion Slant, 100mm travel
Tires: Kenda Small Block 8 26×2.1″
Wheels: NS Dirt 26"
NS Chemical 25.4 Stem
The Movement 1 by NS Bikes is an alloy-framed dirt jumper that pays close attention to detail. This sleek 26″ dirt jump bike comes with some of the highest quality components in the category.
A considerable chunk of the price of this bike goes into frame manufacturing. It uses an NS AL6061-T6 custom-formed and butted-tube frame with a tapered integrated headtube.
An X-Fusion Slant 100mm fork helps take the sting out of any big hits and combines well with the wide 2.1″ Kenda Small Block 8 tires. Finally, NS Bikes includes a rear Tektro Aries hydraulic disc brake to provide stopping power.
The PROs:
The high-quality lightweight fork, dirt jump-optimized tires, and the carefully engineered frameset.
The CONs:
Movement 1 is slightly more expensive compared to the competition and slightly heavier than expected.
The SUM:
An excellent choice dirt jump bicycle with top quality components. For those with a big budget, you'll certainly get the value from this DJ machine.
---
Transition – PBJ Complete Mountain Bike 2022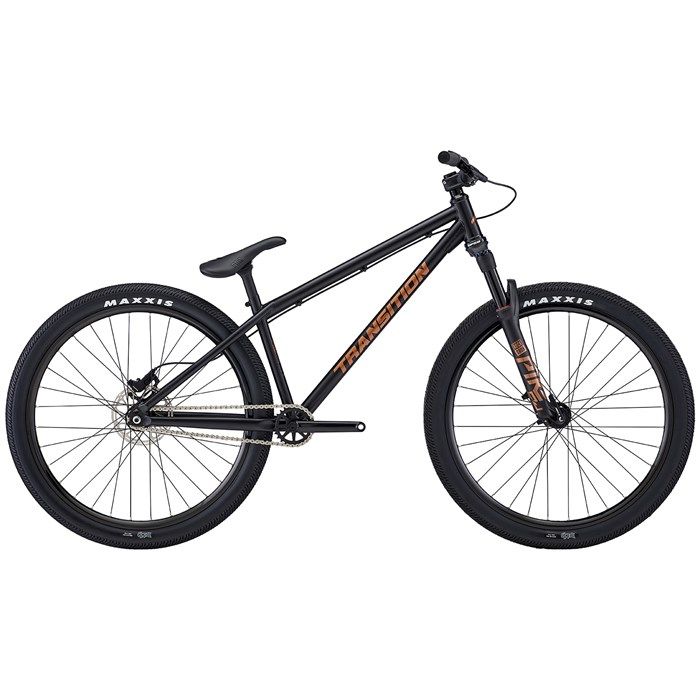 MSRP: $1,799
evo.com
Fork: RockShox Pike DJ 26
100mm travel
Frame: Chromoly Hardtail Frame
SRAM Level Rear Brake
Hydraulic brakes
26×2.3″ Maxxis DTH
The PBJ by Transition is a single-speed dirt jumper from the Washington-based mountain bike brand. This model has been a consistent feature in the brand's lineup over the years and is designed for mountain bikers.
The PBJ's design gives it a unique feel. Relaxed geometry balances stability and agility so you can be confident at high speeds and on tight tracks. Additionally, Transition has made an 'X-Long' model, which has a longer reach and chainstay to mimic trail bike geometry.
This 26 dirt jumper has tough Kinlin DDT32 rims and Maxxis' DTH 2.3″ tires to absorb anything you can throw at them. For backup, a 100mm RockShox Pike DJ fork absorbs all the extra energy from pumping and jumping.
Transition chose CroMoly steel as the base for this bike, which boosts durability and comfort through increased compliance and shock absorption. However, there is a slight weight and performance trade-off. In addition, unlike the higher-priced Sabbath above, the PBJ doesn't have sliding dropouts.
Finally, you can put your trust in a rear SRAM Level hydraulic disc brake with a centerline rotor to provide consistent and reliable stopping power.
The PROs:
The PBJ is a bike made by mountain bikers for mountain bikers. It offers unique geometry to allow riders to seamlessly transition between their hardtail dirt jump bike and regular mountain bike.
The CONs:
The MTB-style geometry may be offputting for experience pump track or dirt jump riders. Additionally, a CroMoly steel frame doesn't optimize for performance, doesn't have sliding dropouts.
The SUM:
The PBJ is slightly cheaper than the handmade Devinci model but has a somewhat narrower appeal due to being marketed to mountain bikers who want to practice their jumps and pump riding. Overall, the level of components is as expected for the price.
---
GT – LaBomba Pro
MSRP: $1,400
Fork: Manitou Circus Exper
Frame: 6061 Aluminum
Promax hydro disc
26×2.35″ Kenda 3-Sixty
Southern California-born GT is a company of BMX and MTB specialists at the core. They produce fun bikes, and their Labomba Pro dirt jump 26″ is the top of the LaBomba range and an excellent value choice for any DJ rider.
With its significantly lower price, LaBomba's main component change is the suspension fork. It swaps out the premium RS Pike DJ for a Manitou Circus Expert. Despite being half the price, this fork is still popular among riders who prefer a super-stiff fork as you can set it slightly stiffer than the Pike, making it an excellent pick for dirt jump bikes for sale in this price range.
Kenda optimizes their 3-Sixty 2.35″ tires for the pump track, skatepark, and dirt jump track, using a minimalist thread that makes for a fast-rolling tire. In addition, they are tubeless-ready, which makes them ideal for handling the demands of DJ riding.
This GT dirt jumper uses light and stiff 6061 aluminum frameset with a threaded BB and sliding dropouts for chain tension adjustments. Finally, a Promax hydraulic disc brake is lesser-known and not as well made as Shimano or SRAM alternatives.
The PROs:
GT's Labomba is an excellent price, has an ultra-stiff DJ fork, and weighs the same as the premium competition.
The CONs:
Cheaper brakes perform worse and are less durable. Doesn't hold value as a used dirt jumper.
The SUM:
The Labomba Pro is the perfect mid-level dirt jump bike and delivers much of the same performance without the hefty price tag.
---
NS Bikes – Zircus
MSRP: $949
NS AL6061-T6 Aluminum frame
Suntour XCM, 100mm travel fork
26×2.3″ Maxxis DTH tires
Tektro Mechanical disc brakes
The NS Bikes Zircus release is a stylish DJ bike that performs well for a sub-$1,000 price tag. As with all NS Bikes options in this price range, you have their NS AL6061-T6 custom formed and butted tubes frame. This aluminum has excellent rigidity and strength-to-weight characteristics, perfect for dirt jump riding.
Kenda Small Block 8 26×2.1″ tires are common among dirt jump bikes, and the Zircus is no different. They sit on a Jalco DBX 26" wheelset that easily handles the dirt track's demands.
This bike has a Suntour XCM 100mm travel to take the sting out of your landings. All of this makes this bike a great value purchase. Finally, put your trust in a Tektro mechanical disc brake to provide reliable stopping power on the track.
The PROs:
A high-quality T6-6061 Aluminum frame is available in two colors, black and purple. A fast and responsive ride feel.
The CONs:
Lower performance Suntour fork
The SUM:
Well-priced aluminum-frame dirt jumper with excellent ride quality; the Zircus doesn't leave anything to be desired.
---
Haro – Steel Reserve 1.1
MSRP: $679
Cromoly steel
Rigid Cromoly fork
Kenda K-Rad 26 x 2.3″
Tektro mechanical disc
Haro's Steel Reserve 1.1 is a super-cheap DJ mountain bike with a rigid fork and suspension correction that allows for the addition of a suspension fork.
The Steel Reserve has BMX-ready Kenda K-Rad 26 x 2.3″ tires on durable and lightWeinmann XM260 double-wall alloy rims. Pair this wheelset with a rigid fork and you've got a versatile dirt jumper.
The one area in which this bike sacrifices some quality to account for the excellent price is the lack of suspension which means it won't be comfortable taking hard hits. Finally, it comes with a Tektro mechanical disc for reliable stopping power.
The PROs:
Best value in terms of price.
The CONs:
Only available in one size, lower performance with the rigid fork.
The SUM:
Highly competitive pricing makes the Steel Reserve 1.1 DJ bike one of the best choices, but a suspension upgrade would take it to the next level.
---
NS Bikes – Metropolis 1
MSRP: $1,599
NS Bikes custom-butted 4130 Cromoly
X-Fusion Slant 100mm travel fork
26″ x 2.1″ Kenda Small Block 8
Shimano Deore hydraulic disc
The Metropolis 1 is another high-end dirt jumper from BMX specialists NS Bikes, except with a steel frame instead of aluminum.
This bike comes equipped with custom-butted Cromoly steel with dirt jump geometry. This frame benefits from years of experience in BMX frame design and is optimized for dirt track, skatepark, and pump track riding.
The Metropolis uses the commonly found X-Fusion Slant 100mm travel fork along with proprietary NS Dirt 26" rims, and Kenda Small Block 26″ x 2.1″ tires. These tires are fast-rolling and durable tires. All combined, these three components ensure a controlled and long-lasting ride. The Metropolis 1 also has Shimano's Deore rear hydraulic disc.
The PROs:
Hydraulic disc brake, durable and comfortable Cromoly steel frame.
The CONs:
XC mountain bike tires aren't as well rounded as BMX-style versions, just one size dirt jump frame 26″, no integrated chain tensioners.
The SUM:
Mid-range dirt jump bike with solid components and ride quality.
---
Best Dirt Jump Frames
---
Chromag – Monk Frame 2021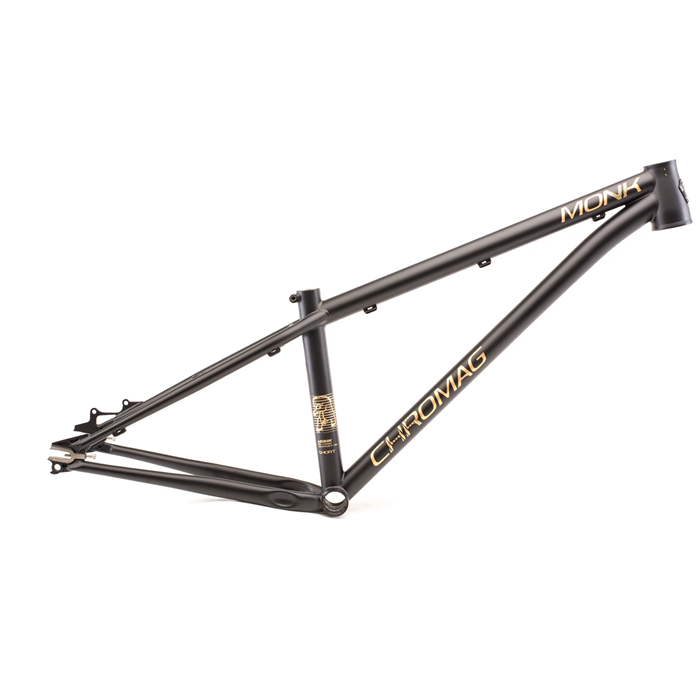 MSRP: $736
evo.com
4130 Chromoly Steel Tubing
Fork compatibility: 80 – 120mm
26″ wheel compatible
Chromag's Monk frameset is the perfect base for your next 26-inch dirt jump bike.
This frame is made from lightweight and durable 4130 Cromoly steel, which optimizes comfort and longevity compared to an aluminum alternative. Cromoly steel also has the best strength-to-weight ratio on the market, boosting ride quality and durability.
The Monk frame is perfect for single-speed DJ drivetrains and disc brake setups. In addition, it will work with 80mm to 120mm travel suspension forks. Finally, this frameset is ready for a gyro which allows you to spin your handlebars without worrying about cables, integrated chain tensioners, and custom chainstays.
The PROs:
Highly durable and comfortable.
The CONs:
Only compatible with 26″ wheels.
The SUM:
High-quality steel frameset with a premium price.
---
Santa Cruz – Jackal Frameset
MSRP: $999
Aluminum
26″ wheels
2.5″ tire clearance
Available dropouts: 142x12mm geared or 135x10mm single speed
Fork compatibility: 100-160mm
Santa Cruz is a premium mountain bike brand with world-class bikes among its range. Thankfully all of this design trickles down to their frames and components.
Their Jackal frame is an aluminum dirt jumper made from 6061-T6 alloy. Although Santa Cruz is mainly known for its carbon frames, this aluminum offers a light and stiff ride quality for a cheap price.
The frame is compatible with disc brakes and a geared or single-speed drivetrain. It has sliding dropouts for chain tensioning, a tapered headtube, and short 15.2-inch chainstays. In addition, you can choose from two sizes.
The PROs:
Two sizes available and broad, 160mm fork compatibility.
The CONs:
More expensive than other models.
The SUM:
A great quality frame by one of the best mountain bike manufacturers.
---
Conclusion
Because of the narrow specifications and limited variety of dirt jump bikes, choosing the best model for you will be less complicated than, for example, selecting a hardtail mountain bike.
For this reason, your budget, bike availability, and design preferences will be the strongest influences on which one you choose. Your ride style, ability, and local routes/parks will also determine which bike is the best fit.
Finding a great dirt jump bicycle is getting easier as the niche discipline becomes more mainstream. With prominent brands like Cannondale, Specialized, and Kona releasing new models, it is likely to continue its upward progression.
If you're thinking of trying your hand on the track or just looking for your next dirt jumper, we hope this article helps you find the perfect one.