Merida Big Nine 2020 – a $999 Single Front Chainring Trail Bike
Whether you are a beginner rider looking for a new off-road commuter bike or a seasoned trail explorer, the Merida Big Nine 400 is a great mountain bike for a wide range of riders. Equipped with the latest technologies by well-known component brands, there is a lot to offer at an affordable price tag.
The 2020 Big Nine retails for $999 and attracts buyers who are looking for an affordable bike to get out on the trails with yet don't want to compromise on quality.
Is it great for recreational mountain biking?
– Yes
Is it great for competing?
– Yes, if you are a beginner mountain biker looking for an entry-level transition to the world of one-by (1x) drivetrains.
Although $999 is at the lower price point of finding a decent MTB with a 1x drivetrain, it is a solid drivetrain that has more than enough in terms of capabilities for recreational cyclists.
Reviewer
6'2″
170lbs
Age: 31
Number of MTBs owned: 4
MTB Experience: 10 years recreationally, 5 years of Enduro Motorcycling
Rating: 8/10. Unbeateable value.
---
Must-have components on a good mountain bike vs Merida Big Nine 400:
+ Air fork
+ 1×12 speed drivetrain
+ 27.5″ or 29″ wheels
+ Internal cable routing
+ Hydro brakes
180mm front, 160mm rear rotors
Lacks
– Dropper seat post
– Thru-axle wheels
– TLR wheels & tires
---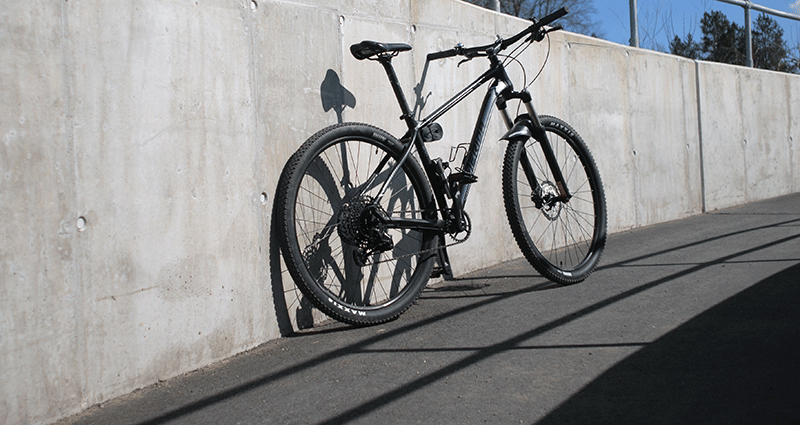 Merida Big Nine 400 Review
PROs
Affordable price tag – MSRP $999
1×12 drivetrain (10-50T) – Easily operated by the right thumb
Aesthetically pleasing – Nice matte & glossy finish on the frame & wheels
Air/coil fork – With a remote lockout, rebound & compression adjustability
29er wheels – With Maxxis Ikon 2.2″ tires
Weight: ca 30 lbs (13.5 kg)
CONs
Quick-release hubs are not the best for heavy-duty trail riding.
– But great for quick and easy on & off.
SRAM SX Eagle is the bottom-end class of the SRAM hiearchy which might require more frequent adjustability.
– Shimano Deore is a better alternative.
Wheels are best suited for light trails, rather than rocks and roots. There's a noticeable 'frame-flex' due to softer wheels & spokes.
– This can be compensated by the tire pressure, and avoiding high-impact trails.
---
The matte finish with grey and white lines blends in well with the full-black drivetrain. Two thumbs up!
---
Suspension & Tires
Front suspension plays a huge role in any mountain bike, particularly a hardtail.
Luckily, the Big Nine 400 comes with an air/spring fork, an upgrade from the cheaper heavy coil forks. It is also equipped with a remote lockout which can easily be adjusted from the handlebar. You can adjust the rebound according to your body weight and riding preferences to really tailor the ride.
If you'd like to learn about optimum pressure setting for the fork, check out the SR Suntour XC-R owners manual.
SR Suntour XCR32 fork
Air/Spring
100mm travel
Remote lockout
Preload adjustments
As a downside – The quick-release hub is not particularly suitable for heavy-duty downhill riding, but it can handle some demanding trails.
Good of the bad – Quick-release is a convenient to remove the wheel when transporting the bike inside the car or on a rear rack.
Maxxis Ikon tires
The Maxxis Ikon tires are a good pair of middle-ground tires, and often a go-to choice for intermediate trail riding which may include soft sand and rugged roots. You can even ride down 20-step stairs without feeling anything unruly from the wheels.
The tire pattern is evenly distributed which works great for urban and gravel use.
Recommended tire pressure:
Although there's a recommended tire range of 30-60PSI written on the sidewall, you can easily go as low as 20psi if you are lighter rider (<150lbs)
20PSI – Trail riding
25 PSI – Ideal for riders between 180-220lb
30PSI – Great for heavier trail riders, or for flat terrains for lighter riders.
---
SRAM SX Eagle Derailleur
Besides the fork, it is the drivetrain that makes or breaks a mountain bike. A 1x drivetrain is a nice addition which also happens to be the main selling point for the Big Nine 400. The gear ratio is great for technical sections, steep climbs, and fast flowy sections alike.
Pedals
The stock VP pedals are quite small in size which might be an issue if you are used to larger flat pedals. The VP pedals are good enough for recreational use but you might struggle for grip on jumps or more technical trails.
Small pedals are great if you prefer flat pedals to clip-on pedals as the small pedal size is sometimes better on sharp corners and rock gardens as the risk of pedal striking is reduced.
---
Big Nine 400 Full Specs
Head Tube Angle: 70º
Seat Tube Angle: 73º
Chainstay length: 440mm
FRAME – BIG.NINE TFS 6061 Alloy
FRAME SIZES – S, M, L, XL, XXL
COLOR: MATT-BLACK – (SILVER/WHITE), (DARK BROWN/BLUE)
FORK – Suntour XCR 32 RL-R
BRAKES – Shimano MT-200
ROTORS – Shimano RT10
BRAKE LEVER – Shimano MT-200
TIRES – Maxxis Ikon 2.2″
HEADSET – MERIDA – M4455
HANDLEBAR – MERIDA Expert CC
HANDLEBAR STEM – MERIDA Comp CC
GRIP – MERIDA Comp EC
DERAILLEUR – (R) Shimano Deore Shadow+
SHIFTERS – (L) N/A / (R) Shimano Deore
SEAT POST – MERIDA Comp CC
SEAT CLAMP – MERIDA Comp QR
SADDLE – MERIDA Comp CC
PEDAL – VP (flat)
CHAIN – KMC X10
CHAINWHEEL – FSA Alpha Drive 1x
FREEWHEEL – Sunrace CSMS2
BOTTOM BRAKET – FSA Catridge BB
HUBS – Shimano TX505
RIM – MERIDA Comp CC
SPOKES – Black stainless
---
Merida Big Nine Size Recommendations
XS < 5'4″ / <163cm
S 5'2″ – 5'8″ / 157 – 173cm
M 5'8″ – 6′ / 173 – 183cm
L 5'10" – 6'3″ / 178 – 191cm
XL 6'2″ – 6'5″ / 188 – 196cm
XXL 6'4″ + / 193cm +
---
FAQs
Is the Merida Big Nine 400 overpriced?
It is definitely worth the price. Compared to other MTBs between the $1,000 to $1,500 range, it is a great buy because of the 1×12 drivetrain, air fork and hydraulic disc brakes, which are not commonly seen on bikes at this price point.
Will it stand the test of time?
Merida is a well-known bike brand, and the Big Nine 400 resides at the entry/mid price category. For recreational users, there's nothing to worry about regarding the geometry as the more progressive geometry changes generally occur in the higher-end and more racey type of mountain bikes.
What should I upgrade on it?
The good thing about the Merida Big Nine 400 is that it is great for both recreational riding and XC events. As much as we'd like to come up with anything to upgrade – there's really nothing to change about what it is originally built for.
If you are looking for a bike to advance your skills to a high degree, you should be looking at a bike with dropper seat-post which helps a ton of ascends.
If you'd like to do some heavy trail riding, it is the wheels that need their game to be stepped up.
Related: Should you pay more upfront or upgrade later?
Where to buy?
Check out your the closest Merida dealer to your location.
Alternatives to Merida Big Nine 400
If you are looking for a trail-ready XC bike for competing, you'd have to add around $1,000 to get a next-level bike with thru-axle wheels and fork, and a dropper seat post.
Here are some examples:
Co-op Cycles – DRT 1.2
Cannondale – Trail 5
Is it trail ready?
Best for XC riding, the Big Nine 400 is a great bike to try some technical trail riding on. Once you've got the tire pressure, bike fit and fork settings right, this bike can be used for all sorts of technical riding. It handles well and offers a super comfortable ride even on really demanding terrain.
The derailleur is not suited for competing where you'd expect the gears to be changed as fast and smooth as possible. Although, it is great for recreational exploring and training purposes. The cheaper the bike derailleur, the more it needs tuning.
---
RELATED Reviews