Ibis Ripley Review
The Ibis Ripley is a lightweight, dual-suspension carbon mountain bike designed for fun, off-road riding. With 29″ wheels and 130mm front travel, it's ideal for fast charging along dirt tracks and mountain trails. The Ripley 29er frame design incorporates a longer front end with a slack head angle and steeper seat tube, making it quick and nippy around corners and over obstacles.
---
↓
Table of Contents
Ibis Ripley 4
Builds
Specs
Upgrades
–
Ibis Ripley SLX 2021′ Review
Size Chart
Buying Options
Customer Feedback
---
1981 – Santa Cruz, California
Ibis Cycles Inc.
Ibis is an American MTB and trail bike manufacturer based in Santa Cruz, California. It's known for its custom-made and locally produced mountain bikes that it's been building since 1981. The employee-owned company has developed several of its own award-winning and proprietary technologies, such as DW-Link suspension and Traction Tune.
Ibis Mountain Bikes Range
Ibis specializes in dual-suspension downhill, trail, all-mountain, and enduro MTBs. The majority of their bikes have full carbon frames and feature high-quality parts and components. In addition to their popular 29″ Ripmo and Ridley models, they also stock a 27.5″ Mojo play bike and the 700c rigid frame Hakka gravel bike and a 29″ hardtail known as the DV9.
All Ibis dual-suspension frames feature the DW-Link suspension system, developed in conjunction with bicycle tech guru Dave Weagle and winner of six elite level UCI Downhill World Championships. Ibis also produces its own extra-wide carbon fiber rims using Stans NoTubes Bead Socket Technology (BST), to create impact-resistance, lightweight wheels.
Ripley vs Ripmo vs Mojo
| | | | | | |
| --- | --- | --- | --- | --- | --- |
| IBIS | DV9 | Mojo 4 | Mojo HD5 | Ripley | Ripmo |
| Frame $ | 999 | 2,999 | 2,999 | 2,833 | 2,999 |
| Bikes from $ | 2,200 | 4,499 | 4,399 | 4,199 | 3,199 |
| Travel – front | 120/130mm | 140mm | 153mm | 130mm | 160mm |
| Travel – rear | x | 130mm | 170mm | 120mm | 147mm |
| Head tube angle | 68.5º | 65.4º | 64º | 65.5/66.5º | 64.9º |
| Seat tube angle | 73º | 76.6º | 75.8º | 76º | 76º – 77º |
| Chainstay | 439 | 425mm | 430mm | 432mm | 435mm |
| Frame | Carbon | Carbon | Carbon | Alu/Carbon | Alu/Carbon |
Ibis Cycles – Ripley V4 '2021
---

Trail Mountain Bike
29 x 2.35″ // 130mm front, 120mm rear travel
Head Tube Angle 66.5° // Seat Tube Angle 76° // Chainstays 432mm
↓
*DW Link
*Long dropper post
*Longer, slacker, steeper
*44mm fork offset (Instead of 51)
---
The Ibis Ripley series is aimed at intermediate to competitive level riders looking for a high-class, performance trail bike at an affordable price. It's a versatile 29″ bike designed for all-mountain riding with a well-balanced mix of features that make it an efficient climber and stable descender.
The Ripley comes standard with Fox Float Performance DPS suspension, 29″ Ibis S35 aluminum rims, and 2.35″ Schwalbe Hans Dampf/Nobby Nic Apex tires. You can choose from a selection of groupsets, starting with Shimano's entry-level Deore or SLX options and moving up to SRAM GX Eagle, Shimano XT, or SRAM XX1 Eagle AXS.
Responsive, lively, fast
Super climbing capabilities
One of the most versatile, everyday all-rounder trail bikes
Lightweight & zippy
2021 IBIS RIPLEY BUILDS
---
Frame – $2,833
Deore – $4,199
SLX – $5,099
GX Eagle – $5,399
XT – $5,799
XX1 Eagle – $10,899
2021′ RIPLEY V4
---
Frame Carbon Fiber Monocoque
DW Link V5 Kinematics Suspension
Fork Fox Float 34 Performance Series, 130mm travel, 29″, 15QR
Shock Fox Float Performance DPS with EVOL, 190×45
Tires 29×2.35″ TL-Easy
Front: Schwalbe Hans Damph
Rear: Schwalbe Nobby Nic Apex
Drivetrain 12-speed, 32t x 10-50/51/52t
Headset Cane Creek 40 ZS44/ZS56
Grips Lizard Skins Charger Evo
Saddle WTB Silverado 142mm
FRAME SPECS
Colors Blue Steel / Matte Braaap Black
Bottom Bracket Threaded (73mm English)
Seatpost Diameter 31.6mm
Boost Axles 110m (f), 148mm (r)
Front Travel 120-140mm
Rear Travel 120mm
Max Tire Width 2.6″
LATEST NEWS
---
The all-new aluminum 2021 Ibis Ripmo has a head seat tube angle at 65.5º compared to 66.5º on the carbon frame. Prices starting at $2,999 on Deore models
MSRP Ibis Ripley NX/GX from $3,299
JensonUSA
UPGRADES
---
Tires
Maxxis Assegai 29″ x 2.5″ WT, EXO+ casing $0
Wheels
Ibis S28 Carbon Rims / Industry Hydra 9 Hubs $1,300
Ibis S35 Carbon Rims / Industry Hydra 9 Hubs $1,300
Ibis S28 Carbon Rims / Ibis Logo Hubs $800
Ibis S35 Carbon Rims / Ibis Logo Hubs $800
Fork
Fox Float 34 Factory Series, 130mm/29″, 15QR $334
Shock
Fox Float Factory DPS with EVOL, 190×45 $166
EXTRAS
---
Available At Competitive Cyclist
Review: Ibis Ripley SLX 2021′
---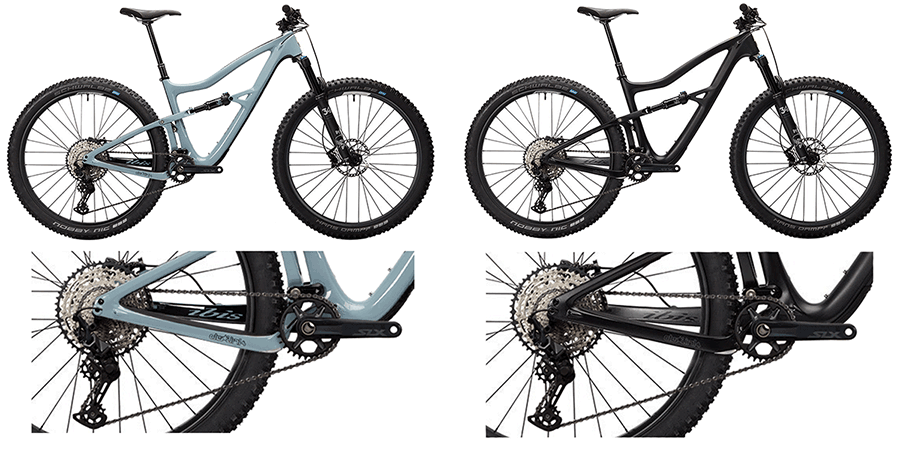 MSRP $5,099
Selecting a Shimano SLX groupset on the Ibis Ripley v4 offers a good balance of cost and quality. SLX has a proven track record of excellent performance and includes the Shadow Plus rear derailleur with a clutch to help reduce chain slap and unwanted shifting. Although SLX uses slightly heavier materials than Shimano's industry-leading XT groupset, it features much of the same technology and performs almost equally.
The Ripley Gen 4 SLX comes standard with Fox Float Performance front and rear suspension with 130mm and 120mm of travel, respectively. The standard 29″ Ibis S35 aluminum rims are fitted with 2.35″ Schwalbe Hans Dampf front and Nobby Nic Apex rear tires. You can upgrade the suspension to Fox Float Factory parts, plus you can get Ibis Carbon rims Maxxis Assegai tires.
Top-quality Shimano hydraulic disc brakes are included with the SLX groupset, plus Ibis have fitted a Bike Yoke Revive dropper post for easy height adjustment when climbing or descending. While there are some upgrades that may add a slight advantage, overall, the Ripley v4 SLX is a pro-level bike that could easily compete against top contenders in enduro or similar MTB races.
JensonUSA
Ibis Ripley Cons
---
Some users have swapped out the 130mm front travel to a 140mm fork for better rideability on rocky terrains. The good part is that the head tube angle gets close to 66° which makes the bike a little slacker, and also raises the bottom bracket a little.
Not as great for super rough trails
Internal channeled cable routing is not good for running moto-style braking (Front brake on right).
Tight rotor clearance for floating-style rotors will be a problem
Ibis overall downsides – Applicable to other models as well
---
Industry Hydra hubs make a loud noise.
Internal cable routing on the top end tends to leave some of the cables rattling against the head tube which might also scratch the paint in the long run.
The height and the angle of the upper cable routing tend to keep the cables higher as some riders are used to (Up above the bars).
Rear-suspension should have more protection to protect the paint.
Poor chainstay protection.
Ibis Bikes Size Chart
---
S – 5.0″ – 5'5″ / 152 – 165cm
M – 5'4 – 5'9″ / 163 – 175cm
L – 5'8 – 6'1″ / 173-185cm
XL – 6′ – 6'6″ / 183 – 198
Buying Options
---
Ibis Ripley for sale
Custom Feedback
---
If you're hoping this bike is a mini- Ripmo, I would not characterize it that way.
Randy T – September 2020
It almost does climbs by itself.
A well-designed short travel bike is always a blast to ride.
First Ripley, won't be the last

Bodhi B – February 2020
The latest evolution of the Ripley checks all of the boxes of a modern trail bike.
It pedals efficiently, is a confident descender, relatively long reach, slack headtube angle, steep seat tube angle, etc.

When you really put some effort into the pedals, the bike just goes!
A perfect combination of efficient pedaling platform, and a composed descender at speed.
Robert J – February 2020
Ripley is a beast stuffed into a small travel frame.
Super sharp front-end handling (On a 140mm fork)
FAQ
---
Max tire clearance: 29 x 2.6″
Max fork compatibility: 120mm for XC race / 140mm for lightweight enduro
2019 Ibis Ripley Weight: 28lbs 14 oz
The rest of the FAQ regards water bottle size, torque settings, etc can be found at IbisCycles Official Homepage
---
RELATED
Ibis Mojo 4 '2021 – Overview
Ibis Ripmo '2021 – V2 and AF Overview
---