How to Clean and Lube Your Bike Chain for Best Results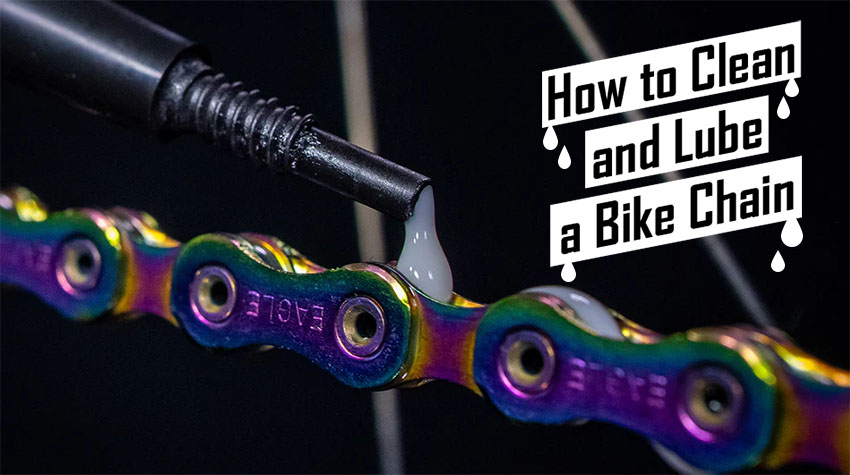 Regular chain maintenance is vital for keeping your bike running smoothly.
The use of lubricant to reduce friction and the chain's position close to the ground make it susceptible to picking up dirt and debris from the road or trail.
A dirty chain quickly leads to a loss of efficiency in the drivetrain and the wearing down of the components it touches, resulting in expensive repairs.
To help you avoid chain issues, we've put together a step-by-step guide on how to clean a bike chain and lubricate it, highlighting some mistakes to avoid and listing a few of our favorite products for the job.
Why Clean and Lubricate Your Chain?
A clean and well-lubed chain keeps your drivetrain turning and shifting smoothly and increases the lifespan of your chain and drivetrain components.
A poorly maintained drivetrain loses efficiency, meaning you lose watts on every pedal stroke because of the extra friction. In addition, increased wear means you'll need to replace components more often.
You'll need to replace and adjust your drivetrain components more often if you ride with a dirty chain, costing you unnecessary time and money.
When to Clean and Lube Your Chain
As the saying goes, "an ounce of prevention is worth a pound of cure," so sticking to a regular cleaning and lubrication schedule will keep your chain turning smoothly and eliminate the need to deep clean and lubricate your mountain bike which involves removing the chain from the bike.
After each muddy or dirty ride, you can wipe the accumulated dirt from the chain with an old rag and then dry the chain with a dry rag. If you ride regularly in wet conditions, we recommend that you perform cleaning and lubrication more often.
Should I Remove My Chain When Cleaning?
Removing your chain lets you fully submerge it in a degreaser and get it sparkling clean. However, many chains don't use a master link and should only be removed when worn out.
Even if a chain has a quick link for reinstallation, opening this link can weaken it and reduce the strength of your chain.
We recommend cleaning your bicycle chain without removing it. Staying on top of dirt buildup allows you to keep your drivetrain running smoothly without needing a chain-off cleaning.
Tools for Chain Cleaning and Lubrication
Bike chain cleaner and degreaser spray/bucket of warm soapy water and a paintbrush
A hose or bucket of clean water with a bidon for rinsing
A scrubbing brush with stiff bristles
A coarse sponge
2-3 clean, lint-free rags
Bike chain tool for cleaning (optional)
Chain keeper (for wheel-off cleaning)
How to Clean a Bike Chain
---
You can choose how to clean a chain based on how dirty it is or how long it has been since you last cleaned it. For example, if your chain is relatively clean, you can do a quick wheel-on cleaning; if it's dirty, you can remove the wheel and do a deeper cleaning.
Can You Use WD40 on a Bike Chain?
Yes, you can use WD40 on a bike chain, although it is best for cleaning, displacing water, or de-rusting chains. Standard WD40 has a small amount of lubricant in the solution that is adequate for riding in dry conditions. However, we recommend using a chain-specific lube for optimal results.
Wheel-on Cleaning
If you use disc brakes, start by covering them if possible. Otherwise, ensure you apply all the cleaning/lubrication products and use the brushes on the stretch of chain below the drivetrain to avoid brake contamination.
Apply your bike chain degreaser or soapy water by aiming the bottle at a single point on the chain, close to the chainring, and turning the pedals backward until the whole chain is coated.
Take your stiff-bristled brush and hold it against the chain at different angles, turning the pedals backward roughly 40 to 50 revolutions to allow the dirt to scrape out.
An optional next step is to run the chain backward through a coarse sponge.
If you have a chain cleaning tool, fill it with a degreaser and run the chain backward through it.
Once scrubbed, use a garden hose or bidon of clean water to rinse the dirt and excess degreaser or soap off the drivetrain.
Repeat the process if necessary.
Dry everything with a clean, dry rag.
Wheel-Off Cleaning
If you haven't kept up with your preventative cleaning, you may need to do a deeper cleaning by removing the wheel. To do this, you'll need a chain keeper tool compatible with your axles (QR or thru-axle). This method will allow you to clean the chain and drivetrain more thoroughly.
Remove your rear wheel and install the chain keeper to hold the chain in place.
Brush or spray the bike chain degreaser onto the chain, cassette, chainrings, and jockey wheels.
Using your stiff-bristled brush, scrub the jockey wheels, chainring(s), and cassette to loosen any dirt and grim caked-on, turning the pedals backward to reach each part.
You can use pipe cleaners to clean between your cogs if you don't have an appropriate brush.
Next, hold the brush against the chain at different angles and turn the pedals backward roughly 40 to 50 revolutions, allowing the dirt to scrape out.
If you have a bike chain tool, fill it with degreaser and run the chain backward through it.
Use a hose or bottle of clean water to thoroughly rinse each drivetrain component, removing the loose dirt and grime.
Dry everything with a clean, dry rag.
Remove the chain keeper and reinstall the wheel.
Mistakes to Avoid When Cleaning a Bike Chain
Only using a bike cleaner and not using a degreaser. A degreaser is necessary to break down oils.
Allowing dirt and mud to build up over several rides. Clean regularly to maintain efficiency and avoid a deep clean.
Contaminating your brake pads with dirty water or degreaser while you clean.
How to Lube a Bike Chain
---
Lubricating your chain regularly with the correct type of lube is key to maintaining good drivetrain efficiency and maximizing its lifespan. It's also worthwhile lubing a dirty chain if you don't have time to clean it, just run it quickly through a rag to remove any excess muck or dirt.
Choose your lube (wet, dry, or hybrid) based on the weather conditions. Alternatively, you can use a wax product that is more expensive but reduces friction the most and attracts less dirt.
We recommend using a drip-application bottle to avoid possibly contaminating your brakes and be more precise with hitting each link.
Start by ensuring your chain and drivetrain are completely dry.
Read the manufacturer's instructions to see how long the lube needs to sit before wiping away the excess.
Starting at the master link or quick link, take your best bike chain lube for the current conditions, and apply it one drop at a time to each roller while slowly turning the pedals backward.
Inspect the chain for wear during this process and stop when your reach the master link again.
Allow the lubricant to sit for the specified duration so it can penetrate the rollers (typically for a least 15 minutes, but ideally overnight).
Wipe away the excess lube with a clean rag. Lubricant on the outside of the chain will attract dirt.
Mistakes to Avoid When Lubing a Bike Chain
Contaminating your brake pads during application. Cover your brake pads and use a dropper bottle.
Applying lube to a wet drivetrain. Ensure everything is dry before application.
Using too much lubricant. Apply a single drop per roller and wipe away the excess afterward.
Not lubing regularly because your chain is dirty. Better to lube a dirty chain than not at all.
Using the wrong lube. Pay attention to the weather conditions and ensure you have the correct products.
Top Bike Chain Cleaning and Lubricating Products We Recommend
---
Finish Line – Wet Lubricant
Price: $10
Use: Wet weather chain lubricant
The Finish Line Wet Lubricant is a high-quality wet chain lube for cycling in poor weather conditions.
This lube provides durable protection thanks to the high-viscosity formulation that resists water, ideal for long-distance riding, coastal climates, muddy trails, and rainy commuting. The precision dripper tip allows you to apply a single drop at a time in a specific location.
---
Muc-Off – Dry Chain Lube
Price: $6
Use: Biodegradable chain lubricant for dry weather conditions
Muc-Off is a leading producer of lubrication products. Its Dry Chain Lube is a long-lasting formulation that completely coats your chain on application, thanks to its premium formulation. Impressively, Muc-Off achieves this while using biodegradable ingredients. You can also apply this lube to cables, shifters, and derailleurs for smoother operation.
---
Silca Secret Chain Blend Hot Melt Wax
Price: $40
Use: High-performance wax for lubrication of the chain
Hot wax is the most advanced method of lubricating a chain, reducing friction more than any other lubricant, increasing speed, and eliminating noise. This product is ideal for competitive cyclists.
This Silca hot wax comes in a submergible pouch. Drop your clean, dry chain inside, seal it, and submerge it in hot water to coat the chain. Tungsten Di-Sulfide is the additive Silca uses to achieve this performance.
---
Park Tool – CG-2.4 Chain Gang Cleaning Kit
Price: $39.95
Use: All the tools needed for fast and efficient drivetrain cleaning, including a cleaner
The Park Tool CG-2.4 Chain Gang Cleaning Kit is a premium package of tools for deep cleaning a chain, chainrings, and cogs.
Using rags, sponges, and brushes is a more laborious and ineffective than using purpose-made tools that can hit hard-to-reach places on the drivetrain. In addition, you'll get the Bio ChainBrite chain cleaner, one of the best on the market. The package includes a chain scrubber, gear brush, and chain cleaner.
---
Foundation – Bike Chain Cleaning Kit
Price: $16.20
Use: Full chain, drivetrain, and frame cleaning toolkit
The Foundation Bike Tools Bike Chain Cleaning Kit is a cheap collection of four tools for cleaning the drivetrain and frame. These include a chain scrubber, soft and hard-bristle drivetrain brushes, and a frame sponge. In addition, you'll get a convenient drawstring bag for keeping everything together—the perfect toolkit for recreational cyclists who want to save time when cleaning.
---
Pedro's – Oranj Peelz Citrus Degreaser
Price: $15
Use: A drivetrain-specific degreaser for tough dirt
Pedro's Orange Peelz Citrus Degreaser is a strong cleaning solvent developed specifically for drivetrains. The citrus-based formula is water-soluble and rinses away easily. It penetrates deeply to remove stubborn grime and dirt. This cleaner is quite strong, so be cautious around rubber and plastic. Ideal for riders who live in wet climates.
---
Muc-Off – Quick Drying Chain Degreaser
Price: $20
Use: A no-rinse spray degreaser for chain cleaning
The Muc-Off Quick-Drying Chain Degreaser is a unique product that doesn't need rinsing off after use. Instead, spray the product onto your chain and drivetrain, allow it to dry, and it will evaporate all of the grease and grime, leaving your drivetrain clean. This spray is ideal for those who live in apartments that don't have easy access to an area where they can rinse their bike.