Giant Talon Review

Giant Talon is by far one of the most popular reasonably priced hardtail mountain bikes out there. It has won the hearts of beginner and intermediate riders by offering incredible value for the money delivered in a good-looking package.
Best for: XC Trail
Level: Enthusiasts
Features: ALUXX-Grade aluminum frames, 100 mm suspension forks, SRAM and Shimano groupsets, Tektro hydraulic disc brakes
If you're looking to spend as little money as possible but get a high-quality bike made by a renowned brand that will allow you to easily learn the ropes of mountain biking, Giant Talon is your friend!
Read our in-depth review of the entire Talon series to learn more.
Giant Talon: Quick Specifications

Giant Talon 1, 2, and 3 are similar bikes, but they have some crucial differences when it comes to the components they carry. Let's check out their full list of specs.
Frame: ALUXX-Grade Aluminum, disc
Fork:

Talon 1: Suntour Raidon 27.5″, air spring, 100mm, QR, LO-R, alloy steerer, rebound adjust
Talon 2: RockShox XC 30, coil spring, preload adjust, TurnKey hydraulic lockout
Talon 3: SR Suntour XCT30 HLO 27.5″, 100mm, lockout, preload adjuster

Tires:

Talon 1 & 2: Maxxis Ardent 27.5×2.4, wire bead
Talon 3: Maxxis Ikon 27.5×2.2, wire bead

Rims: Giant GX03V 27.5″, alloy, double-wall, 21mm inner width
Crankset:

Talon 1: SRAM Eagle SX, 30t
Talon 2: Shimano FC-MT101, 22/36
Talon 3: Prowheel forged, 22/36

Front Derailleur:

Talon 1: None
Talon 2: Shimano Alivio
Talon 3: microSHIFT FD-M282

Rear Derailleur:

Talon 1: SRAM Eagle SX
Talon 2: Shimano Alivio
Talon 3: Shimano Acera

Cassette:

Talon 1: SRAM SX Eagle, 11×50
Talon 2: Shimano CS-HG200-9, 11×36
Talon 3: Shimano CS-HG200-8, 12×32

Shifters:

Talon 1: SRAM Eagle SX
Talon 2: Shimano Acera
Talon 3: Shimano Altus

Brakes: Tektro HDC M275, hydraulic disc
Saddle: Giant Custom
Pedals:

Talon 1: MTB Caged
Talon 2 & 3: Platform

Number of gears:

Talon 1: 10
Talon 2: 18
Talon 3: 16

Gender: Unisex
Giant Talon Full Review
If you're thinking entry-level hardtail and want to spend as little as you can to get a worthy bike, Talon is an exemplary choice. The line consists of three build options to suit all budgets and bike needs:
Imagine a rugged hardtail MTB that's ready to tame any XC trail or dirt circuit you have your sight on – and leave you with lots of holiday coin leftover – The 2021 Talon is that bike. Check out the three build options and be amazed at what you can get for under a grand. Giant takes pride in offering lots of bike for little money. Its 2021 Talon MTB line, comprised of Talon 1, Talon 2, and Talon 3, is a fine example of that expertise. Still, these economical entry-level bikes employ leading-edge technologies found on many of Giant's higher-end bikes.
Their ALUXX-grade aluminum hardtail frames are kept light and simple by using uniquely-shaped frame tubes, which eliminate unneeded gussets and welds. The 27.5-inch wheels and Maxxis tires will get you through the XC business with aplomb. These bikes are also available with 29″ wheels if you want even more unstoppable power on the trails. Shimano, SRAM, and other well-known component brands solidly round out the builds.
Giant Talon 1
Talon 1 is the most expensive of the three, which means it offers the most bang for the buck. It also sports the ALUXX-grade aluminum frame, but it comes bejeweled with an SRAM Eagle SX drivetrain. It equips you with 10 gears on one ring up front and 10 of them in the back, which is more than enough to tackle any demanding terrain. Plus, it sports Tektro hydraulic brakes and super-wide tires, so you can push your limits in the corners and when descending.
Giant Talon 2
The premium Talon 2 touts a 2 x 9 wide-range drive, including an 11-36t cassette and direct-mount front derailleur. Riders counting grams may opt for this slightly lighter Talon, but honestly, it's more a matter of which drive is preferred.
The tires and brakes on these two bikes are completely the same, so it's not something you should worry about.
Giant Talon 3
The more economical Talon 3 uses a heavier but perfectly functional drivetrain, and its 16-speed gear range is supplied by a double-ring crankset in front mated with an 8-speed 12-32t cassette outback. A complete package that won't hold back riders seeking a back-country adventure.
The Talon 1, Talon 2, and Talon 3 all run 100 mm suspension forks, but the model and the quality classes differ. Respectively, Talon 1, 2 and 3 run SR Suntour Raidon, RockShox XC 30, and SR Suntour XCT30 HLO. All three have the lockout and preload function enabled.
Components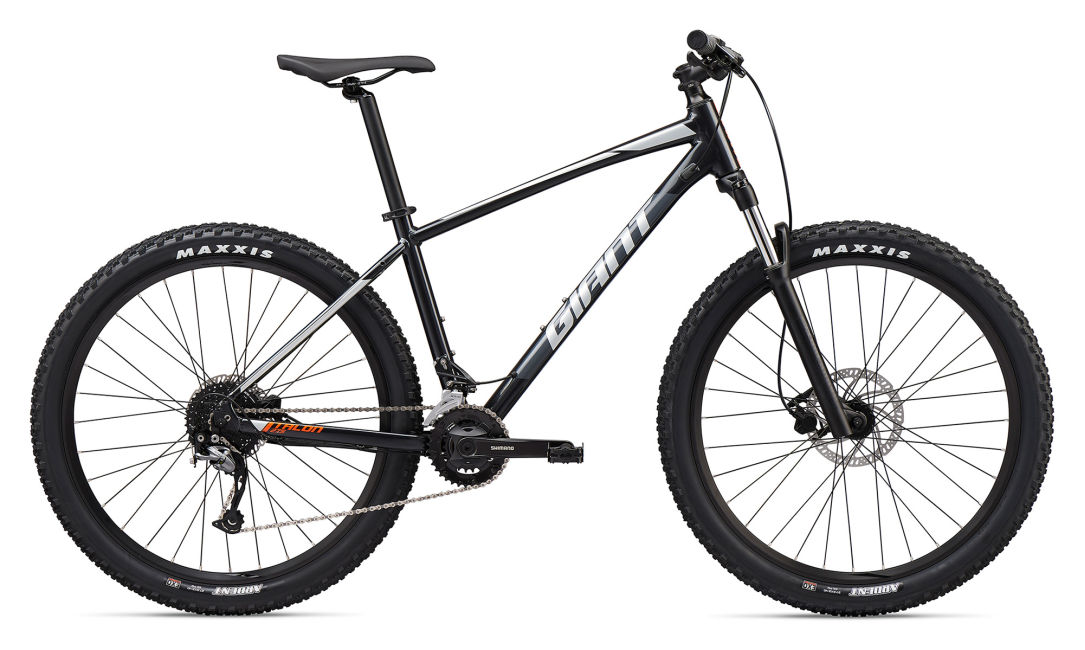 As usual, Giant has done a great job in creating cohesive builds that work great yet fit any budget. SR Suntour, Shimano, Maxxis, KMC – these reputable component manufacturers have been trusted by riders and racers for literally decades, and they help make Talon the worthy MTB line that it is.
As mentioned, the primary difference between Talon 1, Talon 2, and Talon 3 is the drive – 1 x 10 vs. 2 x 9 vs. 2 x 8, respectively. Talon 2's direct-mount front derailleur maybe a little more goof-proof and slightly lighter than the traditional tube-mounted type found on Talon 3, but both systems shift smoothly and efficiently.
The SRAM Eagle SX found on Talon 1 is definitely lighter and a bit more efficient in demanding situations. So, Talon 1 and Talon 2 will be better suited to areas with "goat heads" and other thorny bits that don't play well with tubed tire setups such as on the Talon 3. All three Talons achieve a comfortable cockpit via Giant-branded alloy bar, stem, seat post, and flat pedals.
100 mm of plush suspension travel up front – supplied by SR Suntour and RockShox forks – keeps you in control when things get rough. Multiple adjustments allow you to fine-tune your ride to your preferences and terrain. Tektro hydraulic disc brakes are some of the best and most popular in the dirt, so we are glad to see them included on all three build levels.
The 180 mm front and 160 mm rear rotors help supply ample stopping power. All three models have the HDC M275 brakes known for their confident braking power ideal for more aggressive riding. Wheels include Giant disk-specific rims and hubs, stainless spokes, and Maxxis tires. The tires differ in width, so the Talon 3 has 2.2″, whereas Talon 2 and Talon 1 have 2.40″ wide tires.
Frame Features
Amazingly, these super-economical bikes include fairly advanced, feature-rich frames. Giant's ALLUX 6061 aluminum alloy provides optimal strength-to-weight, and its proprietary tubing shapes eliminate extra frame material and welds, resulting in a lightweight, simple and strong frame.
Giant has optimized the Talon frame geometry to produce a very comfortable and efficient ride. A low standover height will be appreciated by fledgling and more diminutive dirt riders, and mounts for two water bottles will give the option to ride without a hydration reservoir on your back. Talon models use a threaded bottom bracket – good news for garage bike mechanics who might want to perform crank maintenance work or swap out gearing.
User Reviews
A great deal of positive user commentary has been generated by this entry-level bike. While accolades abound for many great bikes today, it's important to remember the relative association between performance and price. Any number of bikes will work reasonably, but among this group, few if any will attain as high a performance-to-price ratio as Talon 1, Talon 2, and Talon 3.
Riders and reviewers of Talon noted the efficient big-name component group, sleek looks achieved by internal cable routing, and cool frame color graphics. Overall light-weight and quick, confident handling were also mentioned, as was the plushness of the SR Suntour suspension fork. Riders of all three models appreciated the Maxxis tires, citing them as normally not specced on such economical MTBs.
Size Recommendations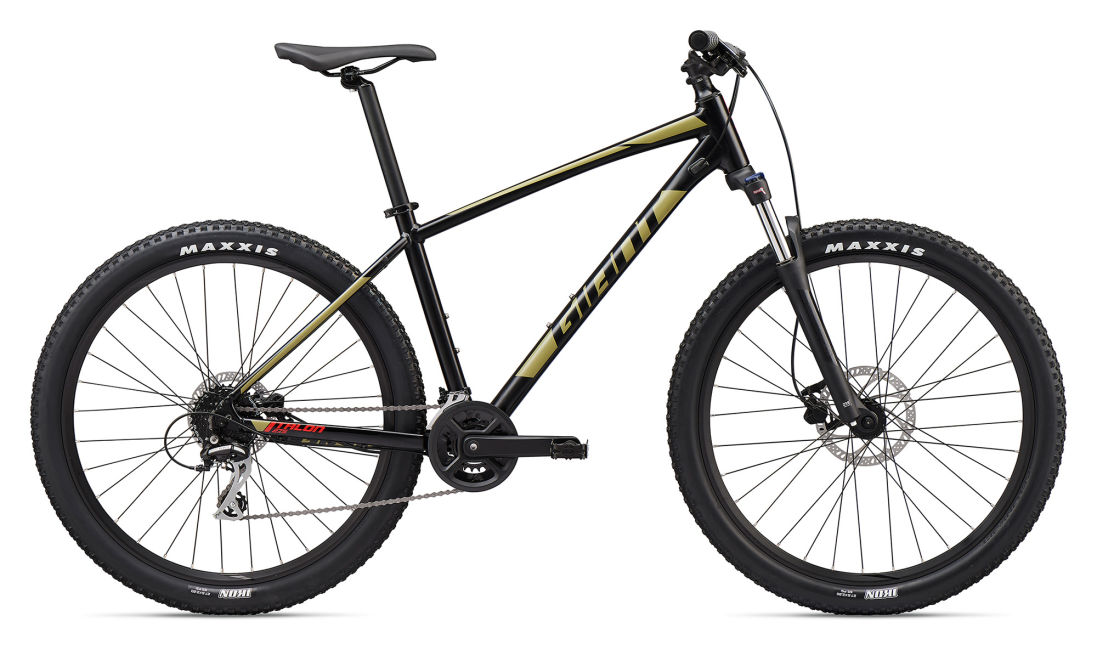 XS – 5'1″ – 5'5″
S – 5'4″ – 5'8″
M – 5'7″ – 5'11"
L – 5'10" – 6'2″
XL – 6'2″ – 6'6″
Giant Talon Pros & Cons
Pros:
ALUXX-Grade aluminum frame
Hydraulic Disc Brakes
Affordable and Economical
100 mm Suspension fork
Cons
non-tubeless tires on Talon 3 may be problematic in thorny areas
Lower-priced mountain bikes tend to weigh more than their pricier counterparts
Who is This Bike For?
Giant Talon 1: Ideal for riders who are still learning the ropes but are already seriously falling in love with trails and know they will stick with it in the future.
Giant Talon 2: For a new mountain bike rider – one who is serious about tackling trails and dirt roads, and who needs a bike that will accommodate his/her improving skills.
Giant Talon 3: Aimed toward entry-level riders who prefer the least monetary commitment for a reliable, well-equipped bike.
Bottom Line
If you're looking for MTB options for a new or novice dirt rider, you'll be hard-pressed to find better performing and more economical picks than the Talon line. For anything less than extreme mountain biking, Talon is a great choice that will satisfy riders for many miles and smiles.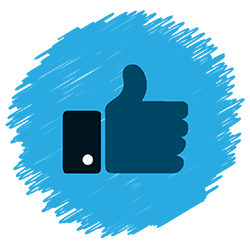 Giant's Talon 1, Talon 2, and Talon 3 represent three entry-level hardtail mountain bikes that punch well over their class.
Aspiring dirt riders now can tool up with a modern 27.5-inch-wheeled bike produced with leading technologies and the experience of one of the biggest mountain bike players on the planet – Giant. However, you can also go for the more capable 29″ wheels if you wish.
If saving money on a great entry-level bike is your aim, we're confident that you won't be able to do better than Giant's Talon 1, Talon 2, and Talon 3. All of these bikes are constructed and outfitted for long-term XC durability and performance; rider preferences and budget will help make your final choice.
One of three economical Talon options will accommodate most any new rider – as well as any budget.
Talon 2, with its 2 x 9 drive, clutch-style rear derailleur, and knobby Ardent tubeless tires is your pick for more aggressive XC riding and rougher terrain. Or, save significant dough by choosing Talon 3 – it boasts similar (yet slightly weaker) components to Talon 2, and is otherwise specced to reliably take on any XC terrain, trails, or roads.
Talon 1 is the best of the three, with a more convenient 1×10 drivetrain, better SRAM components, wide tires, and a lighter and plusher fork. If you have enough money to spare, you can't go wrong with it.
All three Talon models employ Giant's ALLUX 6061 aluminum alloy, unique frame tube shapes, and are specced with quality components from SRAM, Shimano, Giant, KMC, Sapim, and Maxxis.