Giant Fathom 29 Review
Are you ready to step into the world of adventure on some big wheels? Giant's 2021 Fathom 29 line is a great way to tool up for those longer, harder rides you have in mind. And you'll have plenty of cash left over for accessories!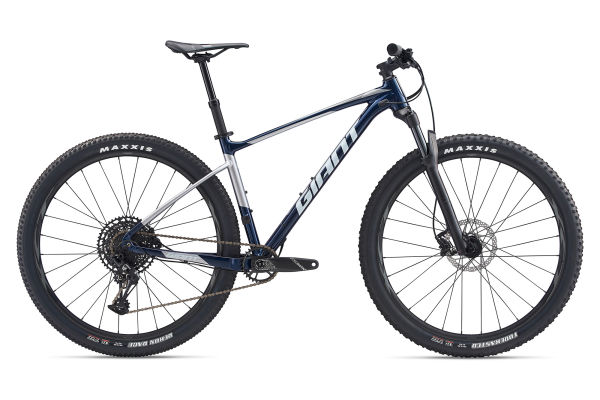 BEST FOR XC Enthusiasts
FEATURES: High-grade aluminum frames, 120 mm travel front suspension, dropper seat post, 69'degree head angle, Giant XCT 29″ wheels
MSRP
Fathom 2 – $1,200
Fathom 1 – $1,500
Who Is This Bike For?
Fathom 29 1: For the MTB enthusiast ready to step into a modern 29er hardtail and hit the trails and backcountry with confidence.
Fathom 29 2: A more wallet-friendly but solid option for more recreation-oriented riders.
Giant Fathom Quick Specs
When it comes to the overall specs, Fathom 1 and Fathom 2 are quite similar. However, they still have some crucial differences in the components, especially when it comes to the drivetrain and brakes.
| | | |
| --- | --- | --- |
| | Giant Fathom 29 1: | Giant Fathom 29 2: |
| Frame | ALUXX SL-Grade Aluminum | ALUXX SL-Grade Aluminum |
| Fork | Rock Shock Recon RL 120mm, Solo Air, 15×110 Maxle Lite | Suntour Raidon XC LO-R, 100mm, tapered, 15×110 QR |
| Rims | Giant XCT 29" tubeless ready sleeve-joint rim, 25mm inner width | Giant XCT 29" tubeless ready sleeve-joint rim, 25mm inner width |
| Tires | [F] Maxxis Forekaster 2, , EXO/TR, [R] Maxxis 29×2.35 Rekon Race, foldable, EXO/T | [F] Maxxis Forekaster 2, , EXO/TR, [R] Maxxis 29×2.35 Rekon Race, foldable, EXO/T |
| Crankset | TruVativ Descendent 6k DUB, 30t | SRAM Eagle SX Eagle DUB, 30t |
| Cassette | SRAM SX Eagle, 11×50 | SRAM SX Eagle, 11×50 |
| Rear Derailleur | SRAM NX Eagle | SRAM SX Eagle |
| Shifter | SRAM SX Eagle | SRAM SX Eagle |
| Brakes | Shimano MT400 | Tektro HDM 275 |
| Bottom Bracket | SRAM DUB, press-fit | SRAM DUB, press-fit |
| Handlebar | Giant Connect Trail, 780×31.8, [GA 690] | Giant Connect Trail, 780×31.8, [GA 690] |
Pros & Cons
---
PROS:
Great price
Well-designed, sturdy frame
Functional and reliable components
100mm of fork travel
The dropper seat post is included
CONS:
Lower-priced mountain bikes pack more weight than premium bikes
The press-fit bottom bracket requires specialized tools and supplies to service
Giant Fathom Full Review
---
The 2021 Fathom 29 line rolls out from Giant's long lineage of savvy mountain bike design and manufacturing. With a know-how feeling permeating Giant's full range of XC bikes, you can now spend little and still get a pretty advanced bike. Giant Fathom 29 1 and 2 are a couple of fine examples of that.
Fathom 29's ALUXX SL-grade aluminum alloy frame is designed for both all-day comforts and for confidence on steep and rough terrain. Of course, the tubeless 29er wheels will help you carry momentum with their well-known rollover ability, and the lightweight and tough Maxxis tires will deliver great performance on a variety of off-road surfaces. Riders ready for big XC adventures will appreciate the well-appointed Fathom, which is available in two build levels:
Fathom 29 1 – The more advanced build, which includes a more premium Rock Shock suspension fork, and an SRAM NX 11-speed wide-range gearing setup for simplicity and performance in the rough. Quality components from leading brands like Shimano and SRAM round out the build.
Fathom 29 2 – Uses also runs on a 1×11 setup with an SRAM SX rear derailleur, paired with a wide-range cassette. A few of the components are at a lower level compared to Fathom 29 1, but the main differences will be the gearing setup and the level of fork performance.
Quality Components
In true Giant tradition, the build options for Fathom 29 are premium relative to the bike line's low price. Fathom 29 1 and 2 are equipped well above the entry-level, with the Fathom 29 1 model checking in with somewhat more advanced gear than its more economical brother. We mentioned the difference in drive types – SRAM NX vs SRAM SX – and we believe that is the biggest consideration in comparing these two bikes.
Mountain bikes with a single chainring in front are usually better able to handle rough jarring without losing retention of the chain.
This may seem counter-intuitive, but the reason chains stay on single rings better than multiple rings is: Multiple rings are intended to have the chain move on and off them during shifting, so, by design, they do a less effective job of holding onto the chain during heavy jarring.
A clutch-style rear derailleur helps to minimize this effect and is key to good chain retention – note that both Fathom 29 models include this type of rear derailleur. Besides the drive, the brakes and brake levers will be a more premium grade on Fathom 29 1.
Cockpit components are identical between the two Fathom builds, consisting of reliable and lightweight Giant-branded parts. Giant's Contact Switch dropper seat post comes standard on both models – an extremely useful feature when up turns to down, and vice versa.
Suspension and Brakes
Suspension forks with 100 mm of travel grace the front end of the Giant Fathom, with the slightly higher spec Rock Shock Recon RL found on the Fathom 29 1. Note this higher spec fork includes a 15 mm "thru-axle" for enhanced stiffness and strength and adjustable settings for low-speed compression and rebound.
Shimano hydraulic disk brakes – one of the best mountain brakes out there – are included on Fathom 1; Fathom 2, on the other hand, comes with Tektro HDM 275 brakes.​ Rotor sizes on both bikes are 180 mm front and 160 rear – a worthy combo for stopping the big wheels.
Wheelsets include Giant XCT tubeless rims and Maxxis 2.35-inch tubeless tires with EXO sidewall protection – a fantastic combination for lightweight performance and upping your personal records.
Frame Features
---
Giant Fathom 29 1 and 2 frames both employ Giant's ALUXX SL-grade 6061 aluminum alloy with semi-internal cable routing, OverDrive tapered head tube for maximum stiffness and stability, compliance-tuned seat stays junction for a smoother all-day ride, and XC-specific geometry with a 69-degree head angle for confidently descending steep and rough terrain.
User Reviews
---
This relatively new model has not yet produced a huge amount of review material, but what we've seen has been mostly positive. Reviewers praised the quick handling of the bike, its ability to transition turns well, and its comfortable riding position. Also mentioned was Fathom 29's technologically-advanced alloy frame, neatly-tucked rear brake caliper, and the 100 mm suspension.
One reviewer pined for a wider handlebar, and also thought the rider position felt too "upright." (Note that the "upright" phenomenon can, to a degree, be minimized with certain adjustments.) Rider and reviewer feedback propped the Fathom 1 and 2 as very well specced for their price bracket – an overwhelming plus for the Fathom 29 line, as far as we're concerned.
Sizes & Buying Options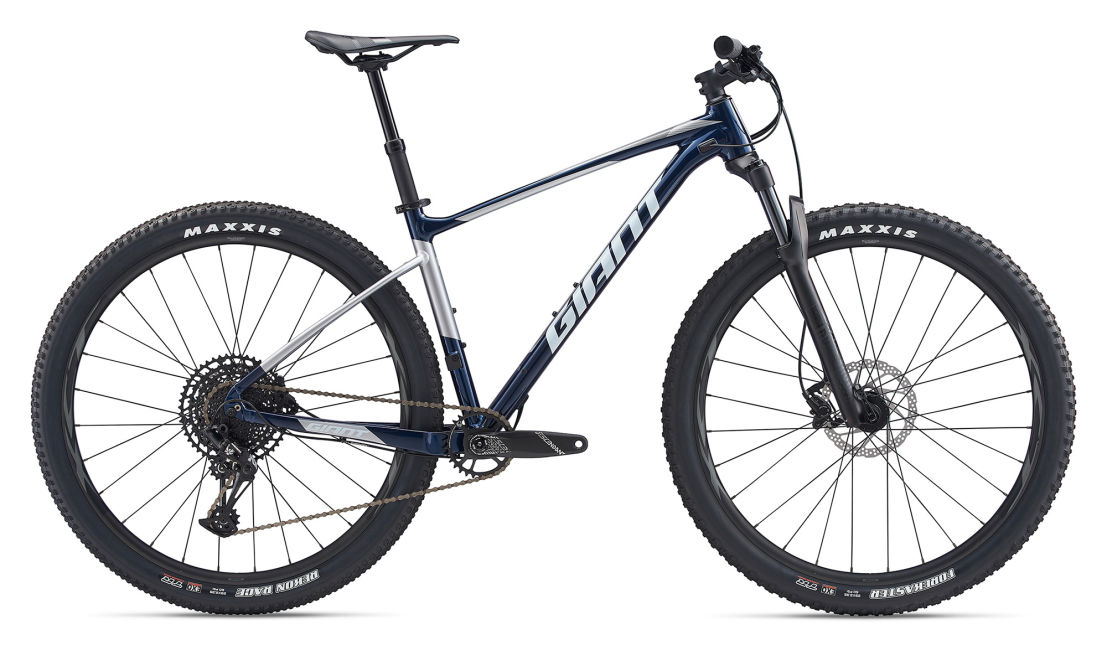 S – 5'4″ – 5'8″
M – 5'7″ – 5'11"
L – 5'10" – 6'2″
XL – 6'2″ – 6'6″
Summary
---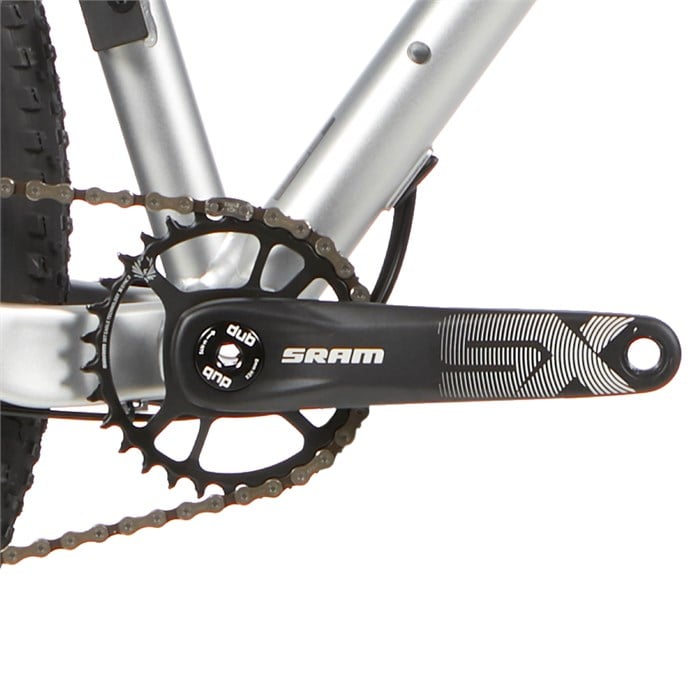 The Fathom 29 1 and 2 confirm Giant's position as the preeminent manufacturer of high-value bicycles. This line of hardtail mountain bikes is suited to novice-to-intermediate riders and is appropriate for a range on XC terrain, including pretty much any MTB surface type and grades that are less than extreme.
At the core is Giant's ALUXX SL-grade aluminum alloy frame – a culmination of Giant's decades of experience building off-road bicycles. Frame geometry and design enhance compliance and stability for a comfortable and confident ride. The full-featured line includes 100 mm suspension forks in front, tubeless Maxxis XC-specific tires with EXO sidewall protection, Shimano and SRAM drivetrains, and Giant dropper seat posts – pretty much turnkey for ripping your favorite XC circuits and beyond.
Both bikes feature 1×11 drivetrains – riders looking for rougher trails will benefit from them. Roll smoothly through rocky bits with tubeless 29er wheels and light-yet-tough Maxxis tires, front, and rear. Fathom 29, in either build, is a complete and balanced package, front to back. Looking for a solid, reliable, modern hardtail packed with design features and great components for a noteworthy price? The Giant Fathom 29 1 or 2 will keep your accountant happy and give the rider you have in mind a whole new world to explore.
Novice-to-Intermediate XC riders will appreciate Giant's thoughtful design, technologies, and execution of this economical 29er mountain hardtail. The Fathom 1 and 2 are worthy XC-oriented steeds that will accommodate most budgets and not leave a rider wishing for an upgrade.