Review of Trek Marlin 5 Gen 2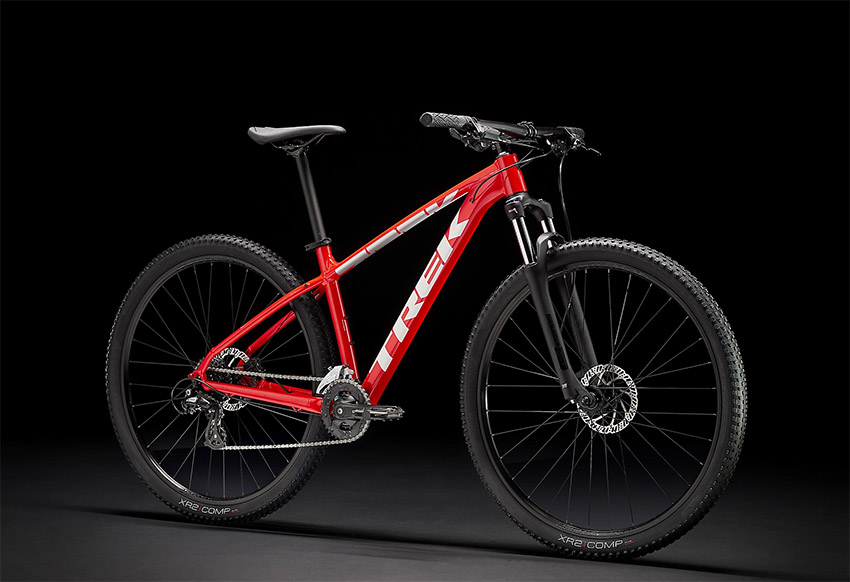 Trek Marlin 5 Gen 2 is an entry-level trail bike ideally suited for beginners and recreational riders who need a dependable hardtail to hit the trails or use for a daily commute.
It features Shimano Altus 2×8 components, hydraulic disc brakes, an 80-100mm travel fork, and comes in four stunning paint jobs.
The Marlin 5 has been one of the best-selling mountain bikes in this price range for a good reason, and we expect the Gen 2 version to follow in its steps.
PROS:
Hydraulic disc brakes
100 mm of front travel
Progressive wheel sizing
---
Trek Marlin 5 Gen 2 Full List of Specs
Frame
Alpha Silver Aluminum, internal routing, chainstay disc brake mount, rack and kickstand mount, 135x5mm QR
Fork
XX-Small = SR Suntour XCM 30, coil spring, lockout, preload, 100mm QR, 100mm travel
X-Small = SR Suntour XCT 30, coil spring, preload, hydraulic lockout, 42mm offset for 27.5″ wheel, 100mm QR, 80mm travel
Small = SR Suntour XCT 30, coil spring, preload, hydraulic lockout, 42mm offset for 27.5″ wheel, 100mm QR, 100mm travel
M, ML, L, XL, XXL = SR Suntour XCT 30, coil spring, preload, hydraulic lockout, 100mm QR, 100mm travel
Rims
Bontrager Connection, double-wall, 32-hole, 20mm width, schrader valve (XXS = alloy)
Hubs
Front: Formula DC-20, alloy, 6-bolt, 5x100mm QR
Rear: Formula DC-22, alloy, 6-bolt, Shimano 8/9/10 freehub, 135x5mm QR
Spokes
14g stainless steel
Tires
Bontrager XR2 Comp, wire bead, 30 tpi (XXS = 26 x 2.20″; XS, S = 27.5 x 2.20″; M, ML, L, XL, XXL = 29 x 2.20″)
Bottom Bracket
VP BC73, 73mm, threaded cartridge
Crankset
XXS = Prowheel TM-CY10, 36/22, 160mm length
XS, S, M = Shimano M315, 36/22, 170mm length
ML, L, XL, XXL = Shimano M315, 36/22, 175mm length
Shifters
Shimano Altus M315, 8-speed
Front Derailleur
Shimano Altus M315, 34.9mm clamp, top swing, dual pull
Rear Derailleur
Shimano Altus M310
Cassette/Freewheel
Shimano HG200, 12-32, 8-speed
Chain
KMC Z8.3, 8-speed
Brakes
XXS, XS, S = Tektro HD-M276 hydraulic disc, short reach lever
M, ML, L, XL, XXL = Tektro HD-M275 hydraulic disc
Rotors
Shimano RT26, 6-bolt
Handlebars
Bontrager alloy, 31.8mm, 5mm rise, 720mm width (XXS, XS: 690mm)
Tape/Grips
Bontrager XR Endurance Comp, lock-on
Stem
Bontrager alloy, 31.8mm, Blendr compatible, 7 degree
XXS = 35mm; XS = 50mm; S = 60mm; M = 70mm; ML, L = 80mm; XL = 90mm
Headset
Semi-integrated, 1-1/8″
Seatpost
Bontrager alloy, 31.6mm, 12mm offset
Saddle
Bontrager Arvada, steel rails, 138mm width
Pedals
VP-536 nylon platform
Trek Marlin 5 Gen 2 Full Review
If you're considering buying your first mountain bike or treating yourself to a brand-new bicycle you'll use as an everyday workhorse and commuter; the Marlin 5 Gen 2 is a solid choice.
The Trek Marlin 5 is an entry-level trail bike that has a lot to offer to trail lovers. If you want to figure out whether this bike is right for you, check out our detailed review below!
Quality Frame and Fork
The base of the Trek Marlin 5 Gen 2 is the brand's Alpha Silver aluminum frame with a sleek design and stable geometry, suitable for various rider needs. This frame features internal cable routing that protects your cables from the elements and adds to the bike's clean look.
Marlin 5's frame is available in eight sizes, so you're guaranteed to find the perfect one for your height. The SR Suntour fork is basic but provides 100 mm (or 80mm on the XS) of travel to take the sting off light trails. This fork has a coil spring which makes it a bit heavy, but it comes with a preload function, which is a nice plus.
Precise Hydraulic Disc Brakes
The star of the show on the Trek Marlin 5 Gen 2 is its Tektro hydraulic disc brakes. We are always pleasantly surprised to see them on bikes below $1,000, as hydraulic discs are a rare find in this price range.
Thanks to these hydraulic disc brakes, the Trek Marlin 5 Gen 2 is a bike that performs well in all weather conditions.
Compared to all other types, hydraulic brakes output the most power and provide the most precision. Trek has even gone so far as to install short-reach levers on the smallest frames.
2.20″ Tires and Progressive Wheel Sizing
Depending on how tall you are and which frame size end up going for, your Trek Marlin 5 will come with either 26″, 27.5″, or 29″ wheels.
The XXS frame has 26″ wheels, the XS and S frames come with 27.5″ wheels, and all other sizes are 29ers. Progressive wheel sizing and a curved top tube on the smaller frames decrease the standover height of the bike and ensure a much better fit for all rider heights.
The rims on all sizes are Bontrager Connection. They're double-walled and have 32 spokes, which means they'll take plenty of abuse. The Bontrager XR2 2.2″ tires are not tubeless, but they will give you plenty of grip on the three different wheel diameters. The 27.5″ wheels have extra clearance for 2.4″ tires.
Shimano Drivetrain
Another positive aspect of the Trek Marlin 5 Gen 2 is that the entire drivetrain comprises Shimano parts. Sure, they are entry-level quality, but they offer more than enough performance and precision for the average beginner trail rider.
The Marlin 5 Gen 2 has 16 gears on a 2×8-speed drivetrain and comes with a complete Shimano Altus M315 drivetrain, which is one quality class higher than Tourney. This compares to the previous model's more complex and heavier 3×7-speed drivetrain.
The crankset is 36/22t with 160mm cranks on the XXS and 170mm on the other sizes. This crankset pairs with a 12-32t cassette.
Dependable Bontrager Parts
Bontrager is Trek's in-house brand that makes numerous parts and accessories. The Bontrager label on Trek Marlin 5 Gen 2 can be seen on the saddle, seat post, handlebar, grips, and stem.
Trek makes all of these parts specifically for their bikes, which means they are 100% compatible and perform for a long time without any issues. However, one of this bike's downsides is that the headset is not tapered, so you might have a harder time upgrading the fork if you ever decide to do that.
Trek Marlin 5 Gen 2 Sizing Chart
XXS — 4'5″ – 4'9″ / 135 – 145 cm
XS — 4'9″ – 5'1″ / 145 – 155 cm
S — 5'1″ – 5'5″ / 155 – 165 cm
M — 5'5″ – 5'8″ / 165 – 173 cm
M/L — 5'8″ – 5'11" / 173 – 180 cm
L — 5'11" – 6'2″ / 180 – 188 cm
XL — 6'2″ – 6'5″ / 188 – 195 cm
2XL — 6'5″ – 6'8″ / 195 – 203 cm
Who Is Trek Marlin 5 Gen 2 Best Suited For?
Like any other bicycle, the Trek Marlin 5 will not be a good buy for everyone. It is an entry-level machine mainly intended for beginner riders and those who do not take cycling too seriously.
Trek Marlin 5 Gen 2 should be shortlisted by beginner riders who are looking for their first mountain bike to commute or explore the dirt roads in their area.
If riding a bike is a weekend activity or a mode of transportation for you, then Marlin 5 will meet and exceed your expectations. You'll be able to cover thousands of miles on it without any upgrades and explore farther than before.
However, if your idea of cycling is to hit trails as hard as possible and test your skills and limits, then you should save a bit more money and invest in a bike with slightly better components.
Is Marlin 5 Gen 2 a Good Buy?
The value for money you get out of this bike leads us to conclude that the Trek Marlin 5 Gen 2 is an excellent buy. For around $700, you get a high-grade aluminum frame that's light, rigid, and durable (it's even found on some more expensive Trek bikes).
The drivetrain is entry-level, but the brakes are powered by hydraulics which is the best setup you can get right now.
For this amount of money, it's a bargain. Therefore, if you're the type of rider we've described, the Marlin 5 Gen 2 is a purchase that will put a long-lasting smile on your face if you go forward with it.