Sage Titanium Bicycles is a company started in 2012 by Oregon local David Rosen who felt that the never-ending flow of new carbon bikes needed a fresh injection of soul. For this, he decided titanium was the material needed to give cross and trail bikes a much-deserved upgrade.
The Sage Titanium bikes range features various cross and trail bikes and hardtail mountain bikes designed with more aggressive geometry than usual, with slacker head angles and excessive fork travel.
---
Sage Titanium, The Story
Sage Titanium bicycles aimed at off-road and trail riding on stiffer stronger frames that are designed to last a lifetime rather than create waste through constant replacements.
The frames are built by Lysnkey Manufacturing and generally cost considerably more than most alloy or carbon cross bikes but last much longer.
As Rosen, the founder of Sage Titanium Bicycles points out, the bikes are intended as a once-off purchase that will last a lifetime and as such, are far more cost-effective in the long run.
Titanium characterictics
Incredibly strong
Light
Doesn't rust or wear down
Maintaining a shiny new look for decades to come
---
Bikes Range
1. Mountain
2. Road
3. Cyclocross
4. Gravel
5. Custom
---
1. Mountain Bikes by Sage Titanium
---
Flow Motion
The Flow Motion is Sage Titanium's signature hardtail mountain bike, with aggressive geometry and an old-school look that belies its modern technology.
The titanium frames are produced to order and not part of a mass manufacturing process, making each one unique and specifically designed with attention to detail.
The straight tube design is a necessity with any metal material, giving the bike a traditional appearance other than the single front cog and wider tires. The Flow Motion features a 65.5-degree head tube angle with a 42.5cm chainstay and is compatible with both 27.5″ and 29″ wheels. The headtube is 44mm and it's able to run a fork with 150mm or 160mm travel.
For the drivetrain, Sage has opted for Shimano XT M8120 with a standard build and the option to upgrade to the XTR M9120 for an additional $1090. Brakes are hydraulic discs with 180mm rotors and users can choose from Stan's Flow MK3 wheels or upgrade to Industry Nine Backcountry or Enve M640 rims.
---
The Optimator
The Optimator is Sage Titanium's answer to an XC dream bike.
It features frame geometry inspired by the MTB World Cup XCO standards, with a 69.5-degree head angle and 83mm trail to ensure solid navigation at high speeds through a technical course.
The Optimator comes standard with a Shimano XTR M9120 drivetrain, Fox Performance Elite 100mm fork, 180mm hydraulic discs, and a 10-51T cassette with 28T chainring. In addition to the excellent specs, the Optimator boasts an internally routed dropper post, clearance for 29" wheels, and an oversized 44mm headtube for added front-end stiffness.
---
Powerline
Sage Titanium's Powerline is the company's flagship 29er trail bike.
The extended 130mm fork and slack trail geometry combined with short chainstays and a high bottom bracket make this bike a beast over a variety of different terrains.
Launch, rip, jump and spring into life with a bike that is so solid in the backcountry that you'll forget you're even limited to two wheels and a few gears.
The Powerline comes standard with Shimano's XT M8100 drivetrain with an 11-51T cassette and 32T chainring with options to upgrade to the XTR M9120 and a chainring as small as 28T. Upfront you'll find the Fox 34 Factory Float Kashima shocks on Stan's Flow MK3 29er wheels with Maxxis Minion tires.
---
2. Road Bikes by Sage Titanium
---
Skyline
The Skyline is Sage's signature road racing bike, an award-winning machine designed for more than simply Sunday sportives.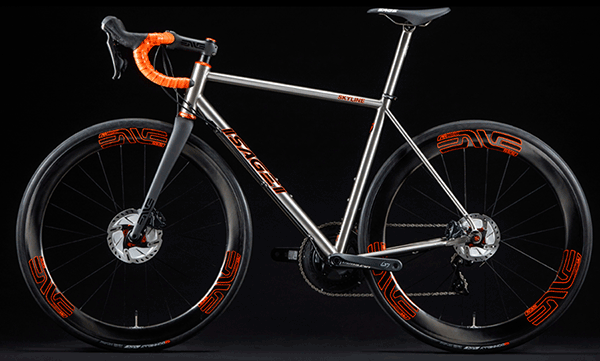 The Skyline incorporates compact aggressive geometry combined with ovalized tubing, short chainstays, and wide tire clearance to provide a flat-out speed machine that can take on more than just tarmac surfaces.
Named after the twisting and turning Skyline Boulevard in Portland, Oregan, this is a road bike built for speed and precision in any conditions. The standard build is powered by a Shimano Ultegra R8020 drivetrain that can be upgraded to the Dura-Ace 9170 Di2 or downgraded to the 105 R7020 to reduce costs.
Riders can choose from a HED Belgium Disc wheelset or upgrade to the Enve WS 3.4C Alloy or Chris King wheels. Additional features include Breezer dropouts, subtle fender mounts, ultra-thin seat stays, and a Thru-Axle specific design with 142x12mm spacing.
---
3. Cyclocross bikes by Sage Titanium
---
PDXCX
The Sage Titanium PDXCX is a pure CX machine with a frame inspired by traditional Belgian cyclocross bikes.
With wide tire clearance, a 44m head tube, a patented Cable Clip System (CCS), and a lower bottom bracket, this cross bike combines traditional features with modern technology.
A bi-ovalized down tube provides a larger weld surface and makes the PDXCX's frame much stronger so that riders can head into intense race conditions with no fear of damaging the bike. The CSS cable system makes the bike compatible with Di2 internal routing by creating a way to route internal electronic wires or external mechanical cables.
For gearing, the Powerline has several drivetrain options, from SRAM Rival or Force to Shimano Ultegra, Dura-Ace, and Di2. All bikes feature hydraulic disc brakes with 140 or 160mm rotors.
---
4. Gravel Bikes by Sage Titanium
---
Barlow
The Barlow is one of Sage Titanium's most popular bikes, designed to appeal to the adventurous gravel riders of Oregon, USA, and beyond.
It's touted as the "one bike to rule them all" and is built with all different terrain types in mind. The Barlow is an endurance on-road and an off-road machine that feels just as comfortable smashing gravel trails along the backcountry as it does hitting the tarmac on long cross-country tours.
It's constructed from the same 3/2.5 titanium that makes up all Sage bicycles, with an Enve GRD Carbon disc fork that fits a snap-on carbon fender. Drivechain options range from Shimano's 105 R7020 to the Dura-Ace R9170 Di2 that can make use of Sage's patented Cable Clip System (CCS) for streamlined cable routing.
Riders can choose from low-end Astral Cycling Outback alloy wheels or upgrade to Enve G27 Alloy, I9, or Chris King 650c or 700c wheels. Cassette options range from 11-25 to 11-32, with dual chainring options ranging from 50/34 to 53/39. Seven frame sizes are available, from 50cm to 62cm.
---
Monster Storm King
The monster Storm King is a drop-bar gravel bike designed for multi-day adventures hitting dirt trails in the backcountry.
It can take on the rockiest of paths with no need to worry about damage to the solid titanium frame and provides added comfort with wide tires up to 700x50c or 650×2.4".
Stealth frame and fork fender mounts, multiple bottle cage mounts, internal cable routing, and the Cable Clip System help to keep the bike looking clean while being highly functional. Riders can choose from 1x or 2x drivetrains supplied by Shimano GRX in mechanical or Di2 options. On the 1x, the rear cassettes are 11-40 while the 2x option features an 11-34 cassette.
Brakes are hydraulic disc with Ultegra or Dura-Ace 140 or 160 rotors and wheels range from Astral Cycling Outback alloy on the low end to Enve Chris King on the high end.
---
5. Custom bikes by Sage Titanium
---
Sage has also a series of custom-built bikes to offer.
Customize your:
-Geometry
-Frame
-Design
-Finish
---
Read Next