Aventon is a direct-to-consumer electric bike brand headquartered in Los Angeles, USA. Though it's one of the newer brands in the industry, it has quickly become a household name.
Aventon bikes balance technical innovation and accessible pricing. Their lineup consists of six models, ranging from an all-terrain fat bike to a fast urban commuter.
The Aventon design team balances functionality with style and their attention to detail is among the best in the entry-level segment. It's safe to say Aventon e-bikes stand out in a heavily oversaturated e-bike market.
In this article, we'll review the company and how it came to be, and then look at the bikes and give you enough information so that you can make an informed decision on your next e-bike purchase.
---
---
About Aventon
Aventon was founded in Los Angeles in 2012 by Jianwei Zhang and Augusto Peraza III. The company, which now employs approximately 70 people, has its headquarters in the US but operates its own factory in China.
Zhang, originally from China, moved to California for university. He began his entrepreneurial journey building custom bicycles for his local community before expanding his operations online. Eventually, he joined forces with Peraza, his former university colleague, to channel their shared passion for cycling into the creation of Aventon.
Aventon initially made a name for itself in the single-speed market, starting with its Mataro fixie. However, in 2018, the company changed courses by venturing into the electric bike market with the introduction of the Pace 500.
The move away from standard bikes to entry-level e-bikes was a successful one. By 2023, Aventon's product line comprised six e-bike models, all now in their second or third generation. They range from the fast and agile Soltera to the highly versatile Aventure fat bike.
Aventon's mission is to deliver "top-tier products at an attainable price." This commitment is evident in their fleet of reliable, durable, and practical e-bikes, all costing at or below $2,200. The company's success and recognition in the e-bike industry is testament to the quality of its bikes.
---
What Makes Aventon Bikes Stand Out
Aventon bikes stand out for their feature-rich specs, style, and affordable pricing. The brand also prioritizes functionality, durability, and reliable performance.
Aventon has an extensive network of over 1,000 distributors throughout the US, so you can buy and test the bikes in person and have a registered dealer at hand if any issues arise.
Affordable pricing is a key factor in Aventon's business model. The company's ownership of a factory in China is a beneficial long-term investment that ensures complete control over manufacturing processes and enables them to offer their products at competitive prices. All Aventon bikes fall in a narrow price range of $1,399 to $2,199.
Reliability and durability are another standout feature of Aventon bikes. While budget electric bikes are often plagued with issues within the first year of use, Aventon prioritizes dependable performance, giving them a competitive edge. Impressively, Aventon bikes earn praise in short and long-term reviews, and they choose components from brands like Shimano, Tektro, and Kenda.
Aventon electric bikes all use innovative technology that increases the ride quality and user-friendliness. For example, all the new-generation models feature torque sensors to improve the smoothness and responsiveness of the ride quality while also increasing max range. Likewise, they include frame-integrated rear lights with turn signals and are customizable through the companion app.
---
Aventon E-Bikes Lineup Review
| | | | | | | | | | |
| --- | --- | --- | --- | --- | --- | --- | --- | --- | --- |
| AVENTON | TYPE | MSRP $ | FRAMES | PEDAL ASSIST | THROTTLE SPEED | MAX RANGE | TIRES | BRAKES | WEIGHT |
| Abound | Cargo | 2,199 | One-Size | 20 MPH | 20 MPH | 50 Mi | 20×2.4″ | Hydraulic | 81 LB |
| Pace 500.3 | Cruiser | 1,599 | S/M&M/L | 28 MPH | 20 MPH | 60 Mi | 27.5×2.1″ | Hydraulic | 52 LB |
| Level.2 | Commuter | 1,799 | S/M&M/L | 28 MPH | 20 MPH | 60 Mi | 27.5×2.1″ | Hydraulic | 62 LB |
| Sinch.2 | Folding | 1,799 | One-Size | 20 MPH | 20 MPH | 55 Mi | 20×4″ | Mechanical | 68 LB |
| Aventure.2 | Off-road | 1,999 | R&L | 28 MPH | 20 MPH | 60 Mi | 26×4″ | Hydraulic | 77 LB |
| Soltera.2 | Hybrid | 1,399 | R&L | 20 MPH | 20 MPH | 46 Mi | 700x38c | Mechanical | 46 LB |
The Aventon electric bike range comprises six individual models in a narrow price range from $1,399 to $2,199. The individual models represent different bike styles, but they also share characteristics and use cases.
Among the range, there is something for most rider preferences and budgets. Of course, these are not high-end or high-performance machines, but they're functional and practical for the everyday ride with everyday needs.
Aventon typically makes minor incremental changes, such as adding a torque sensor or changing specific components while preserving the general frame design. They represent the model generation by adding it to the end of the name. As you can see in the table above, the Pace 500 is on its third, while the Abound is still the first gen.
Now, let's look at the individual models in greater detail.
Aventon Abound Cargo E-Bike
Best for carrying heavy/bulky cargo or commuting with children
MSRP: $2,199
Motor and Speed: 750W, 20mph
Battery and Range: 720Wh, 50mi
Drivetrain: 7-speed Shimano Tourney
Brakes: Tektro hydraulic
Weight: 81lb
The Aventon Abound is the company's newest model family. It's an entry-level cargo electric bike with a sleek integrated design and massive carrying capacity.
This model competes with affordable cargo e-bikes like the Lectric XPedition, Rad Power Bikes RadWagon 4, and Blix Packa Genie. Of the four, the Abound offers the highest carrying capacity and the smoothest integration.
A powerful 750W rear hub motor, torque sensor, 720Wh battery, and color display make up the advanced electronic system on this bike. Together, they provide a solid riding range, plenty of power for pulling a loaded bike, and a smooth ride quality.
The Aventon Abound can haul 440lb, and the rear rack can hold up to 143lb (two children). You can fit additional cargo in the integrated storage compartment or add a front rack.
This affordable cargo e-bike has some surprising extras, such as a dropper seat post for getting a foot down at lights, a foldable handlebar stem for easier storage, and front and rear lights with brake lights and turn signals.
All of the above makes the Aventon Abound one of the best-equipped options in this category below $3,000, so consider it if you're on the hunt for a new cargo e-bike.
---
Aventon Pace 500.3 Review
MSRP: $1,799
Motor and Speed: 500W, 28mph
Battery and Range: 614Wh, 60mi
Drivetrain: 8-speed Shimano Altus
Brakes: Tektro hydraulic
Weight: 52lb
The Aventon Pace 500.3 was the brand's first electric bike and is the first model in the lineup to reach the third generation. It's a cruiser-style city bike available as a step-over or step-through.
The upright ride position, swept-back handlebars, and 2.1″ balloon tires give this bike a smooth and relaxed ride on pavement. It competes with models like the Ride1UP Cafe Cruiser and Blix Sol Eclipse.
To turn this into a commuter bike, you can install a rack and fenders, and it comes with preinstalled taillights with turn signals and a headlight.
This bike performs well in hilly urban environments with its punchy motor power and ample gearing range. However, it's best suited to leisurely rides along local bike paths and light dirt trails.
If you want cruiser comfort and the capability to handle the daily commute at an accessible price, add the Pace 500.3 to your shortlist.
Buy Aventon Pace 500.3 Full Pace 500 Review
---
Aventon Level.2 Review
MSRP: $1,799
Motor and Speed: 500W, 28mph
Battery and Range: 672Wh, 60mi
Drivetrain: 8-speed Shimano Acera
Brakes: Tektro hydraulic
Weight: 62lb
The Aventon Level.2 e-bike is the brand's pure commuter, loaded with accessories like a rear rack, lights and turn signals, and fenders.
A suspension fork with 65mm of travel, wide 2.1″ tires, and upright geometry make this a comfortable bike for medium-distance urban rides or crushed gravel paths. However, the slick tires won't provide much grip in wet conditions.
Despite its considerable weight, Aventon chose a 500W motor for the Level.2 commuter. This can assist up to 28mph, but the speed will drop significantly on hills due to the weight.
Overall, the Level.2 is a versatile bike that's suitable for multiple riding styles but the ideal choice for commuters.
---
Aventon Sinch.2 Review
MSRP: $1,799
Motor and Speed: 500W, 20mph
Battery and Range: 672Wh, 55mi
Drivetrain: 8-speed
Brakes: Tektro hydraulic
Weight: 68lb
Dimensions: Unfolded – 67″ x 23″ x 46″; Folded – 41″ x 23″ x 31″
The Sinch.2 is the second-gen folder from Aventon, loaded with features but too heavy to be a proper multimodal commuter bike.
Aventon designed this bike for comfort over portability. As such, it sports burly 4″ tires on 20″ wheels and 45mm of travel from a suspension fork to create a smooth ride quality.
Unfortunately, this design results in a high weight of 68lb and a bulky folded size. Regardless, the Sinch.2 is still perfect for storing in small spaces or fitting in the trunk of a large vehicle for road trips.
This bike competes with popular folding e-bikes from Lectric, Rad Power Bikes, and Velowave. The price is slightly higher, but the Sinch.2 is the only one to feature a torque sensor, resulting in a smoother ride quality closer to that of a traditional bike.
Aside from weight, the main complaint about this bike is the inclusion of mechanical disc brakes instead of hydraulic ones. Otherwise, this Aventon e-bike is a comfortable and punchy choice in a competitive folding e-bike market.
---
Aventon Aventure.2 Review
MSRP: $1,999
Motor and Speed: 750W, 28mph
Battery and Range: 720Wh, 60mi
Drivetrain: 8-speed Shimano Altus
Brakes: Tektro hydraulic
Weight: 77lb
Aventon's Aventure.2 is a high-power fat tire off-roader. This category of e-bikes is extremely competitive, with almost all direct-to-consumer brands producing their own version.
Again, Aventon's model stands out in its refined integration and smooth ride quality thanks to a torque sensor. This means users get more range from the 720W battery.
Unlike the RadRover 6 Plus and Blix Ultra fat bikes, the Aventure has a rear rack and turn signals integrated into the rear dropouts. These components, along with the headlight and fenders, mean this bike is commuter-ready.
The most important feature of any all-terrain bike like this is its capability off-road. The torque sensor allows for better power modulation and enhanced control off-road compared to primitive cadence sensors. For this reason, proper mountain bikes only use mid-drive motors.
All things considered, you won't go wrong by choosing the Aventon Aventure.2 if you want a versatile all-terrain machine for recreation and commuting.
Buy from Aventon Full Aventure.2 Review
---
Aventon Soltera.2 Review
MSRP: $1,399
Motor and Speed: 350W, 20mph
Battery and Range: 346Wh, 46mi
Drivetrain: 7-speed Shimano Tourney
Brakes: Tektro mechanical
Weight: 46lb
The original Soltera was available as a single-speed or 7-speed e-bike. For the new Soltera.2, Aventon did away with the single-speed and stuck with the 7-speed version of its stealthy urban e-bike.
This model is designed to be fast and agile for navigating busy city streets. An understated motor and modest 9.6Ah battery mean the Soltera.2 is best suited to riders who just want an extra kick for hills or fighting headwinds without the need for the monstrous power seen on many modern e-bikes.
The Class 2 max speed will significantly cut your commuting time, or you can turn the PAS level down to use the Soltera as a fitness bike on weekends and evenings. Fast-rolling 700c wheels and 38mm tires create minimal drag and make it possible to ride this bike without assistance.
The Soltera.2 competes with lightweight commuters like the Ride1UP Roaster v2 and State Bicycle Co. 6061 EBike Commuter. These models have longer-lasting belt drivetrains but don't have gearing, so they're not as suited to hilly terrain.
Overall, the Soltera.2 is an option that appeals for its torque-sensing motor, light weight, maneuverability, and low price; just avoid it if you want an easy, laid-back ride.
---
Aventon E-Bikes Sizing Chart
Aventon e-bike sizing is relatively standardized, with four of the six models using the same two-frame, two-size approach. The Aventure, Level, Soltera, and Pace are available as step-over or step-through, fitting riders from 4'11" to 6'4″. The Sinch and Abound are both one-size step-through frames, fitting 4'11" to 6'2″ and 4'11" to 6'3″, respectively.
| | | | | | | |
| --- | --- | --- | --- | --- | --- | --- |
| Frame | Aventure.2 | Level.2 | Sinch.2 | Soltera.2 | Pace 500.3 | Abound |
| Step-Over | 5'3″ – 5'10" (R) | 5'3″ – 5'10" (R) | | 5'3″ – 5'10" (R) | 5'3″ – 5'10" (R) | |
| | 5'10" – 6'4″ (L) | 5'10" – 6'4″ (L) | | 5'10" – 6'4″ (L) | 5'10" – 6'4″ (L) | |
| Step-Thru | 4'11" – 5'7″ (R) | 4'11" – 5'7″ (S/M) | 4'11" – 6'2″ | 4'11" – 5'7″ (R) | 4'11" – 5'7″ (R) | 4'11" – 6'3″ |
| | 5'7″ – 6'1″ (L) | 5'7″ – 6'1″ (M/L) | | 5'7″ – 6'1″ (L) | 5'7″ – 6'1″ (L) | |
---
Aventon Bike Accessories
As well as selling popular e-bikes, Aventon also produces and sells accessories and gear for riding.
They sell everything from locks to helmets, racks, and lights. They have almost everything you need to customize your ride on their website.
Here, you will also find components, replacement and upgrade parts for your bike, and merchandise with the Aventon branding. You can also choose your model in the filters to see which accessories are compatible.
---
Frequently Asked Questions
Where is Aventon Bikes based?
Aventon Bikes is based in the United States in Los Angeles, California. In addition to its US headquarters, Aventon has its own factory in China. This gives them an advantage over brands that utilize third-party factories for manufacturing, allowing Aventon to have more autonomy over the production of its bikes.
Where are Aventon bikes made?
Aventon bikes are made in China. Aventon has its own factory in China, allowing them to control the whole manufacturing process. Once the bikes are manufactured, they are sent to Aventon's United States headquarters in Southern California, where they carry out assembly and inspection.
How long have Aventon bikes been in business?
Aventon Bikes has been in business for eleven years as of 2023. They began selling bikes in 2012 as a fixed-speed bicycle manufacturer. In 2018, Aventon made the switch to producing electric bikes with the release of the Pace 500.
Are Aventon bikes waterproof?
No, Aventon bikes aren't waterproof. However, You can ride Aventon e-bikes in the rain. They are built to IPX4 water-resistant standards, which means you can ride through the rain but do not use pressurized water on the bike or submerge any of the bikes under water.
Is Aventon a US company?
Yes, Aventon is a US company. The registered headquarters is in Los Angeles, California. However, they also have their own factory in China, where all of the manufacturing is carried out before the bikes are sent back to the US for assembly and inspection.
Does Aventon make good eBikes?
Yes, Aventon does make good eBikes. All of Aventon's e-bikes are priced in the entry-level range (up to $2,000). This low pricing is one of the company's missions of making top-tier bikes available at affordable prices. Aventon bikes also have good overall user ratings.
What brand of motor does Aventon use?
The brand of motor Aventon uses is not disclosed for each bike. However, their bikes have been fitted with both Shengyi and Bafang motors in the past. They use a range of motor sizes from 350W to 750W. All of the motors they use are rear hubs.
---
Final Thoughts About Aventon Bikes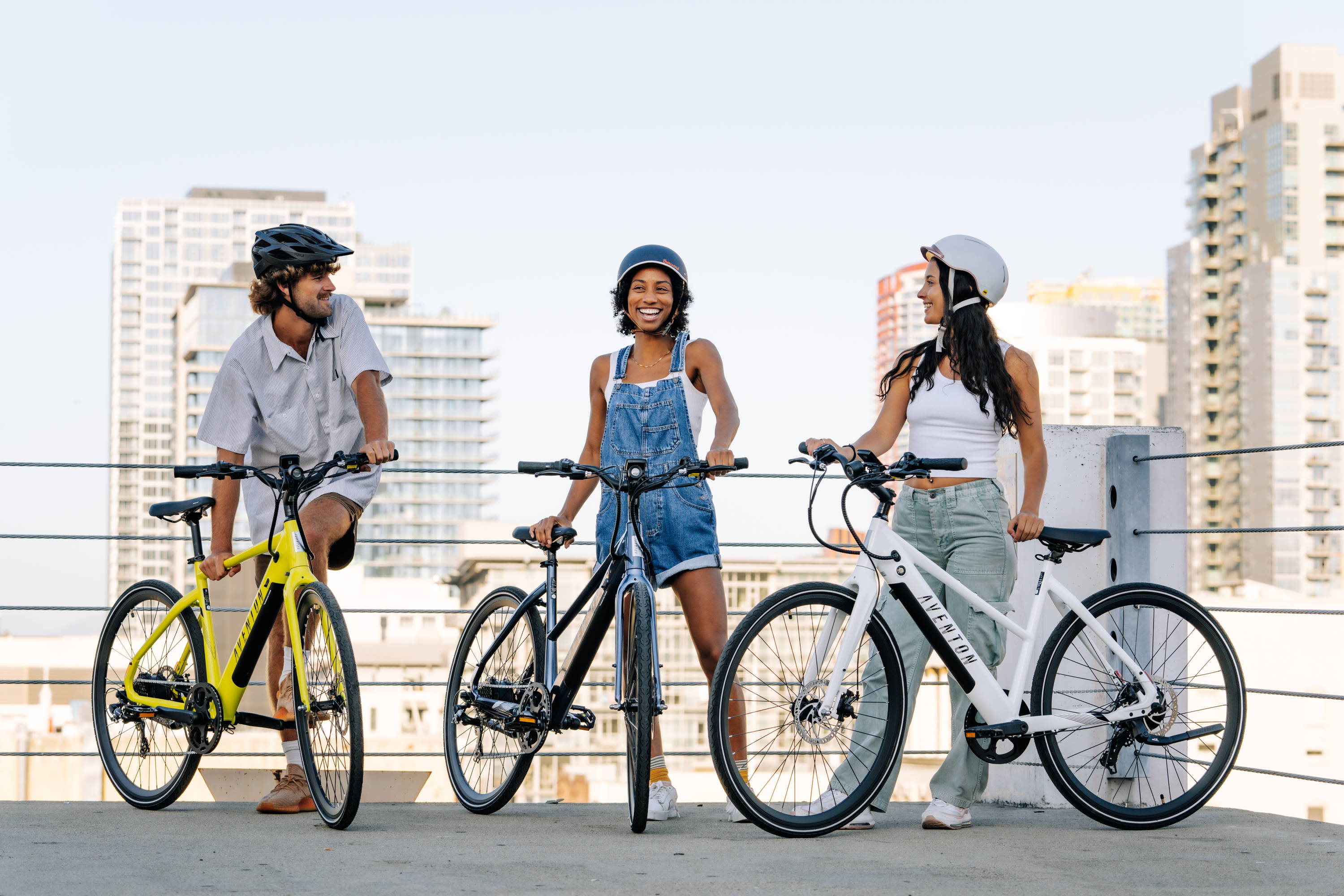 California-based e-bike brand Aventon has won a foothold in this competitive industry with its commitment to delivering top-tier products at an affordable price.
Their line of six e-bikes is recognized for durability and practicality. Additionally, Aventon bikes stand out for their feature-rich and stylish designs that offer great value for money.
Aventon's extensive network of over 1,000 distributors across the US speaks volumes about its reach and popularity, and the ownership of a factory in China allows for complete control over the manufacturing process.
Aventon e-bikes cater to a variety of riding styles and budgets within the entry-level price range. If you're looking for a solid, smooth-riding e-bike for transport, commuting, and on or off-road fun, consider an Aventon electric bike for your next purchase.