Best Stationary Bikes of 2023: Lose Weight and Get Fit at Home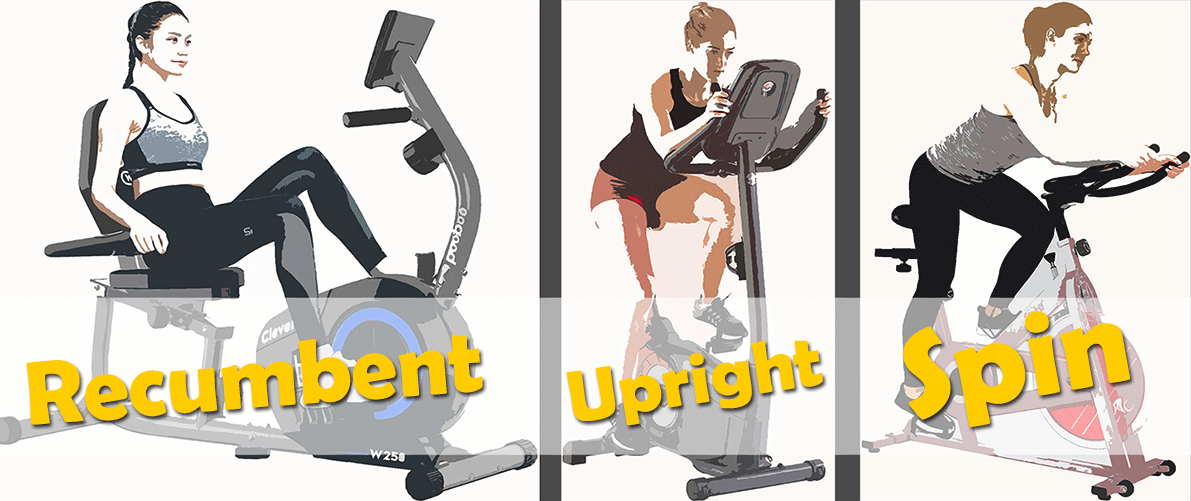 Stationary bike trainers are an excellent way to build and maintain your fitness in the comfort of your own home.
They allow you to eliminate your gym commute, avoid crowds, keep fit during the winter months, and even save money in the long run.
With an explosion in the popularity of indoor cycling bikes in recent years, the technology has become very advanced, allowing users to experience immersive virtual classes, replicate popular cycling routes, and track all your progress while you're at it.
In this article, we will discuss the different types of fitness bikes, the variations in the technology they use, as well as our list of the best stationary bikes for 2023.
---
Table of Contents
3. Spin Bikes

4. Trainers
---
Stationary Bikes Buying Guide
---
Types of Stationary Bike Resistance
1. Flywheel
Brakeing-based resistance. The momentum is gathered by a large, 40-50lb flywheel.
2. Direct contact
Braking pad type. Simple, while the noise can be a slight disadvantage.
3. Magnetic 🏆
Most common and recommended choice. Magnetic = Contactless = Quiet = No Maintenance
4. Fan
No flywheel. Quiet & smooth.
Types of Exercise Bikes
Recumbent bike (a.k.a lay down bike) – Best for recreational use & for seniors. Easiest to use.
For people looking for a comfortable, relaxed cycling experience.
Upright – Upright bikes are a comfortable variation of a spin bike. Many come with a large interactive screen.
For those who want a more realistic cycling experience without sacrificing comfort.
Spin bike – Best for fitness classes and rides where users can stand up and sit easily and comfortably.
Anyone who wants a serious piece of fitness equipment without the frills, perfect for any type of spin class.
Bike Simulator – The most advanced type used for training and fitness. They replicate the feel of a bike.
For the techy cyclist who wants to replicate the cycling experience or take advantage of virtual training technology.
A Must-have extra
A FLOOR MAT – Absorbs vibration and sound, protects the floor from marks and sweat, easy to clean
---
#1

BEST RECUMBENT BIKES
Most comfortable
Best for seniors
Low resistance
---
Marcy Recumbent Bike (ME-709)
MSRP: Check on Amazon
The Marcy indoor bike trainer is one of the best you can get for under $200.
This recumbent exercise bike is fully adjustable and has a variety of useful features that help to have a good session while being comfortable and relaxed in the recumbent position.
Notable features include an easy-to-read LCD screen with ride stats, a step-through design for easy mounting and dismounting, comfortable seat and foot straps, and eight levels of magnetic resistance for people with varying fitness.
Finally, this budget-friendly recumbent bike comes with a 90-day money-back guarantee.
LCD Screen: Odometer, speed
Type: Recumbent
Weight: 60lbs (27kg)
Magnetic resistance with 8 different levels
---
SCHWINN 230 Recumbent Bike
MSRP: Check on Amazon
Schwinn is one of the top sellers of workout bikes on Amazon and the 230 model their best exercise bike for price and functionality.
This recumbent stationary bike has a massive 20 levels of resistance, allowing you to simulate a wide range of rides and intensities.
On the DualTrack 2 computer, you can choose from 22 preset rides in four different training categories. This computer also displays all of your statistics, set and track your goals, as well as other user-friendly functions.
Finally, the Schwinn 230 is super smooth and quiet while running and has an easy start-up drive system. Reviewers note that this bike may not fit riders over 6'1″.
Max weight: 300lb
Resistance levels: 20

22 preset workout programs: 9 profile, 8 heart rate control, 2 fitness test, 1 quick start

Weight: 82 lbs
---
#2

BEST UPRIGHT EXERCISE BIKES

Relaxed upright position
Best balance of comfort and performance
User-friendly
---
Sunny Health & Fitness Endurance
MSRP: Check on Amazon
The Sunny Health & Fitness stationary exercise bicycle is a great affordable trainer with an upright position.
This is a versatile workout machine with all the necessities for a great indoor cycling session. It has a 4-way adjustable seat and 2-way adjustable handlebars which allow you to find the most comfortable and efficient riding position. Additionally, all of the touchpoints are ergonomic and soft.
When in use the Endurance is very quiet and smooth. Conveniently monitor all of your ride metrics on the performance screen, and easily adjust the magnetic resistance to your preferred difficulty while riding.
This indoor exercise bike also has a handy bottle holder and device holder which you can use to follow a training video for your session. Finally, when you're finished, tilt and roll it away on the transport wheels.
Belt Drive mechanism for smooth, silent pedaling with low maintenance

Metrics: Time, Speed, Distance, Calorie, Odometer, RPM & Pulse.
Resistance type: Magnetic
Weight Limit: 265lbs

29 lb Flywheel
---
XTERRA Fitness FB150 Folding Exercise Bike
Fits Riders: 4'10" to 5'10"
Weight Limit: 225 lbs
XTERRA Fitness' exerpeutic bike is a great stationary trainer option that is designed for optimal convenience of storage and transport when not in use.
This cheap exercise bike is super lightweight folding into a small square of floor space, featuring transportation wheels for moving it in and out of storage.
Additionally, the FB150 has an LCD screen with the standard ride metrics, heart rate monitor grips, eight levels of resistance, and a comfortable plush saddle. Unfortunately, this bike is limited to riders sized 4'10" to 5'10" weighing a maximum of 225lbs.
Weight: 32lbs
Max weight: 225lbs
Number of resistance: 8
Size:

31.5L x 18W x 45.3H in.

Folds to: 18. 1″ x 18. 1″
3.3lbs flywheel
Transportation wheels
---
#3

BEST SPIN BIKES
High-intensity cardio
Most versatile stationary bike
Realistic riding position
---
Myx Spin Bike
MSRP $1,299
The MYX system is a Peloton alternative that goes even further. This innovative service is a complete home gym with a professional quality stationary bike and a swivel screen that allows you to step off the bike and onto the mat for a whole body workout.
The MYX bike has tonnes of features including heart rate zone training, one-to-one coaching included with the monthly fee, a unique HD swivel touchscreen, and dual-use pedals (cage and SPD clip-less).
This trainer is made with a durable, rust-proof frame with compact dimensions and is fully adjustable to fit riders between 4'11" and 6'8″ weighing up to 350lbs. Additionally, mechanic friction braking and a flywheel make it run smoothly and quietly.
21.5″ touch screen
Weight: 134lbs
Max weight capacity: 350lbs
Companion App
*Stabilization mat not included
---
Peloton
MSRP: from $1,895
Peloton is the No.1 premium indoor stationary exercise bike available on the market.
More than just a fitness bike Peloton service provides a fully immersive virtual training experience synced with the bike to make achieving your fitness goals as easy and enjoyable as possible.
This service includes weekly live classes, an on-demand library of diverse rides and classes 5 to 90 minutes in length, various motivating instructors to choose from, and a whole community of fellow Peloton riders to engage with.
The bike itself is compact and highly adjustable to fit a wide range of heights and sizes, it uses a long-lasting Poly-V belt-drive for smooth and quiet riding, and monitors every ride metric possible.
Although pricey, the Peloton really is an amazing piece of technology and offers a unique way to cycle from the comfort of your home.
Resistance: Magnetic with mechanical adjustment
4′ x 2′ footprint
Fits users: 4'11" – 6'4″
Maximum weight capacity: 297 lbs
Large HD touch-screen
Bike weight: 135
---
Yosuda
MSRP: Check on Amazon
Yosuda's stationary bike is a great, affordable option among Amazon exercise bikes with a sturdy steel frame and easy-assemble instructions.
This bike comes with a 40lb flywheel and belt drive which makes it super smooth and quiet while running. The handlebars and seat are highly adjustable and it comes with a comfy padded seat and toe cage pedals.
Riders can take advantage of a wide range of resistance settings with the knob, which can be pushed down to activate the emergency brake.
Finally, Yosuda includes an LCD screen that displays all of the key metrics for your workout. Finally, this stationary bike has an iPad holder and bottle cage for the user's convenience.
35 lbs flywheel
Weight Capacity: 330lbs
Steel frame construction
Belt-driven
Various number of resistances
---
#4

BEST SMART BIKE TRAINERS
Most realistic riding experience
Replicate real cycling routes
Best for competitive cyclists
---
Wahoo Kickr
MSRP: $3,500
The Wahoo Kickr smart bike trainer is the ultimate cycling workout machine. This innovative trainer creates the most realistic ride feel possible, all from the comfort of your own home.
Notable features of the Kickr include measurement of all workout metrics including power and cadence, integration with various apps to replicate real-time route gradients and resistance, realistic programmable gearing, and a super smooth, responsive flywheel to mimic outdoor riding.
You can adjust the Kickr to match the exact geometry of your outdoor bike with a helpful online guide, with quick-release settings to make this process easy. Additionally, it is compatible with any road or mountain bike pedals, as well as customizable handlebars and saddle which all help to make it the best home bike.
Finally, Wahoo has made their stationary bike compatible with helpful software like Zwift and TrainerRoad, as well as with the Wahoo GPS computer to relive your outdoor rides. They really have thought of everything with this bike, but the high price does make it inaccessible to many people.
Zwift, Sufferfest, and TrainerRoad connectivity
ANT+ FE-C, Bluetooth
Weight: 93 lbs
Weight capacity: 250 lbs
Dimensions: 52″ x 30″
Flywheel: 13 lbs
Related: Wahoo Fitness Review
---
MSRP: $3,200
The Tacx NEO home exercise bike is another great example of a smart bike simulator with all of the necessary features to take your indoor training to the next level.
Like the Wahoo Kickr, the NEO simulates outdoor riding including gradients, change to road surfaces, and realistic mechanical gear shifting. This bike is also very quiet and smooth while riding, excellent for use in buildings where you need to keep the noise down.
The Tacx NEO is highly adjustable, allowing you to match your outdoor bike's geometry. However, the setup process is complicated as there is no dedicated guide from the company.
As expected, the NEO has full connectivity with different training software like Zwift, and comes with its own dedicated training platform. The bike records all metrics and measures your power with an amazing 1% accuracy allowing you to progress your training perfectly. Finally, this bike has a great pedal stroke analysis training tool. It measures the left and right balance and power distribution to help you improve your stroke.
Flywheel
Measures power within 1% accuracy
Data exchange: Ant+, FE-C, Bluetooth
Weight: 110 lbs
2 small cooling fans