Best Commuter Bike Helmets to Keep Your Head Safe in 2023
A bike helmet is, without a doubt, the most important piece of gear to have for every bike ride. The best commuter bike helmets should not only be safe but comfortable and good-looking as well.
Commuting in urban environments poses an increased risk of accidents due to the high number of vehicles. This, when paired with the fact that commuters generally have to travel during peak traffic times, makes a good helmet even more important.
In the US, less than 50% of cyclists wear an adequate helmet leading to more negative crash outcomes than necessary.
When you choose a helmet, the key thing is to ensure that it fits and is comfortable. Premium helmets have some extra features, but the vital thing is it meets national safety standards.
How Did We Choose?
Most of these commuter helmets have a 5-star safety rating according to the Virginia Tech Helmet Lab research center.
All helmets are CPSC-certified. Every helmet sold in the US must have this certification.
Helmets down below also have the highest customer ratings in online shops.
---
Best 5-Star Commuter Helmets
---
1

. Bontrager – Starvos WaveCel Cycling Helmet

Score: 4.7 / 5 out of 55+ ratings

MSRP: $100
Trek's Bontrager brand has been at the forefront of cycling helmet innovation, and with the Starvos WaveCel helmet, they include their most up-to-date technology in a sleek road/commuter product.
This helmet features WaveCel technology, providing added protection against certain angled impacts thus reducing concussion risk. Also, Bontrager guarantees the helmet so for the first year of ownership owners get a new helmet if they are involved in a crash.
The inside material on the Starvos is soft and moisture-wicking while being conveniently washable. Finally, it is available in three colors, white, black, and yellow with sizes ranging from XS to XL, along with easily adjustable height and circumference. This helmet is certainly one of the best available REI bike helmets.
Unisex fit
Crash Replacement Guarantee by Bontrager during the first year of
5 stars by Virginia Tech
LockDown dividers
17x vent holes
---
2

. Bontrager – Charge WaveCel Commuter Helmet

Best commuter specific helmet

MSRP: $150
The Charge is Bontrager's commuter-specific WaveCel helmet, built especially for its safety features while maintaining supreme comfort and a stylish look.
This helmet standout safety features include the advanced WaveCel technology, increasing head protection from certain impacts, rear mount system for Bontrager light accessories, and easily adjustable BOA® fitting system allowing you to do so with just one hand.
The Charge's inside pads are soft, moisture-wicking, and hand washable, making them very comfortable and convenient to use. The strap system features a magnetic buckle, making it easy to fasten the helmet securely.
Finally, an especially helpful built-in visor gives users some protection from the sun or rain, giving this helmet a complete 5/5 rating.
5/5 rating according to Virginia Tech
WaveCel Technology
Fidlock magnetic buckle for a quick and easy fastening
Crash Replacement Guarantee by Bontrager – new helmet if involved in an accident within the first year of ownership
Built-in visor to cover sun and rain
---
3

. Specialized – Align II

The cheapest five-star commuter helmet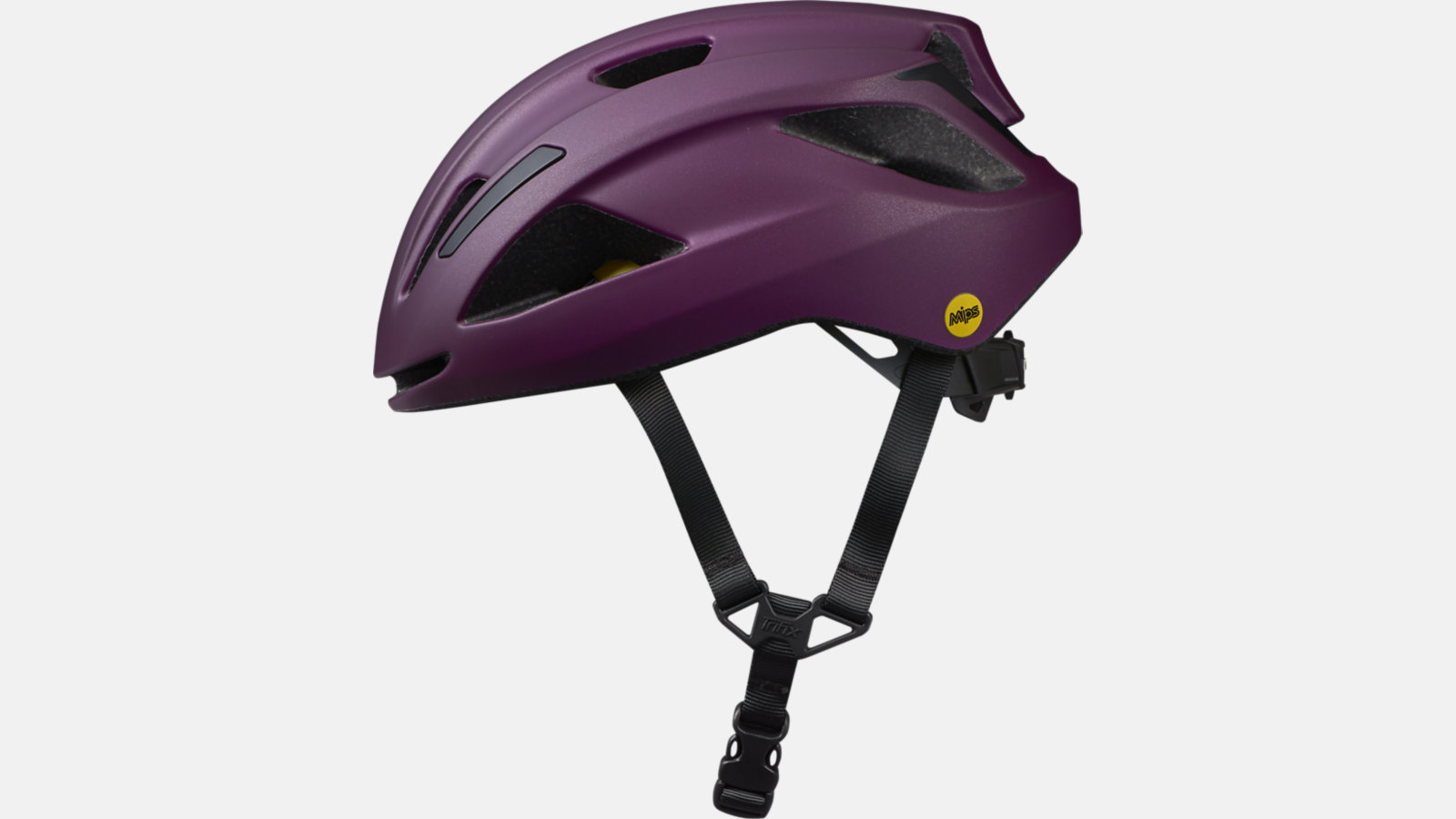 MSRP: $50
Specialized helmets are consistently stylish, comfortable, and high quality and the Align II delivers all of this and more for a bargain price.
This helmet comes in seven different colors, with a Hypervis style especially useful for commuters. Although it is budget-friendly, the Align comes with innovative MIPS technology, providing extra protection against some angled impacts. This helmet is the only one at its price to earning a coveted five stars from Virginia Tech.
Specialized did not sacrifice any comfort and functionality with such a high safety rating. The Align comes with an easy-adjust dial system, excellent ventilation, and a simple one-size-fits-all build, while still being notably lightweight.
5-star rating at Virginia Tech
Patented MIPS technology
4th Dimension Cooling System
Reflective decals
Easily adjustable one-size
---
4

. Bern – Union

Best helmet with extra head protection
The Union by Bern is a super functional urban cycling helmet designed to provide maximum comfort and protection to city cyclists.
This feature-rich helmet comes with a removable visor, 21 cooling vents, a BOA fastening system, and a high-quality moisture-wicking liner to keep you sweat-free on those hot summer commutes.
The shape of the helmet gives extra protection from collisions from behind, with coverage on the back and sides of the head. Finally, this helmet can support a PDW bike light to provide extra visibility, and users can also purchase winter helmet liners for colder commutes.
5-star rating at Virginia Tech
ZipMold moisture control
Removable soft flip visor
---
5

. Giro – Escape

Premium helmet for performance and safety
MSRP: $130
The Escape by Giro is another helmet recognized for its top-class safety features and sleek, performance-inspired look.
Standout features of this helmet include the MIPS technology protection, integrated rechargeable LED lights on the front and rear, three different sizes, and 15 vents for optimal ventilation.
This helmet is lightweight and comfortable despite its strength. It also allows the operation of the chin strap with one hand and 7cm of adjustment space. The Escape is an excellent purchase for any commuter that wants a balance of performance and functionality.
MIPS technology
One-hand operation
Front and rear LED lights
---
6

. Thousand Helmets – Chapter MIPS

A commuter bike helmet with unique urban cycling features

MSRP: $135
Cute bike helmets don't come much better than the Thousand Chapter MIPS, designed with the goal of all-around performance for urban and recreational cyclists.
The Chapter has innovative features such as PopLock which is a hidden channel for locking your helmet up with your bike, and a 50-lumen rechargeable magnetic light that turns on automatically when attached to the helmet.
Additionally, the helmet uses MIPS advanced crash protection, includes a sleek integrated visor, and has ample ventilation for keeping you cool on your summer commutes.
Finally, the helmet is available in three sizes and can be adjusted easily using a one-handed magnetic fastener and a dial fitting system to adjust width and height. This Thousand bike helmet is an excellent choice for any commuter looking for premium protection and functionality.
Magnetic taillight
Visor with a premium finish
Integrated dial fit system for precise adjustment
One-handed magnetic fastener
8 strategically placed vents
---
7

. Nutcase – Vio Sky Matte

Highly versatile commuter helmet
MSRP: $150 (REI.com)
The Vio Sky Matte by Nutcase Helmets features a practical design with premium protection and versatility as a commuter helmet.
This helmet uses the industry-leading MIPS crash protection technology, a 360-degree LED 65-lumen light, and a visor to help keep you safe and seen on the road.
The Vio Sky is also designed to be extremely comfortable, featuring 3 large cooling ventilation spots, soft internal pads and straps, Duo Density EPS internal foam, and dial-adjustable fitting.
Additionally, this helmet can be closed with a one-handed magnetic buckle and comes with a detachable visor. An excellent value choice for any commuter.
MIPS technology
Premium Fidlock magnetic closure
Dial adjustable fit system
360-degree LED light with 65 lumens
---
8

. Bontrager – Solstice Bike Helmet

Score: 4.8 / 5 out of 30+ ratings

MSRP: $45

Bontrager's Solstice is the top budget-friendly choice on REI, rated highly for its safety, functionality, and overall value.

Even at its low price, the Solstice includes Bontrager's convenient Headmaster fit system to easily adjust height and width to your head. It also has soft, moisture-wicking pads inside, and plenty of ventilation to keep riders cool and comfy even on long commutes.

Finally, this helmet comes with a convenient removable visor and Bontrager's crash replacement guarantee for a year of coverage. Cheap bike helmets don't come much better than the Soltice, an unbeatable choice for price and quality.
Customer rating at REI: 4.8/5 out of 30 reviews
Moisture-wicking and washable helmet pads
Built-in and removable visor
Crash Replacement Guarantee by Bontrager – get a new helmet if involved in an accident within the first year of ownership
17 vents
---
9

. Nutcase – Onyx Solid Satin

Simple-looking yet quality commuter helmet choice

MSRP: Check on Amazon
Nutcase's Onyx Solid Satin is a simple yet innovative helmet choice that is optimized for commuters and urban cyclists.
This helmet incorporates MIPS technology for improved crash protection, as well as EPS foam, and a molded ABS shell for lightweight durability.

Using the Onyx is a pleasure, it includes 11 air vents for excellent ventilation combined with soft internal heat sealed pads for complete comfort and breathability.
In addition, this helmet is easy to adjust and secure with a hand dial and magnetic buckle closure system. Don't look past the Onyx if you want a great all-around commuter helmet.
MIPS technology
3 piece internal heat sealed pads
Injection-molded ABS shells
Visor included
3 different sizes
---
10

. Thousand – Heritage Bike Helmet

Stylish retro-looking commuter helmet
MSRP: $89
The Heritage by Thousand Helmets is a throwback retro bike helmet that includes all of the modern safety features.
This urban bike helmet includes the PopLock channel to make locking your bike helmet with your bicycle easy and quick. The company backs this feature up with an anti-theft guarantee, showing their confidence in how well it works.
This minimalist helmet is also easy to secure, incorporating a one-handed magnetic buckle on vegan leather straps and a dial adjustment system. Once secured, the Heritage is comfortable and functional. It has seven vents with internal airflow channels and a built-in visor that make your commute a breeze.
Don't look past the heritage if you want that vintage look alongside great features.
1-handed magnetic fastener
Easy adjustments with Dial-fit system
Vegan leather straps
7 vents
---
11

. Bern – Hudson MIPS Bike Helmet

Score: 4.4 / 5 out of 18+ ratings

MSRP: $120

Bern helmets are consistently top of the commuter market for their premium safety features and stylish look and the Hudson MIPS is right up there with the best.

Designed for high visibility in urban environments this helmet gives commuters and urban riders advanced head protection with MIPS technology and an integrated, removable taillight.

Other notable features include an easy-adjust compass fit system with Reinforced U-locks, a removable visor, and 13 ventilation holes. Finally, the Hudson has an adjustable strap divider, and soft internal pads ensure snug comfort at all times.
MIPS technology to protect brain for rotational motion
Removable rear light for extra safety in the dark
Removable visor
13 vent holes
---
12

. Lazer G1 MIPS Helmet

Fits perfectly with your electric commuter bike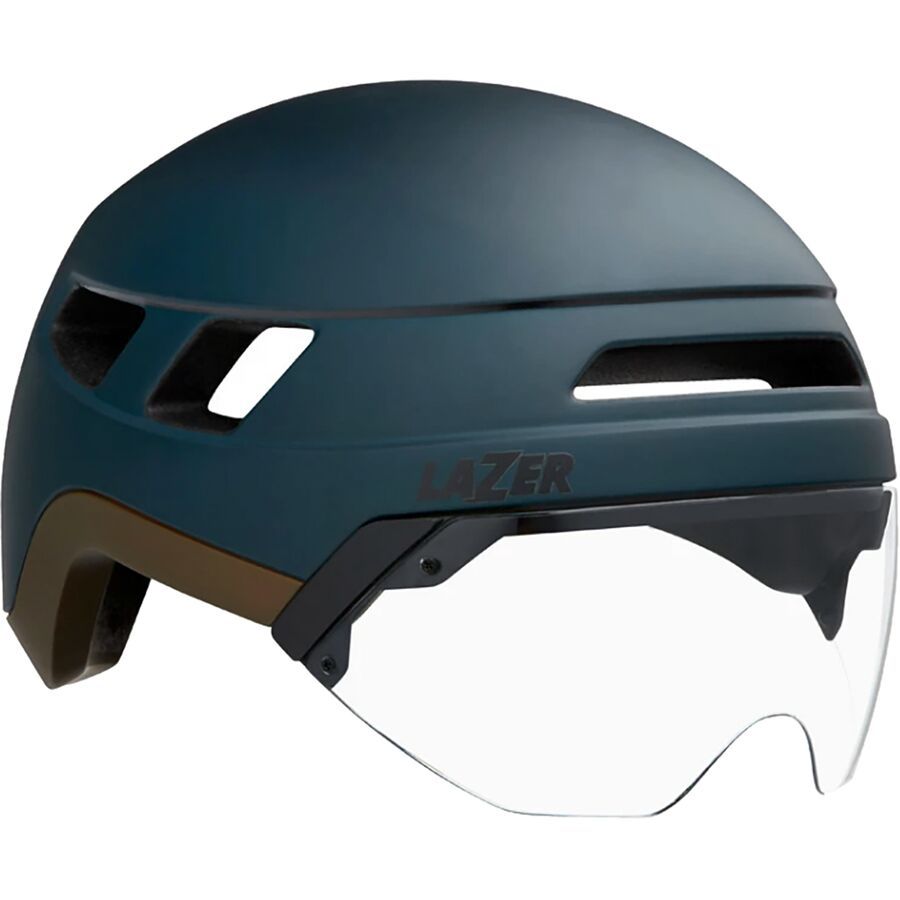 MSRP: $250
The G1 adult bicycle helmet by Lazer is the premium choice that is packed full of features for high-speed e-bikers and city commuters.
This helmet includes MIPS technology, providing extra protection against rotational impact injuries, earning it a coveted five stars from Virginia Tech. This helmet also has excellent ventilation with 22 vents that direct airflow around your head.
The Urbanize is extremely easy to fit, it uses an ARS fit system that provides progressive adjustments, eliminating pressure points when tightening. Once on, you can secure it quickly with a strap buckle.
This helmet is ideal for riders who commute often, but also ride road, gravel, or CX bikes in their free time. The Lazer G1 is pricey, but it is the only helmet you'll need for any discipline.
MIPS technology
Advanced Rollsys System
Ultra lightweight at 235 grams
For high-speed urban biking
---
13

. Smith – Convoy MIPS Bike Helmet

4.5/5 out of 31 reviews at REI
MSRP: $75
The Convoy MIPS by Smith is a mountain biking helmet that doubles perfectly as a high-performance commuter helmet.
For improved safety, this helmet uses MIPS technology as well as increased head coverage which is standard in MTB helmets. Aside from safety, the Convoy is lightweight and supremely comfortable in the heat.
The helmet has a whopping 20 cooling vents, to make it both aerodynamic and breathable. These vents are optimized to direct the warm air away from your cycling sunglasses to avoid fogging up.
Finally, Smith uses an innovative VaporFit system to make this helmet super easy to adjust. The system can be moved two inches in any direction and has a soft internal lining to make it snug and comfortable for just about any rider.
Lightweight in-mold construction
VaporFit adjustable fit system
AirEvac Ventilation system
Designed to integrate eyewear
Comes in 3 sizes
---
Commuter Helmets Buying Guide
---
The three main types of bicycle helmets

Road bike helmets – Lightweight, aerodynamic, and breathable to minimize the impact of speed and performance.
Mountain bike helmets – Larger and thicker than road bike helmets. More coverage of the side and back of the head. Long visor to protect from direct sunlight.
Commuter bike helmet – These helmets are designed for comfort instead of aerodynamics. Visibility, breathability, and more back of head coverage.
MIPS vs WaveCel
MIPS – Helmets with this technology include a low-friction layer of material inside the helmet that allows multi-directional movement of 10-15mm with some angled impacts. This is meant to reduce the rotational force on the head when you crash.
WaveCel – This is a collapsible material that lines the inside of the helmet. It's meant to be more effective at preventing head injuries from some accidents compared to a standard foam-based helmet. It does so using a "crumple zone". This is meant to absorb more of the force from angled impacts before it reaches your head
Importance of Helmet Fit
As mentioned above, helmet fit is the most important factor when you choose a helmet (once it meets safety standards). A loose-fitting helmet doesn't provide the same degree of protection as one that fits comfortably tight. This is because it can slide around and move out of the optimal position for protection.
There are two ways to measure the size of your head. Either method works effectively, just ensure the helmet that you get fits snug and comfy when secured properly.
First, you could take a piece of string or clothes measuring tape, wrap it around the widest part of your head roughly above your eyebrows, and take this number in inches or centimeters.
The other way is to go to your local bike shop to test a few sizes and brands, choosing the one that feels the best for you.
Importance of wearing a bike helmet on casual rides
Casual rides, especially in urban areas (78% of cycling deaths occur in urban areas), require the use of a helmet just as much as for exercise, commuting, or any other type of ride.
Just as it is a law and common practice to wear your seatbelt at all times in a motor vehicle, it is equally as important to make your helmet a non-negotiable item every time you cycle, no matter what type of ride it is.
As over half of crashes occur in intersections, it is clear that the speed you are riding at is not the only factor that leads to crashes. They can happen anywhere, any time, and are much more likely to end badly if you don't wear a helmet. 61% of cyclists that were killed in 2018 did not have a helmet on.
FAQ
---
How much should I spend on a bike helmet?
There is no specific price range for what you should spend on a helmet. The only thing that is required is that the helmet meets the safety standards of the area where you live. In this article, the helmets range from $45 to $160, and each one meets and exceeds safety standards.
Do bike helmets expire?
Bike helmet manufacturers generally recommend that you replace the helmet every X number of years (such as 3 to 5). This is not an expiry date but an average of how long it will take for daily wear and tear to compromise the safety of the helmet or for safety standards to change.
Sweat, small bumps, sun exposure, and other factors can all contribute to slowly reducing the effectiveness of a helmet's outer shell or inner foam. For this reason, if you use your helmet frequently it is wise to replace it in a time frame similar to what the manufacturer recommends.
How can I wear a helmet without messing up my hair?
This is a difficult thing to do and can't be perfect. However, there are a couple of things you can do that help.
Wear your hair in a ponytail or braid and sweep back your fringe, securing loose hair with bobby pins.
Carry a comb and some hair products so you can fix it quickly when you arrive at your destination.
Conclusion
---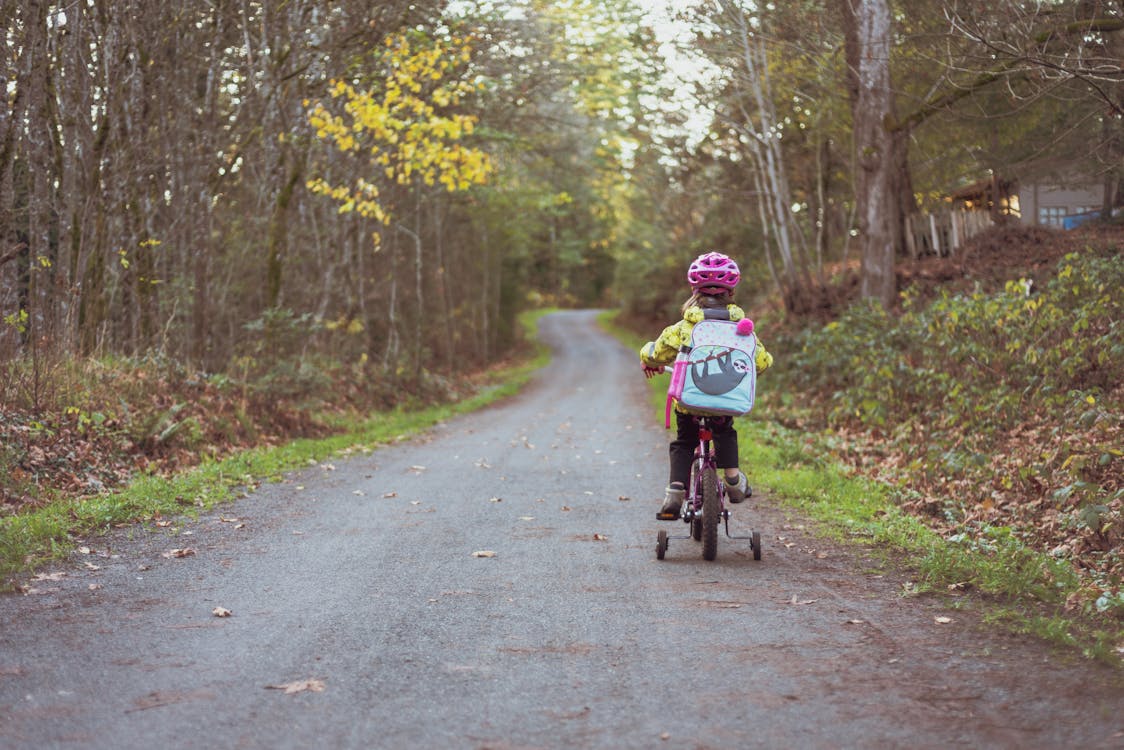 In the end, the most important thing for commuters or any cyclist is to be safe and enjoy each and every journey on your bike. Having confidence in your bike helmet goes a long way to ensuring that you can ride safely through busy city roads.
Ensure you wear your helmet every time you get on your bike and be familiar with how to stay safe while cycling in urban places. With that covered, you can get out there take advantage of all the wonderful benefits of cycling for you, your health, and the environment.