Ariel Rider D-Class Review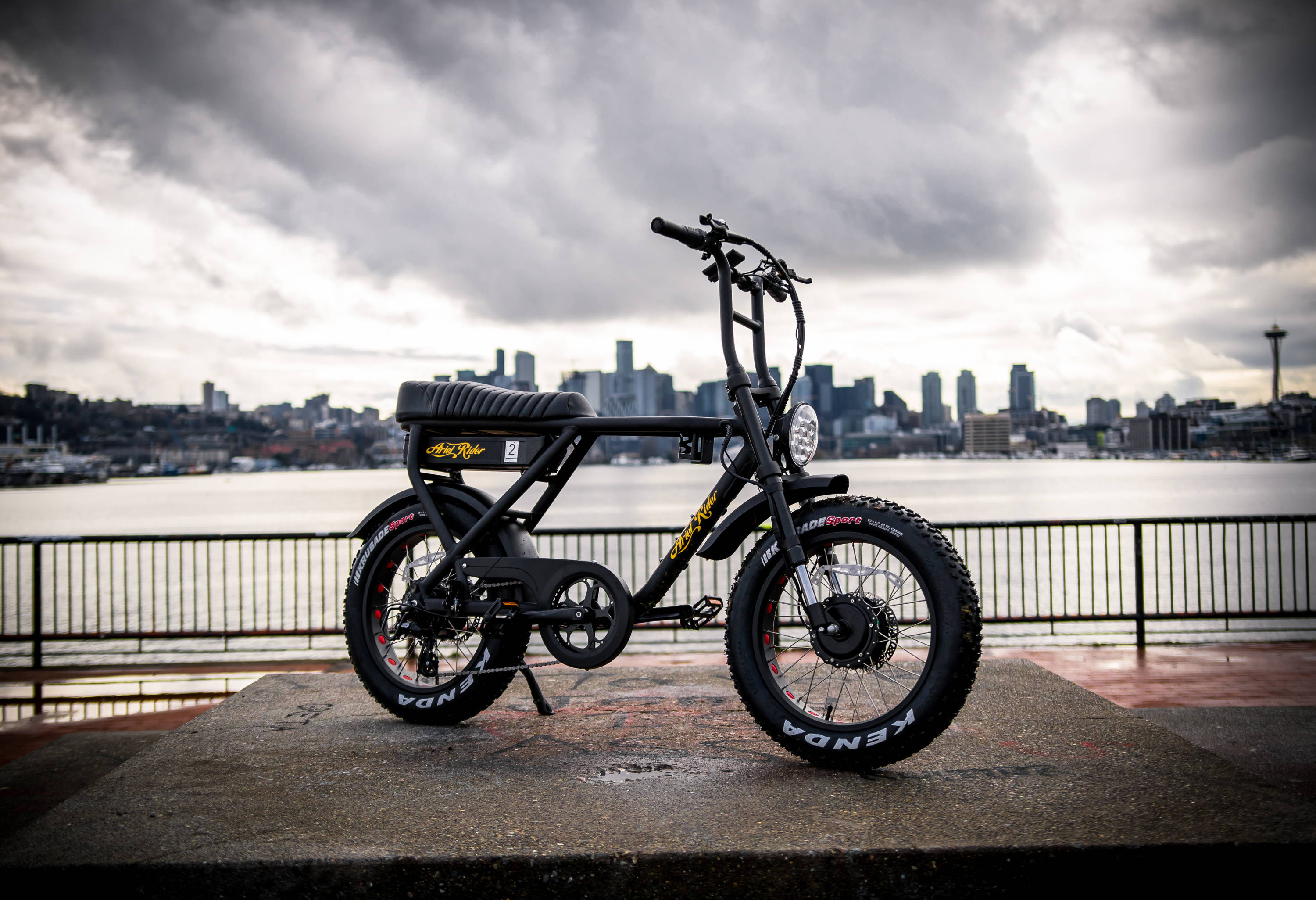 Ariel Rider eBikes are known for high quality and high performance. Over the past 8+ years, the brand has been consistently innovating to bring their customers better products.
The company sells a wide variety of bikes with different strengths and price tags. By doing this, they can reach a large market and have successfully gained international recognition for their bikes.
The Ariel Rider D-Class is their second most powerful model and one of the most impressive moped-style e-bikes we've seen. This Class 4 bike has spectacular capabilities thanks to its dual-motor and fat-tire design, meaning it can tackle the extremely challenging terrain and gradients with ease.
This scrambler e-bike uses all-wheel drive (AWD), which gives you the unique ability to get out of tricky situations such as soft terrain or steep gradients. In addition, bike as a front-wheel-drive or rear-wheel-drive when you don't need both motors.
---
1

. Ariel Rider Bikes Lineup
Ariel Rider has six different types of e-bikes in their range. Their most expensive and highest-performing model is the Grizzly. This Ariel electric bike has two 1000W motors, two batteries, and a comfortable full-suspension design.
The M-Class (RIDEAL) Ariel bike is the most affordable and basic model, perfect for use on long commutes thanks to its high max range of around 60 miles. In addition, it works great with extra accessories like a rear rack and fenders.
In between, you have the X-Class (48V and 52V), a higher-end M-Class, and the Ariel Rider D-Class.
The X-Class is the baby brother of the high-end Grizzly. It uses dual-suspension but only has one battery and motor. However., you can reach ranges up to 50 miles and rely on excellent off-road performance with a significantly lighter base weight.
Finally, the premium M-Class model takes urban commuting to the next level with a lightweight, agile, long-range e-bike (up to 65 miles). In addition, this bike comes almost fully equipped for any commuter job and is ready to be personalized with Ariel Rider accessories.
---
2

. Ariel Rider D-Class Review
The Ariel D-Class 1500 watt electric bike performs well above its price tag.
With its unique all-wheel ride technology of two 750W motors, you can achieve more than what would be possible with one 1500W motor.
The fact that each motor has 80Nm of torque ensures you have plenty of acceleration to get up steep gradients of up 30% and over soft terrains such as snow, mud, and sand.
The battery on this bike is an 18Ah model with Samsung cells. This battery provides average ranges of 20 to 40 miles with max ranges exceeding 50 miles when using one motor. In addition, you have 7-speed gearing to help maximize distance.
The components that allow this moped-style e-bike to perform off-road include the 4″ Kenda Krusade puncture-resistant fat tires, powerful Tektro hydraulic disc brakes, front fork suspension, and the motor switch. Pressing this button allows you to change traction on the fly.
Full Specs
| | |
| --- | --- |
| Brand | Ariel Rider |
| Model | D-Class Dual-Motor |
| Type | Electric, Fat, Cruiser |
| Model Year | 2021 |
| Price (USD) | 3,099 |
| Designed For | Sand, snow, gravel roads, urban, commuting |
| Frame Types | Step-Over |
| Frame Size | One-Size |
| Saddle Height | 32″ |
| Wheel Size | 20″ |
| E-Bike Class | Class 3 (If limited) |
| Max Speed | 35mph |
| Range (mi) | 20-40 Miles |
| Motor | 2x750W |
| Motor Type | Geared Hub Motors |
| Battery | 48V 18Ah (864Wh) Samsung |
| Modes | 5 Levels of Pedal-Assistance |
| Controller | 48V, 750W/each. Max Current output: 22Ah/each |
| Charger | 48V, 3A Smart Charger, 100V-240V AC Power Outlets |
| Throttle | Half Twist Throttle on the Right Side |
| Display | Backlit Colored LED |
| Derailleur | 1×7-Speed Shimano Altus |
| Frame Material | 6061 Aluminum |
| Fork | Hydraulic Suspension |
| Brakes | Tektro HD-E 350 Hydraulic |
| Rotors | 180mm |
| Tires | 20×4″ Kenda Krusade Sport |
| Saddle | Ariel Ridel Moped-Style Banana Seat |
| Weight (lbs) | 73 |
| Max weight (lbs) | 370 |
| Warranty | 1-Year All-Inclusive Warranty for the Original Owner |
| Length (in) | 70 |
| Height (in) | 46 |
Dual Motor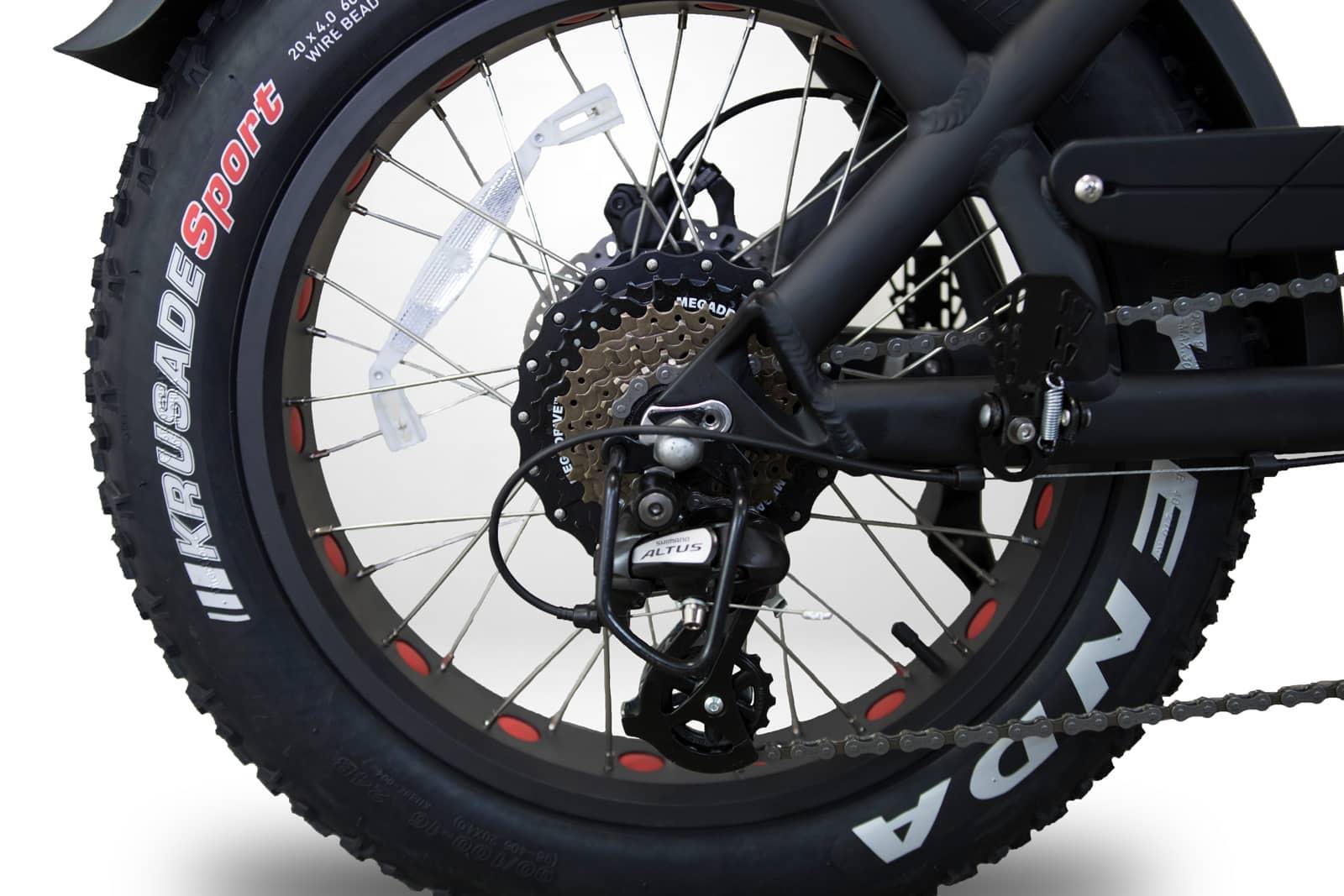 As mentioned above, the D-Class is a dual motor electric bike. As a dual-motor AWD e-bike, the ability to do specific tasks is significantly greater.
With the push of a button, you can change between the front wheel, rear wheel, or all-wheel-drive. This design not only provides high max speeds and incredible acceleration but also means you don't lose any traction going uphill and don't need to rely on one wheel's traction to get you out of soft surfaces when you're stuck.
Speed
As a Class-4 dual-motor eBike, the D-Class has a max speed of 35mph when you remove the speed limiter. However, the bike has a Class 2 speed limiter, limiting the max speed to 20mph when it is shipped.
If you change the speed limit on any Ariel e-bike, it automatically changes the class and, therefore, the bike's relevant restrictions and licensing requirements.
Battery & Range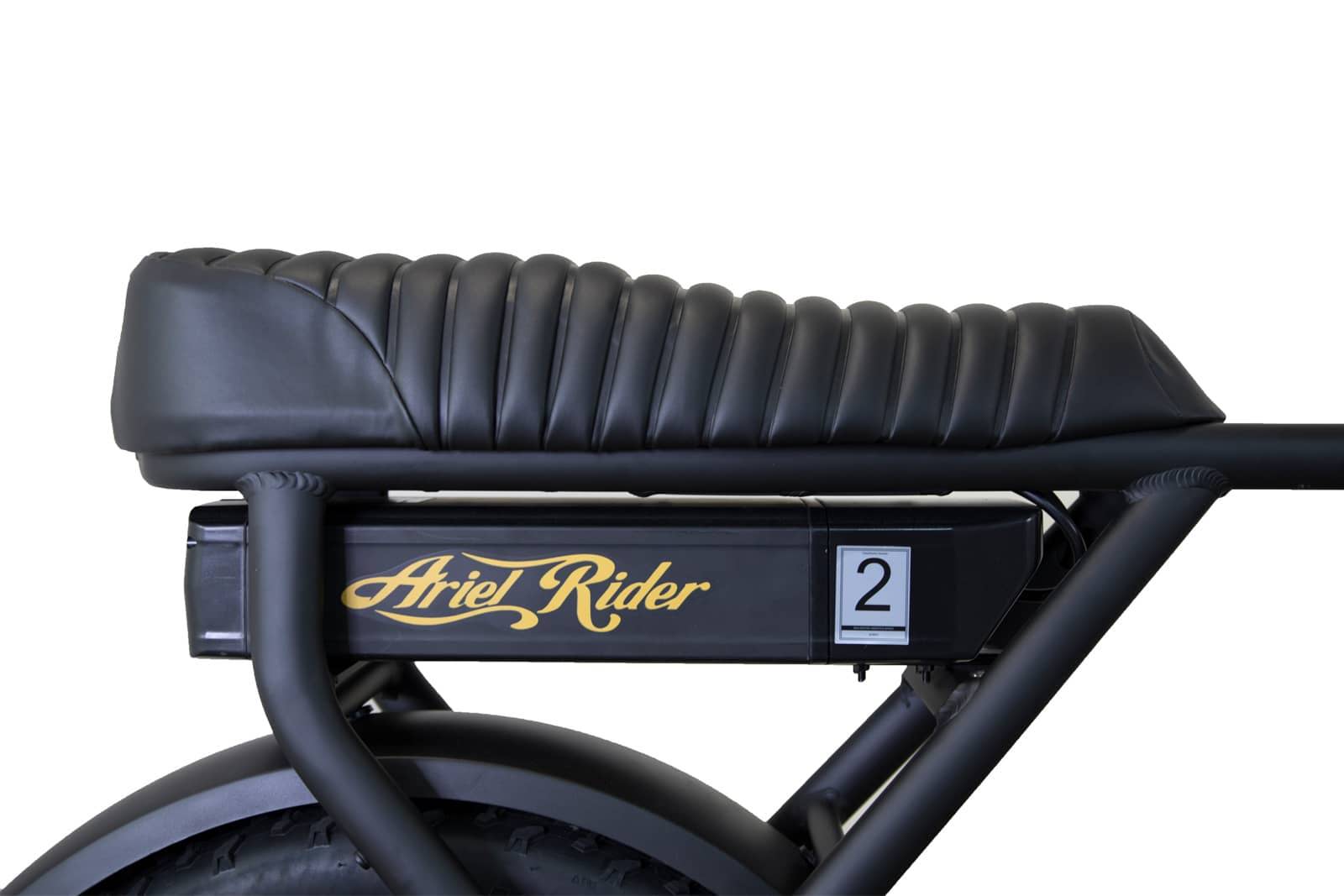 Any 1500 watt eBike needs a sufficiently powerful battery to match. For the job, this Ariel Rider bike has some of the best battery technology on the market.
The D-Class uses a highly efficient lithium-ion battery with Samsung cells enjoyed by Tesla users. This battery is rated for 800 charge cycles and provides excellent ranges, allowing you to charge your bike less often.
On average, you can expect 20 to 40 miles of total range depending on usage. However, when using just one motor and pedal assistance instead of throttle, you can expect 50+ miles of range.
Gearing & Braking
This electric scrambler bike uses dual-piston Tektro Dorado HDE350 hydraulic disc brakes with 160mm rotors. In addition, motor inhibitors automatically cut the motor's power when the brakes are applied, helping keep you safe in surprising situations.
For the drivetrain, you have a combination of the basic but reliable Shimano Altus and Tourney models. The gearing is 1×7-speed and uses a compact 14-28t cassette, which provides enough climbing options given the motors' power.
Fat Tires & Suspension
No 2WD electric bike would be complete without a set of fat tires. For the job, Ariel Bikes chose a Kenda Krusade Sport K1188, 20″x4″ setup. These tires provide excellent traction and added comfort off-road while also performing perfectly on urban streets.
For suspension, this dual-motor bike has a hydraulic suspension fork which helps to absorb moderate shocks on roads trails and is more than enough when paired with the shock-absorbent nature of the fat tires.
Frame & Geometry
The frame material chosen is lightweight and durable aluminum 6061 alloy, which is almost ubiquitous in bikes at this price range and offers excellent performance, weight, and longevity for the price it costs to manufacture.
As a scrambler-style electric bike, the D-Class has unique geometry. This design is modeled off typical scrambler geometry and therefore is quite aggressive and performance-oriented, meaning riders lean far forward while riding.
Colored LCD Display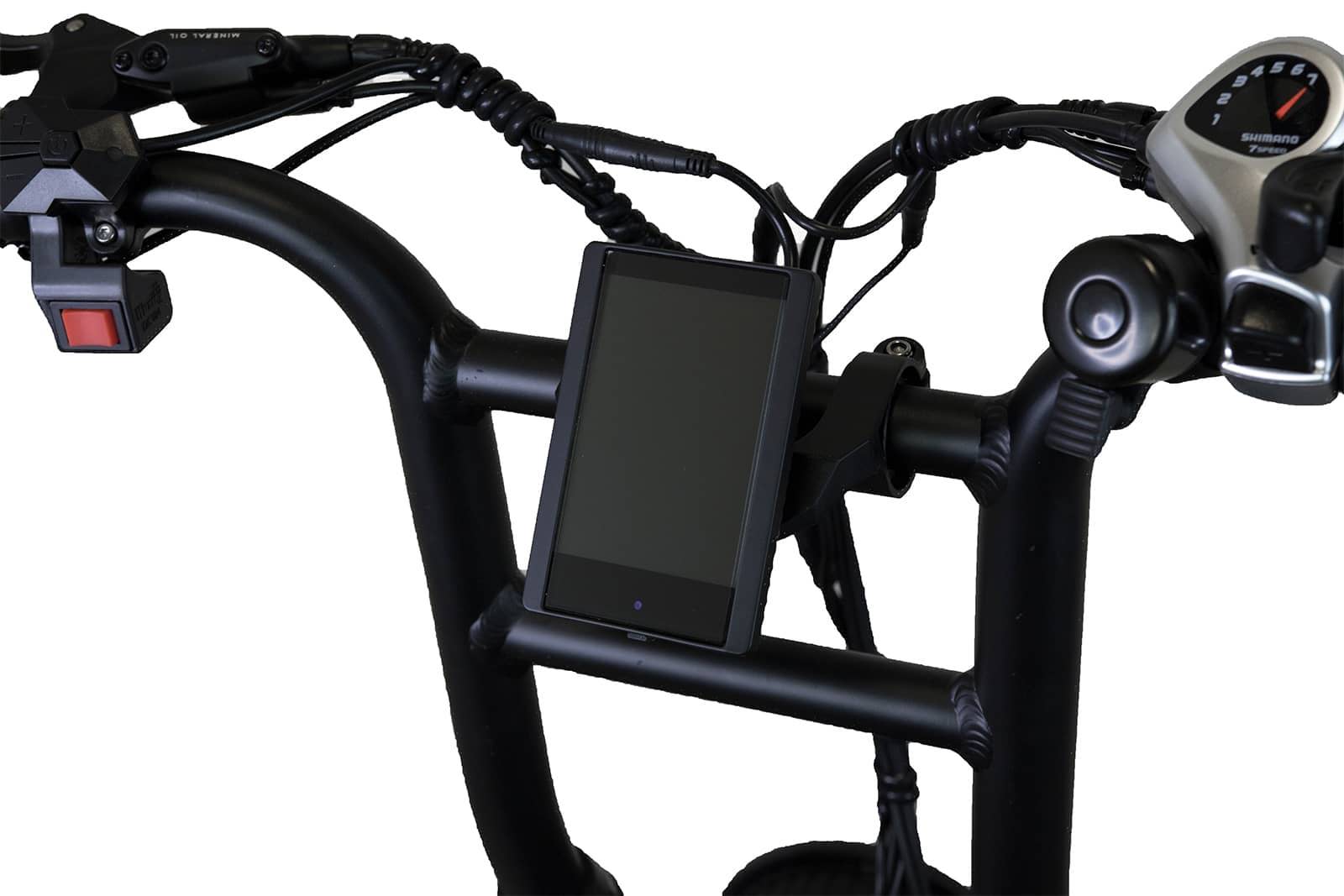 This Ariel Rider bicycle has a stylish and versatile control unit. This unit has a backlit colored LED display with an easy diagnostics feature and light sensor. In addition, it is conveniently located in the center of the handlebars and has USB charging functionality.
Lights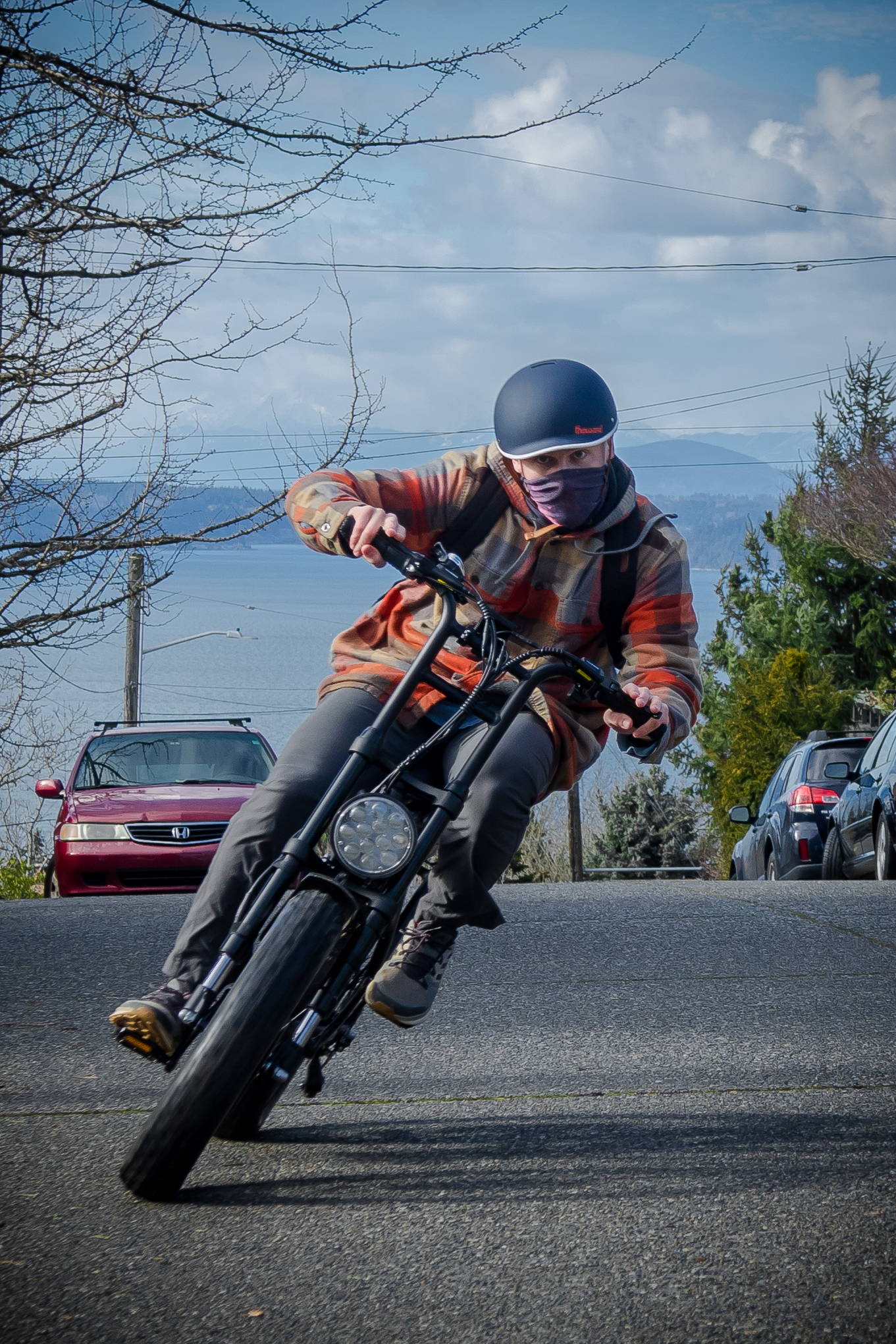 The D-Class has LED lights on the front and back. To maximize visibility and safety, they use their brightest LED headlight, the same as you would see on a regular motorcycle. Additionally, the bike also has a taillight with brake light activation.
---
3

. Accessories for Ariel D-Class
You can buy ten different accessories on Ariel Rider's online store that are compatible with the D-Class, allowing you to personalize your bike for whatever job you need.
These include accessories that allow you to carry cargo such as baskets and bags, a fat tire-compatible hitch-mounted bike rack for transporting your bike, safety tools like a horn or mirrors, essential repair tools, and holders for bottles or your phone.
---
4

. Ariel Rider D-Class vs Super 73

The D-Class dual motored scrambler eBike is very similar to the Super73 but costs $400 more.

This price difference is significant given the minimal differences between the two. Most notably, the Super73 has only one motor. Having two motors gives the D-Class a considerable advantage for traction when climbing and on soft surfaces. However, the Super73 has a higher travel suspension fork and wider fat tires, which help make up for this difference.

Finally, the Super73 has a better battery and range, with a max of 75 miles compared to 50 miles for the D-Class but has a lower payload capacity. All things considered, it is hard to justify the extra money given the minimal difference.
| | | |
| --- | --- | --- |
| Ariel Rider | Brand | Super73 |
| D-Class | Model | S2 |
| 3,099 | Price (USD) | 2,695 |
| 20″ | Wheel Size | 20″ |
| 35mph | Max Speed | 28mph |
| 20-40 | Range (mi) | 40-75 |
| 2x750W Dual Hub Motors | Motor | 1,200W Rear Hub Motor (In Unlimited Mode) |
| 48V 18Ah (864Wh) Samsung | Battery | 960Wh |
| 1×7-Speed Shimano Altus | Derailleur | Single-Speed/10-Speed Shimano Zee |
| Lightweight Alloy | Frame Material | Lightweight Alloy |
| Hydraulic | Front Suspension | 120mm Air, Hydraulic Lockout |
| Tektro HD-E 350 Hydraulic | Brakes | Tektro Hydraulic |
| 20×4″ Kenda Krusade Sport | Tires | 20×4.5″ (Front), 20×5″ (Rear) BDGR All-Terrain |
| 73 | Weight | 73 |
| 370 | Max weight (lbs) | 325 |
| 1 Year | Warranty | 1 year for the frame and fork, 2 years for the battery |
---
Conclusion
Ariel Rider's D-Class is an affordable, versatile, and powerful scrambler-style e-bike that easily justifies its price tag competes with other models in its category.
With its unique AWD, fat-tire design, riders will have the ability to do more and go farther in comfort and with confidence and style.
If you're looking for a moped e-bike that performs on and off-road, can switch easily between classifications, and can be customized for any job, look no further than the D-Class.
---
FAQs
Where are Ariel Rider's e-bikes made?
Ariel Rider e-bikes are made in China.
How fast is Ariel Rider D-Class?
The bike is shipped with a 20mph speed limiter to legally fit under class 2. Speed limiter can be removed from the display. Then the top assisted speed would be 35mph.
Is D-Class waterproof?
Ariel Rider D-Class is highly water-resistant. Unless you submerge the e-bike in water, your bike is safe.
---
RELATED Reviews