Best Class 4 eBikes [750 to 1000+ Watt Electric Bikes]
Electric bicycles are generally categorized into three different class groups. In the USA, these groups are as follows:
Class 1: Max power 750W, top speed 20mph, pedal-assist sensor (PAS)
Class 2: Max power 750W, top speed 20mph, PAS and throttle
Class 3: Max power 750W, top speed 20mph with a throttle, 28mph with PAS
However, there are several bikes that do not fit into these classes and are often considered class 4 e-bikes. Class 4 has the same restrictions and requirements as dirt bikes, mopeds, and scooters.
Class 4 e-bikes can have motors over 750W. In this article, the motors range from 1,000W to 3,000W. Additionally, max speeds are not limited and these bikes can use PAS or throttle.
---
Why Prefer Class 4 eBike?
As Class 4 e-bikes have lots of power, they are the perfect bike for carrying big loads over very harsh terrain, Overlanding, hunting trips, or any extreme wilderness riding.
With the extra power and torque, you can haul large cargo loads up steep gradients or over loose terrain without a problem. This is especially helpful for riders who need to pack out meat from a hunting trip for example. In addition, you can reach higher speeds, allowing you to cover greater distances than lower-class e-bikes
Because these bikes are mostly used for off-road terrain, they usually come with excellent suspension, puncture-resistant fat tires, powerful hydraulic disc brakes, and other useful off-road components.
---
What is Class 4 eBike anyway?
As mentioned above, class 4 eBike speed and power (Watts) are the main distinctions to the other e-bike classes. These electric bikes are considered the same as mopeds and scooters and are subject to the same restrictions and legislation.
Because of this extra power and speed, this type of e-bike is most commonly used for off-road riding. Also, as a high-powered motor vehicle, riders must have a license and registration to ride class 4 e-bikes on the road.
Key features of class 4 eBikes:
Throttle and/or pedal assistance
Top speed may be more than 28mph
The motor can be more than 750W
Mostly need registration and licensing for riding on the road
Class 4 vs Class 2
Both Class 4 and Class 2 are electric bikes with throttle and PAS.
The main difference between these two classes is there are no legal limits on Class 4 e-bikes in terms of power and max speed. Whereas, Class 2 e-bikes are limited to 20mph using either throttle or PAS, as well as a maximum of 750W power in the motor.
Apart from that, these bikes are very similar but class 4 e-bikes are likely to be optimized for more extreme riding conditions while class 2 models work great as city/commuter bikes too.
Class 2 and Class 4 e-bikes both have a throttle.
---
Best Class 4 eBikes
QuietKat – Jeep
Juiced – HyperScorpion & HyperScrambler 2
Rambo Bikes – Venom
E-Cells – Super Monarch Crown AWD
Onyx – RCR
HPC – Scout Pro
Bakcou – Mule
---
QuietKat – Jeep
Off-road optimized full-suspension fat tire electric bike for hunting

Weight – 70 lbs | Max Payload – 300 lbs | Motor – 750W / 1000W | Torque – 160Nm | Battery – 696Wh | Range – up to 58mi
MSRP: $7,099
QuietKat
QuietKat's Jeep e-bike is the result of a manufacturing partnership with the most iconic off-road vehicle brand in the world. Together they aimed to build the ultimate backcountry electric bicycle, and they succeeded.
This premium product comes as a 750W or 1000W electric bike. At peak power, it can reach up to 1500 watts with 160Nm of torque, delivering an incredibly powerful punch when the going gets tough.
To maximize handling, control, and overall performance on a variety of extreme terrains including mud and snow, QuietKat has fitted the Jeep with 203mm rotor Tektro hydraulic disc brakes, massive 4.8″ CST fat tires, and full custom QuietKat suspension with 150mm of travel.
The 14.5Ah/696Wh battery delivers a surprisingly large range considering the power (up to 58 miles). Finally, you can rely on premium SRAM 9-speed gearing to support the powerful motor, making this bike truly worthy of the name.
QuietKat Jeep has a Bafang Ultra Mid-Drive motor, which is considered one of the best you can get on the market.
Fork – 150mm, QK Custom air suspension
Rear Shock – 150mm, RockShox Monarch
Brakes – 4-piston Tektro hydraulic disc
Gearing – 1×9-speed SRAM
Tires – 26″ x 4.8″ Fat-Tire
QuietKat.com/
---
Juiced HyperScrambler 2 / HyperScorpion
MSRP: from $2,799
Juiced bikes
Both moped-style eBikes are designed around the 20″ mag wheels and fixed seat geometry. Besides the powerful 1,000W hub motor, the HyperScrambler 2 and HyperScorpion are equipped with massive batteries (994 Wh & 1,998 Wh). Another convenience is that you can register these bikes as a street-legal moped and use them on the streets. Check out the highlights:
Turn signals
Lights front & back
30mph top speed with Throttle & PAS
1,000W hub motor
20 x 4.25″ tires
Shimano Altus drivetrain
Weight capacity: 275 lbs
---
Rambo Bikes – Venom
The ultimate hunting e-bike companion

Weight – 71 lbs | Max Payload – 300 lbs | Motor – 1000W | Torque – 160Nm | Battery – 816Wh | Range – up to 40mi
MSRP: $8,000
Rambo Bikes
The Venom 1000 watt electric bike by Rambo Bikes is another premium model designed for peak performance in tough off-road environments such as hunting or Overlanding.
This rugged hardtail e-bike packs 1000W of pure power, reaching 1500W and 160Nm at peak performance. Most impressively, the Venom can deliver 1000W of power while maintaining near silence from the motor. All of this is supported by the large 17Ah Bafang battery and 14-speed gearing. All of that punch is paired with premium Maxxis Minion 4.8″ fat tires, 4-piston Tektro hydraulic disc brakes, and front fork suspension.
Finally, Rambo has optimized this bike with a sleek camouflage finish to make hunting trips more successful, while also keeping the battery and motor neatly integrated into the frame. One downside to this otherwise excellent bicycle is the low range of up to 40 miles, lower than expected for this price range.
Frame: 6061 Aluminum
Fork – GT860 air suspension
Brakes – Tektro 4 piston hydraulic disc
Gearing – Internal 14 gear speed hub
Tires – 26″ x 4.8″ Maxxis Minion
RamboBikes.com/
---
E-Cells – Super Monarch Crown AWD
One of the most affordable dual-motor electric bike
Weight – 95 lbs | Max Payload – 400 lbs | Motor – 2x750W | Torque – 170Nm | Battery – 1638Wh
MSRP: $5,495
E-Cells
E-Cells' Super Monarch AWD e-bike is a slightly more affordable Class 4 e-bike with an interesting design optimized for transporting huge loads (up to 400lbs payload capacity) with a beautiful camo finish.
The Super Monarch is a dual motor e-bike with two Bafang 750W motors and two Samsung 17.5Ah batteries with a combined 1638Wh. This impressive battery/motor combination means this bike is essentially a 1500W e-bike with 2200W of peak power and 170Nm peak torque, allowing you to easily maneuver while fully loaded at 400lbs.
To achieve excellent performance on all terrains, this bike has full suspension from RockShox and RST, 4-piston Tektro Dorado hydraulic disc brakes, and Vee Bulldozer 26" x 4.25" fat tires.
Additionally, you can take advantage of nine levels of power assistance, as well as a pin code secured LCD display with a fully functional bike computer. Finally, because it has two motors, the Super Monarch is not reliant on the chain to drive, a will run independently of it if any damage is caused.
Customer rating: 5 / 5  out of 71+ reviews
Fork – 96mm, RST air suspension
Rear Shock – 150mm, RockShox Monarch
Brakes – Tektro Dorado HD-E730 hydraulic disc
Gearing – 1×10-speed Shimano Deore
Tires – 26″ x 4.25″ Vee Bulldozer
ecells.com/
---
Onyx – RCR
Probably the fastest electric bike on the market
Weight – 145 lbs | Max Payload – N/A | Motor – 3000W | Torque – 182Nm | Battery – 1656Wh | Range – up to 70mi
MSRP $4,149 Onyx Motorbikes
Onyx's RCR is the fastest e-bike available to buy, reaching speeds over 50mph with a peak power output of 5400W. This vintage-style 60mph electric bike also has an off-road "DRT kit" available so you can convert it.
Riding at 20mph, the RCR can last up to 70 miles of range, with the availability of a large 41Ah battery for purchase should you want to increase the range. This bike has both front and rear suspension that ensures you are comfortable on bumpy roads or off-road.
Of course, with the huge power of this bike, it relies on large rotor hydraulic disc brakes to keep you safe. Finally, the most impressive part of this bike is they have packed all of the power and features in while maintaining a beautiful design and an excellent ride quality which earn the RCR a 4.8/5 rating with 80 reviews.
Fork – EBR forged aluminum
Rear Shock – 350mm, adjustable shocks
Front brakes – Hydraulic disc
Rear brakes – Mechanical disc
Tires – 17″ x 2.75″ Vee Bulldozer
Onyxmotorbikes.com/
---
HPC – Scout Pro
Fully customizable and lightweight e-bike

Weight – 49 lbs | Motor – 750-3000W | Battery – 917Wh/1680Wh | Range – 25-80mi
MSRP: from $6,495
HPC Bikes
The Scout Pro hardtail electric bicycle by HPC Bikes is packed full of power and range, optimized for off-road performance, and lightweight. There is also the option to upgrade many of the components to pro-level ones pre-purchase.
This bike comes with a 750W motor standard, with a choice of 1500W, 2000W, and 3000W motor upgrades. This is a premium mid-drive motor that is controlled with a highly sensitive torque sensor that monitors the pedal assistance power to ensure super-smooth delivery.
The excellent ride quality of the Scout Pro is down to the combination of DVO Diamond 150mm fork suspension, 2.8″ Maxxis Minion tires, an EX1 SRAM drivetrain, and powerful hydraulic disc brakes.
Additionally, this is one of the lightest Class 4 bikes we've seen with a lightweight 6061 aluminum frame and only 49lb base weight. It also has a full-color LCD display with USB charging to make your rides more convenient.
Fork – 150mm, DVO Diamond D1 air suspension
Brakes – Magura MT7e hydraulic disc
Tires – 27.5″ x 2.8″ Maxxis Minion DHF
hpcbikes.com/
---
Bakcou – Mule
Fully equipped and versatile fat-tire eBike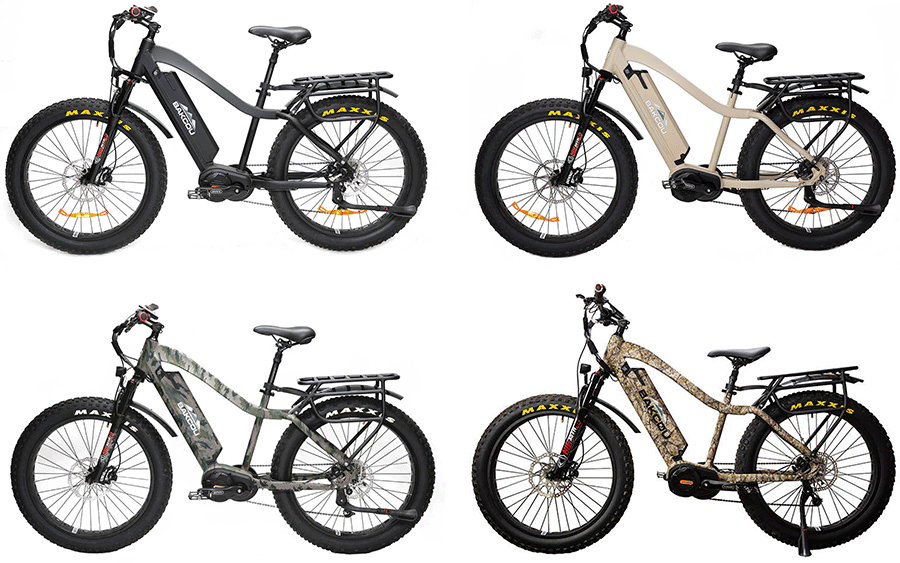 Weight – 68 lbs | Max Payload – 300 lbs | Motor – 1000W | Torque – 160Nm | Battery – 840Wh/1008Wh | Range – up to 82mi
MSRP: from $5,447
eBike Generation
Bakcou's Mule 1000W fat-tire eBike is another great Class 4 option with plenty of features that make it very versatile yet high-performing on tough terrain.
The fat-tire Mule electric bike comes with many of the features you would expect for a rugged outdoor workhorse, including a powerful, punchy mid-drive Bafang motor (1000W/160Nm) that intelligently monitors the feedback of speed, cadence, braking, and torque to ensure the power output is on point at all times.
Additionally, it has 4″ Maxxis Minion fat tires, 100mm front fork suspension, a suspension seatpost, and Tektro hydraulic disc brakes to create an easy to handle and comfortable ride in all-terrain.
Finally, the Mule comes fully equipped with a rack, fenders, a "be seen" headlight, and a kickstand for convenient riding no matter what the job entails.
Fork – 100mm, BCEB GT MRK air suspension
Brakes – Tektro dual-piston hydraulic disc
Gearing – 9-speed Shimano Alivio
Tires – 26″ x 4.0″ Maxxis Minion
ebikegeneration.com/
---
FAQs
---
How fast electric bikes go?
The fastest electric bicycle we've seen is the Onyx RCR with top speeds of well over 50mph. However, this high speed is not very common among Class 4 e-bikes. It is more common for top speeds to be around 35mph.
Are 1000W eBikes legal?
Most states have laws that are limiting eBike motors at 750W. That makes 1,000W electric bikes more likely to be classified as a scooter or moped.
However, there are some states where eBikes can have a motor of 1,000W. In addition to motor wattage, there are usually many other factors you must check. For example in Kansas, an eBike is defined as an "electric-assisted bicycle" as long as the motor is under 1,000W and has a maximum speed of 20mph.
See detailed state-by-state laws from PeopleforBikes.
---
RELATED