Yeti SB130 Review: A Lively and Feature-Packed Trail Ripper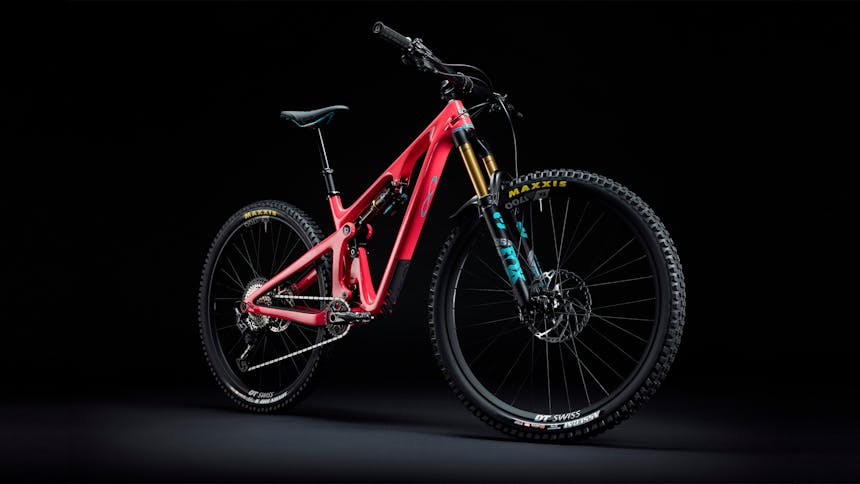 The Yeti SB130 is a mid-travel trail bike that first arrived on the scene in 2018.
This versatile 29er is fast and precise with aggressive geometry and confidence-inspiring suspension that encourage hard riding on varied terrain.
With the SB130, Yeti utilizes industry-leading frame and suspension engineering to deliver a ride quality that overperforms the spec.
In addition, you can choose the more capable Lunch Ride (LR) build if you prefer harder riding.
This Yeti SB130 review will cover the latest updates, the main specs and features, a review of the trail performance, and our verdict on whether or not to choose it for your next mountain bike.
MSRP $6,200 to $10,200
An aggressive 29er trail bike with world-class design and engineering.
PROS
Switch Infinity suspension
Balanced and predictable
Efficient climber
Bottomless feel to the suspension
Tons of traction in corners
Lightweight
CONS
Slightly pricier than the competition
No aluminum option
Limited tire clearance
Yeti SB130 Main Specs
Frame: Carbon – C Series or Turq Series
Wheel size: 29″
Tires: 2.5″ + 2.3″ / 2.5 + 2.4″ (LR)
Front travel: 150mm / 160mm (LR)
Rear travel: 130mm / 137mm (LR)
Drivetrain: 12-speed
Brake rotors: 200mm or 203mm (f) 180mm (r)
Seatpost: 125/150/175mm dropper
Weight: 29.4 to 31.5lbs
Yeti SB130 Full Review
---
The 2023 Yeti SB130 is the brand's all-rounder, perfect for riders who love to spend long days on the mountain charging down descents, across valleys, and up to the top to do it all over.
Every aspect of this bike is high-end, starting with the carbon fiber frame and finishing with the precise tuning of the individual components to deliver a premium ride feel.
What's New for 2023
---
The most significant upgrade for this year's Yeti SB130 is a new Fox Factory Float X shock on all Turq Series builds. Additionally, you can pay $900 to upgrade to the Factory shock on the C Series models.
For 2023, the Yeti SB130 frame is available in four monochrome finishes; turquoise, raw carbon, rhino, and watermelon. Otherwise, there are slight, inconsequential differences in componentry.
Finally, as with almost all bikes for 2023, the Yeti SB130 price has increased by 10 to 15%.
Carbon Fiber Frame
---
As mentioned before, the Yeti SB130 frame is available in two different grades of carbon fiber, the high-end C Series and the higher-end Turq Series.
Both the Turq and C frames are exceptionally well designed, with the same renowned strength and stiffness.
The C Series frame uses a modified carbon layup roughly half a pound heavier (225 grams) but significantly cheaper.
The premium Turq carbon has a race-optimized stiffness to compliance ratio, making it the high-performance choice tested and used by world-class mountain bikers.
The frame design includes internally tunneled cable routing for a clean look, BOOST dropouts for improved stiffness, and an integrated derailleur hanger and axle.
All frames and Switch Infinity links come with a lifetime warranty. The one slightly disappointing aspect of this bike is the lack of extra tire clearance (up to 2.5″ tires).
Geometry
---
The Yeti SB130 geometry delivers a balanced and predictable ride quality that feeds into the do-it-all personality of the bike.
The SB130 is the type of bike you take along when you're unsure of what the trail has in store.
This characteristic also makes this bike a good choice for less experienced riders who want something more forgiving.
To achieve this balance, Yeti gave their SB130 a long-ish reach and wheelbase, centering your position and giving you more confidence when charging into the unknown.
The aggressive position makes hard riding feel natural and comfortable but can leave you slightly over-biked on smooth trails.
The geometry of this bike also makes long climbs comfortable, with a slightly steepened seat tube angle that ensures long efforts in the saddle feel easy.
Switch Infinity Suspension Platform
---
The SB130 Yeti benefits from the brand's patented Switch Infinity suspension platform that is impressively supportive, durable, and fully tunable (uniquely-tuned Fox rear shock).
This system allows manipulation of the leverage rate without impacting anti-squat characteristics.
As a result, this bike maintains a flat and high anti-squat curve that enhances pedaling efficiency in the pedaling zone while improving the ability to absorb impacts as you move further into the stroke.
When it comes to descending rough terrain, taking hard landings, and slapping into corners at speed, this technology gives the SB130 an almost bottomless feel.
Additionally, while climbing, the Switch Infinity suspension allows the SB130 to outperform similarly-stroked bikes thanks to the abovementioned anti-squat characteristics and the comfortable geometry.
How Does the Yeti SB130 Perform on the Trail?
---
The Yeti SB130 demands an aggressive trail riding approach. It's balanced, supportive, and wicked fast, inspiring you with confidence to enter trails at speed.
The lightweight build, efficient pedaling platform, and 29er wheels help you save precious energy for tackling monstrous days on the trails.
Where Does the Yeti SB130 Thrive?
The SB130 is an impressively well-rounded bike. Its characteristics make it the perfect choice on days with various unpredictable trails and lots of climbing.
The regular SB130 build holds a line well on chunky terrain and climbs like a dream. However, for those who enjoy more aggressive descending and rocky terrain, the Yeti Lunch Ride offers a more robust and capable package.
The balanced and predictable ride quality of Yeti SB130 translates perfectly into smooth and confident cornering with tons of traction and a wide margin of error.
As we've seen so far in this Yeti SB130 review, this is a bike that climbs above what you would expect for a trail bike. It also has an easy-to-reach rear suspension lock-out to improve efficiency when going uphill without sacrificing traction.
Finally, the comfortable climbing geometry and steep seat angle make long sitting efforts feel well within reach.
What Can Be Better?
There isn't a lot we would change on the Yeti SB130 that isn't down to personal preference or inherent traits.
Of course, a 29er trail bike sacrifices agility in tight corners and on the most technical terrain. In addition, the SB130 doesn't encourage playful riding because it rides slightly higher in the suspension.
However, these are expected trade-offs for the fast and aggressive riding in which it thrives.
Yeti SB130 Builds
---
The SB130 comes in ten builds, six standard and four Lunch Ride (LR) builds, from $6,200 to $10,200.
There are three standard C Series models, including the Yeti SB130 C2, C1.5 ($6,500), and C1 ($6,200).
Like the price, there is minimal difference between the components on these bikes aside from the groupset. They use SRAM GX Eagle, Shimano XT, and Shimano SLX, respectively.
In addition, each has a 130mm Fox Performance Float X shock and 150mm Performance 36 fork and a Minion DHF 2.5″ front tire with an Aggressor 2.3″ rear tire.
The three standard Turq Series models include the T1 ($7,900), T2 ($8,800), and T3 ($10,200). These models use Shimano XT, SRAM X01, and SRAM XX1, respectively.
Each Turq model upgrades to Fox Factory suspension on the front and back. The Turq Series also upgrades to Burgtec stems, Yeti Carbon handlebars, and DT Swiss XM1700 rims.
Disappointingly, the most expensive model doesn't come with carbon fiber wheels ($1,500 to add them).
Yeti SB130 Lunch Ride
Yeti's Lunch Ride version of the SB130 is the standard model's more capable sibling. It features eight total changes, most notably the extra 10mm front and 7mm rear travel.
The other main change was to slacken the head tube angle by a half degree to 65.1. In addition, Yeti added wider handlebars, changed to Assegai 2.5″ and Minion DHR II 2.4″ tires, more robust wheels, and more powerful DH brakes.
All these changes mean the SB130 Lunch Ride inspires more confidence on rougher terrains so you can 'push longer, faster, and further.'
The C Series CLR and CLR XT both cost $6,500. The only difference between them is the groupset. The CLR uses an SRAM GX Eagle with Code R brakes. The CLR XT uses a full Shimano XT Groupset.
The Turq Series TLR T1 and TLR T2 cost $8,200 and $9,100, respectively. The only difference between them is the T2 uses an SRAM X01 drivetrain with Code RSC brakes; the T1 has a full Shimano XT groupset.
Yeti SB130 Sizing
---
The Yeti SB130 frame is available in four sizes, S to XL, fitting riders from 5'1″ to 6'7″.
S – 5'1″ – 5'7″
M – 5'5″ – 5'11"
L – 5'10 – 6"3″
XL – 6'1″ to 6'7″
If you are between two sizes, for example, the Yeti SB130 medium and large, the ideal situation would be to test both to see which is the better fit. Otherwise, compare the reach and stack measurements with a 29er trail bike you own or have used.
People Also Ask
Is the Yeti SB130 worth it?
Yes, the Yeti SB130 is worth it if it fits your budget. The SB130 is a premium trail bike designed for hard riding on all but the most extreme terrain. It climbs like a dream and descends like a demon, an excellent do-it-all bike.
Is Yeti SB130 a trail bike?
Yes, the Yeti SB130 is a trail bike. The SB130 is a mid-travel trail bike because of its 150mm front and 130mm rear travel. Additionally, the Lunch Ride build has an extra 10mm fork and 7mm rear travel, pushing it into the high-travel trail category.
How much does the Yeti SB130 weigh?
The Yeti SB130 weight is between 29.4lbs and 31.5lbs, which is light for a trail bike. The difference between the two grades of carbon fiber (Turq Series and C Series) is roughly half a pound. Additionally, the base weight would be even lower by upgrading to carbon fiber wheels.
Is Yeti bike good?
Yes, Yeti bikes are good. Yeti makes some of the best mountain bikes in the world, used by world champion racers. In addition, Yeti is at the forefront of innovation in all disciplines of mountain biking, working with athletes to design the most advanced bikes on the market.
Are Yeti bikes made in USA?
No, Yeti bikes are not made in the USA. However, Yeti bikes are designed and prototyped in the headquarters in Golden, Colorado. However, manufacturing their carbon fiber frames is done in factories in Taiwan. Yeti doesn't use aluminum frames anymore.
Is Yeti TURQ worth the money?
Yeti Turq is worth the money if you are a competitive mountain biker looking for a performance edge. Compared to standard C Series carbon, Yeti Turq is 225 grams lighter (half a pound) and has the perfect balance of stiffness and compliance.
Bottom Line: Should You Buy a Yeti SB130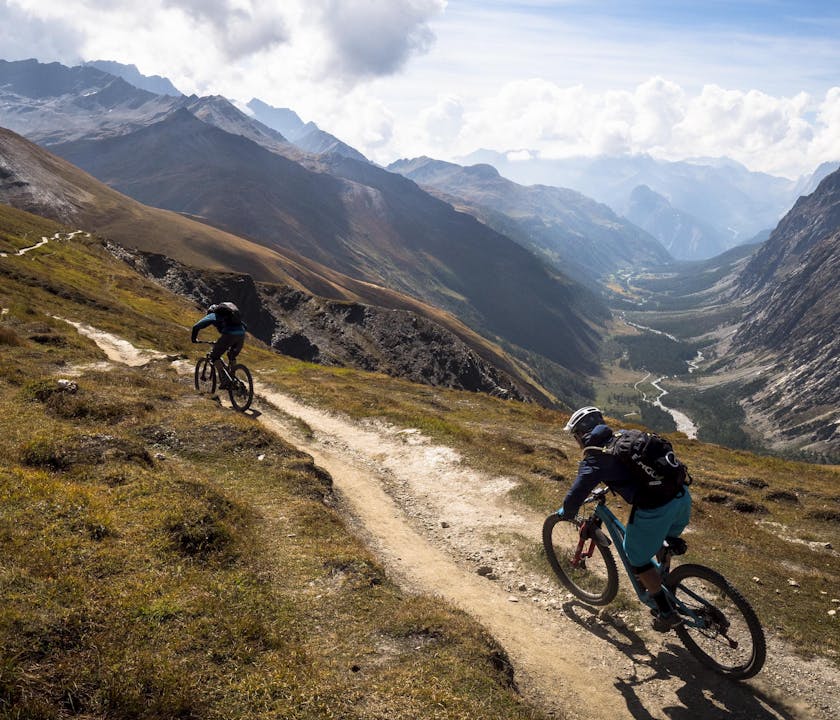 The Yeti SB130 is a high-end versatile trail machine with racing DNA and a premium price to match.
This bike won't suit pure gravity riders or those looking for a playful bike to express their creativity on the trail.
The SB130 is an excellent option for riders that like to tackle a wide variety of terrains, go fast, and spend long days on the trails.
This bike's lifetime warranty on the frame and link is a big bonus. Yeti expects the SB130 to last and backs that up with a warranty to match.
Of course, a bike that costs $6,200 for the cheapest model is a serious investment, but if it fits your budget, we'd recommend adding the high-performance Yeti SB130 to your shortlist.