Himiway Cruiser Hands-on Review
Himiway was started about two years ago and is built in the US.
According to company lore, the name was inspired by the author himself: Ernest Hemingway. The Cruiser is built with his rugged and adventurous nature in mind. In the first ten months of 2021, Himiway sold 18k Cruisers domestically and thousands more worldwide. They are assembled in the US and parts are sourced from around the world.
Motor – 750W, 80Nm
Battery – 48V 17.5Ah, 840Wh
Range – 35 to 60 miles
Fits riders – 5'3″ to 6'4″
Tires – 26 x 4″ Kenda Juggernaut
The unboxing and assembly were pretty straightforward and took me about an hour to accomplish. From the reviews I read, that time can vary up to two hours, so don't sweat it if it takes longer. The bike comes with an owner's manual, but I found watching their online video first to be the most helpful.
It comes with some basic tools that are pretty nifty but best left in your bike kit. There is no doubt that you can assemble this bike with the provided tools, but if you have full-sized Allen wrenches, they would be the choice to use.
While all of the wiring and brake cables come connected, you will have to mount the front tire and handlebars, fenders, and rear rack plus the front and rear light. Be sure to attach the rear light to the rack before mounting it.
Wonder how I know that? Yep, had to take it off. People like me did not put us on the moon is all I can tell you.
Speaking of lights:
While the front light looks pretty cool, it really isn't bright enough for street riding. It doesn't have hi/lo and is really a last resort for getting home in the dark. Don't know what it is rated, but 1k lumens is my minimum for a useful headlight.
The rear light was more capable, although not as bright as I would like. A nice thing is when the power is turned on, either brake lever will activate the brake light.
So let's talk about power.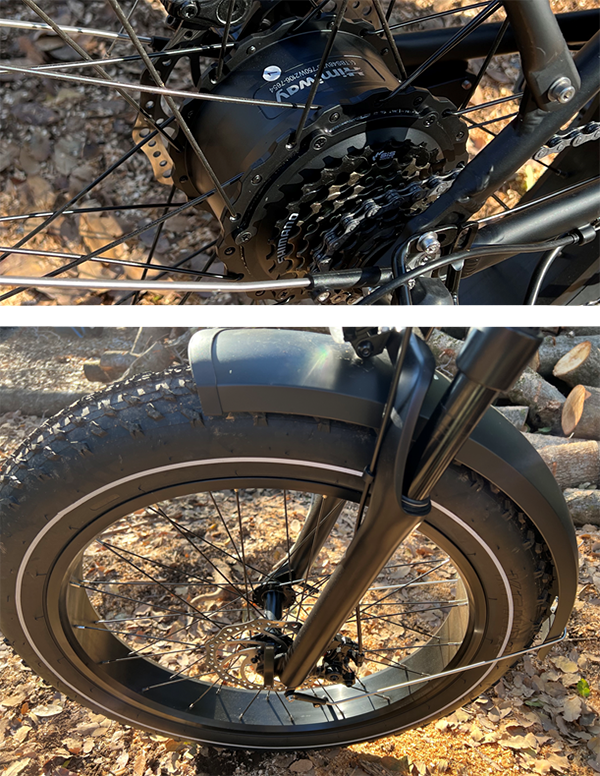 The heart of this bike is the motor.
With 750 watts of power, you will forget you are riding a 75 lb. bike. I weigh 260 and this will take me up a 12% grade and I mean fast. If you don't want to go fast, it will still get you up!
So who rides this bike?
70% of Himiway customers are 50-70 years old.
On my local riding trail, I would say that is pretty accurate, but I have seen younger people on them; including a woman who was maybe 60 and 140 lbs. They say this bike will fit anyone between 5-3 and 6-4. Well, I am 6-3 and I have seen people a foot shorter, so it works out with proper adjustment.
I have interviewed several people and the number one reason for buying this bike is stability. You might think that the power assist is more important, but really there are a lot of e-bike brands that have power, but this platform is very stable.
I normally ride a Trek Domane HP 7 that has road bike geometry, but that's not for everyone, is it? The fat tire platform with a front suspension is what they crow about and I have to admit it all works nicely.
Ever bought a Walmart bike with a front suspension? Yeah, me too. I was skeptical until I rode it, but this is a serious suspension and can actually handle off-pave situations that are not for the weak of heart.
It's capable and I promise, it is even better on the pavement.
So can you stop it?
Great question. I was a bit skeptical of the brakes since they were mechanical as opposed to hydraulic.
For $1,600, you don't get hydraulic disk brakes; sorry. Is that a problem? It wasn't for me. Remember, I weigh 260 lb, and slowing this bike down under control has never been an issue. These brakes are more than capable, even in fast turns. I never felt uncomfortable.
Final Thoughts
If I were a senior rider or maybe a commuter of any age, I would consider this bike.
I was impressed with the hi-quality of the fit and finish of this bike, plus its stability and handling. It was easy to assemble and had no rough edges. The paint was high quality as were the components. This is a bike you can ride anywhere and be confident in its performance.
If I had one knock, it was the lighting; it is weak. The motor and battery match industry standards and are superb. It is a class two, so regulated to 20 mph, but I sustained speeds of 22 in tests. I liked the throttle assist for pedaling and found it useful.
Is there a perfect bike? Not hardly, but it may be the perfect bike for you at this price considering what you get. It's another time machine bike that can take you back forty years. I would consider it for sure and really enjoyed riding it.