Diamondback Hook Review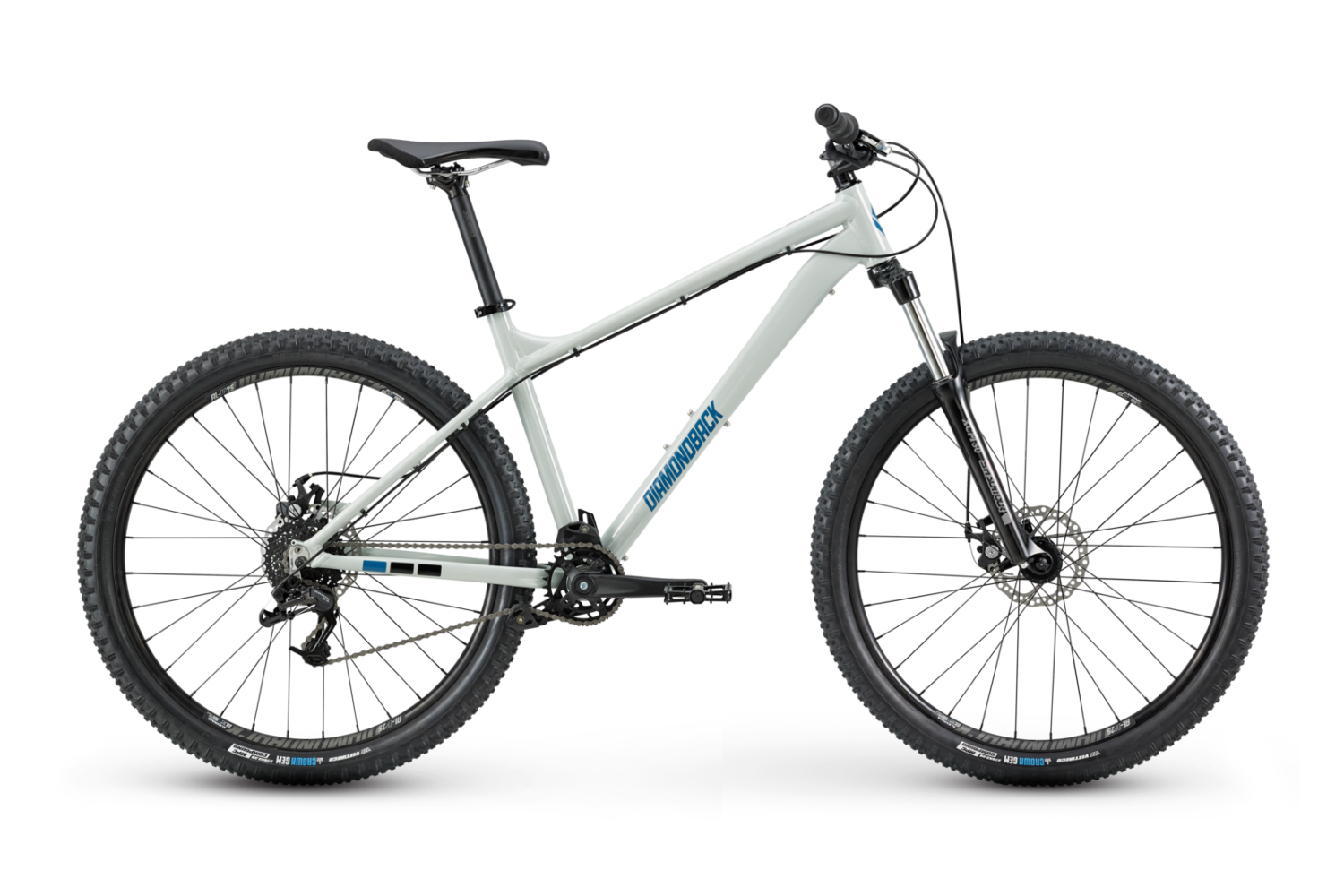 The Hook frame is based on the Sync'r and Line, two other Diamondback models that are popular within the trail riding and cross-country crowds. While the Hook is a bit more stripped down than its siblings, it provides a comfy, progressive climbing geometry and a lot of features for being such an affordable bike.
Below, we get into the nitty-gritty behind this bike's mid-level design and assemblage.
SR Suntour XCM fork, 120mm travel
6061 T-6 Aluminum frame
SRAM X4 derailleur, 8-speed
Tektro mechanical disc brakes, 160mm rotors, 2-fingerlevers
27.5″ x 2.3″, Vee Rubber Crown Gem
---
What's Good About Diamondback Hook?
As a mid-level all-purpose trail rider, the Diamondback Hook is less about the individual components and more about the overall experience that it provides during rides. It has a strong, nimble frame that can cut quick lines regardless of the terrain.
They deliver these bikes from the factory almost fully assembled, which limits the possibility of user error before you can ever get on the road. So, what's this bike loaded with?
Gearing & Drivetrain
The DB Hook has an interesting setup of an 8-speed cassette with a single front chainring. This means you're only getting 8 total options for shifting. The cogset is 11T to 32T, which suggests that the designers were much more concerned with how this thing can handle hills than what speeds you can get it up to.
Because of this, urban riders may want to look elsewhere as the Hook isn't exactly lightning quick, but much more suitable for casual commuting through gravel roads.
Frame & Derailleurs
The frame is where the Hook really shines. The 6061 T-6 aluminum frame is hand-built, and each joint on the Hook frame is hand-welded, which means that there's a much more critical eye for imperfections as opposed to some companies who use automated production welding techniques.
This grade of aluminum falls right below what they use on space shuttles and is incredibly light. The integrated disk brake tabs are a nice touch, adding even more stability to an already rock-solid frame.
Derailleurs can make or break a geared bike, which is why Diamondback went with a combination of SRAM/Diamondback package on the Hook. The SRAM X3 is a mid-level unit that tends to be a little fickle in wet weather, so make sure to use an all-weather lube regularly on your chain. Without proper attention, these pieces can seize up.
Tires & Brakes
Diamondback lately tends to go with Vee Rubber tires on a lot of their trail bikes, and the Hook is no exception. It's fitted with Vee Rubber Crown Gem, 27.5 in diameter and 2.3″ wide. These are perfectly fine to start with but are very much designed for off-road terrain. If you're looking to make your Hook more all-purpose, finding some slick, hybrid style tires is a great place to start.
The brakes on this bike are a point of contention as they just don't fit the quality of the other components found on the Hook, which has us scratching our heads. Tektro is a great company, and their Aries brakes provide a solid baseline level of functionality, but there are several other brands at similar costs that provide a much better level of braking for bikes like this.
Saddle
A common saddle for most Diamondback cyclocross and mountain bikes, the DB Sync'r is made with comfort in mind. While there are certainly some better seats out there, the Sync'r is sturdy and decent enough to get you through your first couple of seasons before needing to be replaced. Also, these tend to be quite comfortable.
---
Should You Buy It?
While you're not necessarily getting a pro-level trail bike with the Hook, what it does provide is a great platform on which you can build your dream cross-country machine. Diamondback even mentions this themselves in their literature, calling the Hook the "kit car of trail bikes".
There's no good reason to shy away from the Diamondback Hook, even with its stock components. You'll probably find that it tends to comfortably fit into your riding habits, regardless of the terrain.
Cyclists that tend to stick mainly to roads and paved environments may want to steer clear of the Hook, as its design is much better suited for hills and gravel. However, give it a test ride first. You might be surprised.
---
Full Specs
While the Diamondback's Hook design is somewhat stripped down, it's quite clever and really gives you a lot of quality for the price. You don't often see fully (or even partially) handcrafted bikes for under $1,000, which makes the Hook even more desirable as a base frame to build up from.
Perfect for those cyclists who enjoy a myriad of disciplines and terrain, Hook is a great all-around fun machine. Stock from the factory, Diamondback loads these with the following:
Frame: 6061-T6 Butted Alloy for 27.5″, 1 1/8″ Head Tube, Formed Top and Down Tube, w/ Integrated Disc Brake Tabs
Fork: SR Suntour XCM 120mm Travel, 30mm Stanchions, Coil Spring w/ Preload Adjust
Rims: 32h Diamondback DP25 Doublewall
Tires: Vee Rubber Crown Gem 27.5×2.3″
Crankset: Alloy Arm w/ 30T Steel "Narrow Wide" Single Ring
Cassette: SRAM PG820, 8 Speed, 11-32T
Front Derailleur: Full ISCG-05 Chain Guide w/ Roller
Rear Derailleur: SRAM X3, 8 Speed
Shifter: SRAM X4, 8 Speed
Brakes: Tektro Aries Mechanical Disc, w/ 160mm Rotors
Saddle: DB Sync'r Saddle
Pedals: DB4L Alloy Platform
Number of gears: 8
With the Diamondback Hook, you may not necessarily get all of the features you're looking for right off the bat, and that's kind of the idea. The Hook was created with upgrading in mind, which is why they provide you with an exceptionally well-crafted aluminum frame. It provides a wonderful base on which to build a custom trail cruiser all your own!
---
Sizes & Buying Options
S / 16″ – 5'4″ – 5'7″
M / 18″ – 5'7″ – 5'10"
L / 20″ – 5'10" – 6'1″
XL / 22″ – 6'1″ – 6'4″