Today, we're telling you all you need to know about evo.com, a popular outdoors online retailer. Keep reading to find out what cycling items you can get, what perks you can enjoy, and whether or not this is a good place for cyclists to do their shopping.
If you're anything like the average cyclist, you're probably always trying to update your bike collection, upgrade your gear, buy new cycling clothes, and do it all as cheaply as possible. Well, then we have a lot in common!
A cyclist is only as good as are their legs, but decent gear can definitely help!
Just like you, we're always on a mission to find the best places for cyclists to shop and hunt down the best deals.
About evo.com — Core Values
On the off chance that you haven't heard about evo before, let's start from the beginning.
Evo is an online retailer that sells all kinds of outdoor sports clothing and gear. They specialize in winter sports such as skiing and snowboarding, but they stock items for other outdoor activities as well, including cycling.
This versatility means that you can find any essential outdoor item at the store.
You can go from zero to outdoors freak without leaving evo's website once.
Even though they are not a cycling retailer per se, they are still one of the better-stocked online shops out there. They offer all sorts of cycling goodies, but more on that in a while.
Before we move on, it's only fair to mention evo's 8 core values that they swear by and attribute their success to. These are:
Evolution
Communication
Respect
Credibility
Invitation
Balanced Ambition
Leadership
evoStyle
So far so good, right? But is evo a good choice for cyclists or can we find a better place to spend our money? Let's find out!
Is evo A Good Choice for Cycling Gear?
Since you're reading this article, that probably means that this is the most important question for you when it comes to evo — Is it a good choice for cyclists? We believe it is and we think you'll agree with us once we elaborate.
Evo is one of the best-stocked online retailers out there when it comes to cycling gear. They have hundreds, if not thousands of items you can browse through, research, compare, and buy if you like them.
Cyclists are known as a bunch that always wants newer and better gear, as well as the newest technologies to fit on their precious two-wheelers.
Evo regularly updates their inventory to offer the newest bikes, newest components and groupsets, as well as cycling apparel that is always fashion yes, yes.
Evo also partners with some of the most popular and most renowned brands in the cycling world, so you'll be able to buy the highest-quality stuff.
Last but not least, cyclists can also check out the evo Outlet where you can buy used items in good condition and save some bucks.
What Does evo Offer To Cyclists?
Let's not beat around the bush anymore and get down to business. What does evo offer to cyclists? The million-dollar (mile?) question we all need an answer to. The simplest answer for us would be everything, but we know that won't suffice.
The Bike section on evo's website is neatly organized into 7 subcategories which will help you find everything that you're looking for. These are:
Bikes
Helmets
Clothing
Clothing Accessories
Components
Accessories
Maintenance
If you go through all of these categories and buy an item or two, you will have all you need to call yourself a cyclist and start training harder than ever.
Contrary to the situation we encounter when we visit some other cycling retailers, none of these sections are half-empty. All of them pack at least 100 diverse items and some go up to 500 items. So it's safe to say that your freedom of choice is guaranteed.
Let's take a closer look at each of these categories and see what you can expect.
Bikes
Evo is not a place for road cyclists, at least when it comes to complete bikes. This online outdoors retailer has only two types of bicycles:
Mountain Bikes
Gravel Bikes
If you prefer dirt and gravel over asphalt, you will love what evo has in store for you.
At the time of writing this overview, their selection consisted of more than 230 models intended for different types of riding.
There are all-mountain, downhill, trail, and XC bikes. There are full-suspension and hardtail models as well. You can also choose from different types of materials, including aluminum, carbon fiber, and chromoly.
The prices of these bikes start at around $300 and cap at around $10,500 for the most expensive models. Therefore, there's something for everyone's pocket.
Apart from complete bikes, cyclists can also buy frames and then visit the other sections on evo to hunt down components and build their own dream bikes.
Shop Complete Bikes on evo.com
Components
The Components section is the most well-stocked part of the cyclists' corner on evo. It has everything you need to make your bike as fast and as efficient as possible on the road. The selection is remarkable with more than 400 items on offer when we last checked.


Some of the types of items you can find here include:
Derailleurs
Shifters
Brakes
Cassettes
Chainrings
Forks
Pedals
Wheels
Tires
Apart from these, you can also shop for stems, saddles, headsets, grips, handlebars, chains, cables & housing, and so much more.
All of these components come in different price ranges and quality groups, so there's something for absolute beginners as well as for seasoned professionals who want crème de la crème items.
As we have already mentioned, all of these components are suitable only for off-road riding and intended for mountain bikes. It's a shame that evo does not stock anything for road cyclists as well, but that's how things are.
Accessories
If you like to equip your bike for something more than just a short ride, then you should definitely check out what evo has prepared for you in the Accessories section. Here you can find everything that you need to make your bicycle more practical, give it additional functionalities, and prepare for long rides.


Some of the items you can purchase here include:
Bags
Computers
Car Bike Racks
Lights
Locks
Fenders
Water Bottles and Cages
Basically, this is the place where you can find anything that you do not get with your bike when you buy it.
In total, there are close to 280 items in this section. The choice of lights is fantastic, but we'd love to see a bigger choice of cycling computers — the only brand on offer right now is Lezyne.
Helmets
You can't go on a ride without a helmet. Especially if you're planning an off-road ride that carries a higher risk of crash and injury compared to road cycling.
Evo seems to be on the same page with us, so they have stocked up their Bike Helmets section with close to 100 models you can choose from. These include helmet types that are suitable for mountain and urban/commuter styles of riding.


When it comes to helmet style, evo offers Full Face, Full Shell, and Half Shell models. You can get sufficient protection and coverage no matter what type of riding you prefer.
The filters on this page also let you choose whether or not you want a helmet with the MIPS technology (Multi-directional Impact Protection System) which protects you from rotational impact injuries.
Evo offers helmets for men, women, and children, so you can ensure the safety of your entire family when hitting the trails.
Apparel
It's entirely possible to go on a bike ride wearing a cotton T-shirt and regular shorts. Will you have a good time though? Probably not. That's why it's a good idea to invest a bit in specialized cycling clothing, which is intended to improve your comfort, safety, and performance.


If you decide to do that shopping on evo, you'll have a choice of around 280 items of different colors, sizes, and designs. You can stock your wardrobe with shirts & jerseys, shorts, jackets, pants, bibs, and more.
These clothing items are suitable for men, women, and kids, and you can also filter between boys' and girls' models. The prices start at around $10 for some T-shirts and go up to $300 for jackets.
Accessories
Apart from regular clothing items, you can also shop for clothing accessories on evo. These will make your rides more comfortable and offer you significantly more protection, especially during risky rides.


What evo means by clothing accessories are:
Gloves
Goggles
Pads & Protection
Shoes
Socks
Sunglasses
Apart from these, you can also check out the selection of around 60 backpacks and hip packs, including hydration packs. With these, you can ride longer than before and carry all of your essentials, including plenty of water for hot days.
Maintenance
You can't expect to reach the maximum of your cycling ability if you don't maintain your bike in mint condition. To do that, you need to equip yourself with the right tools and equipment. As expected, you can do that on evo.
The most important thing when it comes to bike maintenance is keeping the moving parts clean and lubricated.

Therefore, make sure to buy some cleaning supplies, lubes, and greases, which evo has plenty of.
You can also consider purchasing some bike tools, such as a multitool, which contains all of the tools you need to tamper around your bike. The cheapest one on evo costs just $12.95, whereas the most expensive one is $59.
Popular Brands Cyclists Can Find On evo.com
As we have already mentioned above, evo partners with some of the best bike brands in the cycling industry, which means you can get really high-quality items and bikes on their website.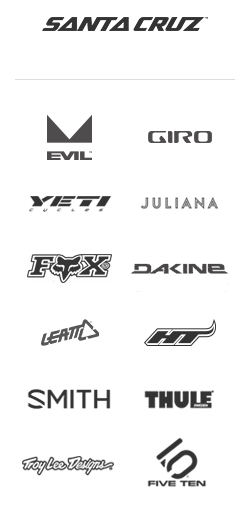 Some of the most reputable names that you will notice in their shop are:
Santa Cruz
Yeti Cycles
Giro
FOX
Dakine
Thule
Avid
Bell
CamelBak
Devinci
Giant
Marin
Shimano
SRAM
…and the list could go on forever!
Pro Tip: No matter which category of cycling items you're browsing, you can always search by individual brands, if you're looking for something specific.
evo Outlet — Buy Used And Save
If price matters to you the most and you want to make additional savings when shopping for bikes and cycling gear, the evo Outlet is the place where you need to be.
This is where you can buy used or returned cycling items, as well as items with damaged packaging. Most of the time, there's nothing wrong with the product itself, except for some cosmetic issues. Therefore, saving hundreds or thousands of dollars on such items sounds like a bargain.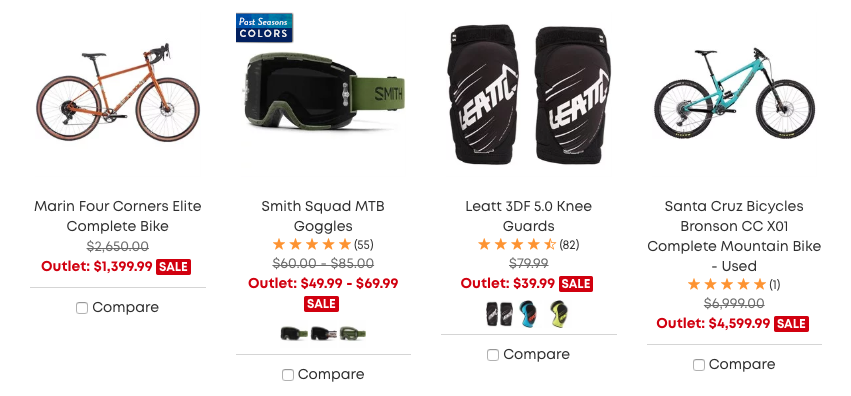 To help you understand what condition a particular product is in, evo has created a Gear Condition Guide. From worst to best, the condition levels are:
Used – Bargain Bin
Used – Value
Used — Standard
Used – Standard Plus
Used – Premium
Used – Damaged Packaging
New – Blem
New
Some of the items in the Outlet are in such a good condition, that warranty still applies to them — Damaged packaging, Blem, and New items come with full warranties.
The other categories are not under warranty, but they can still be in pretty good condition.
Gift Ideas for Cyclists by evo
Do you have friends or family members who are crazy about cycling? How often have you found yourself wondering and stressing about what gift to give them for some big holiday? Well, those days are over, or at least they will be much easier thanks to evo.


Evo has an outstanding section on their website called Gifts, where you can get gifts for your loved ones, sorted by outdoor activities. I'm sure you wish you knew about this before the holidays have passed.
Some of the best cycling gift ideas you'll see in the Gifts for Bikers subsection include multi-tools, sunglasses, helmets, locks, clothing, frame bags, and so much more.
When the time comes for the next cycling birthday in your social circle, evo.com is obviously the place to find the perfect gift.
Cycling Sale Section — Worth Your Time?
Another section on evo.com we really like, and we're sure other budget-friendly cyclists will like as well, is the Bike Sale section. This is where you can find the best cycling deals and make the most savings when shopping.
All of the discounted items on the entire website will be located here, so you can easily browse them and find the biggest bargains.


The way we like to do it is to sort the items by "Best Savings." This filter brings the items with the highest discount percentage to the top.
It's how you can find items that offer savings of tens, hundreds, or even thousands of dollars. The list includes basically all types of products, including complete bikes and groupsets.
Lowest Price Guarantee And Coupon Codes
The ways in which you can save by shopping on evo do not end with the Outlet and the Bike Sale section. There's also the Lowest Price Guarantee offer based on evo's Price Match Policy.
This means that if you show evo that some of their competitors offer an item for sale online at a lower final price (after duties, tax, and shipping), evo will offer you a 5% discount. That's pretty cool.
To be eligible for evo's Lowest Price Guarantee offer, the item must meet these requirements:
Same model year
Same color
Same size
Same condition
The competitor site must have the item in stock
The competitor site must be U.S. based
Do you feel like you can still save more? Then take a look at evo Coupon Codes as well which can help you lower the price of your cart further.
You can also get a certain item at a discounted price if you buy it together with another selected item, which is good for those who like shopping in bulk.

Free Shipping & Returns
Another reason why you should consider shopping in bulk on evo is that this online retailer offers Free Shipping on orders over $50. Unfortunately, this offer excludes some oversized items, such as bikes and other bulky products. However, if you're shopping for gear or clothes, you're golden!
Evo ships all of its items to the US and Canada, and some items can be shipped to other countries in the world as well. It all depends on the manufacturer and their business policies.
If for some reason you're not happy with an item you bought from evo, you can count on their 365+1 Return Policy. This means that you have a total of 366 days to return your item and get a full refund or exchange it for another item.
Note that the item you're returning needs to be unused and in original condition, including packaging, tags, and documentation.
evo Shop Locations
Do you live in or near the following places in the US?
Seattle
Portland
Denver
Whistler
Salt Lake Cities

These are locations of evo's brick and mortar stores where you can check out their inventory, give products a try, and return or exchange your older purchases.
If you live somewhere else, well, we already told you everything you need to know about evo's online shop, so you can start browsing and shopping.