All-City Cycles is a Minneapolis-based bicycle brand that produces steel bikes for the messenger, single-speed, and gravel biking market.
It was founded in 2007 by Quality Bicycle Products (QBP), one of the largest distributors of bicycle parts and accessories in the world.
QBP created the All-City Cycles brand to satisfy a niche market of urban-orientated cyclists, bicycle messengers, and commuters with a penchant for style and quality.
Along with several standard fixies and commuters, the company manufacturers several high-end, podium-winning road and track bikes.
For discerning cyclists who know quality when they see it, All-City Cycles will impress. Steel enthusiasts, in particular, will appreciate the custom-built frames and traditional design methods.
While the bikes are admittedly on the higher end of the price scale, they are built to last and will require minimal maintenance and upgrades.
All-City Cycles Bikes Range

The All-City Cycles range includes several road, trail, commuter, and track bikes at various quality and price levels. The majority of All-City frames are built from its proprietary air-hardened, custom-extruded (A.C.E) steel tubing method, with a unique design for each bike.
In addition to A.C.E steel, it also manufactures a few Chromoly steel and aluminum framed bikes.
---
All-City Road bikes
Zig Zag 105 / Zig Zag Ultegra
---
All-City Zig Zag 105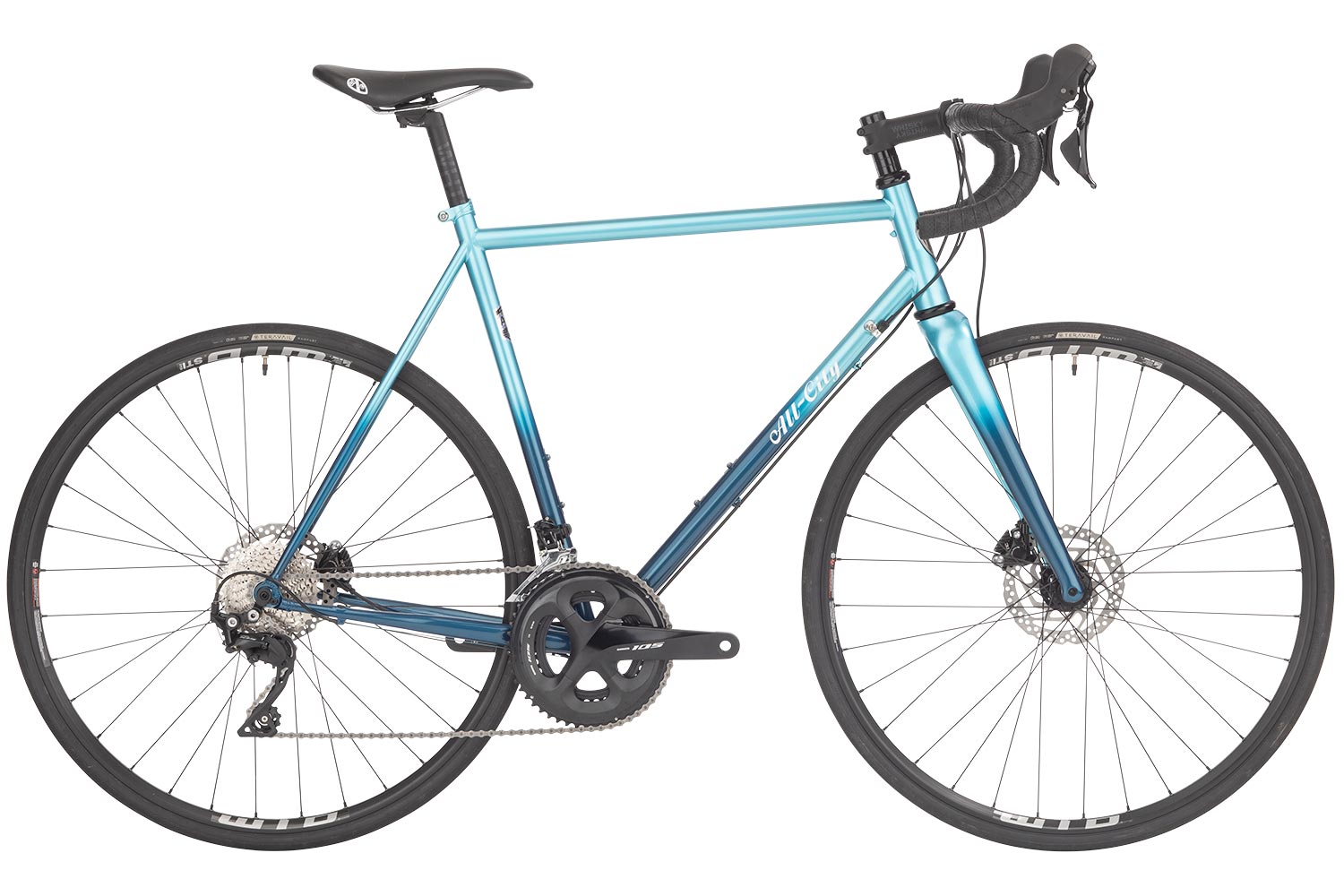 MSRP from $2,499 (Frameset $1,299)
All-City A.C.E Custom steel frame with a tapered headtube
Shimano 105 R7000 Groupset
Hydraulic disc brakes w 160mm rotors
Shimano RS500 bottom bracket
Saddle: All-City Gonzo
WTB ST Light i19 700c 28h Rims
Teravail Rampart 700c x 28mm 60tpi Light & Supple tires
The Zig Zag is All-City Cycle's answer to a lightweight, steel road bike. Its A.C.E frame is complemented by a Whiskey No.9 carbon fork and features customized dropouts and seat collar. The Zig Zag runs on 700 x 28c (While the newer models run on 700x32c) tires with enough clearance for fenders, so you can use it comfortably in any weather conditions or fit larger tires for gravel riding.
The rims are WTB ST Light i19 and it's available with Shimano's popular 105 groupsets or with an upgrade to the excellent Ultegra set.
---
All-City Zig Zag Ultegra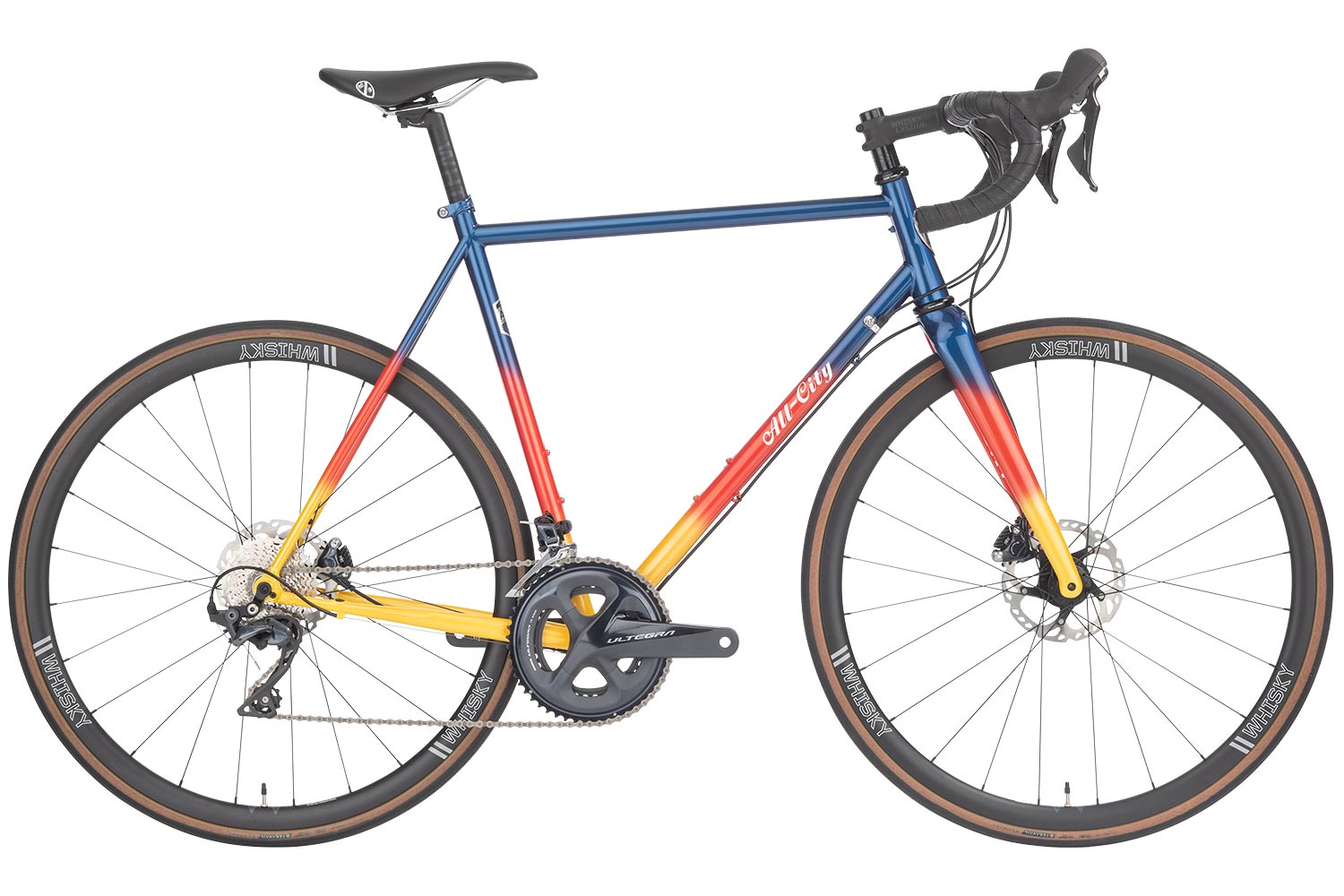 MSRP $3,999 (Frameset $1,299)
Custom All-City A.C.E Air-Hardened & Extruded steel frame
Whisky No. 9 carbon fork w/ tapered carbon steerer tube
Shimano Ultegra R8000 Groupset
Flat-Mount Hydro Disc Brakes
Whisky No.9 30mm 24-hole Carbon Rims
700c x 28mm 60tpi Teravail Rampart Light & Supple tires
Shimano RS500 bottom bracket
The Ultegra Zig Zag is the most advanced bike by the All-City Cycles. Equipped with what they believe gives the best outcome in all-weather endurance road cycling – the classic yet custom All-City steel frame paired with a carbon fork and one of the greatest drivetrain components you could ask from Shimano. There's nothing to add or remove to convert your strength and knowledge into the best-optimized performance on the road.
This is a road bike for those who are after a tight-niche product. Four thousand dollars for a road bike is a lot of money, but you'll get one of the best custom steel frames on the market, paired with the latest of technologies and options to choose from.
---
All-City Cycles All-Road bikes
Cosmis Stallion / Macho King / Gorilla Monsoon / Space Horse / Mr. Pink
---
All-City Cosmic Stallion Force 1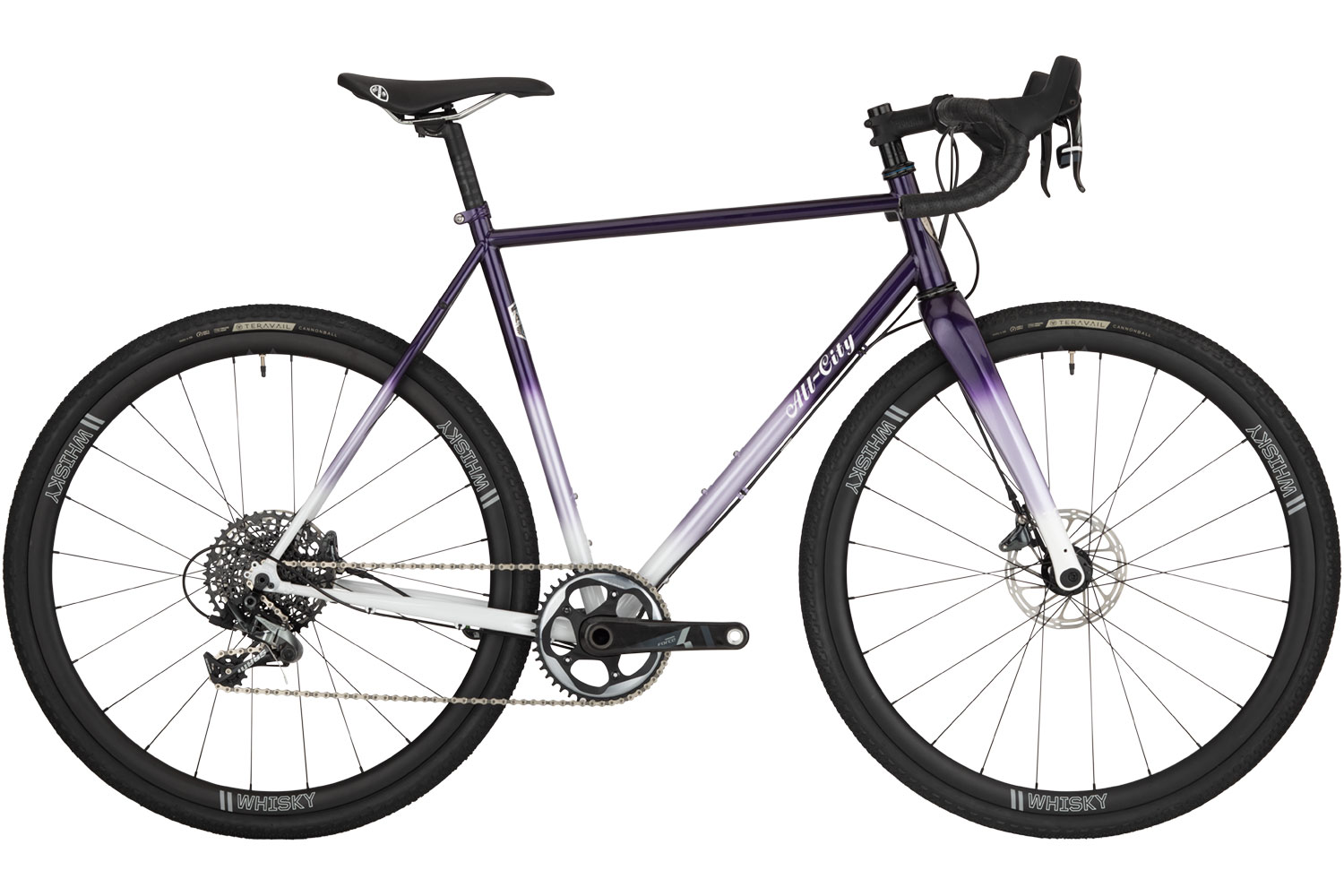 MSRP $3,999 (Frame: $1,299)
SRAM Force – Rear derailleur, Brakeset, Bottom Bracket, Shifters
SRAM GXP bottom bracket
1×11-speed drivetrain
All-City Gonzo saddle
Teravail Cannonball 700c x 38mm 60TPI tires
All-City built the Cosmic Stallion to handle anything the road can throw at it, with clearance for up to 47mm tires and rack mounts for the adventurous bikepackers out there. The signature frame is built from A.C.E steel and has a Columbus Futura Cross carbon fork with enough space for 12mm thru-axles. It's available with SRAM's top-quality Force 1 groupset or the more affordable GRX groupset.
Both models come with WTB ST Light i23 rims, Teravail Cannonball 700×38 tires, and hydraulic disc brakes. The Cosmic Stallion is an all-terrain beast of a bike, perfect for professional cyclocross, gravel racing, or light bikepacking.
---
All-City Cosmic Stallion GRX
From road to gravel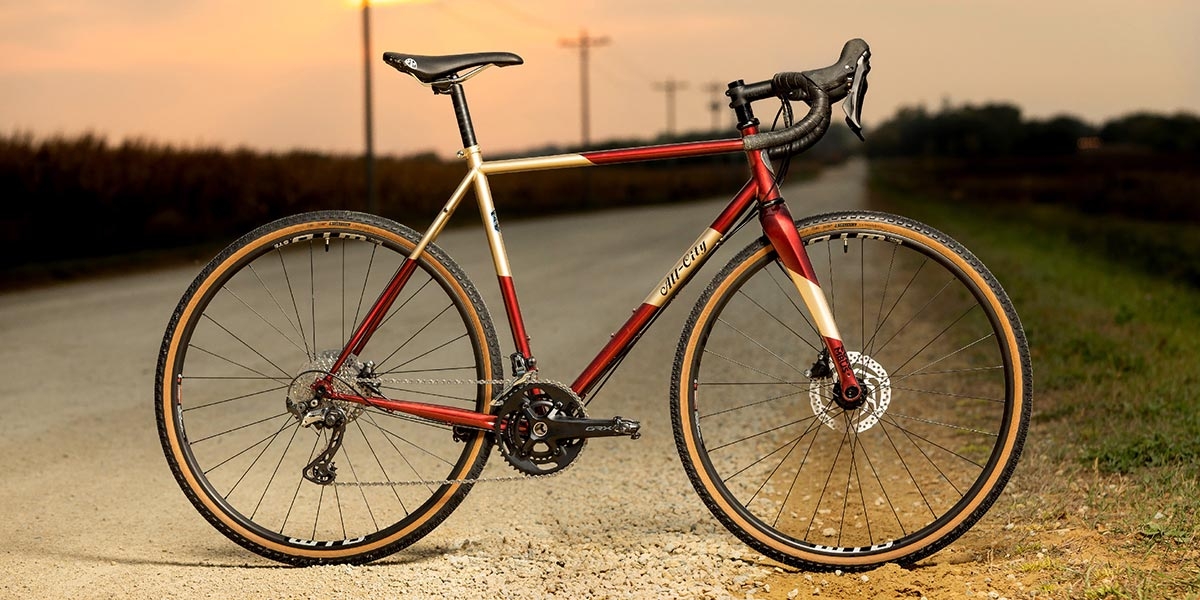 MSRP $2,699
When you see the GRX badge on a bike, you know it's serious. The bike is equipped with a tough set-up that would be ideal for anyone into endurance-road, gravel, or cyclocross racing. The steel frame, carbon fork, and anything from the RS5500 bottom bracket to WTB i23 wheels – there's nothing to add or remove about the set-up at this price range!
All-City gravel bikes are well-represented among commuters, recreational cyclists,s and hobby racers alike.
Frame -All-City A.C.E Air-Hardened, Custom, Extruded steel
Fork – Columbus Futura Cross
Crankset – Shimano GRX 600, 46/30t
Bottom Bracket – Shimano R5500
Rear Derailleur – Shimano GRX 810
Headset – Cane Creek 40 Series
Shifter/Brake Lever – Shimano GRX 600
Brakeset – Hydraulic Shimano GRX 600 w/ Shimano RT26 160mm rotors
Rims – WTB ST Light i23 28h
Tires – Teravail Cannonball 700 x 38 60TPI Light and Supple
---
All-City Gorilla Monsoon
Rides as good as it looks!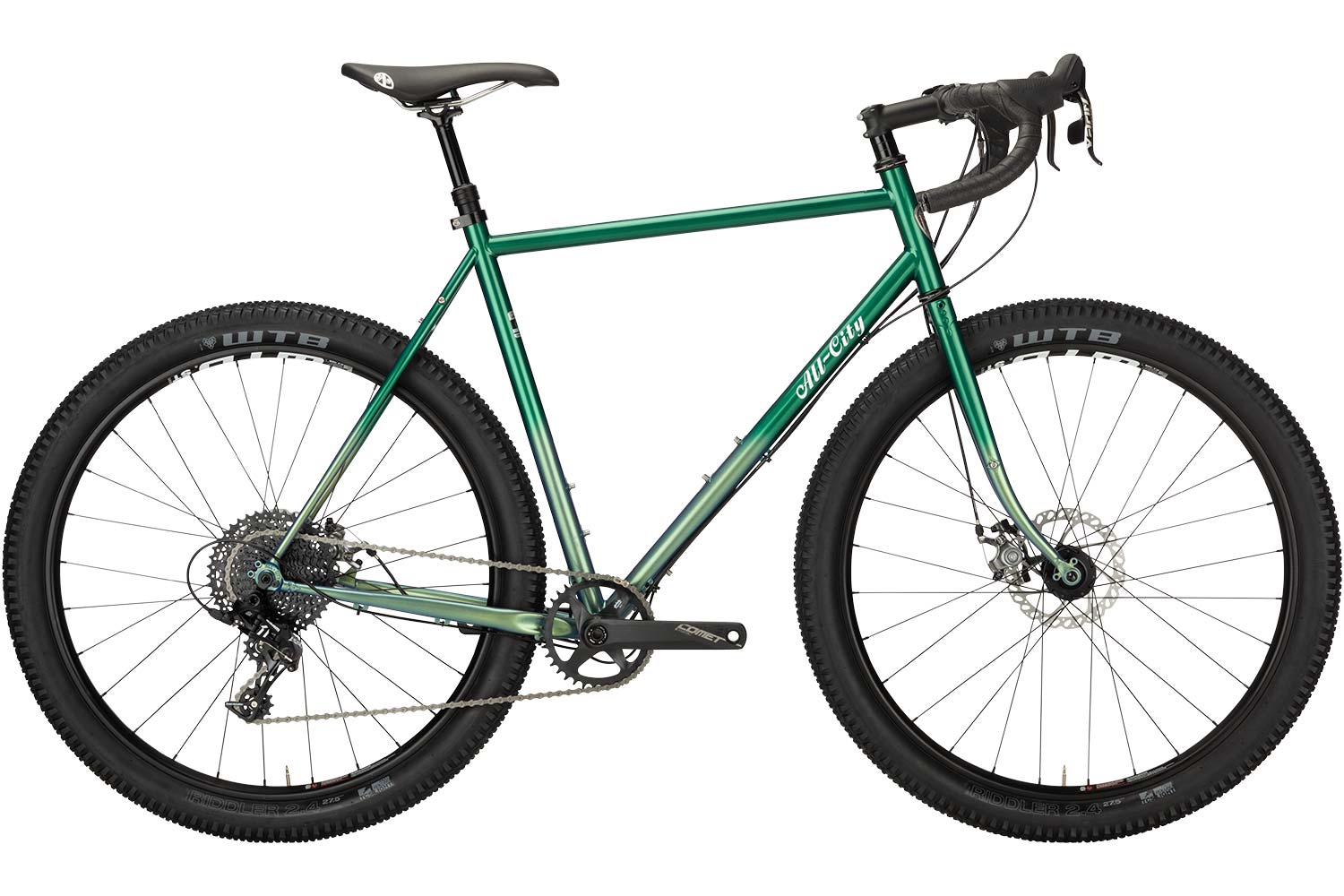 MSRP $2,099 (Frameset: $850)
TranzX dropper post
1x11sp SRAM Apex 1 derailleur
All-City Gonzo saddle
This thick-tired, all-terrain gravel bike will take on the roughest single track and dirt trails in your neighborhood while still rolling smoothly on the pavement. It's an adventurous, steel-framed bike aimed at the cycle touring and bikepacking market.
With clearance for up to 2.4″ tires, you'll struggle to find terrain that this bike can't handle. With routing for a dropper seat post and mounts for fenders and racks, you'll be ready to hit the mountains in no time.
The 1x SRAM Apex groupset is nicely complimented by Hayes CX mechanical disc brakes and an 11-speed Sunrace cassette. Wheels are WTB ST i25 wrapped in Riddler 27.5 x 2.4″ tires.
---
All-City Space Horse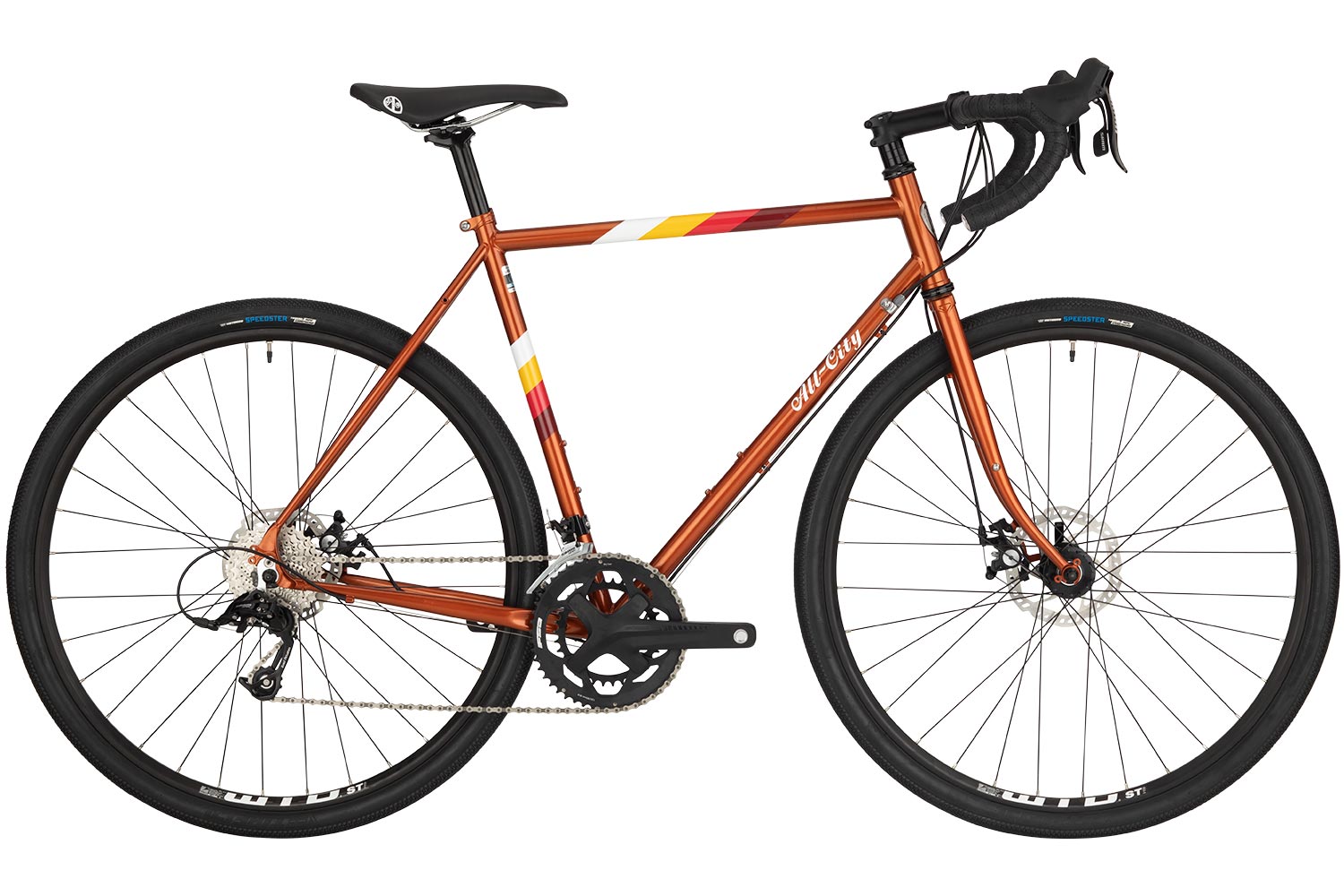 MSRP $1,499 – (Frameset: $650) AllCityCycles
SRAM Apex 2x10speed drivetrain
Cane Creek 10-series headset
SRAM Power Spline bottom bracket
The Space Horse is one of All-City's more affordable road bikes, with a strong frame and fork forged from 612 Select steel tubing. It's a versatile bike with 700c wheels and clearance for up to 42mm tires, making it ideal for a classic bike touring setup or a work commuter.
The 20-speed SRAM Apex groupset provides more than enough gear range to carry you up steep hills heavily loaded. Some costs have been saved on certain components, like mechanical disc brakes and low-cost tires but overall this is a quality bike for the price.
---
All-City Macho King A.C.E
Cyclocross geometry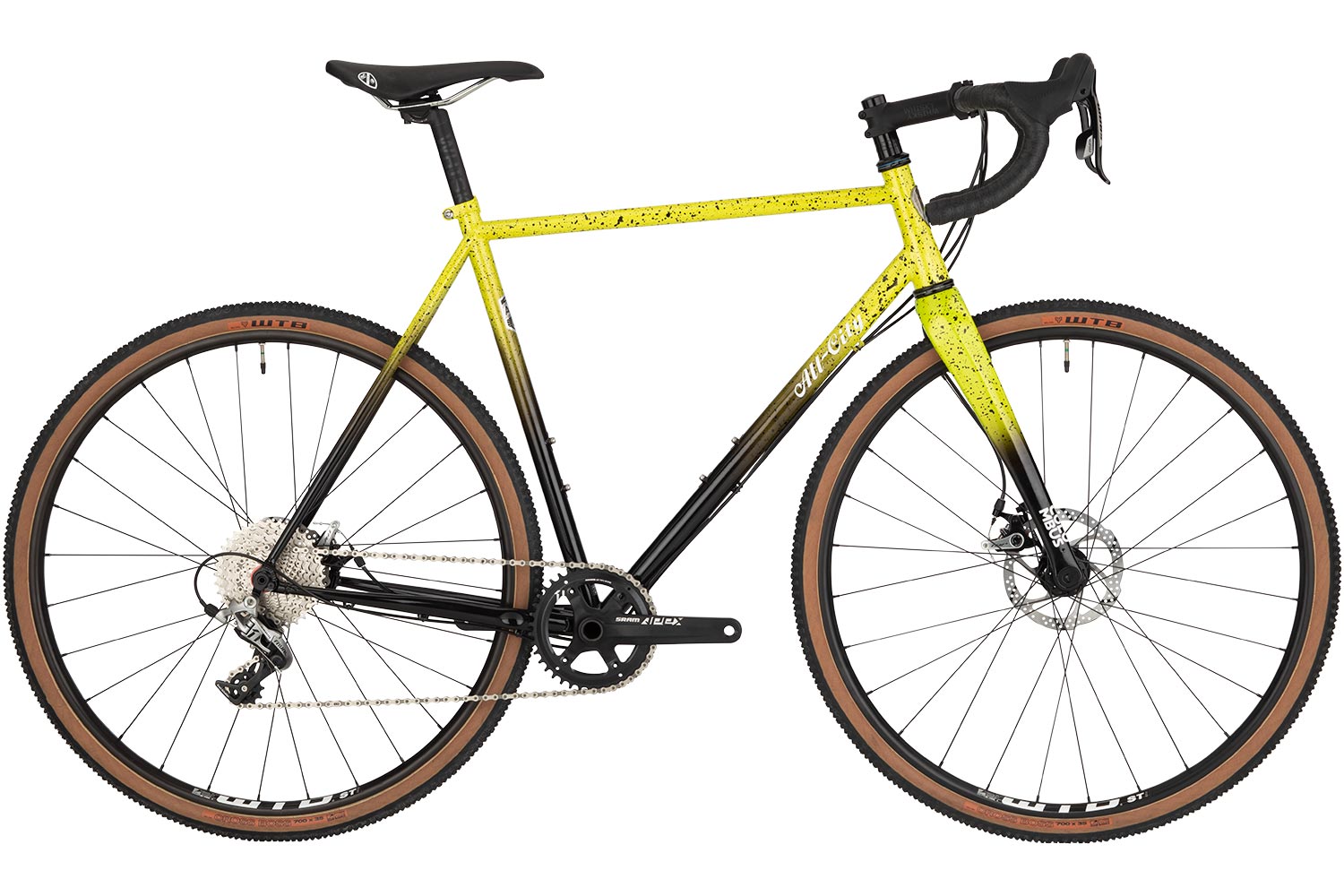 MSRP $2,400
A.C.E. steel frame with a Carbon fork
SRAM Rival Derailleurs and Shifters
SunRace 11-36T, 11-speed Cassette
Signature dropouts, flat-mount disc brakes
Front and rear thru-axles
Fits 700c x 42mm tires
Built on an A.C.E tubing steel frame, Macho King is a well-known name in the CX game. The bike is preferred by its obvious mixture of steel, carbon, and one of the mid-higher end components you'd need to participate in cyclocross races. Besides the race-orientated geometry and components, it could simply be a great one-for-all road bike.
The higher bottom bracket and shorter rear end make it an ideal choice for any cyclocross enthusiast!
---
All-City Mr. Pink 10th Anniversary
Limited edition, all-road bicycle at its finest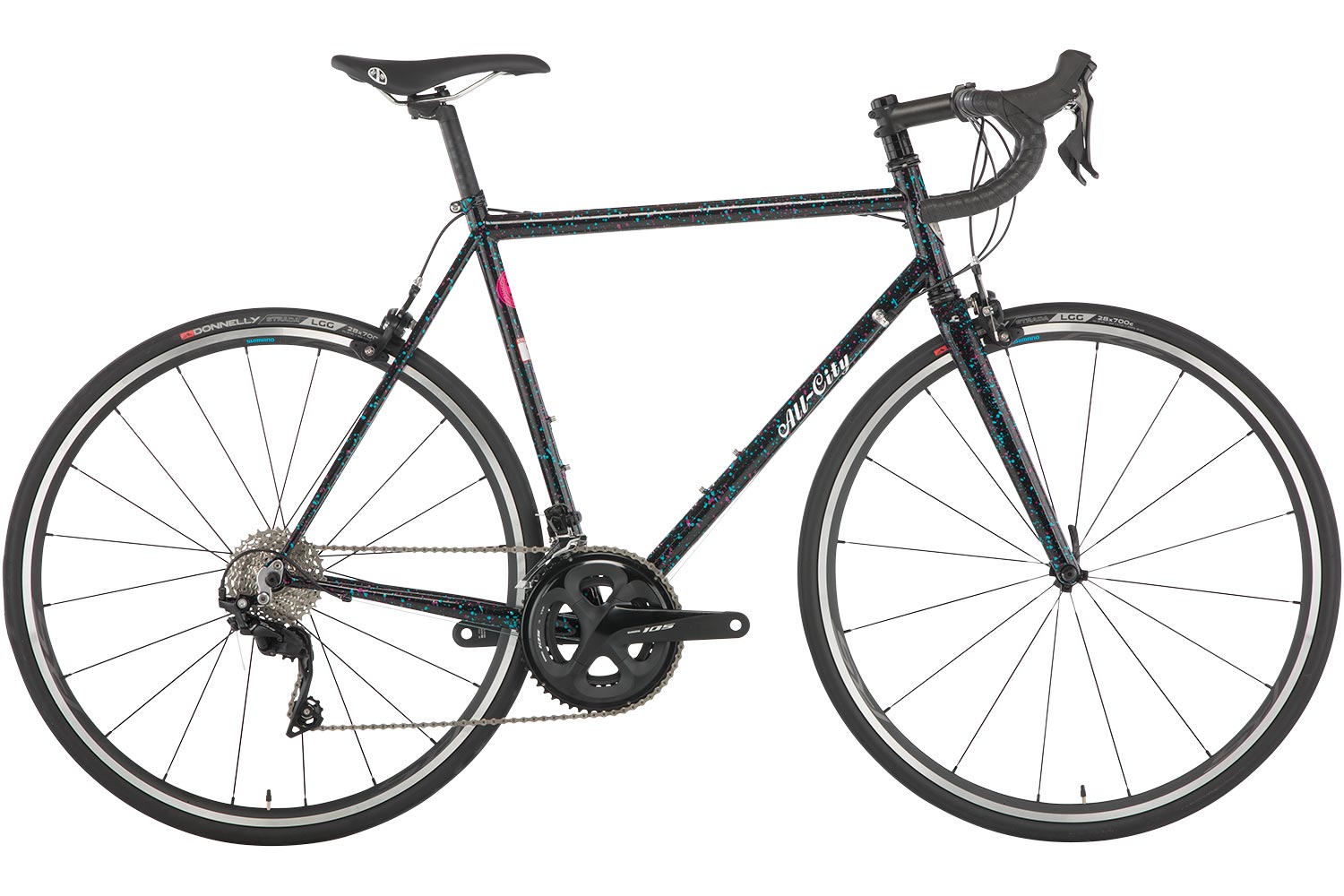 MSRP $2,399 Aventuron
6061 Alloy frame
Shimano 105 groupset (R7000)
Shimano BBR60 bottom bracket
This is a Limited-edition paint design to celebrate All-City's 10th Anniversary. There a quite few corks and features that make it different from other bikes in the range such as the English Threaded bottom bracket, Columbus Zona tubing – double-butted main triangle with brazed-on seat collar and reinforced water bottle bosses.
The bike is painted to match the carbon road plus fork by Whisky No. 7. Internal cable routing, hidden fender mounts, E.D. coated for durability and rust prevention, Cast Dropout w/removable derailleur hanger any many more features make it quite a unique all-road bike in this list.
---
All-City Cycles City bikes
Big Block / Super Professional
---
All-City Big Block
Velodrome legal track geometry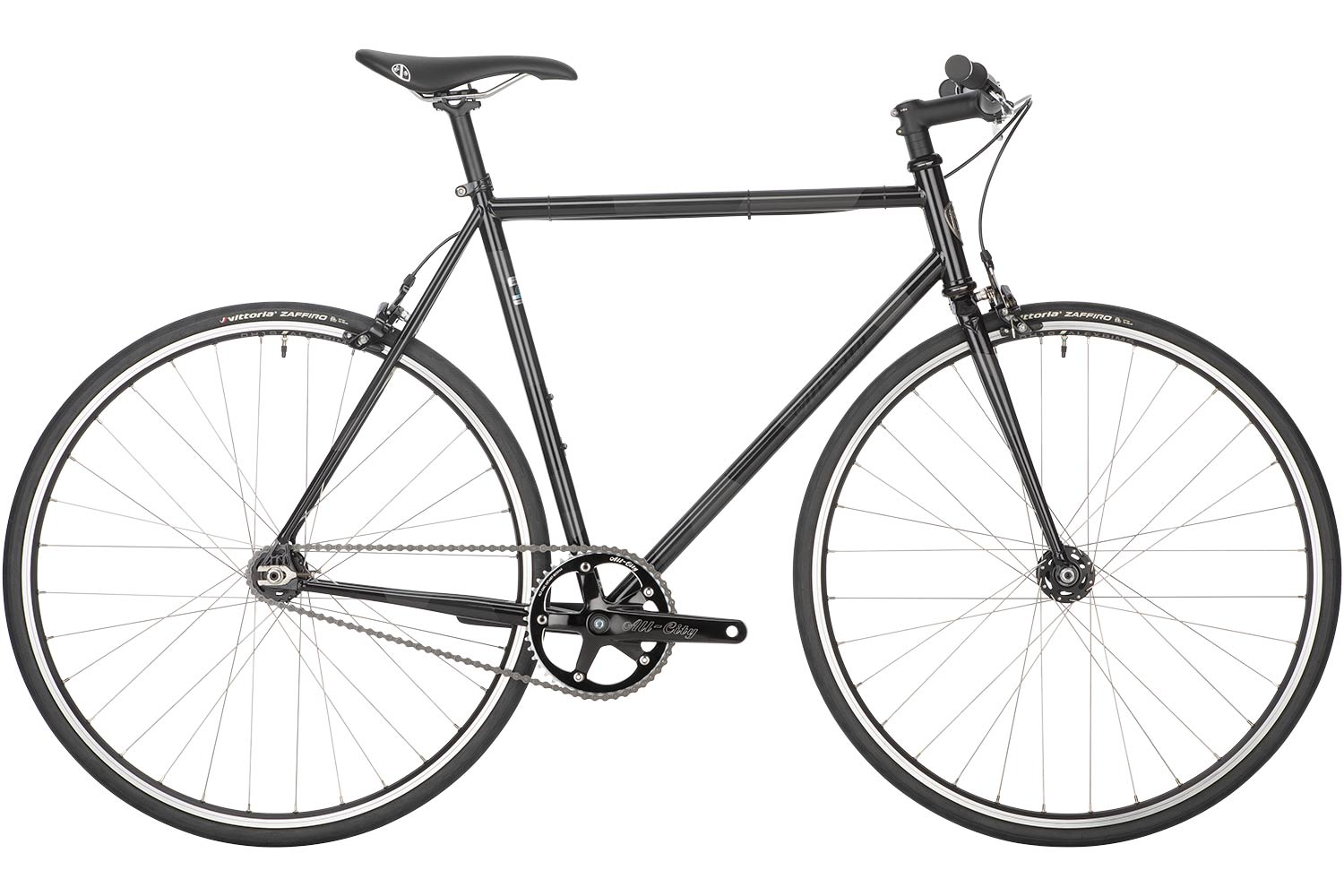 MSRP $999 Aventuron
This classic track bike from All-City Cycles is guaranteed to turn heads with its iconic frame design and attractive paint job. It comes in true fixie-style without brakes but the 612 Select steel frame has front and rear mount points should you wish to attach some for extra safety.
The simple, minimalist design requires almost no maintenance or cleaning, leaving you to enjoy more time in the saddle. With 700x28c rims and tires, it's the perfect vehicle for zipping around town, commuting to work, or just visiting friends.
612 Select Chromoly steel with double-butted main triangle, tapered stays, and brazed-on seat collar
4130 Chromoly Steel double-butted fork with lugged crown and tapered blades
Tire clearance: 700c x 32mm; 28mm with fenders
All-City Signature investment-cast stainless steel Hennepin Bridge track dropouts with a built-in chain tensioner
E.D. coated for durability and rust prevention
---
The Super Professional Series bikes
---
The Super Professional is a hybrid-style commuter bike with flat handlebars and a choice between single-speed or an SRAM Apex 1×11 groupset. The geared version is great for longer trips over hilly terrain, while the single-speed is perfect for shorter missions around town.
All-City Super Professional Apex 1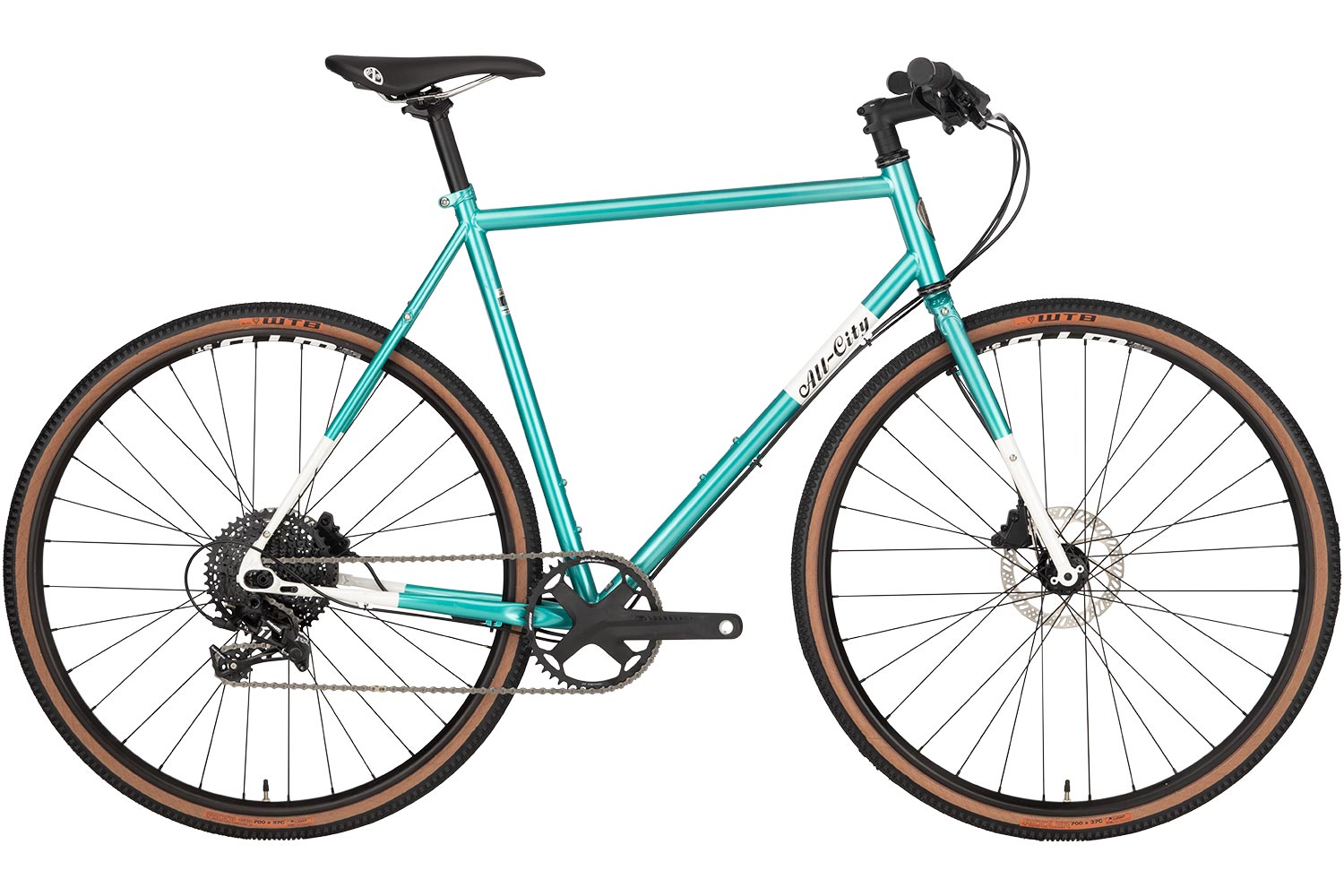 MSRP $2,399 AllCityCycles
Tektro HD-R280 hydraulic disc brakes
Optimized for 650bx47mm, takes anything from 700×25 to 700×45
The 612 Select steel frame has rack and fenders mounts plus clearance for up to 650b x 47mm tires, making the work commute both comfortable and convenient. On the wheels, you'll find Tektro hydraulic disc brakes with WTB rims and tires.
This lightweight, steel-framed cyclocross bike is a unique machine. Its stiff and durable A.C.E frame provides excellent response for quick, tight cornering at speed on both tarmac and dirt. This is helped by the highly-stable Columbus Futura Cross carbon fork and grippy 33mm Challenge Baby Litmus tires.
On the geared version, SRAM's Rival 1 derailleurs and shifters are paired with an 11-speed Sunrace cassette and SRAM Apex crank. While the Nature Cross could be used for touring or commuting, it's best suited to gravel or cyclocross racing.
---
All-City Super Professional Singlespeed
Single-speed gravel spec bike for the streets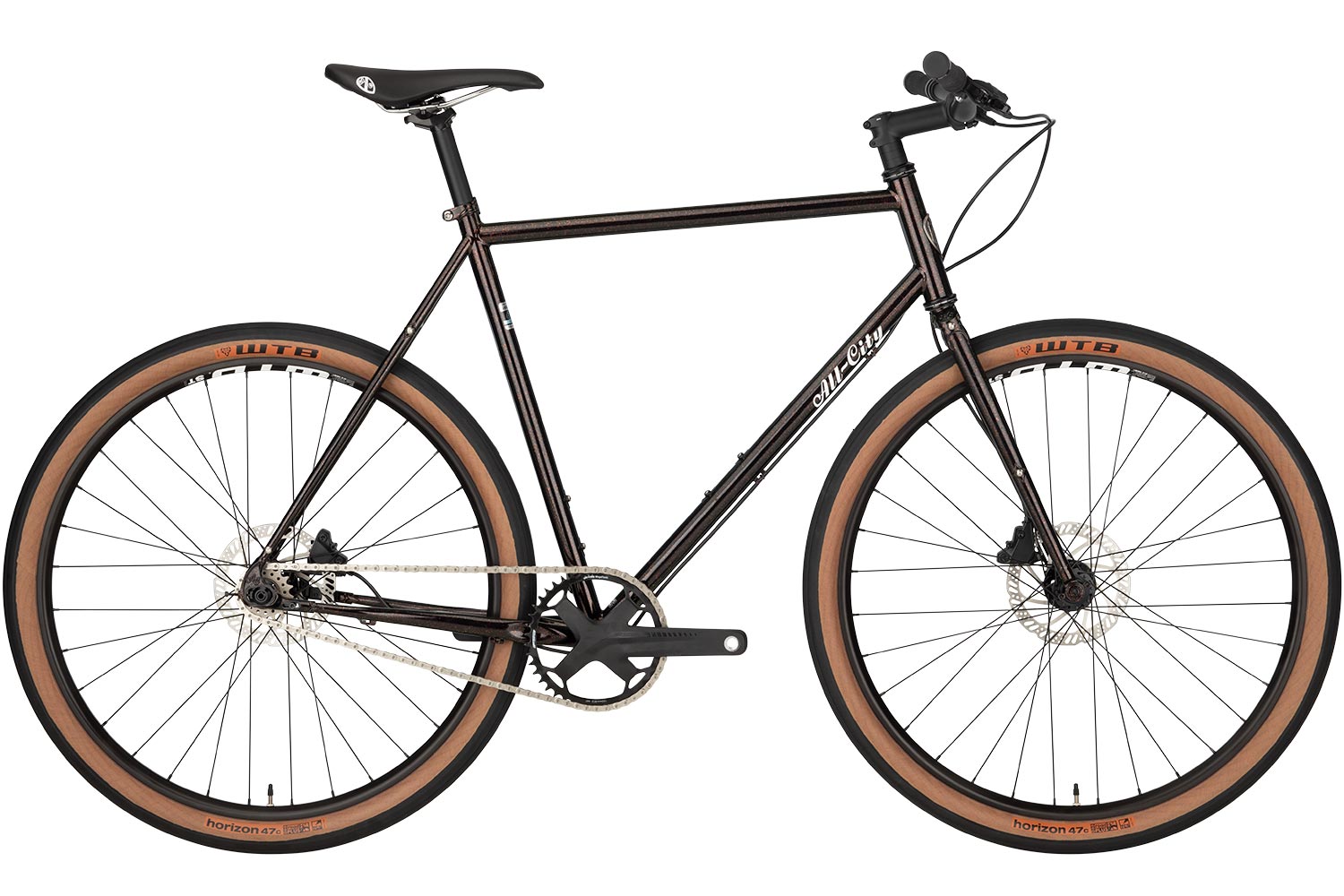 MSRP $1,299 (Frame: $850) AllCityCycles
Tektro HD-R280 hydraulic disc brakes
Cane Creek 40-series headset
FSA Omega MEGAEXO 44t crankset
This is likely the most versatile single-speed bike out there which would definitely change the concept of a hybrid bike anytime soon. The Super Professional Singlespeed is a bike for those who are looking to travel as much as possible with the least amount of maintenance to worry about in the long run.
Cobblestone streets, the long road stretches, and single trails – there's not a better option to go for the single-speed bike that is built for gravel spec. You don't see many other bikes with such a set-up around, as literally any other gravel bike on the market is equipped with a derailleur, although there's an upcoming market there for single-speed gravel bike enthusiasts.
---
All-City Cycles Race bikes
Nature Cross / Thunderdome
---
All-City Nature Cross Geared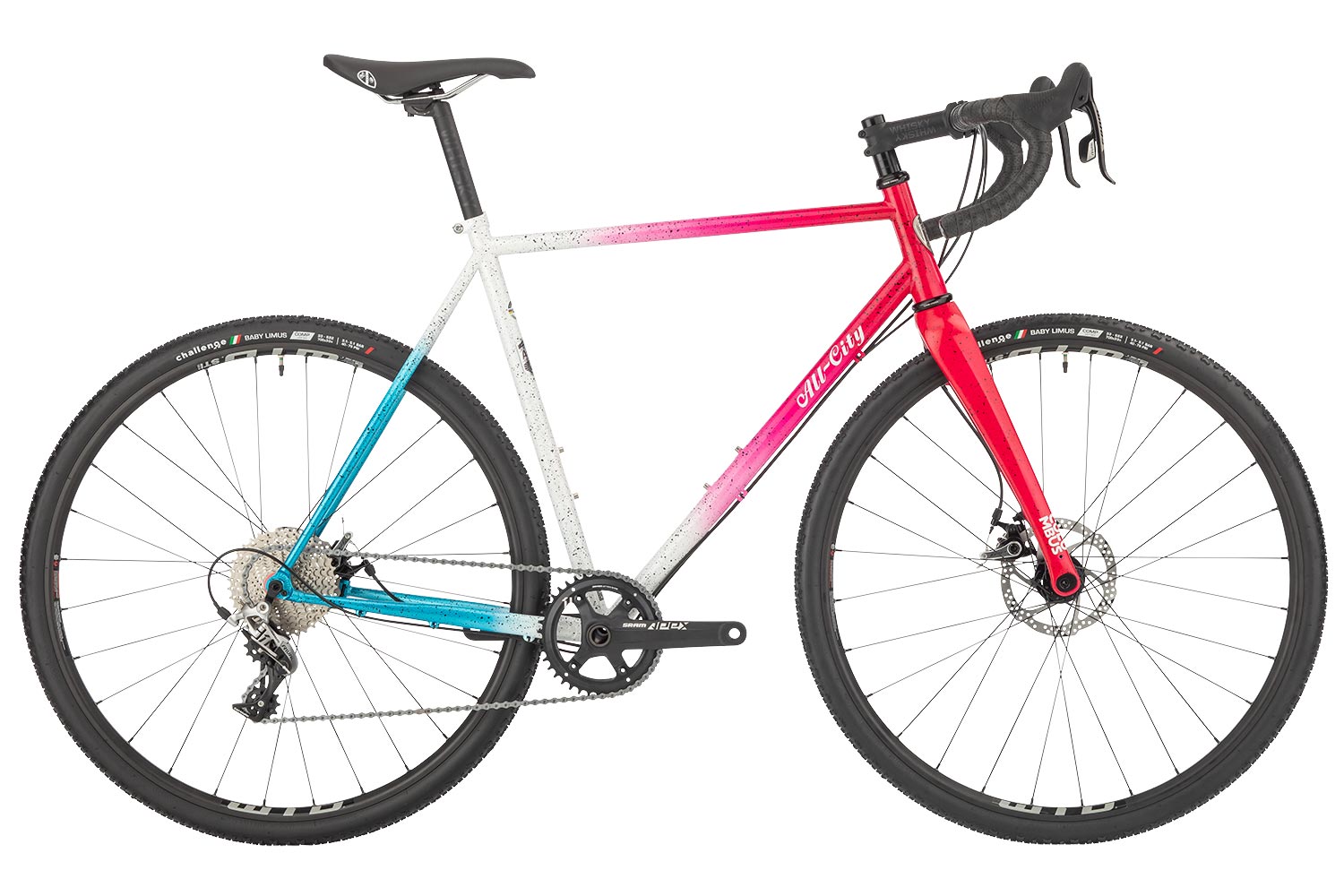 MSRP $2,499 (Frame: $1,299) Aventuron
SRAM Rival 1 x 11 Derailleur and shifters
Columbus Futura Cross Carbon fork
SRAM GXP bottom bracket
SunRace 11-speed cassette
This lightweight, steel-framed cyclocross bike is a unique machine. Its stiff and durable A.C.E frame provides an excellent response for quick, tight cornering at speed on both tarmac and dirt. This is helped by the highly-stable Columbus Futura Cross carbon fork and grippy 33mm Challenge Baby Litmus tires.
On the geared version, SRAM's Rival 1 derailleurs and shifters are paired with an 11-speed Sunrace cassette and SRAM Apex crank. While the Nature Cross could be used for touring or commuting, it's best suited to gravel or cyclocross racing.
---
Nature Cross Single Speed
A single-speed cyclocross bike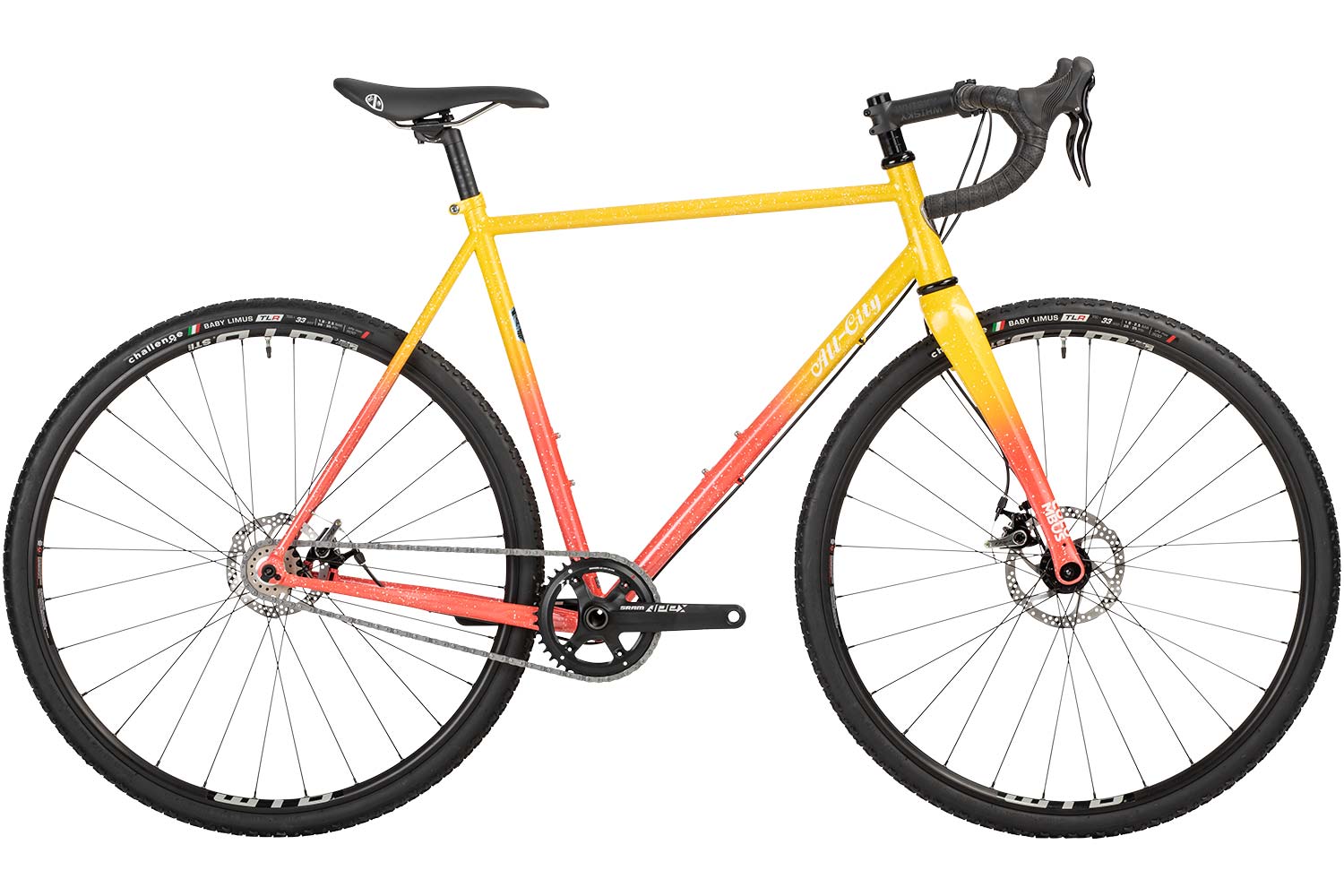 MSRP $1,999 Aventuron
Listed as a race bike by All-City Cycles, the Nature Cross series is built for an agile riding style. A shorter rear-end and higher bottom bracket ensure smooth sailing on rougher terrains. You'll see mid-range components all over the bike.
Columbus Futura Carbon Cross fork
Whisky No.7 handlebar, stem, and seat post
700 x 33c tubeless-ready tires
Max clearance – 700×42
Tapered headtube
E.D. coating
---
All-City Thunderdome
UCI certified track bike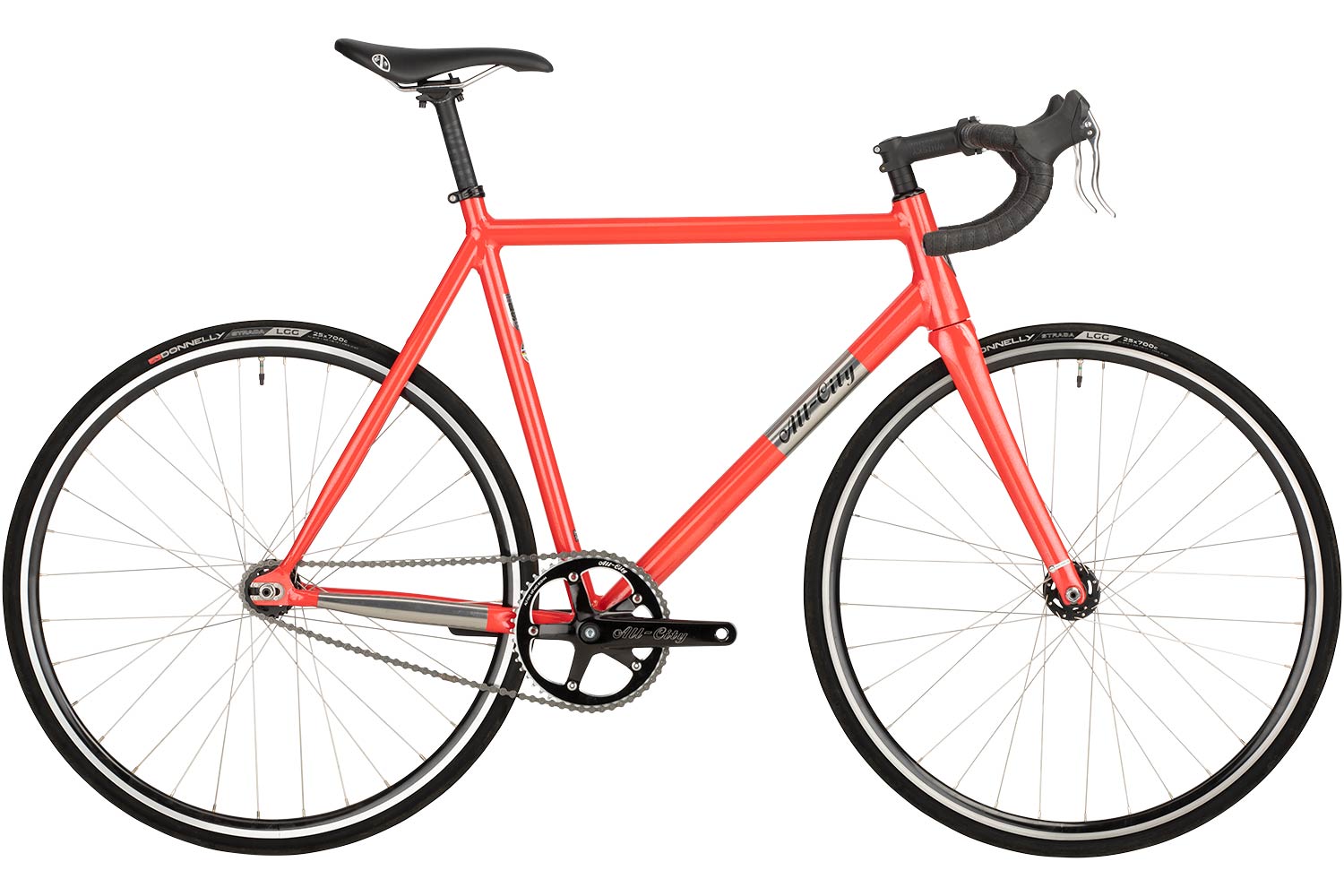 MSRP $1,599
With the Thunderdome, All-City bikes have produced a UCI-approved track racing machine, complete with replaceable stainless-steel axle pads and round profile tubing. In a rare move away from steel, the frame is constructed from 7000 series aluminum with a Whiskey No.7 tapered carbon fork.
The crank has a 49t ring connected to a 17t fixed cassette and runs Alex rims with Donnelly Strada 700×25 tires. The frame has mounts for caliper brakes and is fitted with a classic track-style Whiskey No.7 drop bar. All components are done in a polished silver finish which gives the bike both an attractive and professional appearance.
7000 Series aluminum frame with classic round-profile tubing
Tapered head tube and tapered axle-to-crown carbon fork
Signature Shot Collar seat post clamp
Replaceable stainless steel axle pads
Tire clearance limited to 700 x 25c
---
All-City Cycles Size Chart
It's been said that the All-City bikes run a size too big, so it is recommended to grab one size smaller than your usual, or when in-between two sizes.
All-City Cycles claims that they wouldn't rely only on the height and the inseam of the rider, but generally recommend sizing their bikes via the top tube. Also, with the way they have named the sizes, it's not uncommon for folks to take one size down from their "normal" size.
Frame size – Reach– Standover height:
(XS) 46cm – 376mm – 752mm
(M) 49cm – 378mm – 779mm
(S/M) 52cm – 382mm – 805mm
(L) 55cm – 386mm – 830mm
(L/XL) 58cm – 393mm – 858mm
(XL) 61cm – 412mm – 883mm
---
All-City CyclesGear Calculator
---
Warranty
All-City Cycles offers a 3-year warranty against defects in materials and workmanship to their bikes. Make sure to register your new bike to activate the warranty at Product Registration
---
Who should you get an All-City Cycles bike?
All-City Cycles make bikes for commuters, fixie fans, and those looking for a lightweight, steel road- and track bikes. They are usually custom-designed and focused on a niche market of dedicated cyclists with a mid-to-high budget.
Trendy city commuters and bicycle messengers will appreciate the eye-catching designs and attention to detail. Although popular, the selection of bikes is limited and they don't produce any bikes for kids.
Where to buy All-City bicycles online?
All-City Cycles, like most other bike brands, prefer to choose to support bike shops, and thus all sales must pass through one.
If there isn't a dealer in your area, see the links provided under each bike or look for a QBP website for further options!
The reason why we've chosen to recommend the bikes on Aventuron is due to their large selection of pre-assembled bikes online!
Down below you'll find a selection of All-City bikes reviews to find you the best liking bike.