15 Best Mountain Bike Shorts to Stay Comfortable and Safe on the Trails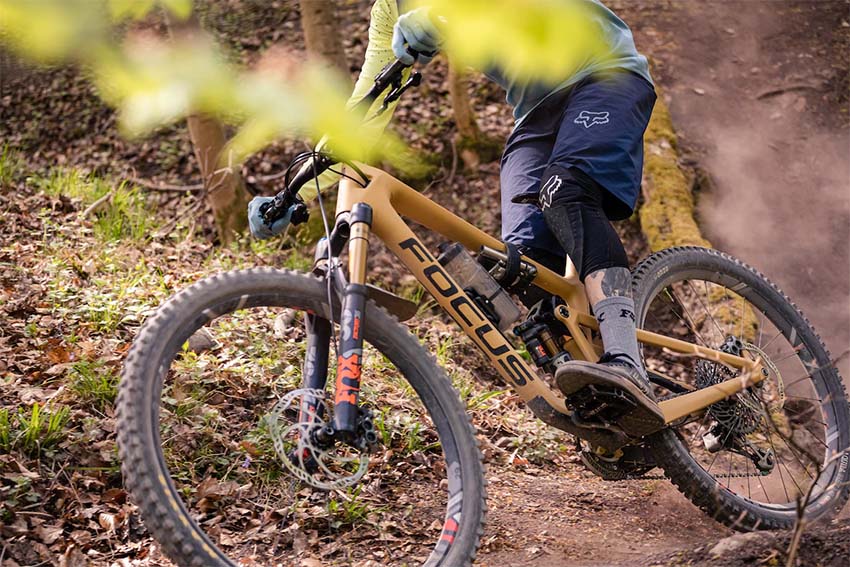 If you're an avid mountain biker, you know the importance of wearing the best mountain bike shorts!
Not only do they keep you comfortable on long rides, but they also provide much-needed protection from the elements and any spills that may occur.
In this post, we've rounded up the top 15 mountain bike shorts on the market, all of which have been tested time and again by professional mountain bikers and recreational riders. Whether you're looking for something lightweight and breathable or durable and full of features, we've got you covered.
So let's get started and find the perfect pair of mountain bike shorts for your next ride.
---
---
Men's Mountain Bike Shorts
---
1. Zoic Ether Bike Shorts and Liner
While wearing the Zoic Ether Bike Shorts, I felt confident about avoiding sweat thanks to the built-in chamois pad that's designed specifically for this purpose. I wear a size medium and ordered the same, but it felt slightly tighter than it should, so when placing your order, I suggest sizing up for a good fit.
The knit mesh panels keep your legs well-ventilated, letting moisture escape well with fabric that's easy to wash and quick drying. The tech and zip pockets are a great addition, making cycling with items efficient and hassle-free.
---
2. Patagonia Dirt Craft Shorts
For mountain bike shorts with padding, the Patagonia Dirt Craft is one of the best lightweight, multipurpose, and properly fitting options on the market. The removable 3-layer mountain bike padded liner adds to overall ride comfort and kept me dry compared to my daily shorts. The outer shorts keep you cool on warm days by allowing airflow.
Patagonia Dirt Craft Shorts are fitted with a low-profile external hook for easier adjustment around the waist. Chunky gadgets are no longer a worry because I could fit my phone in the zipper pocket along with my wallet and keys.
---
3. Fox Flexair Lite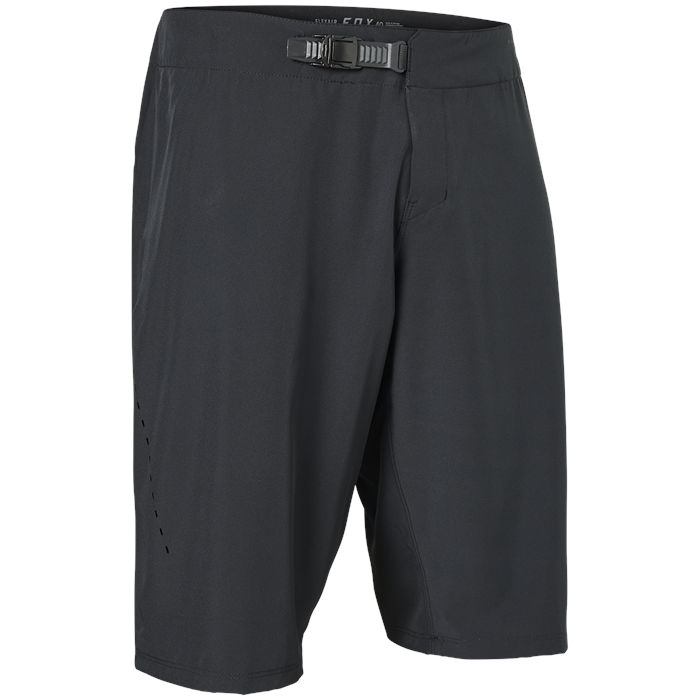 Fox Flexair Lite shorts are equipped with a dual-density chamois removable liner to keep you dry on intense trails and provide extra comfort. The race-ratchet is a smart feature that looks not only cool but makes adjustments practical while on the move.
The shorts feel baggy if you prefer a tighter fit, but if your thighs are bigger, this should benefit you. If like me, you are used to a zipper fly, it may not appeal to you, because the Fox Flexair Lite doesn't come with one. However, this mattered little as the pros outweighed this minor exclusion.
---
4. Endura Hummvee II Shorts with Liner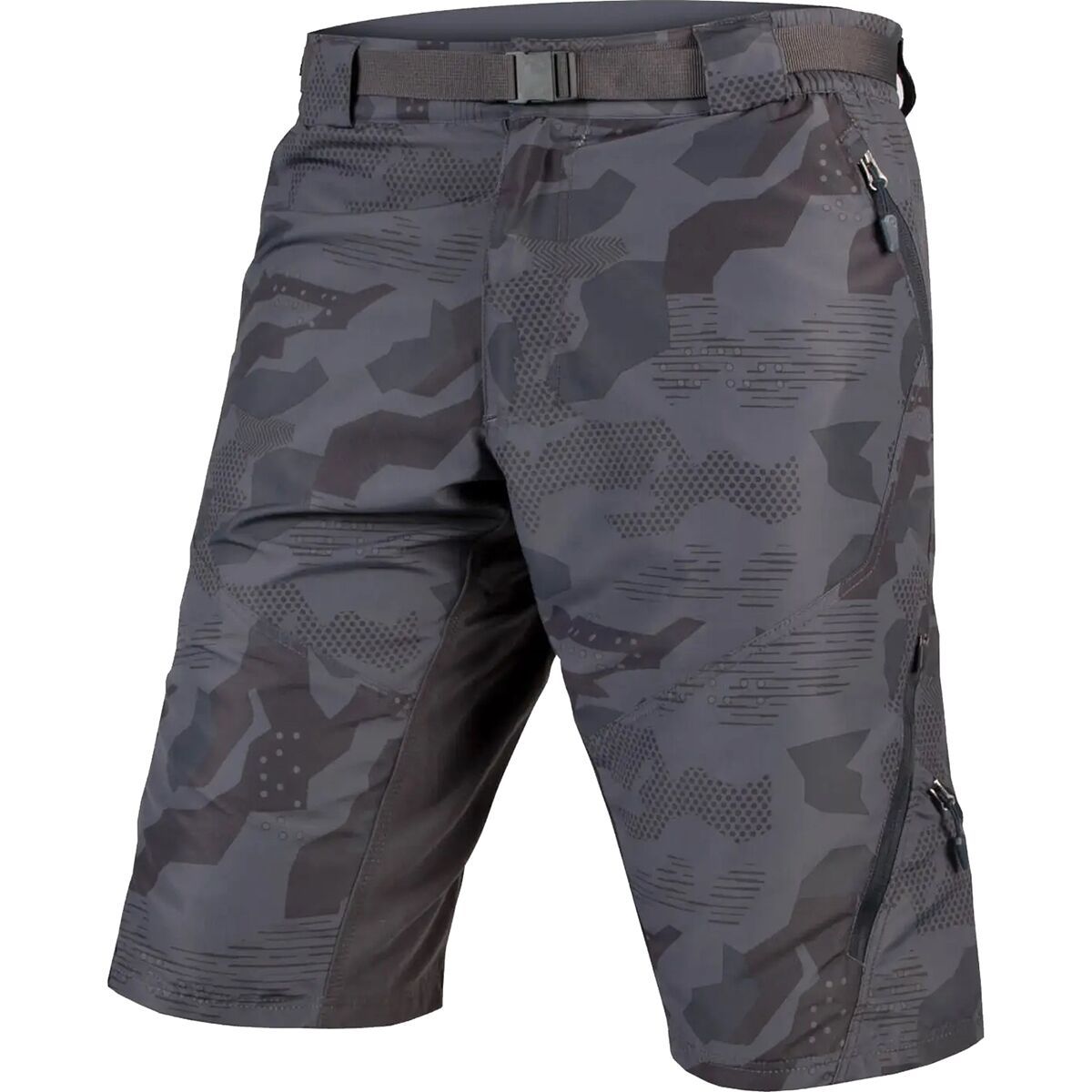 The Endura Hummvee II Shorts with Liner are for the mountain biker that likes to go the other way and doesn't follow the crowd. These tried and tested men's mountain bike shorts are one of the most durable, tactical, and multipurpose options on the market.
You'll be surprised at how stretchy and weatherproof they are, even after grueling testing in rough terrain. Endura has priced these shorts well considering they are long-lasting and can hold multiple items in the six pockets. Featuring the ingenious DWR finish, mud and water puddles are no longer a concern.
---
5. Troy Lee Designs Flowline Bike Shorts with Liner
The Troy Lee Designs Flowline Bike Shorts with Liner are one of the best mountain bike shorts available for purchase in 2023. Featuring a mechanical stretch-woven fabric, these shorts are comfortable and can be worn with or without the COMP padded liner, which is very absorbent.
The overall design is very basic and is targeted toward the minimalistic rider who prefers padded mountain bike shorts. I personally enjoy a more simple fit with fewer complications with clothing. Troy Lee Designs has, however, included a cool self-fabric waist adjuster and a zipper fly with snap closure for practicality.
---
6. Specialized Trail Shorts
Specialized manufactures an excellent selection of mountain bike shorts for men with the Trail Shorts being their go-to choice for riding under any condition. Thanks to the clever VaporRize and Deflect technologies, the Trail Shorts are lightweight, stretchy, and durable, with 50+ UV sun protection to keep your legs burn-free.
I found the side adjustment dials to be user-friendly and practical, plus the more traditional approach of having a button with a top pocket makes it wearable in many settings. The lack of a liner is, however, clear as you get sweaty, especially on warmer days.
---
7. Fox Ranger Lite Shorts
The Fox Ranger Lite Shorts are ideal for casual wear and easily transform into one of the best men's mountain bike shorts, thanks to the removable liner. The technical stretch fiber used in manufacturing is very lightweight and offers the freedom to move around with ease. You could happily wear these mountain bike shorts to other events without being looked at strangely.
With a more traditional snap and hand pockets, the Fox Ranger Lite Shorts are perfect for fashionable riders that are self-conscious. However, get a fitted size because there isn't room for adjustment.
---
8. Patagonia Landfarer Shorts
Patagonia Landfarer shorts have a basic design that is practical and fits the body well, with a build that follows the natural contour of the hip. They keep everything snugly in place while riding, avoiding an overly tight elastic band around the waist that feels just fine without moving about.
Biking with the Patagonia Landfarer shorts was fun since they offered me great comfort, the only thing you need to be careful about is ordering the right size, as it doesn't come with adjustable straps. They also have convenient clips to hook onto bibs which can be purchased separately.
---
9. Zoic Edge Bike Shorts
The Zoic Edge Bike Shorts are not the best looking or cheapest on the market but offer riders a practical design. The side adjusters with a belt are, for me, the most impressive feature when shopping for mountain bike shorts, especially if you are one of those people that have a waistline that varies frequently between seasons!
I would have preferred a Chamois pad but the Zoic Edge Bike Shorts disperses sweat well thanks to the clever 4-way stretch fabric which wicks moisture and is quick drying. Eco-friendly buyers will be happy to hear that the textile comprises a significant percentage of recycled materials.
---
10. Giro Men's Havoc MTB Shorts
Giro Men's Havoc MTB Shorts cost almost double the market average of the competition reviewed but for this price, you walk away with a well-designed and close-to-perfect pair. Perforated ventilation along the lower side allows for increased airflow, while the DWR coating repels dirt on rough and muddy trails.
Featuring adjustable side tabs, I could fit the shorts to my liking while on the move. If you like to feast on a scrumptious bite after a grueling ride, there's nothing better than being able to adjust your shorts after indulging in a heavy meal.
---
Women's Mountain Bike Shorts
---
1. Giro Women's Arc Shorts
Giro's a well-known brand that manufactures some of the best women's mountain bike shorts and their Arc Shorts are one of their most sought-after pairs yet. Arc Shorts are lightweight, durable, and breathable, offering a comfortable, silent ride, thanks to the revolutionary ripstop fabric.
Giro Women's Arc Shorts are made for riders who spend many hours riding on intense trails. The clever external waist adjuster with a belt loop makes it easier to fit the shorts to your liking, while the zippered pocket allows you to store your items securely at close reach.
---
2. Patagonia Tyrolean Bike Shorts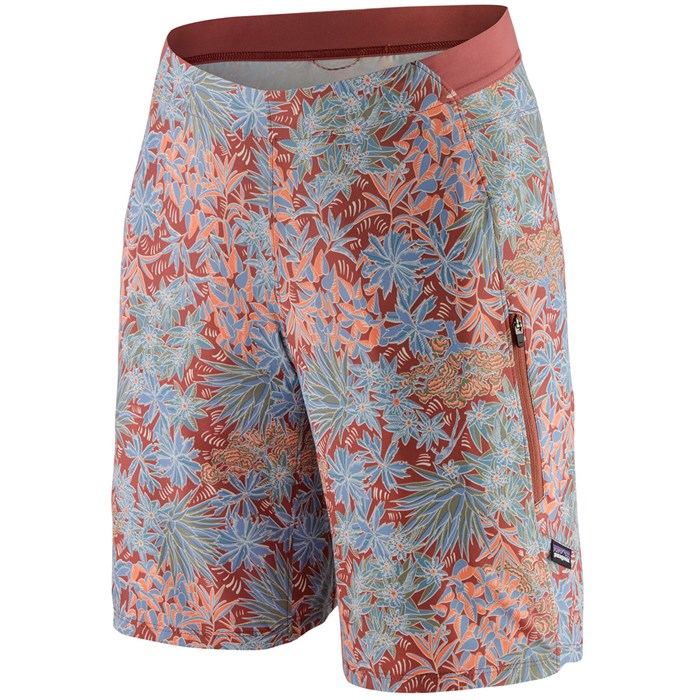 Patagonia Tyrolean Bike Shorts are designed using recycled polyester spandex fabric, with a 4-way stretch and durability, specifically for women who enjoy mountain biking. The overall design offers riders great comfort by molding into the shape of the hip while being functional at the same time.
Featuring a low-profile elastic waistband, the Patagonia Tyrolean Bike Shorts have a regular fit that allows for unrestricted movement. This is perfect for riding with a backpack or if you prefer, a waist pack (fanny pack). Like many other Patagonia shorts, these include snap loops giving riders the freedom to cycle with liners.
---
3. Backcountry Slickrock Bike Short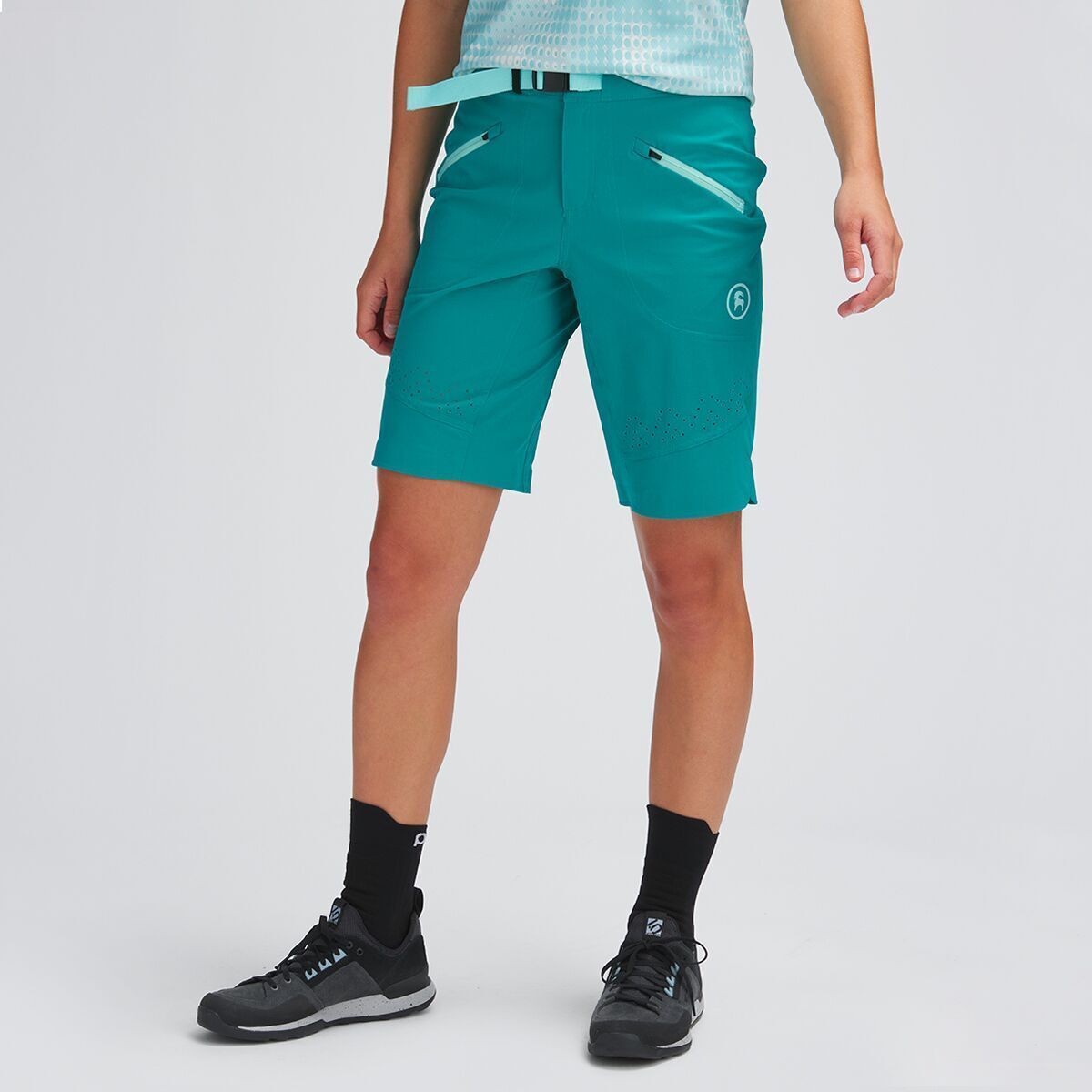 The Backcountry Slickrock Bike Shorts come in many vibrant colors for ladies who like to perform on trails and cross-country. These shorts aren't only lightweight but also stretchy, with perforated thigh panels, an integrated belt with inner silicone grips, and DWR treatment for rainy days.
I recommend sizing up a bit, as the shorts are quite small, so they may feel tight if you get your exact size. Fortunately, ventilation is built into the shorts without a zipper and they also made the pockets out of mesh, maximizing airflow to keep you cool.
---
4. Wild Rye Ramsey Mountain Bike Shorts
Wild Rye Ramsey Mountain Bike Shorts are probably one of the funkiest designs on the market and can easily be mistaken for PJs. Wild Rye designed these shorts using UPF 50 fabric shields to prevent you from burning under the sun's rays while protecting the textile from the elements.
The Wild Rye Ramsey Mountain Bike Shorts are built with lightweight material and are perfect for summer rides because of their moisture-wicking properties. Sizing is generally a hit or miss, so it's best to go try on a pair before making a purchase, they tend to be baggy around the waist.
---
5. Fox Flexair Lite
Fox mountain bike shorts, a well-known brand in the biking community, have come up with the Fox Flexair Lite, designed for performance. They are comfortable and quick-drying with a Durable Water Repellent finish and feature a ratchet closure for a perfect fit.
When it comes to women's mountain bike shorts, there are various considerations you need to make. Fortunately, the Fox Flexair Lite ticks most of these boxes. The all-around laser-perforated ventilation is excellent to keep you cool while the removable dual-density chamois keeps you dry throughout your adventure.
---
How to Choose the Best Mountain Bike Shorts
---
Whether it's your first or tenth pair of mountain bike shorts, there are plenty of factors you need to look at before purchasing the next one. You may have purchased the most comfortable shorts to walk around in summer but when selecting one for cycling it's a whole other game.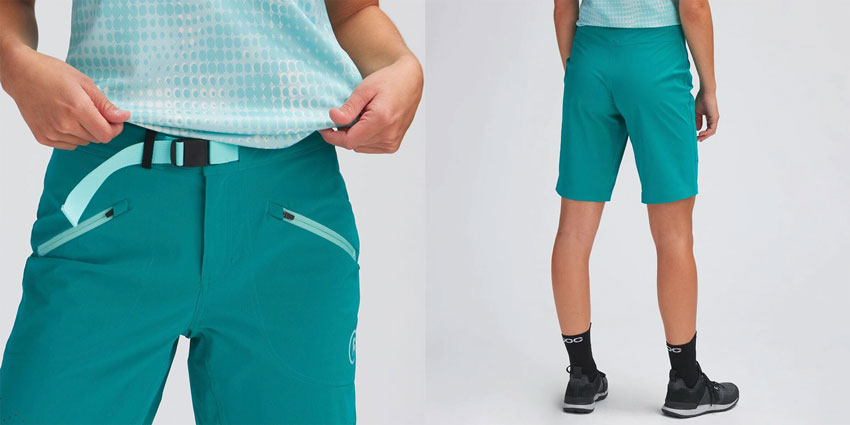 Keep in mind, there are many lower muscles at work when cycling that constantly move while generating friction and sweat. The elements could serve in your favor or against you, no one wants to be out in the scorching hot sun with itchy and sweaty legs – it's not a pleasant feeling.
In this guide, we will describe the various components that affect ride quality and comfort. Something as small as ventilation holes may be the deciding factor between the worst and best mountain bike shorts, so it's important to pay attention to detail.
Consider the below points carefully before acquiring your next pair of shorts to hop in a saddle and pedal away on your adventure.
Important Features to Consider
---
Weight
Contrary to popular belief, the overall weight of some of the best mountain bike shorts is very important and matters a lot. There are several materials used to achieve the top build blend that contributes to the feel and mass of the shorts.
As much as staying on the lighter side is recommended, you should carefully analyze the shorts to be certain that quality isn't compromised as this will directly affect you as a rider and reduce the lifespan. Some of the lightest shorts usually weigh between 7 and 15 ounces (200 to 425 grams).
Also remember that any additional items such as bibs, liners, padding, and gear you wear or carry on you add to this factor, so keep a track of this.
Materials
A good pair of mountain bike shorts should be comfortable to the skin, quick-drying, disperse sweat, repel dirt well, and should allow for maximum airflow. As far as the materials used to weave it are concerned, the shorts should be durable, stretchy, airy and as light as possible.
The common materials used to manufacture some of the best mountain biking shorts are nylon, polyester, and elastane. Compared to the yesteryears when wool was originally used, followed by leather chamois with a special cream to condition them for softness, today's biking shorts are more complex in terms of design.
A pro biking tip is to avoid underwear while riding and instead stick to liners or bibs, preferably with a chamois pad, for added comfort and to prevent sweaty rides. We all know how the wrong textile can be itchy, uncomfortable, unhygienic, and restrictive, so be sure to find the right combination while selecting your next pair of shorts.
Pockets
Personally, my preference is to have at least three pockets on a pair of shorts, one with a zipper for gadgets, the other to be accessible for items such as snacks, and the final to store away random things I purchase while riding, for example, fridge magnets.
If you are a complicated rider, I suggest more pockets, but this also depends on your needs. For riders that travel lean, one pocket is more than enough. However, it's best to have pockets secured with zippers or velcro to prevent any of your gadgets from slipping out while riding and for added safety.
It is also prudent to ensure that you avoid back pockets and front bottom ones that could be uncomfortable or restrictive while riding – this just defeats the purpose of those extra pockets.
Ventilation
Ventilation is a factor I can never tire of talking about. Your body will heat up from vigorous mountain biking activity, especially on hot weather rides, and as a result will need a cooling source (unless you are cycling in negative temperatures).
Depending on the climatic conditions, it is always a good idea to factor ventilation holes in shorts while purchasing your next pair. This ensures the body stays at an optimum temperature while riding because you don't want to overheat and get dehydrated – or worse – a heat stroke!
Along with ventilation, remember to keep hydrated, as your body obviously disperses moisture while you sweat. Also, if you find yourself traversing different weather conditions, I suggest locating a pair of shorts with closable ventilation slots to easily control airflow.
Liners
Liners and mountain bike shorts go hand in hand, especially if they are well-built with padding. There are many advantages of cycling with liners, for example, they add to the comfort of the ride, if pads are included, they have antibacterial properties while wicking moisture away, and for men, they maintain everything in place while cycling.
These days, some liners come with supplementary storage pockets to store items while riding, which is common with bib shorts. The right pair of liners should keep your bum padded while keeping your jewels cool and sweat-free – every guy knows how important it is to stay well-ventilated!
There's the extra advantage of having an extra layer under your shorts, specifically on cooler days. However, it is also possible to cycle with just liners for added aerodynamics and to shed some weight off yourself.
Fitting
Like any clothing you purchase, it's very important to find shorts that fit properly and ideally, have a good inseam length that sits above your knees with room to cycle with knee pads. The shorts should sit on your waist well, without being too tight or falling off while walking and cycling.
I recommend finding your size while going for mountain bike shorts with a waistline adjuster or self-adjusting stretch, snap closure, and zipper fly for ease of access. These options may not perform for you, but I find them to work well while mountain biking.
Additional Questions You May Ask
---
What shorts do mountain bikers wear?
Unlike pro racers, MTB riders aren't as concerned with aerodynamics. For them, it's more about comfort, adventure, and practicality. As such, they prefer a pair of shorts that are baggy, full of secure pockets, well-ventilated and lightweight, and matched with a loose-fitting jersey. While some beginners tend to head out into the trails with whatever they have in their wardrobe, usually at some point everyone considers getting some proper MTB shorts.
Depending on prevailing weather conditions on the trail, there are various options, from full mountain biking trousers to lightweight shorts with DWR treatment. Rather than wear underwear, MTB riders opt for padded liners or bibs for extra relief while keeping them sweat-free under the intense heat. The same applies when purchasing mountain bike shorts for women.
Do you need special shorts for mountain biking?
If you look at the history of mountain biking, riders started off wearing anything they could find, which included denim jeans. Taking this into consideration, you may not need special shorts for mountain biking, but I highly recommend getting yourself a pair if you don't already have one – you'll thank me later for this pro tip!
One thing I can't stop emphasizing is the comfort that can be achieved by wearing specially designed mountain biking shorts, which in the long run, are a worthwhile investment because of their build quality.
Many of us profoundly use uniquely constructed padded undershorts in the mountain biking community and I openly advocate for these, as they're a game changer. For some of the best mountain bike padded shorts go through the various reviews in detail.
Why do mountain bikers wear baggy shorts?
Mountain bikers are known to pick baggy shorts over more fitted options because of various reasons, some purely personal and others more logical. Though keep in mind that under baggy shorts there is a high likelihood of skin-tight liners.
The main reason for picking these is mobility, ventilation, and protection – mountain bikers are constantly moving due to the changing terrain. The baggy shorts have a better inflow of air while protecting their legs from direct sunlight, also making it easier to cycle with knee pads, while repelling loose rocks and preventing scratches from twigs.
Thanks to the extra material, there are usually more pockets at reach which are used to store essentials while cycling. During an unfortunate fall, the shorts are thick enough to provide cushioning against harm to the skin.
How tight should MTB shorts be?
While selecting mountain bike shorts, always remember that they should fit just right around the waist and not cut off blood flow. Ideally, you want to purchase a slightly loose pair with an adjustment feature to get the correct size that works for you, in case it gets too tight, you can repeatedly adjust it.
They should provide some sort of compression around your hip but at the same time be stretchy enough to take on all the movement. For shorts that come with chamois pads, the pad should be held down to the saddle snugly without moving about, if there is movement, it is too big.
However, if you are looking for MTB shorts for casual riding, it is best to get a pair that is comfortable for you, especially if you are a beginner and you're still developing mountain biking skills.
Should you size up or down in bike shorts?
This is a tricky question, especially considering every manufacturer has a different sizing and your future physical physique could affect this. For those who are certain to either gaining or losing weight in the coming days, you may want to make a purchase with this in mind.
As a general rule of thumb, size down for a more competitive form of riding and size up for comfort if you are grinding more intense mountain trails for safety and pleasure. Also, take into consideration your personal preferences as they will surely affect how you perceive the pair of shorts.
While some people prefer a strong skin fit, others are more inclined towards a baggy open fit and therefore size up. As it's the case for most buyers, your budget also determines whether you should size up or down as the more tight and stretchy materials may be costlier and the opposite for the looser variety.
Do you wear padded shorts for mountain biking?
My preference is to have my best-padded mountain bike shorts while biking, especially so on intense trails for extra comfort – but there's no written rule that states you must wear them. However, there's a huge positive impact of hopping onto the saddle with padded shorts as they provide cushioning and help prevent sores.
Padded shorts ordinarily have a layer of foam or gel and often come with a chamois to absorb sweat and prevent chaffing and saddle sores. The extra padding may not be a foolproof way to avoid injuries, but they cushion a fall.
The only drawback that may set you off from wearing padded shorts is usually the added cost and the fact that they could take some time to get used to. They don't affect riding abilities in any way and are mostly a choice for comfort and safety, so it's purely up to the rider whether to mountain bike with padded shorts.