Best Cycling Socks for Better Comfort and Performance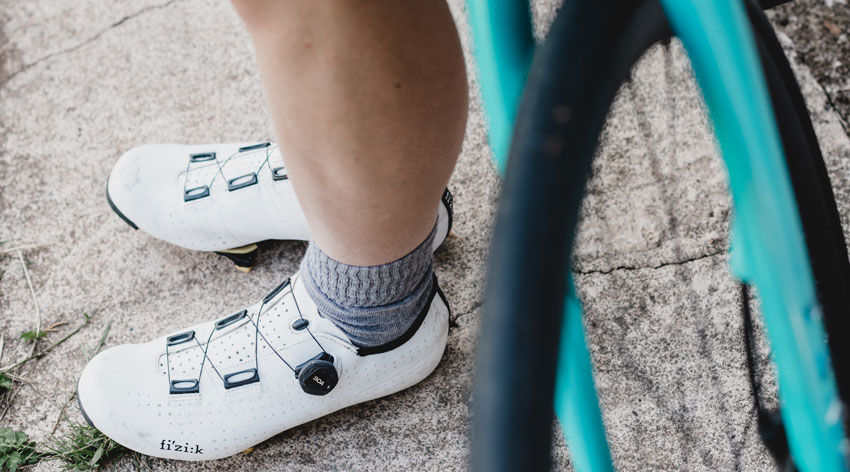 You don't need to wear specific socks for cycling, but it sure is recommended.
Traditional cotton or casual socks soak up moisture and keep it close to your skin. Unfortunately, this means that when you sweat, it stays nearby and gives you that horrible sweaty foot feeling. Bike socks are designed to wick the sweat away and keep your feet cool and dry. Winter bike socks are also temperature regulators, but keep your feet insulated from the cold.
It can be a minefield knowing which socks to buy since there are so many on the market. So we've put together a list of some of the best cycling socks available today so you can ride in comfort.
---
---
Cycling Socks Buying Guide
---
Why use cycling socks?
So why bother using a cycling-specific sock compared to a regular, cheap everyday sock?
Cycling socks are great ways to express your personality on the bike, for one. There are many funky cycling socks on sale with bright patterns, and they act as great accessories to jazz up your cycling outfit. Alternatively, you can go with the classic white sock look which goes well with any kit.
Additionally, cycling-specific socks are designed to provide sweat-wicking properties in the summer and thermal insulation in the winter. They may be more expensive than regular socks, but your feet will thank you for the investment.
Features of bicycle socks:
Thin and fit
Wick away sweat
Breathable
Slight aerodynamic advantage
More durable
Ankle bone (lower leg) protection
What materials are used?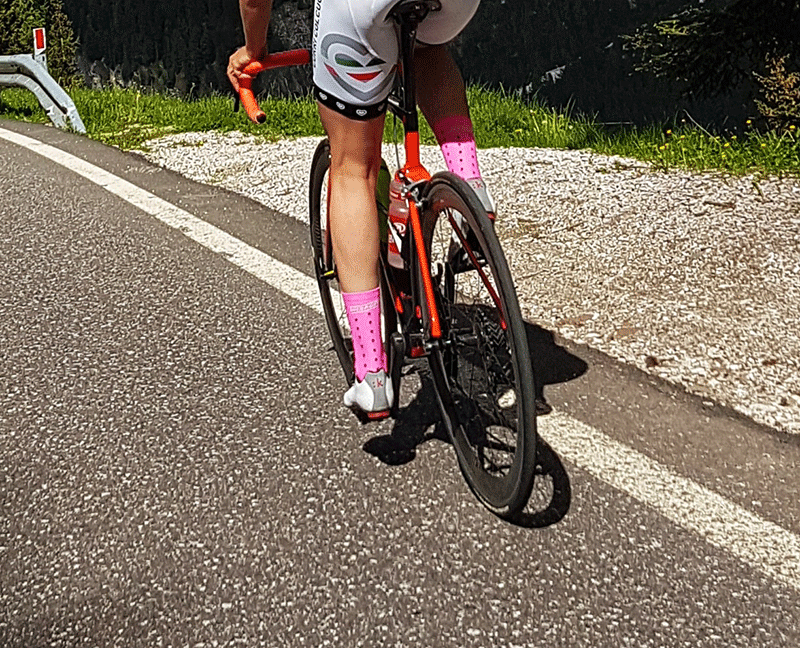 Cycling socks are different from casual socks as their cotton content is usually lower.
The most popular material choice is polyester, a material that promotes breathability. It can also be woven into thinner materials which makes it a more reliable choice than some others. If you currently own cycling socks, you'll notice how they dry quickly once they've been in the laundry. That's because the material dries quicker than cotton, and this transfers to drying sweat quickly too.
In the winter you might want a sock with more merino wool content, which is breathable and sweat-wicking but also insulating even in thin material. Merino wool also doesn't hold odors as long as man-made fabrics, making it the perfect choice for cycling socks.
Popular cycling sock materials:
Polyester
Nylon
Elastane
Lycra
Spandex
Wool
Rayon
Cotton
How high should cycling socks be?
If you've ever met a passionate road cyclist, they've probably had some strong opinions on sock length.
The truth is there is no right or wrong answer to how high your bicycle socks should be. Some believe you should wear calf-length socks, and others see no problem with wearing ankle or no-show socks. It's entirely down to personal preference and whatever you feel most comfortable in.
If you're a time trialist, however, we would recommend looking at 'aero' socks. They are often longer due to the aerodynamic advantage this achieves.
---
Best Cycling Socks
---
Smartwool – PhD Cycle
Best Smartwool cycling socks for men
MSRP $21
Fabric – 49% nylon, 46% merino wool, 5% elastane
Height – Crew (7.5″)
Made in USA
Among the best men's cycling socks available, these Smartwool cycling socks are durable and lightweight.
They feature Smartwool's Indestructawool™ technology which enhances durability and use a 4 Degree™ system to promote a performance fit. Carefully positioned linings on the toe helps prevent excess wear in the pressure points of the sock material.
Smartwool uses a combination of nylon, merino wool, and elastane to keep your feet dry and sweat-free while looking at the part.
---
Endura – Bandwidth Cycling Sock
A super fun, technical cycling sock
MSRP $25
Padded sole for extra comfort
Stretch arch support
Easycare machine wash
These fun cycling socks are perfect for accessorizing on the bike.
The Endura Bandwidth Sock uses high-quality sweat-wicking yarn to promote a comfortable feel for your feet. Perfect as road bike socks, gravel bike socks, or even mountain bike socks, the funky pattern will make you stand out on your bike.
The socks feature a padded front sole to promote long-term comfort and incorporate stretch arch support for durability and an improved fit.
---
DeFeet – Wooleator
Best Defeet cycling socks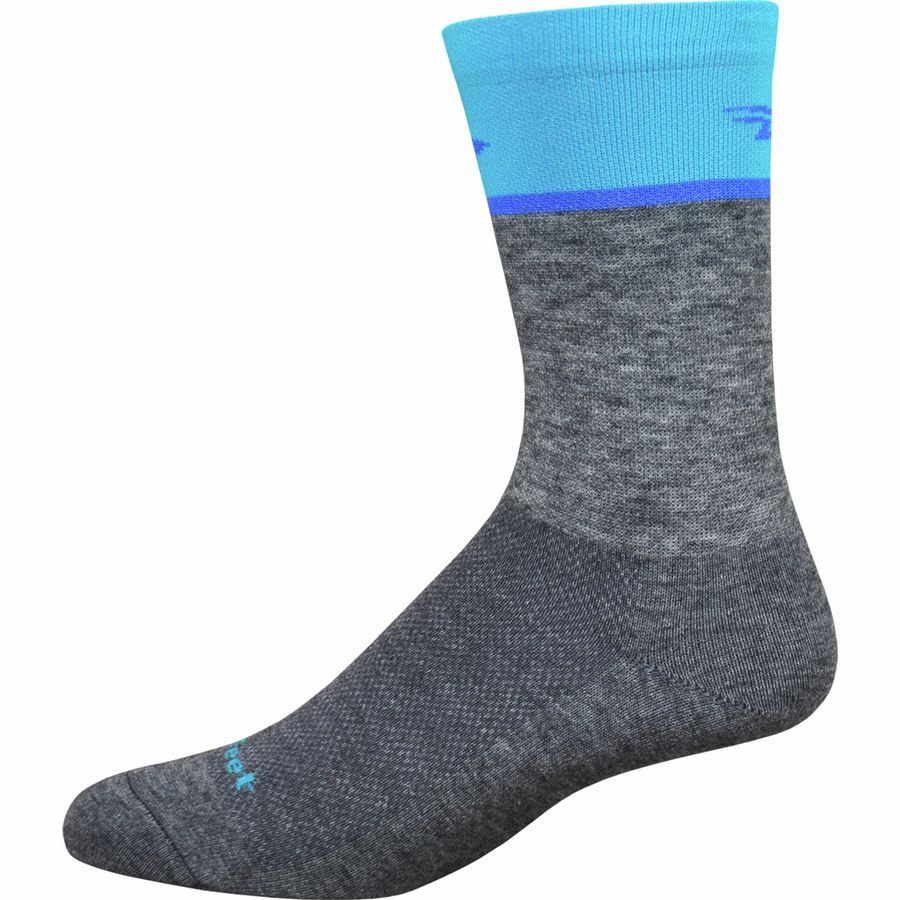 MSRP $17
Fabric – 61% merino wool, 37% nylon, 2% lycra
Height – 6″
Another fantastic pair of road cycling socks, the DeFeet Wooleater performs as well as it looks.
The Wooleater is a thin sock that uses moisture-resistant and antibacterial fabrics to produce a well-fitting, sweat-wicking sock. Perfect for most seasons, they are available in two versions, one using USA Merino wool and the other a blend of Merino and Repreve® performance fiber.
DeFeet claims it's versatile enough to be worn all year round, particularly if you live somewhere with mild winters. An excellent sock at a decent price, the Wooleater shouldn't be looked over.
---
Tommaso – Coolmax
A lightweight sock which keeps you dry and comfortable
MSRP $12
Fabric – 50% COOLMAX, 40% nylon, 10% lycra
Made in Colorado, USA
Not every pair of socks has to be flashy, which is why these black cycling socks are perfect for low-key riding.
The Tommaso Coolmax is a lightweight performance sock that uses a blend of nylon, lycra, and COOLMAX®fabrics. Mesh placements across the foot allow for superior airflow and breathability. Sole and arch support keeps the socks in place, while simultaneously reducing chafing and chances of blisters.
A superb sock, designed for those who want a more understated look on the bike.
---
DeFeet – Woolie Boolie Bad Sheep
Best winter cycling socks
MSRP $18
Fabric – 49% nylon, 48% merino wool, 3% lycra
Unisex
These DeFeet winter cycling socks are widely regarded as some of the best winter cycling socks around.
Made using a combination of merino wool, lycra, and nylon, the socks insulate your feet well. They also provide antibacterial properties so any sweat germs left behind won't cause fungal issues for example. Your feet will be kept super warm and snug inside these thick socks, perfect for when the temperatures drop and winter rolls about.
Stay comfortable and warm on your bike this winter with the DeFeet Woolie Boolie socks.
---
Best Women's Cycling Socks
---
Pearl – iZUMi Women's Pro
Pink cycling socks for women
MSRP $25
Fabric – 52% nylon, 44% recycled polyester, 4% lycra spandex
Height – Crew
Not all of us are a fan of pink, but these pink cycling socks are ideal for those of us that are.
Pearl Izumi's cycling socks are highly technical sport-specific socks with a crew height. They also don't weave the graphic into the fabric to save on the weight and thickness of the sock. Instead, they print the graphic on top which also minimizes fading when the socks have been stretched.
Mesh over the forefoot wicks sweat from your foot, and padded toes enhance the durability of the socks.
---
Fox – Women's Ranger Socks
Women-specific socks perfect for trail riding
MSRP $15
Arch support
One size
Rib-knit cuff
Another brilliant pair of cycling socks for women are the Fox Women's Ranger Socks.
Ideal for mountain biking and trail riding, these Fox cycling socks are packed with comfort-enhancing technology. Mesh areas above the forefoot keep your feet dry and cool, while compression arch support keeps your feet from cramping. You can be confident these socks will stay put thanks to the rib-knit upper holding them securely in place on your leg.
For a comfortable and technical trail sock, you'd be remiss to look further than the Fox Women's Ranger Socks.
---
Darn – Tough Women's
Micro crew ultra-light cycling socks
MSRP $19
Fabric – 54% nylon, 40% merino wool, 6% lycra spandex
Made in the USA
Available in plenty of styles and constructions, the Darn Tough cycling socks are micro-thin technical socks.
Ideal for cycling or even for any outdoor activity, they wick sweat and moisture away from your skin to keep you cool, dry, and comfortable. The multiple styles and patterns will liven up your cycling outfit while the padded toes and heels mean the socks will last a long time.
A durable, technical cycling sock that's hard to pass up.
---
SockGuy – Biker Chick Cycling Socks
SockGuy cycling socks for a true biker chick
MSRP $11
Fabric – 75% micro denier acrylic, 15% nylon, 10% spandex
Double-stiched heel
Some of the best cheap cycling socks around are these SockGuy Biker Chick Socks.
Featuring a short, 2″ height they sit nicely on your ankles so you feel protected when riding. SockGuy has double-stitched the toe and heel areas to provide durability, and their funky pattern will help you stand out on the bike. A mesh upper helps breathability so you can stay cool while riding and eliminates hot spots on your feet.
A cheap but cheerful entry into our best cycling socks list.
---
Louis Garneau – Merino 60 Socks Women's
Women's merino wool cycling socks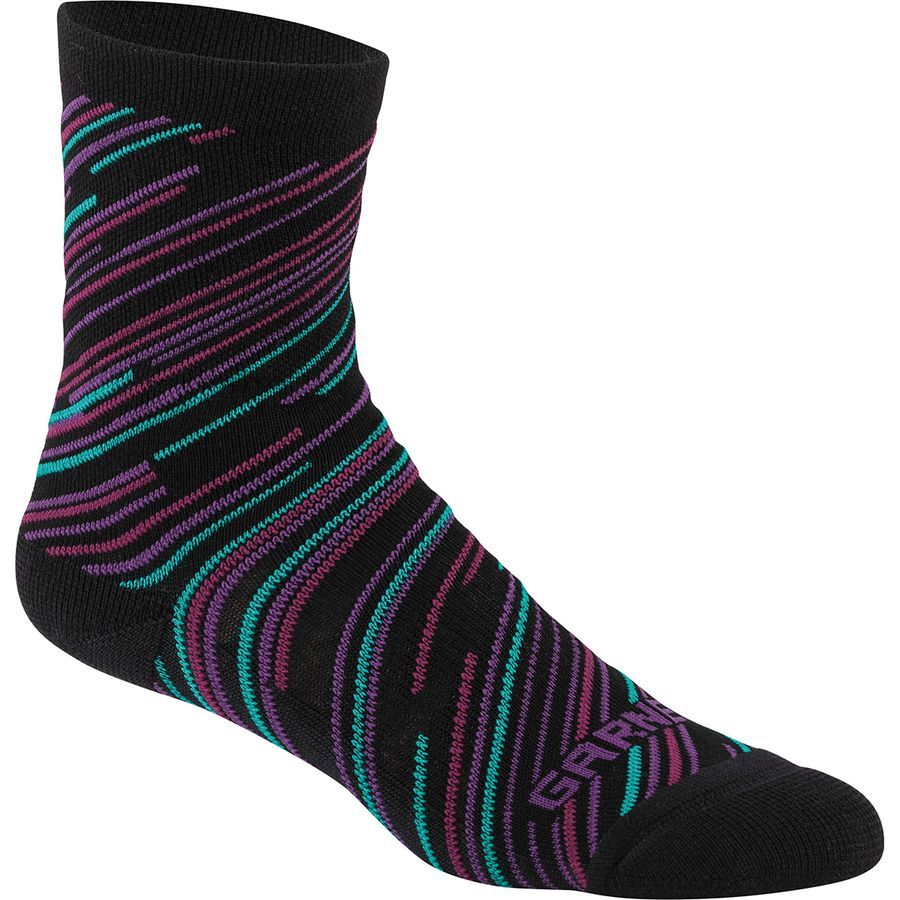 MSRP $22
Fabric – 60% merino wool, 18% nylon, 16% polyester, 6% lycra
Mesh panels
Reinforced heel and toes
These Louis Garneau merino cycling socks will keep you cool and dry in summer and warm and toasty in winter.
Using a large percentage (60% to be precise) of merino wool, these socks are super soft and comfortable on the bike. Merino wool has antibacterial and smell-reducing properties as well as being extremely insulating. These particular socks are ideal for winter due to their thickness and thermoregulation.
With a classy design and excellent construction, if you're after a pair of decent winter socks these should be on your list.
---
Best Mountain Bike Socks
---
Dissent – Genuflex
Best compression socks for cycling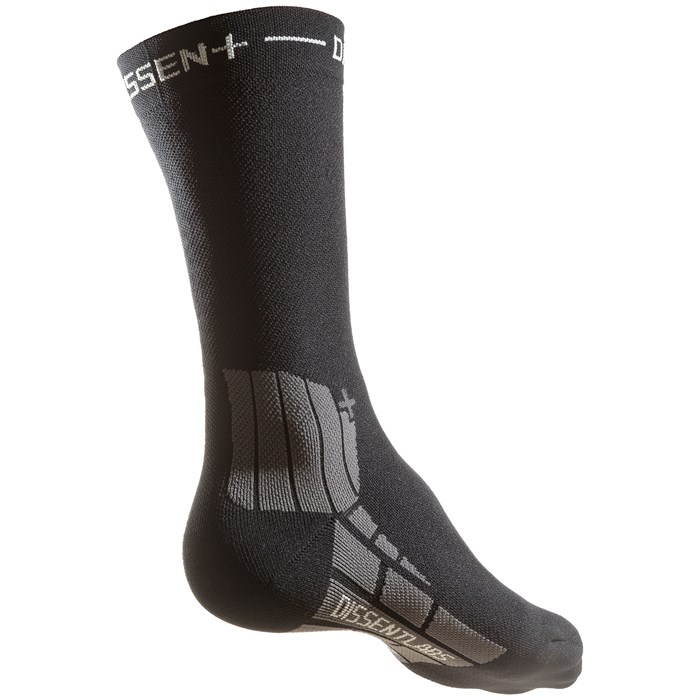 MSRP $32
Material – Synthetic
Seamless toe
Height- 8″
TRUE-Compression
The Dissent Genuflux is a technical cycling compression sock ideal for long days on the mountain bike.
It is a compression MTB sock designed to provide ultimate comfort and prevent fatigue while on your bike. The tall 8″ height keeps your lower limbs protected from nettle stings and sticks on the trails, while the increased support in the ankle and arch provides superb comfort and fit. Dissent has also used Polygiene Permanent Anti-Odor Treatment to keep foul odors at bay.
A superb compression sock ideal for the trails, the Dissent Genuflux will keep you riding in comfort for longer.
---
Smartwool – PhD Cycle Women's
Ultra-light MTB crew socks for women
MSRP $21
Fabric – 49% nylon, 46% merino wool, 4% elastane, 1% polyester
Overall height – 7″
Seamless
These cool mountain bike socks from Smartwool use merino wool to create a sublimely comfortable experience for your feet.
Using 46% merino wool and a blend of nylon, elastane, and polyester, these socks will shape your feet and provide comfortable support throughout your ride. Smartwool PhD socks use several technologies to increase their lifespan and increase durability. A tall 7″ height protects on the trail, while the snazzy design means you'll stand out on the bike.
A technical sock designed for performance, it's hard to go wrong with the Smartwool PhD Cycle Women's sock.
---
Defeet – Aireator
Defeet socks for mountain biking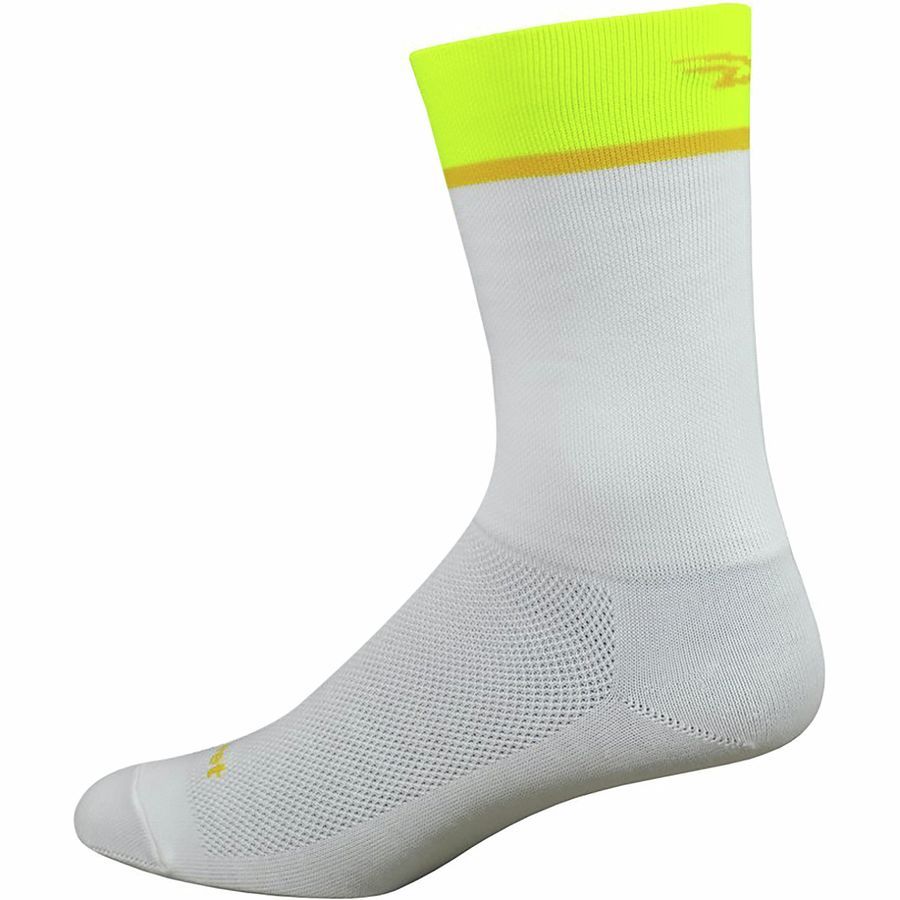 MSRP $15
Fabric – 60% nylon, 39% recycled polyester, 1% lycra
Height – 6″
One of DeFeet's original socks, the Aireater is a classy white cycling sock great for mountain biking.
It provides all the technical performance that DeFeet's cycling sock range is known for, but in a stylish white package. They were among the first to use open mesh weaves to promote breathability on the top of the foot, which makes the socks lightweight enough for all types of riding.
Moisture-wicking, breathable and durable, the DeFeet Aireater is a classic and popular riding sock.
---
SockGuy – Bad Hombre
Funny cycling socks by SockGuy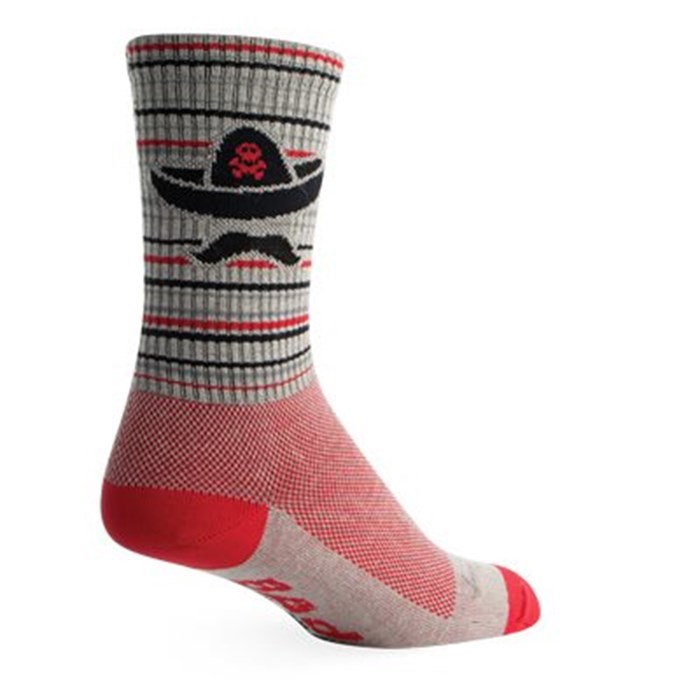 MSRP $13
Fabric – Micro denier acrylic
Double-stiched heel and toes
These crazy cycling socks from SockGuy are perfect for showing off your personality on the trails.
Not just fun to look at, they're fun to ride in too with bundles of technical features. The SockGuy Bad Hombre uses Easy-Fit™ and Stretch-To-Fit™ technologies to promote the best fit for your feet. They also have double-stitched heels and toes to promote durability.
The 6″ cuff will keep your legs protected from brambles and stone flicks on the trail, while the jazzy patterns will keep you in the spotlight.
---
Bontrager – Race Cycling Sock
Warm cycling socks
MSRP $20
Fabric – 43% nylon, 24% merino wool, 24% acrylic, 7% polyester, 2% spandex
Unisex
Thin padding at heel, toe, and ball of the foot
Another tall cycling sock to add to the list, these Bontrager Race Cycling Socks use merino wool to provide you with a comfortable and insulating ride.
As ideal winter cycling socks, the blend of merino wool, nylon, and acrylic promotes breathability. This blend keeps your feet dry, yet insulated from the cold. The socks are incredibly lightweight and could even be used in spring and fall when temperatures aren't as severe as winter. Padding at the heel, toe, and ball of the foot promotes durability and provides extra cushioning on the trail.
A tall sock designed to keep you riding for longer in comfort, the Bontrager Race Cycling Socks are great for the cooler months.
---
Best Waterproof Cycling Socks
---
Sealskinz – Mid-Length MTB Waterproof Socks
Waterproof socks for cycling
MSRP $55
Fabric – 94% nylon, 6% elastane
Height: Crew
Windproof
Nobody wants to get wet feet while they're riding, which is why we've put these Sealskinz socks on the list.
Waterproof, and windproof cycling socks are versatile and great for the trail. Combining cutting-edge technologies, Sealskinz has created a breathable sock worthy of even the wettest rides on your mountain bike. A merino wool lining provides comfort and controls the moisture, while the mid-length cuff protects your legs on the trail.
Not cheap, but worth every cent for a highly technical riding sock.
---
Endura – Hummvee Waterproof Cycling Sock II
Waterproof mountain bike socks
MSRP $50
Waterproof
Stretch arch support
Ideal for close-fitting shoes
Another great choice of waterproof MTB socks is the Endura Hummvee Waterproof Cycling Sock II.
They feature a breathable waterproof membrane that keeps water out but wicks moisture away from your feet. They provide a dry and comfortable environment for your feet on damp rides so you can focus on pedaling. A three-layer construction promotes durability, while the long leg length means you'll be covered on the trails.
Cheaper than some but still fantastic quality, definitely keep these socks in mind for your next rainy ride.
---
Sealskinz – Waterproof Warm Mid-Length Socks with Hydrostop
Waterproof yellow cycling socks
MSRP $43
Waterproof (hydrophilic membrane)
Sock height – Crew
Medium Cushioning
Anti-blister design
Arguably the market leader in waterproof socks is Sealskinz.
These Sealskinz waterproof cycling socks are designed with a hydro-stop barrier that stops water from entering the sock and getting your feet wet. You will stay nice and dry on the bike thanks to the waterproof three-layer construction which allows for moisture-wicking as well as waterproofness.
A stretchy and comfortable sock that doesn't compromise on waterproofness.
---
FAQs
---
What is special about cycling socks?
Cycling socks are specially designed for the demands of cycling. They are moisture-wicking and keep your feet cool and dry. Winter socks use thermal fabrics while summer socks are lightweight.
Do I need cycling socks?
You don't necessarily need cycling socks but they will make your ride a lot more comfortable.
Why do cyclists wear long socks?
Personal preference, and generally it's in line with what the professionals wear. Long socks can offer an aerodynamic advantage as it smooths the leg area so that air can flow around it more easily.
How often should I wash cycling socks?
After every ride, particularly if you sweat a lot or it was raining!