Best Bike Water Bottle Holders
We all know it's important to stay hydrated on a ride, but what is the best bike water bottle holder to use?
Whether you ride mountain bikes, road bikes, or prefer leisurely rides on a hybrid, carrying water is important. But there are so many different cages and ways to carry the water you need, so we've put together a handy list of the best water bottle cages so you don't have to search yourself!
Read on below for the best bottle cages to suit a variety of bikes.
Related: Water Bottles vs Hydration Packs
---
Where to carry a water bottle on the bike?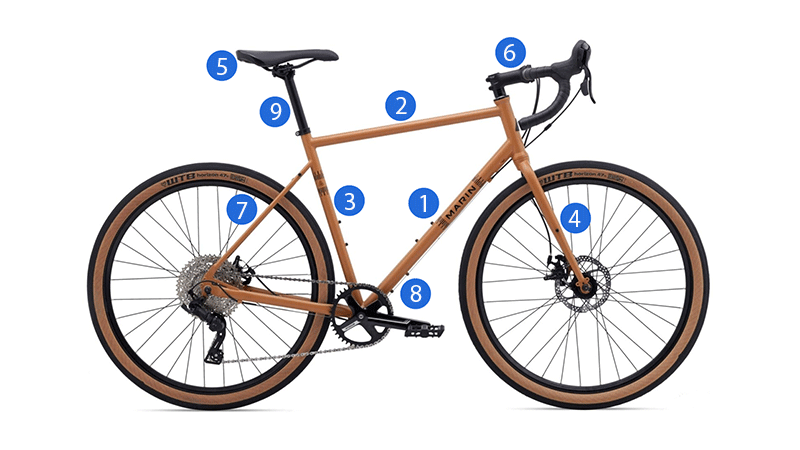 There are plenty of places to mount your water bottle holder on your bike.
Depending on the bike it may have multiple mounting point options, with bikepacking/gravel bikes generally having the most options. However, the optimum place to mount your bottle depends on the type of riding you'll be doing. For example, if you're riding downhill mountain bike trails, it's probably best you don't mount the bottle to the bottom of the down tube in case it strikes the trails.
However, some mountain bike frames simply don't have the space to mount a water bottle cage due to the rear shock placement, so having more than one mounting point helps avoid riders having to take water in hydration packs for example.
In essence, there will always be somewhere on your bike you can mount a water bottle cage, it's just a case of finding which place is best suited to your riding style and frame.
How to Choose the Right Water Bottle Cage?
So now you know where you want to mount your water bottle cage, but how do you choose which is best for your needs?
Whether you ride a road bike and are weight conscious, or ride an e-bike or a city bike and need something convenient for your ride to work, there are plenty of bottle cages to choose from. Before we get onto the list of best water bottle cages below, let's take a look at the different factors involved in choosing the best one for your needs.
Weight – For those of us that are weight conscious with our bike components, carbon fiber bottle cages are the way to go. They do, of course, come at a higher price than their aluminum or plastic counterparts, so it depends on how much you value weight saving over cost. Plastic is also lightweight, but much cheaper than carbon.
Ease of access – You can buy bottle cages that are meant to be accessed from the top or from the side. The side access cages are ideal for those with bikepacking bags that make it difficult to access the cage from the top. Additionally, there are bottle cage options that can be mounted and accessed from the handlebars – perfect for that flask of coffee on the commute.
Materials – Older bottle cages were made from steel and aluminum and were little more than bent metal. These simple designs are still available but have paved the way for plastic and carbon water bottle cages to grow in popularity, particularly in road biking circles.
Size – Most bottle cages come as a standard size, and can hold bottles with up to 750ml of water. You can, however, buy bottle cages with extendable holders so you can fit wider bottles and even flasks of coffee in your cage.
---
Best Bike Water Bottle Holders
---
Specialized – S-Works Carbon Rib Cage III
Best Specialized bottle cage
MSRP $70
Material: Carbon
Aerodynamic profile
Easy in-and-out accessibility
Weight: 24g
If you're conscious about the weight of the components you add to your bike, then a carbon fiber bottle cage is a great addition to your bike.
Even if you're not too keen on having to use a bike water bottle cage, this extremely lightweight (24g) option from Specialized will have you fit it and forget it's even there. Not only is it lightweight but it's designed with aerodynamics in mind, keeping a smooth profile in line with your bike's frame so mounting a bottle won't slow you down. It's also easily accessible and you won't have to worry about the bottle slipping out on a bumpy road as the split design provides preload so that the bottles stay put.
Overall, an expensive choice but ideal for those who value weight savings on their bikes.
---
Bontrager – Pro Bottle Cage
One of the best bike bottle cages
MSRP 50$
Full carbon construction
Secure bottle retention
Lightweight alloy mounting screws
Weight: 29g
Another fantastic bicycle water bottle holder is the Bontrager Pro.
With a lightweight carbon fiber construction, 29g to be precise, it sits nicely at a median price point but remains light enough to be considered for hill climb specialists and weight-conscious riders. Bontrager has gone for the minimalist approach with the design of the Pro, but it doesn't compromise on the retention abilities of the cage.
It comes in a wide variety of colors, including Black, White, Red, Charcoal, Orange, Azure, and Carbon smoke so you can match it to your bike and make it stand out, or go for black and the stealthy look.
---
Blackburn – Clutch
Best water bottle cage for mountain bike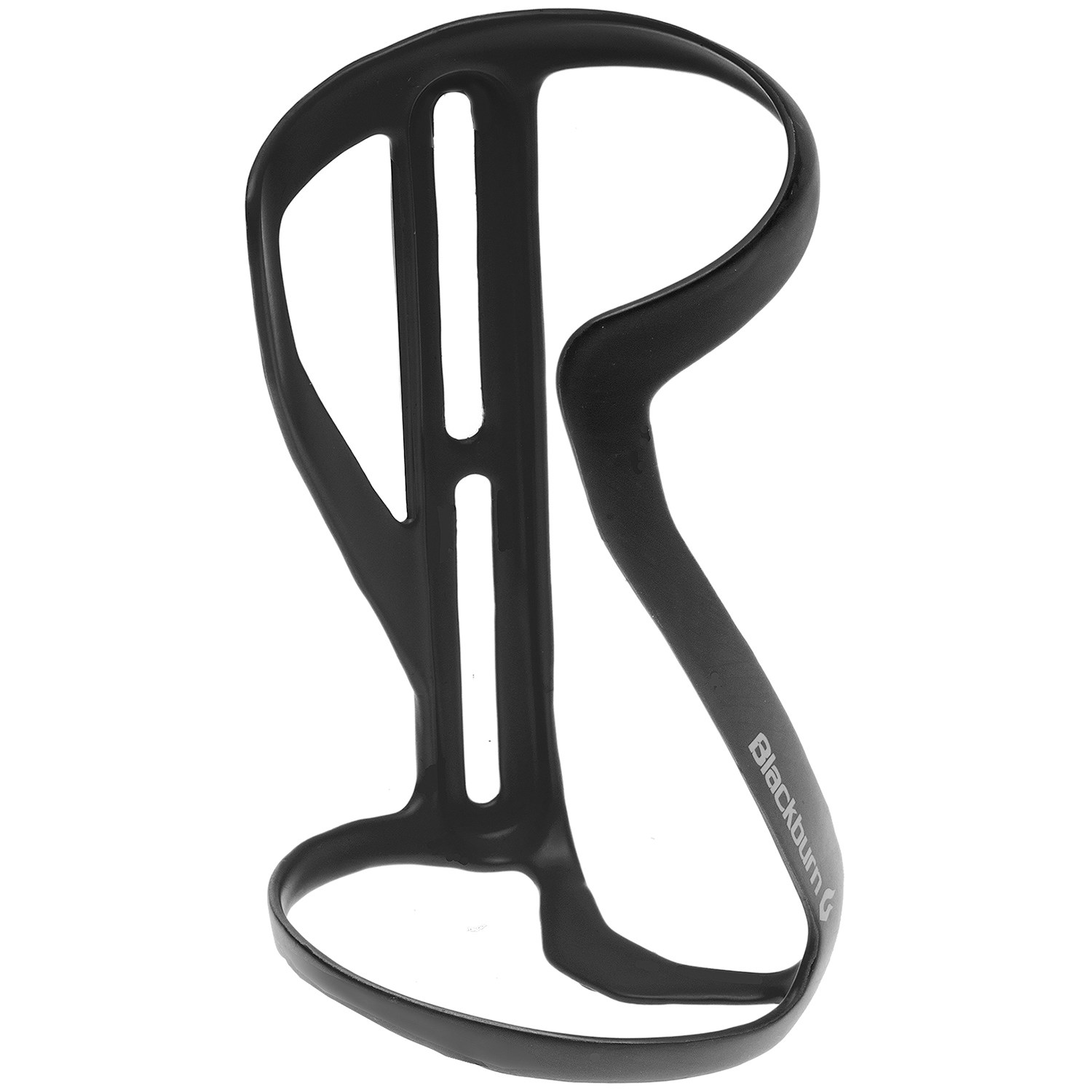 MSRP $55
Material: Carbon
Designed for off-road use
Weight: 45g
Designed for the rigors of off-road riding, the Blackburn Clutch is a fantastic mountain bike water bottle holder option.
Its side access makes grabbing the bottle while you're riding really easy, and makes it a great option for those with full-suspension bikes where the rear shock is mounted within the front triangle or below the top tube. The cage is available in both left and right side entry, and its carbon fiber construction makes it lightweight and sturdy, ideal for when you're riding the rough stuff and need your bottle to stay put!
A mid-priced option great for the off-road user, or those with smaller frames that struggle to fit bottles in with top access cages.
---
Bontrager – XXX Bottle Cage
One of the most lightweight cycling water bottle holders
MSRP $80
Weight: 20g
Material: Carbon
Reliable retention
Here is another Bontrager water bottle cage but this time, its focus is primarily on weight.
One of the lightest production water bottle cages on the market, the Bontrager XXX sits at 20g thanks to its full carbon fiber construction. The secure bottle retention is designed for road cycling, and the cage comes with recessed mounting bolts to allow for better derailleur clearance if mounting on the seat tube.
It comes in two colors, Matte White and Matte Black, and is great if a slightly expensive option for those who count every gram on their bike.
---
Whisky – No. 9
Carbon side entry water bottle cage
MSRP $50
Material: Carbon
Access style: Side
Color: Matte black
The Whisky No. 9 is a great value and lightweight bicycle bottle holder.
Made using carbon fiber, the cage is extremely lightweight yet strong. It's another side access bottle cage which makes it perfect for those with smaller frames that struggle to access their bottles from top access cages, or for those who use bags on their frames and struggle for space. At $50 it's relatively cheap for a carbon fiber cage, so well worth a look if you're conscious about adding weight with your components.
The matte black finish complements the pared-back aesthetic making this a subtle yet stylish accessory for your bike.
---
Tacx – Deva
Road bike water bottle cage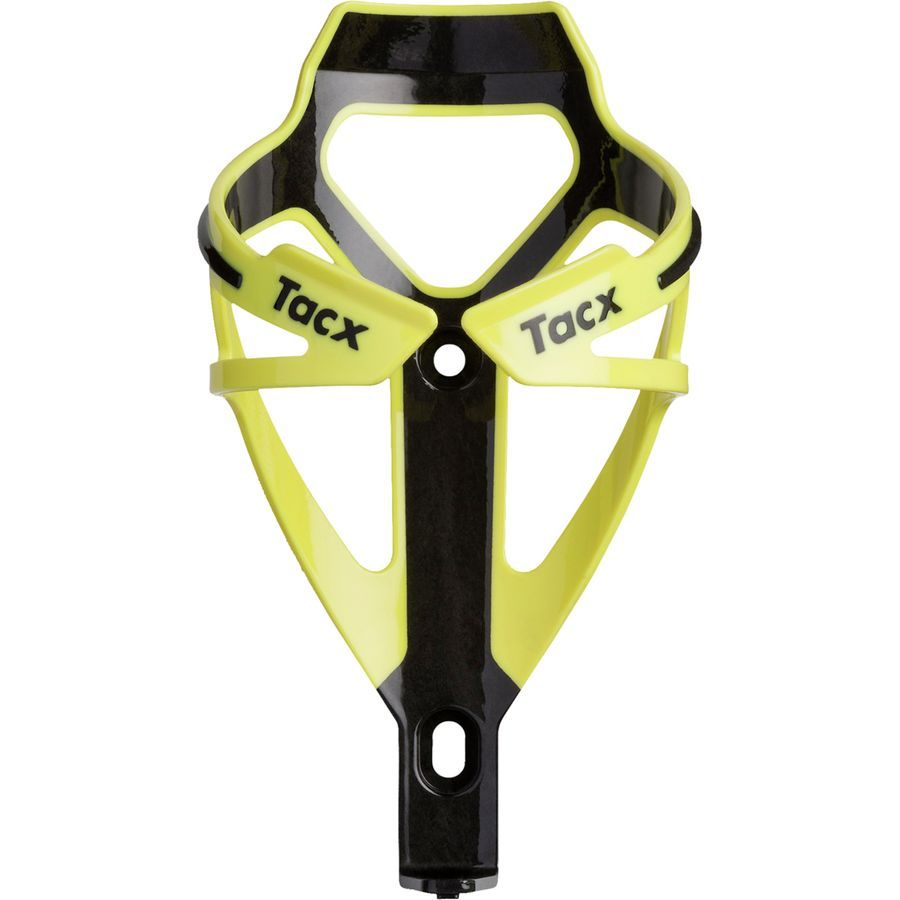 MSRP $20
Material: Carbon-reinforced nylon
Manufacturer warranty: 2 years
Weight: 35g
This Tacx bottle cage is one of the most versatile on the market.
A lightweight, carbon-reinforced nylon construction is ideal for road cycling as the cylindrical shape holds the water bottles tightly even over cobbled terrain. A manufacturer warranty of two years means you can ride with confidence that if any issue were to arise out of the use of the cage, you would be covered for two years in case you need a replacement.
It's lightweight and competitively priced at only $20, and it comes in a wide variety of colors to suit your personality or your bike!
Buy from CompetitiveCyclist.com
---
Silca – Sicuro Titanium
Titanium water bottle cage
MSRP $70
Material: Titanium
Silca Shield Warranty for 25 years
Weight: 30g
Premium Italian brand Silca brings style and function to the table with their Sicuro Titanium bicycle water bottle cage.
One of the few titanium bottle holders available on the market, this stylish accessory weighs only 30g adds Italian flair to your bike. Although it's relatively expensive, at $70, the product comes with an extended warranty of 25 years, which is far more than most manufacturers offer.
Costly, but a simple and secure way of transporting your water bottles on your bike.
---
Electra – Wired Can Holder with Koozie
Best handlebar water bottle holder
MSRP $25
Materials: Alloy cage, neoprene koozie
Attaches to 22.2mm handlebars
Weight: 113.4g
The Wired can holder with Koozie is designed and manufactured by the American electric bike brand, Electra.
This odd-looking bike drink holder uses an aluminum cage to attach to your bike's handlebars, to make drinking soda a much easier affair. The neoprene koozie keeps the drink cold so you can focus on riding until you're ready to drink.
This nifty idea is available in a few different patterns so you can truly personalize your bike.
---
Public Bikes – Trieste Bike Coffee Cup Holder
Best handlebar coffee cup holder
MSRP $15
Clamp diameter: 22.2mm
Suitable for 12-16 oz cups
Another great handlebar attachment bike cup holder is the Public Bikes Trieste Bike Coffee Cup Holder.
It was brought to market after the designers couldn't find anything secure enough for them to carry their takeaway coffee cups via their handlebars. The simple design keeps the cups nice and secure so you don't need to worry about the cup falling out, and it's kept in place by an internal soft-grip lining.
A great price for a great product, the Public Bikes Trieste Bike Coffee Cup Holder is a great option for those who want to carry their drinks on their handlebars and not worry about splashing.
---
Two Fish – Original Quik Cage
No screws are needed to mount this water bottle holder
MSRP $25
Material: Stainless steel
Mounts anywhere
Weight: 25g
The Two Fish Original Quick Cage gives you the choice of where you want to mount your water bottle cage.
This water bottle cage mount requires no screws or bolts, unlike many others, meaning you can place it wherever there is space on your bike! It's lightweight at only 25g and strong thanks to the stainless steel construction. Ideal for cyclocross racers who when they're racing need to remove bottle cages, but want to run them during training.
It mounts using a secure hook-and-loop strap that can be tightened around any point on the bike frame where there is space.
---
Portland Design Works – Lucky Cat Water Bottle Cage
Best kids' water bottle holder
MSRP $25
Material: 5052 Alloy
Great fit on smaller bike frames
Weight: 91g
Don't think that we've forgotten about what the kids can use!
This Portland Design Works Lucky Cat Water Bottle Cage is a super cute accessory for kids' and adult bikes alike. It uses a single piece of 5052 aluminum to create a secure place to keep a water bottle on your bike, as well as looking adorable.
A great option for those with smaller frames or those with less clearance, it's a relatively cheap option although it is quite heavy.
---
Bontrager – Bat Cage
A classic water bottle cage made from recycled ocean plastics
MSRP $15
Material: Nylon
Weight: 48g
Another Trek bottle cage to add to the collection is the Bontrager Bat Cage.
Manufactured using composite recycled ocean plastic material, it's a fantastic choice for the environmentally conscious rider. It is cheap, too, at only $15, but the weight is compromised as it weighs 48g.
Trek market it as an almost indestructible bottle holder, which will prove valuable if you ride over any rough stuff.
---
XLAB – Delta 105
Best saddle bottle cage
Don't worry, we haven't forgotten about the triathletes in our midst.
This Amazon bike water bottle holder is ideal for those riding TT or triathlon bikes as it hides behind the rider, and thus doesn't impact your aerodynamic drag as much as a frame-mounted bottle. In addition to triathlon, it's a great place to store another bottle when you're on long training rides.
This new version is, according to XLAB, an improvement on grip force on the bottle by over 60% on the original versions, making it great value for money and easy to access while on the bike.
Material: Nylon
Weight: 6.4 ounces
---
How to install a water bottle cage on a bike without the mounts?
Unfortunately, not all bikes come equipped with bottle cage mounts.
Or, they do, but the frame is a tad too small to be able to access the bottle properly. Luckily, some ingenious manufacturers have designed the following solutions so you can mount a bottle to any bike:
Twofish quick cage adapter from JensonUSA
Use clamps or cable ties
Kbrotech Water Bottle Cage Holder from Amazon
TriSeven Premium Cycling Saddle Cage Holder from Amazon
---
Conclusion
There are plenty of bottle cages on the market today.
From simple mounting straps to more advanced handlebar holders, you are bound to be able to find a bottle cage or mount suitable for your riding needs and bike frame. For the weight conscious, there is carbon fiber, and for the rest of us, there are plenty of plastic options that keep the bottles secure without costing a fortune.
We hope you've found our list helpful and it's given you some inspiration about mounting your own bottles to your bike for your next ride.