Best Bicycle Cargo Trailers to Buy in 2023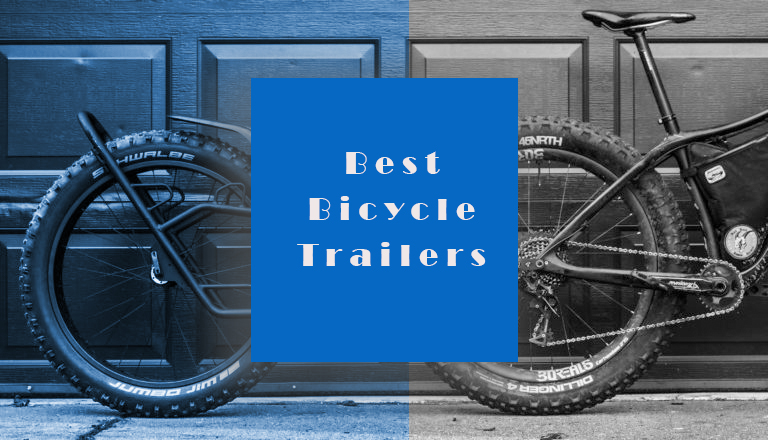 Bicycle cargo trailers make it possible to carry a much larger amount of equipment by bike than would usually be possible. With the right-sized trailer, you can carry anything, from coolers, firewood, and camping gear, to bows, hunting equipment, and fishing rods. Many cycle tourists use trailers to carry excess camping equipment or additional gear that they may need.
If you run a business that delivers small goods locally, a bike and bicycle trailer can save you additional petrol costs and make deliveries a simpler, more enjoyable task. Sizes of bike trailers go from small single-wheel trailers ideal for local city deliveries to extra-large trailers big enough to carry pets, small deer, or expedition equipment. However big your cargo is, we have a trailer to suit your needs.
---
The 9 Best Bicycle Cargo Trailers
1. QuietKat – Fat Tire Off-Road Cargo Trailer
2. Schwinn – Day Tripper Cargo Bike Trailer
3. Burley – Coho XC
4. Burley – Nomad Cargo Bike Trailer
5. Burley – Travoy Bike Cargo Trailer
6. Burley – Flatbed Utility Cargo Bike Trailer
7. Rambo – 180 Bike Trailer
8. Aosom – Bicycle Cargo Trailer
9. Retrospec – Rover Hauler Cargo Bike Trailer
---
1

. QuietKat – Fat Tire Off-Road Cargo Trailer
Wheel Size: 20×4"
Carry space: 14×24"
Weight: 34 pounds

Rear suspension

Kickstand
The QuietKat 20QKCTSW bike cargo trailer is a single-wheeled fat-tire trailer designed for off-road use.
It has a large storage bin that measures 14″ x 24″, large enough to carry a significant amount of goods including cooler boxes, firewood, hunting equipment, or camping gear. It also features a pannier rack over the rear wheel so you can attach two large panniers and strap more equipment over the top.
The extra-large wheel is 20″ with a 4″ thick tire, making it ideal for bikepackers and mountain bikers that take on rough, rocky terrain. The single wheel design has suspension and is much easier to cycle with over rough terrain than a double-wheel model that is prone to flipping over. The simple, quick-attach system has a part that conveniently screws onto your rear axle so the trailer can be quickly docked or removed. However, we felt the pin on this is a bit weak for those carrying heavy goods, so take note.
---
2

. Schwinn – Day Tripper Cargo Bike Trailer
16″ wheels
Max capacity: 100lbs
The Day Tripper bike trailer from Schwinn is a wide, two-wheeled trailer with a folding frame and protective rain cover.
The interior cargo space is 24″ x 16.5″ and is 12″ high with the cover on, making it large enough for small goods and shopping. However, without the cover, you can fit larger objects like pets or furniture.
The clip and pin attachment makes it quick and easy to connect and remove the bike wagon when desired. When storing the wagon while not in use, simply pop off the quick-release wheels and fold the trailer flat. The frame is made of steel and the rain cover nylon with a yellow and grey color scheme
The trailer is low enough on the ground and wide enough to avoid toppling over. Although the wheels feel a bit cheap, it has nice fat 16″ tires to absorb vibrations. The thick, hard-wearing rain cover is excellent for rainy days but it's a bit limiting if you need to carry a large amount of goods.
---
3

. Burley – Coho XC
Volume (70 Liters)
Max Capacity: 70pounds
Wheel Size: 16″
Weight: 21lbs
Three wheel variations: 16×3 / 16×2.125 / 16×1.75
The Burley Coho is a single-wheel bike trailer designed for bike packing and off-road riding.
It features coil-sprung suspension to handle the rigors of cross-country riding and provide a more comfortable ride. The trailer uses a Burley Ballz dual-ball hitch and a tool-free adjustable yoke for easy attachment and removal.
The bike cart is great for long-distance touring trips through varied terrain or for mountain bikers and single-track riders that need to carry extra equipment. Hunters, fishermen, campers, or researchers will find the trailer ideal for their needs.
In addition to the cargo hold, you get a pannier rack over the rear wheel to carry two large pannier bags. The cargo hold itself carries up to 70 liters of luggage, with the possibility of strapping additional gear on top. The frame is made of aluminum and steel with polyethylene, nylon, and polyester materials. The trailer is 66.5″ long and 21.25″ wide, with a height of 17″.
MSRP $490
---
4

. Burley – Nomad Cargo Bike Trailer
Max weight: 100lbs
Wheel size: 16″
Trailer weight: 15lbs
Availability to add EXTRAS
The Nomad is a Burley bicycle trailer designed for long-distance bicycle touring through on and off-road terrain.
It holds up to 105 liters, or 100lbs, of cargo. It's wide and well stabilized with a low center of gravity to avoid toppling over and 16″ wheels with thick tires for extra grip
Other than touring, it would make an excellent work trailer for carting around tools and equipment. The single aluminum arm connects to the bicycle with a tilt system that allows you to lie the bike down without affecting the trailer.
The clever frame design disassembles quickly for compact storage and easy transportation. The full dimensions are 32″ long by 22″ wide and it's 22.8″ deep. The total weight when empty is 14 lbs. 8 oz (6.5kg). Overall, cycle tourists rate it highly as one of the best trailers for touring.
MSRP: $350
---
5

. Burley – Travoy Bike Cargo Trailer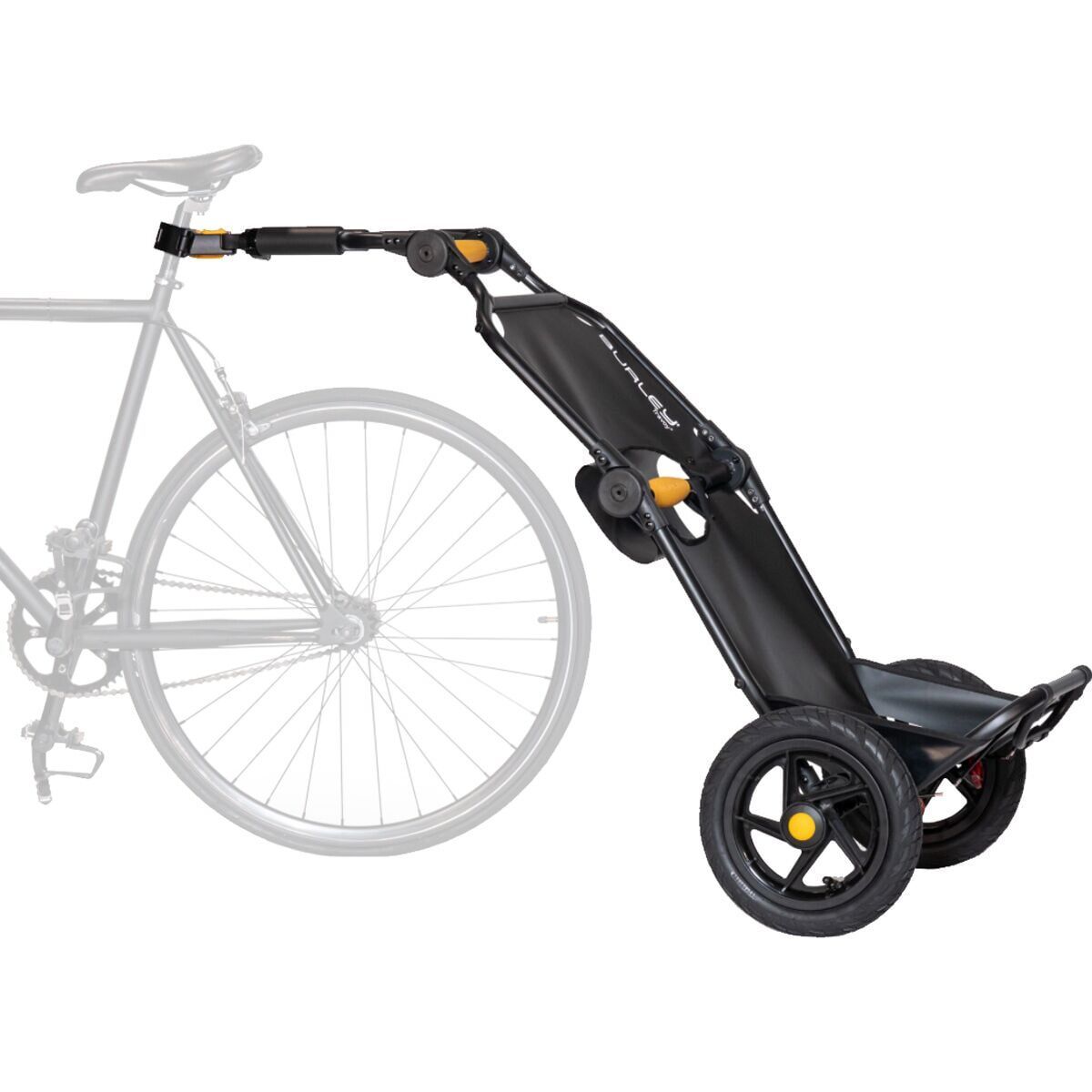 Weight capacity: 60lbs
12.5″ wheels
Weight: 11lbs
Track width: 20″
Fits 25-35mm seat posts
The Travoy cargo trailer bike from Burley is designed for city shopping excursions, work commutes or carrying light luggage.
It features an upright trolley with two wheels connected by an extended tow arm for versatile usage.
It's one of the best bike trailers for city cyclists who need a compact luggage solution and don't want to use pannier racks or a basket. The Quick Hitch connector requires no tools for installation and makes it easy to use the trailer on different bikes. The tow arm also includes a padded hand grip so the Travoy is easier to use as a shopping trolley or delivery cart.
The 12.5″ wheels clip off easily and the trailer folds down to the size of a briefcase for easy storage and transporting. Dimensions are 43″ high and 22″ wide, with a 14″ depth and weight capacity of 60 lbs (27kg).
MSRP: $300
---
6

. Burley – Flatbed Utility Cargo Bike Trailer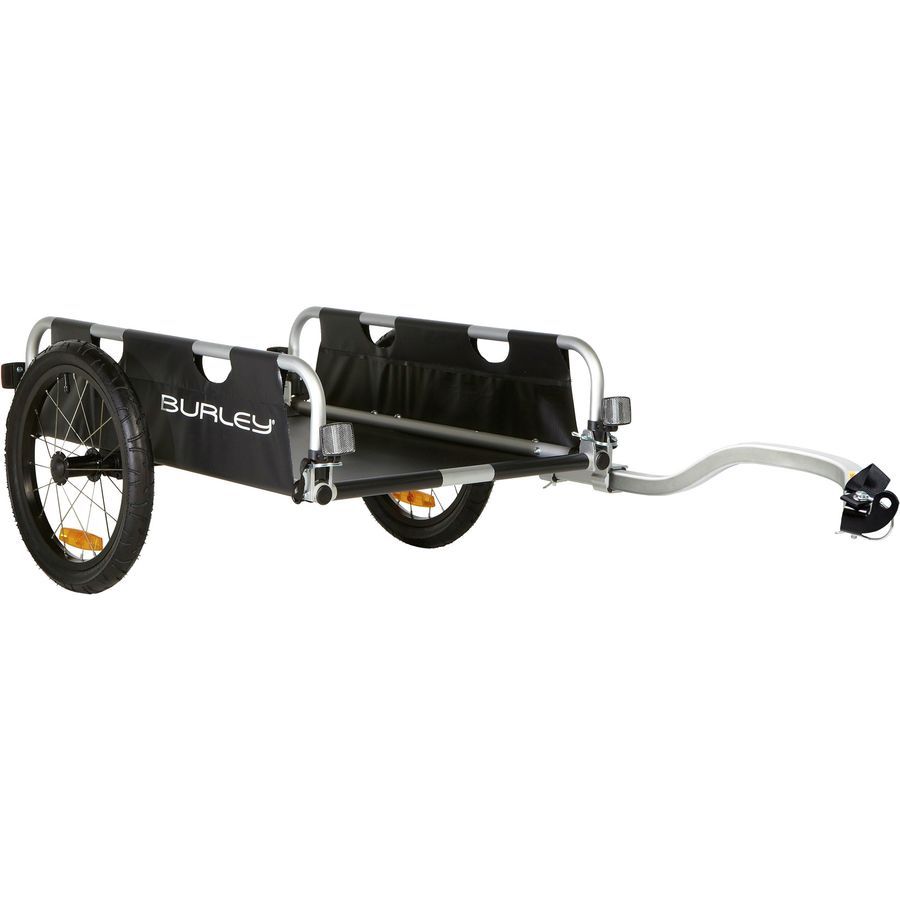 16″ wheels
Capacity: 100lbs
Trailer weight: 14.5 lbs
This large flatbed Burley bike trailer is ideal for carrying oversized items like furniture, appliances, or excessive luggage.
Despite the lightweight aluminum frame, this rugged bike carriage can carry up to 100 lbs (45kg) and weighs only 14 lbs (6.3kg).
The wide two-wheel chassis of the Burley Flatbed ensure the trailer remains stable at all times. With large 20″ wheels and thick tires, the trailer keeps traction well and absorbs vibrations to keep things smooth. Front and rear reflectors are included for added safety on the road.
With a central balance point, torque on the bicycle is minimized and the single trailer arm attaches easily with a convenient pivot connector. The push-button wheels pop off and the trailer folds down into a compact shape, easy for storage and transportation.
MSRP: $300
---
7

. Rambo – 180 Bike Trailer
Weight: 25lbs
Capacity: 150lbs
16″ wheels
The Rambo R180 is a cycle trailer preferred by hunters and fishermen, large enough to carry a small deer or several large fish.
The open-plan design is ideal for awkward, oversized objects that wouldn't fit in a square box. To attach the Rambo R180 you'll need a rear pannier rack installed on your bike, so if you don't have one already be sure to order one separately.
The cart basket is 18.5″ long and 48″ wide but with sidewalls only 5.5″ high. This is why it's better suited to large single items rather than small items that require a box. For easy storage, the R180 bicycle wagon folds down into a relatively compact size and has easily removable wheels to save extra space.
At only 25 lbs (11.3kg) in weight, the aluminum trailer can carry up to 150 lbs (68kg) of cargo on its tough 16″ wheels. Whatever you need to take out into nature, this trailer will get it done.
---
8

. Aosom – Bicycle Cargo Trailer
Removable cargo compartment
Seat post mount included
Max load: 88lbs
Wheels: 16″
This offering from Aosom is a large cargo bike trailer with a steel frame and plastic box and versatile attachment. The cargo bay can carry up to 88lbs of luggage.
It's a solid choice bicycle trailer for carrying tools and equipment or delivering large items like electronics and appliances.
Featuring compact 16″ wheels, it's best suited to paved roads but can handle rougher, off-road conditions if required. Many bike tourists use this trailer for long-distance trips that require excess camping or cold-weather equipment.
---
9

. Retrospec – Rover Hauler Cargo Bike Trailer
The Retrospec Rover Hauler is a large bike utility trailer with a water-resistant cover, ideal for extensive bicycle touring trips or delivering oversized goods.
The convenient coupler attaches to any bike with 20″ – 29″ wheels so the trailer arm can easily be clipped on or off.
The wheels simply pop off and the durable frame folds up for compact storage when not in use. The interior dimensions of the trailer are a huge 31″ x 19″, big enough for a lot of camping equipment, tools, hunting gear, books, gear, firewood, or anything else.
It has a wide wheels base and low center of gravity so it won't topple over easily, with interior D-rings so you can strap cargo in and avoid anything rolling around.
---
FAQ
What type of bicycle is best for hauling a cargo trailer?
Cargo trailers are generally easier to haul compared to kids' bike trailers so it wouldn't really matter which bike type will you be riding. A one with gears is obviously convenient on hilly terrains while depending on the frequency of use and where will you be hauling the trailer – a hybrid or a mountain bike are probably the most convenient. We should also recommend cargo bikes due to their already larger weight capacity.
How do you haul a bike trailer?
All of the models above have an attachment point that connects either to the saddle or at the back of the rear-wheel axle.
What are the alternatives to a standard bicycle cargo trailer?
Weehoo iGo bike trailer is a great solution for anyone who likes a flat cargo area to carry items behind the bike, but most of their models are already out of stock.
What is the weight capacity of bike trailers?
Single or double-wheeled bike trailers can usually hold up to 70 to 100pounds (30-45kg)
How to choose a bike cargo trailer?
Choosing between a single-, or a double-wheel bike trailer, there are pros and cons to each type. The single-wheel bike cargo trailer is faster and creates less drag and it is also more convenient when riding on single tracks while a double-wheel bike trailer is more stable under heavier loads.
What are the best bicycle cargo trailer brands?
Burley has one of the largest numbers of bicycle trailers, while Schwinn, Quietkat, Rambo, and Retrospec have some trailers to compete with the larger brands as well.