Founded in 1964 as one of the very first Schwinn bike stores in Marin County, California, Mike's Bikes has grown from a single store to a family of local bike shops.
One thing that hasn't changed, however, is Mike's Bikes' mission to get as many people on bikes as possible. What you need to know about the stores, if you visit any of their twelve operations in Petaluma, San Rafael, Sausalito, San Francisco, Berkeley, Palo Alto, Los Gatos, Sacramento, Walnut Creek, San Jose, Pleasanton, and Folsom, is that their staff are knowledgeable and helpful, and want to find you the best bike for your needs.
Michael's Bikes is now the largest independent bike dealer in the US and offers a wide range of bikes from mountain bikes, road bikes, active bikes, electric bikes, and kid's bikes. The range in stores includes Mike's Bikes Specialized, Santa Cruz, BMC, and more.
Mike's Bikes reviews are positive, with many people commenting on the fantastic customer service, which has led to the brand having 4.5/5 stars on Facebook. As well as their physical stores, you can also buy bikes and gear online from their website: mikesbikes.com.
Read on for an overview of brands, bikes, and other products from Mike's Cycles!
---
Table of Contents
1. Bikes
2. Gear
3. Apparel
4. Services
6. Buying Guide
---
Full Review of Mike's Bikes Cycling Offering
Complete Bicycles
---
Road – Mountain – City – Electric – Kids'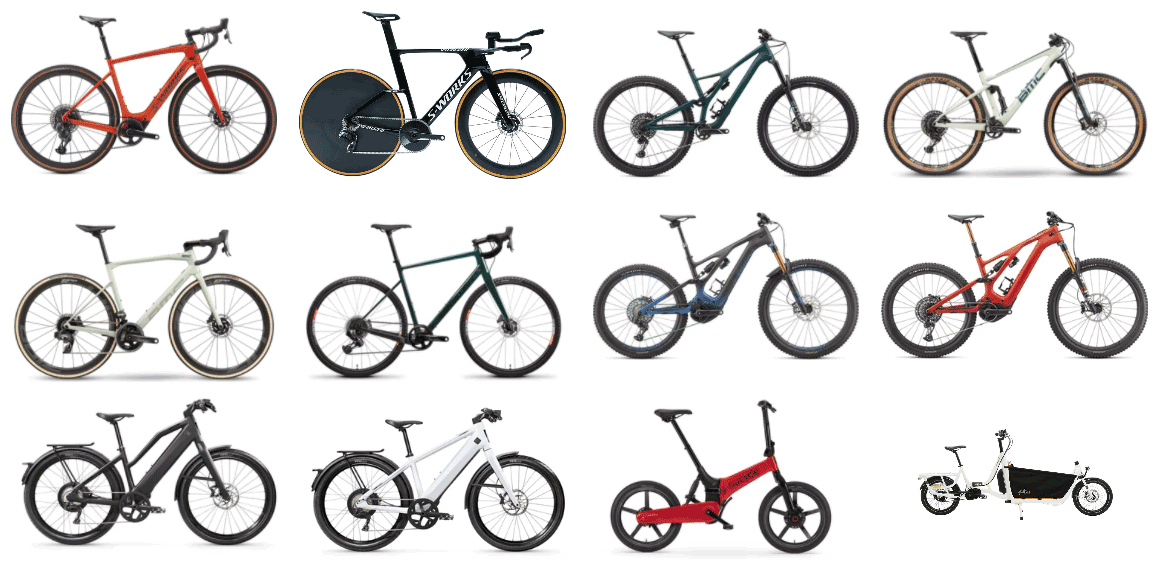 Bikes are the bread and butter of Mike's Bikes shops, and they pride themselves on their knowledge of bicycles old and new, and across a wide range of disciplines. Whether you're a new cyclist looking to buy their first bike or need something for each member of the family, Mike's Bikes will be able to assist you on your cycling journey thanks to their industry knowledge and expertise.
Mike's Bikes Bicycle Selection
Mike's Bikes selection covers a wide range of disciplines, from road bikes, mountain, active, and electric bikes, to kid's bikes. So no matter what stage of cycling you're at whether you're looking for a performance cycle or something to get started on for you or the kids, Mike's will have something suitable for you and your needs.
Road
Performance & Race
Adventure
Gravel
Electric Road
Mountain
XC
Trail
Downhill
E-Mountain
Active
City
Fitness
Hybrid
Comfort
Folding
Kids' & Youths
Balance bikes
12″
14″
16″
20″
24″
Electric
e-Road
e-Mountain
e-Active
Mikesbikes.com
Bike Brands available at Mike's Bikes
Mike's Bikes stock some of the biggest and best-known names in cycling in their stores.
They take pride in their wide range of brands they can supply to you as independent bicycle stores, which means they aren't tied to a specific brand or parent company. This allows them to exhibit a massive range of brands and names in their stores and online, including Specialized, Gazelle, Brompton, and more.
See below for the full range of brands available from Mike's Bikes.
Specialized
Santa Cruz
BMC
Juliana
Salsa Cycles
PUBLIC bikes
Stromer
Gazelle
NS
Rondo
Electra
GoCycle
Yuba
Urban Arrow
CoMotion
Brompton
Gear & Accessories
---
Bikes aren't the only things available at Mike's Bikes.
If you can think of it, they sell it for your bike and its maintenance needs. Whether you require parts for a simple tube replacement, or a full wheel build, Mike's stocks an extensive range of parts and gear you'll need to upgrade and maintain your bicycles. This includes wheels, pedals, stems, and all the little bits you forget to take with you on a ride, like tubes!
See below for a full selection of what they have on offer online.
If you're looking to accessorize your bike they also sell things like pannier racks and bags to help you transform your bike into a bikepacking rig, or commuting machine. They also sell fenders for when it rains – believe us, they're a good investment even if they look ugly!
Additionally, they stock all things indoor training such as turbo trainers, rollers, and static bikes. All you need to set yourself up to ride in Watopia is available from Mike's Bikes. Looking to keep track of all your stats and follow a route? They stock GPS computers such as SRM and an extensive Garmin Edge range so you can choose what device best suits your needs.
Mikesbikes.com
Apparel
---

Helmets – Shoes – Accessories – Jerseys & Tops – Bottoms & Bibs

Velocio – Specialized – Fox – Sportful – Patagonia – Assos – Andare – Mike's Bikes
Apparel is also plentiful at Mike's Bikes.
Expect to find clothes for all disciplines including mountain biking, road cycling, and commuting or leisure cycling. They also stock all the latest sunglasses ranges from brands such as Smith Optics, 100%, and Optic Nerve to name a few.
Keep on top of your safety with a new helmet, whether it's a road helmet, a city helmet, or a full-face for downhill and extreme mountain biking, Mike's Bikes will keep you on the right track with their vast array of headgear.
In addition to accessories, the stores stock a wide range of clothing for all types of riding.
Whether you're after a pair of baggy mountain bike shorts or something more streamlined for your road bike, there's a large stock of men's and women's clothing for you to choose from.

Services at Mike's Bikes
---

Not only do Mike's Bikes sell plenty of bikes and related gear, but they also offer a lot of services.
The company offers repairs, whether it's in-store or through their mobile service, and they are highly rated among the community. They have several mobile-based mechanics working throughout the locations of their twelve stores, and they can help with everything from emergency roadside repairs to a full-on service at home. It's a great way to take the hassle out of bringing your bike to the shop if for some reason you can't!
They also offer bike fits, or more specifically, a Body Geometry Fit. Whether you're a seasoned pro or just starting, bike fits are essential to maximizing your on-bike comfort and performance. Mike's Bikes use the latest research-driven technologies to make adjustments to your position and fit on the bike.
As well as providing maintenance services and bike fittings, Mike's Bikes also provides local routes across the county. This is a great resource for new riders or riders who are new to the area! Check their website for a full list of services provided.
Clearances
---
From time to time you'll be able to find some fantastic deals in Mike's Bikes clearance sections.
Not everyone wants or needs the latest kit or bikes, and you can often save a lot of money by buying last year's models or season's clothing. Mike's Bikes clearances and sales include items from previous seasons or previous models of bikes or components, and if you're after a bargain, this is a great place to find one! Head to their website directly to check out their latest stock levels and choices.
Buying Guide
---
Amex – Discover – Mastercard – PayPal – Visa
Domestic Shipping – Within the United States: UPS Ground, UPS 3 Day Select, UPS 2nd Day Air, UPS Next Day Air.
International Shipping – Australia, Austria, Belgium, Canada, Denmark, Finland, France, Germany, Greece, Ireland, Italy, Japan, South Korea, Liechtenstein, Luxembourg, Monaco, Netherlands, Northern Ireland, Norway, Portugal, Scotland, Spain, Sweden, Switzerland, United Kingdom, Wales.