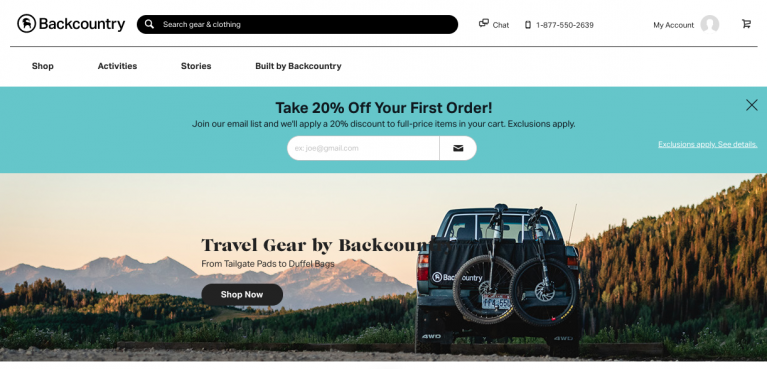 Backcountry is one of the biggest, if not the biggest online retailers for outdoor equipment and goods. They sell all sorts of gear made for camping, climbing, hiking, running, etc. But, most importantly, they also sell bikes and a ton of cycling gear.
The selection of Backcountry cycling items is pretty incredible. They have everything you might need to hit the road or the trails. You can buy bikes from the biggest brands in the industry, clothes, tools, gear, and even parts to maintain your bike.
But if you are new to the cycling world and the world of outdoor activities, in general, just buying quality gear is not enough to get you going. Instead, Backcountry organizes numerous events and activities where you can practice and learn with gearheads and outdoor pros.
Moreover, you can also check out their "Gearhead" section, where you can get personalized guidance and get answers to any questions that have been bugging you about cycling, choosing a bike, buying gear, and so on.
Key takeaway points:
Free shipping over $50.
Over 350 cycling-related brands are available.
They mostly sell mid-range and high-end mountain bikes.
Purchase cycling gear or attend outdoor activities.
Now that we know who Backcountry is, let's find out where they are today and learn about what they have to offer in more detail.
---
Where Is Backcountry Today?
Backcountry is in a very good position today. The company was established in 1996 by two guys, in a garage in Park City, Utah. So it's hard to believe how far they have come and how big they have become. Today, Backcountry is possibly the biggest cycling and outdoor equipment store in the USA.
They are still located in Park City, Utah, but they operate from other places in the States and the world as well. They also have offices in Portland, OR, Costa Rica, and Germany. Two massive warehouses in Salt Lake City, Utah, and Christiansburg, VA should also be mentioned.
To show you how big Backcountry is, let's take a look at some numbers. In the last six months (March 2019 – August 2019), their website was visited 5.06 million times. More than 86% of those visits came from the United States, which tells us where Backcountry is the most popular. In 2018, their net sales were worth 480.6 million dollars, but this number grows steadily each year.
But Backcountry is not only interested in revenues and growth. They have other core values they live by, which include:
Love of nature and the outdoors.
Prioritizing the environment and recycling.
Keeping their employees happy makes for happier customers.
Valuing customer reviews and feedback.
Active in the outdoors community through events and workshops.
---
Types Of Cycling Gear Backcountry Offers
In this section, we will take you through the Backcountry bike shopping section and show you all the fun cycling gear Backcountry offers. You can get absolutely all the parts, gear, and clothes you might need to ride in all conditions and for all purposes!
When you enter the Bike shopping section, you'll be able to shop by category. The main categories here include:
Backcountry Bikes & Frames
Bike Components
Apparel & Accessories
Bike Footwear
Helmets & Protection
Bike Essentials
At the moment of writing this review, the Backcountry cycling inventory contained 11,237 products. That's a lot by all standards! Of that number, around 4,000 items fall in the Apparel & Accessories section and an additional 3,000 in the Bike Components section.
However, the other sections also offer a pretty satisfying selection of products. For example, if you visit the Backcountry bikes category, you'll be able to choose from around 550 bikes and frames. Also, there are 2,800 bike parts and other essentials that you can also browse.
No matter how nit-picky you are, you will definitely find something you need, like, and have the means to buy.
---
Types of Bikes Backcountry Sells
Backcountry bikes are what every cyclist is probably thinking about while reading this review! So let's see what types of bikes you can buy here and how much money you'll likely need to own one of the bikes they sell.
First of all, when you enter the Bikes & Frames section, you will notice 6 distinct categories you can shop by:
Mountain Bikes
Road Bikes
Gravel & Cyclocross Bikes
Kids' Bikes
Triathlon/TT Bikes
EBikes
If you're looking for a new mountain bike to smash the trails and explore the outback, you're in luck. Out of 542 items in this category, 343 results fall in the Mountain Bikes section. That tells us that the Backcountry cycling inventory heavily favors mountain biking.
After that, road bikes are the most popular, with a bit over 100 items for sale. This includes both aluminum and carbon models, as well as recreational and professional bikes. You can get a road bike both for casual group rides and for Cat 1 races!
Backcountry mostly provides mid-to-high-end bikes that cost anywhere between $1,500 and more than $10,000. Our research discovered no entry-level bikes and very few models that cost under $1,500 (usually on discounts). Thus, it seems that the target audience is cycling enthusiasts and pros.
Backcountry also offers a couple of electric bicycles. These are becoming more and more popular, so if you're one of the people who like them, you can get both MTB and road eBikes on Backcountry.com.
---
Sizing Charts
Choosing which bike to buy is a difficult task. When you do manage to narrow your choice down, you're far from finished. You then need to determine which frame size to go for. This is the part of the buying process that gives people the most headaches.
Backcountry has done all in its power to make it easier for their customers and help them out. When buying Backcountry bikes, there are three methods which you can use to determine which size to get:
Size Chart
Fit Guide
Ask a Gearhead
Each bike's frame geometry and measures are presented in neat size charts that you can find on each bike's page. The chart includes measurements of all the tubes, angles, and distances on the bike.
If that's not enough for you or you're not experienced enough to know what this info means, you can simply use the Fit Guide which will do all the work for you. All you need to do is enter your height and inseam length in either inches or centimeters and press Enter.
But if you still have some doubts and you want to be absolutely certain, you can contact a Backcountry Gearhead 24/7 with any questions you have by calling the number 1.800.233.7159.
---
Backcountry Shops
If you are from Salt Lake City or you plan to travel there, you're in luck because Backcountry's only brick-and-mortar store is located there.
The exact address where you can find it is:
2607 S 3200 W #A
Salt Lake City, UT 84119
United States
This store is huge, so you'll likely be able to find whatever you need. However, the majority of items are intended for hiking, skiing, mountaineering, camping, and other similar outdoor activities. But there is plenty of cycling gear available there as well. So if you're in the vicinity, definitely pay them a visit.
---
Backcountry Cycling Events And Community
The community is one of the best things about cycling. You get to hang out with like-minded people, meet new riders, and travel around the country exploring new areas and new trails.
That's what Backcountry cycling events are all about. They often organize group rides and trail rides on various beautiful mountains which gives trail-lovers a chance to be outside, have fun, and learn.
Some recent examples of cycling events you had a chance to attend include the "Backcountry x Grit Mountain Bike Clinics," "Stoke Series – Spider Mountain Downhill," or the "Competitive Cyclist + SKRATCH @ Sea Otter Classic."
All three of these are learning opportunities both for beginners and for seasoned riders. Backcountry events usually do not require any specific skill or knowledge level—everyone is invited! Through these events and workshops, you can get practical knowledge, interact with other riders, and return home a better rider than before.
---
Backcountry Gearheads
Gearheads are outdoor experts working at Backcountry that you can get in touch with and ask anything related to cycling and other outdoor activities. They are outdoor lovers who use the products sold in the shop and know everything about them.
You can give them a call any time you want and they'll likely solve any issues you have and answer any questions you might have about a bike you want to buy or any other cycling gear.
When you connect to a Backcountry Gearhead, that person will be completely dedicated to you. It's a highly personalized experience that you cannot get at many other online shops out there. If you want to try it out, give them a call: 855-720-5115.
---
Backcountry Cycling Learning Resources
If you prefer learning on your own, that's possible as well as you will see in this Backcountry review. By scrolling to the footer of the main page of Backcountry.com, you'll see a link to access "Learning Resources." This is a collection of awesome guides and how-to's neatly organized into different categories.
As you can expect, one of these categories belongs to bikes and cycling. Right now, there are almost 20 different guides that will help you go from a cycling beginner to a rider who knows a good deal about cycling and bikes.
Some of the topics in this section include:
Choosing Wheel Size
How to Clean Your Bike
How to Make Energy Gell
Packing for a Bike Tour
Bike Maintenance 101
And so many others! All of these guides are written in-depth, with all the necessary details included. Most of these guides also include comprehensive photos, which will help you learn faster and understand what's going on.
---
PROs & CONs of Backcountry
We've already written and learned a lot about Backcountry. Like any other shop out there, there are both good and bad things about it. If you're wondering what are some of the main reasons why you should and should not shop here, you can check the pros and cons below.
Backcountry Pros:
A massive inventory of bikes and cycling gear (more than 11,000 items).
Free shipping for orders above $50.
A well-equipped brick-and-mortar shop in Salt Lake City.
Frequent discounts on quality cycling gear.
Great sizing charts and bike fit guides.
Plenty of learning resources to improve your skills.
Frequent cycling events and activities.
Strong communities made of gearheads.
Fast and helpful customer service.
Backcountry Cons:
Some reported issues with poor packaging.
No entry-level bikes for low-budget cyclists.
Strong domination of mountain bikes over other types.
No option for in-store delivery.
---
People of Backcountry
If you start reading Backcountry reviews online posted by customers, you will realize that this online shop has a large community of loyal outdoor addicts.
For example, this Reddit thread is full of positive comments of customers who have experience with shopping on Backcountry.com. Most of the replies are good and claim that Backcountry is a legit website and a legit shop, as well as one of the biggest ones in the industry.
On Trustpilot, the impressions and reviews are a bit mixed. People either love Backcountry and have had a fantastic experience when shopping there, or they are not very satisfied.
Those with positive experiences mostly praise the shopping process, the customer support team, and the Backcountry Gearheads. On the other hand, those with negative reviews are mostly dissatisfied with shipping issues and the processing of orders. Most negative comments are answered by Backcountry officials, claiming that they will take further steps to solve the issue, which is encouraging.
All in all, it seems that there is nothing out of the ordinary when it comes to Backcountry and that you can feel free to renew your cycling inventory with some of the products they sell.
---
The Shopping Process
To take you through the entire shopping process and explain how everything is done, let's suppose that we're buying a Santa Cruz Megatower Carbon R bike.
On the bike's page, the first thing you need to do is choose the size and the color that you want from the drop menu. Of course, before that, you should make sure that you have chosen the right size, which we have already explained above.
After that, you can add the item to your cart and proceed with the order. This is where you can choose the shipping options. You can ship to your billing address or to a different address. Unfortunately, Backcountry does not ship to their store in Salt Lake City.
After that, just fill in your payment information and you're ready to go. Your bike should be at your doorstep in a matter of days.
---
Shipping
Backcountry offers free shipping on items that cost more than $50 in total. This applies to both the USA and international orders. In the USA, Backcountry ships for free to the 48 lower USA states (Alaska and Hawaii excluded). Internationally, they ship to a large number of countries, excluding the ones in the EU and EEA. If you are from the EU and you want to order something from Backcountry, you should visit their European partner bergfreunde.eu.
Unfortunately, free shipping is usually not available on bulky items such as bikes. However, on anything that is compact (such as apparel, components, gear, etc.), you will get free shipping.
Here is a quick guide to shipping fees depending on the price of your order:
Customer Service
Backcountry.com has a very good customer service team. They respond quickly and are pretty helpful. You can contact them by using the Live Chat feature, sending them an email, or by giving them a call.
The fastest option is to use the Live Chat feature, which will pop up on your screen when you load the front page. Alternately, you can always find it on the footer of the page.
We gave it a try asking a simple question of whether there are any cycling-related events and whether there will be any soon. As you can see from the screenshot below, we received an answer in a matter of minutes. Even though we did not get a concrete answer, we were referred to the right door on which we should knock, which was also quite helpful.
If you do not want to use the Live Chat for some reason or if you do not find it practical for your questions, give them a call here: 1-800-409-450.
---
Sale Section
Backcountry.com is a great place to shop and save money if you are patient enough to wait for your desired product to be on sale. They always have plenty of cycling items on sale, so there's always a chance that you will spend less money than you intended to.
You can find the discounted items easily as there is a dedicated "Sales" page. Moreover, you can browse the discounted goods by category, so you can have all cycling gear and bikes in one place. At the moment of writing this review, there were almost 3,700 cycling-related items at bargain prices.
The discounts go up to 90% on some smaller items and sometimes up to 50% and more on bikes and bigger, more expensive gear.
Moreover, if you refer your friends and they purchase something, they will get a $10 discount and so will you!
---
FAQ
Yes, Backcountry is 100% legit. This online outdoor goods retailer has been around since 1996. They have lots of positive reviews online and are one of the biggest online shops in the outdoor industry.
Is Backcountry owned by REI?
No, it isn't. Backcountry is owned by TSG Consumer Partners.
Is Backcountry gear legit?
Backcountry.com sells original gear made by the biggest brands in the industry. The gear is high-quality and durable. In case you are not satisfied with any product bought from Backcountry, you can return at any time (if unused) or within 30 days (if used) for a full refund.
Where does Backcountry ship?
Backcountry ships to all 50 United States and to a large number of other countries in the world.
How does Backcountry prevent fraud?
In order to prevent fraud, Backcountry will verify that the billing address, phone number, and email you've provided match the information the bank has associated with the form of payment you're using. One of their Order Analysts may contact you if they can't verify this information.
---
Verdict

What else can we say about Backcountry that we haven't already? We've gone through the good, the bad, and the awesome. But let's try to reiterate the most important points and give you our final verdict on this online retailer.
Is Backcountry.com a good shopping option for cyclists who want to buy bikes and gear?
Most certainly yes. They have a long tradition and lots of experience, so you can feel free to shop and be certain that you and your money will be treated well. You can find something for yourself no matter if you are a cycling beginner or a pro.
We especially like and respect the Gearhead team at Backcountry. They are very helpful and useful for anyone who is not sure about which bike to choose or which gear to go for. Moreover, the frequent cycling events are mingling and a learning opportunity even for the pros.
Other reasons why we believe you should use Backcountry for your cycling purchase is the free 2-day shipping for >$50 orders, international shipping, and a vast selection of cycling products. What else can you ask for?