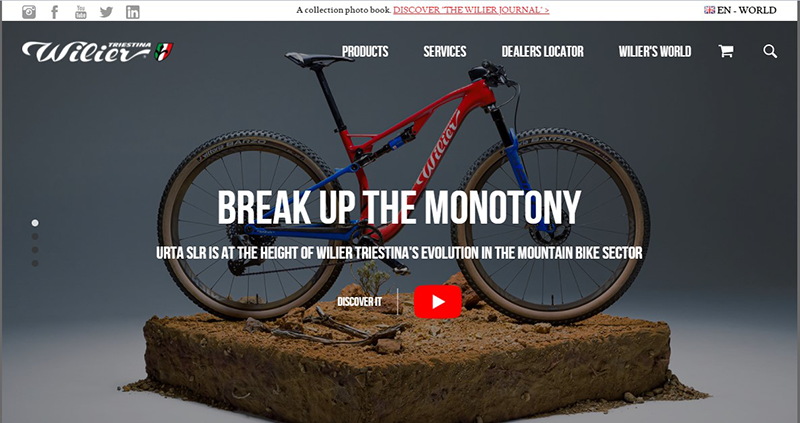 Wilier Bikes was founded in 1906 by Pietro Dal Molin in Bassano del Grappa, Italy. A former trader, Dal Molin began forging steel bicycles in his workshop, situated atop the riverbank of the river Brenta.
After growing in popularity and then facing the rise of motorcycles along with the economic crisis of the Second World War, Wilier bicycles rebranded itself as Wilier Triestina. The brand became known for its exquisitely produced red bicycles and soon found its feet again after the hardships of the war.
Wilier is represented across five continents, including Wilier bikes USA.
Wilier has long been involved in providing bikes for professional riders at the top of the sport. This includes the current WorldTour team Astana Premier-Tech. They have access to Wilier's Filante SLR aero bike and the lightweight all-rounder Zero SLR, which they use with Shimano groupsets and Corima wheelsets.
The name Wilier is an acronym that originates from the Italian phrase
'Long live Italy, liberated and redeemed'.
This pairs well with the brand's mission to create bikes with heritage, and those that are full of Italian heritage.
Where are Wilier bikes made?
Staying true to their origins, Wilier bikes are still assembled in Italy to this day. The factory lies within northern Italy, an area some call the cycling heartland of the country, as it is also home to other Italian cycling brands such as Pinarello and Campagnolo.
Production of the frames is in the Far East, but the design and assembly of the bikes are all done in-house in their Italian factory.
---
Table of Contents
5. FAQs
---
Wilier Road Bikes
Filante
Wilier 0
Cento
Superleggera
GTR Team
The Wilier road bike collection consists of several bikes, including but not restricted to; the Filante, Wilier 0 SLR, Cento, Superleggera, and the GTR Team.
Road bikes were the first types of bikes Wilier produced back in the early 1900s, and they are renowned for their incredible craftsmanship and design. The brand also continues to rely on research and development to push its bikes to the next level. The Astana Premier-Tech WorldTour road cycling team ride on Wilier bikes, using the Filante SLR aero bike and the lightweight Zero SLR.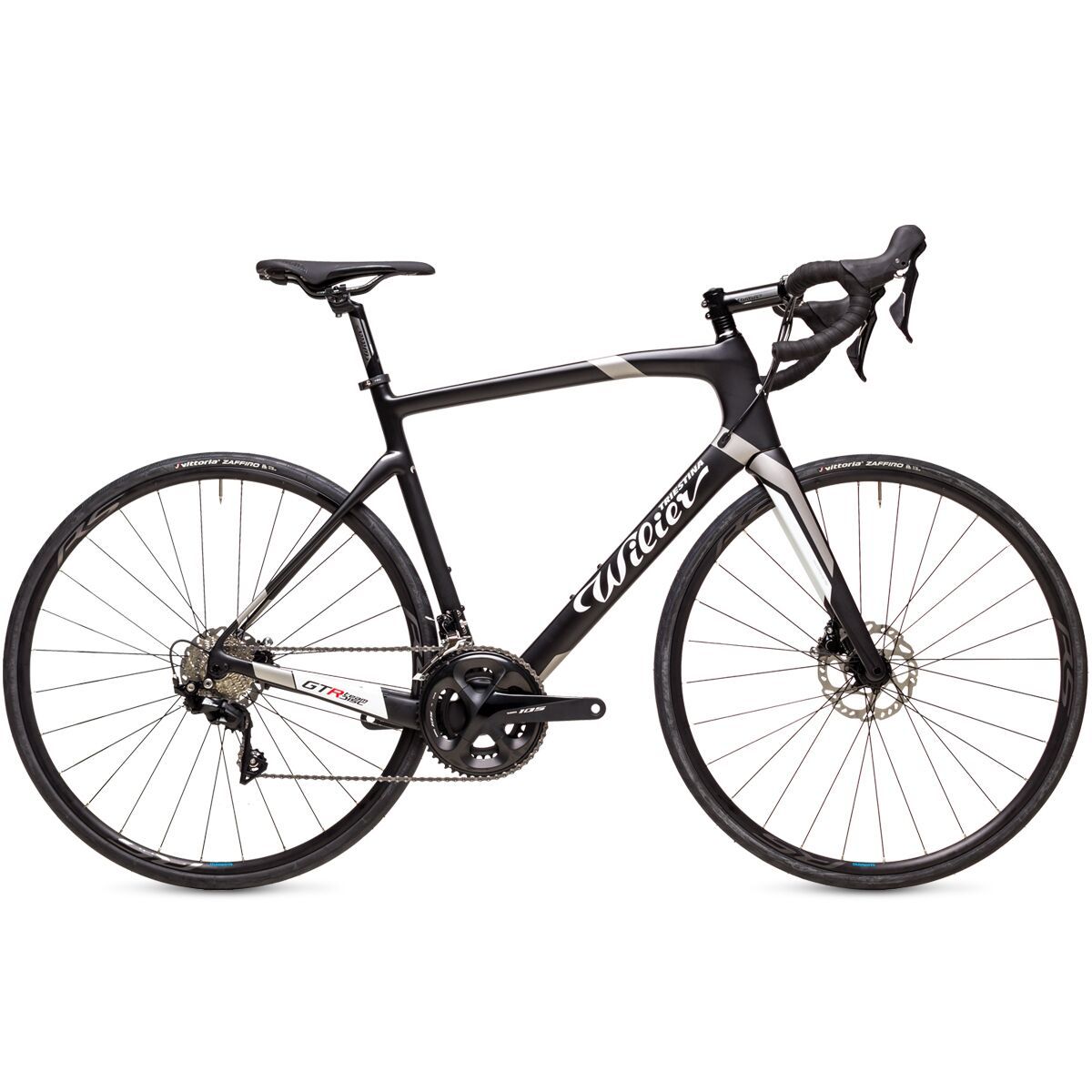 Wilier endurance road bikes include the Cento models, the Superleggera, and the GTR Team variants. Endurance models usually have a more upright geometry which promotes comfort during longer rides. Wilier has a range to suit everyone from the commuter to the racer in their endurance selection. Prices start at 1,020€ (roughly $1,240).
The production of Wilier women's road bikes is no longer ongoing. As the industry looks to build bikes based on height and ride style rather than gender-specific bikes, the brand produced women's bikes until a few years ago. As of now, Wilier Triestina focuses solely on unisex framed bikes with a wider range of sizes to suit more riders.
Overall, the Wilier Triestina road bikes are fantastically capable bikes with a race-winning pedigree up to WorldTour level. If you're looking for a race bike or even a leisure or endurance bike, they are a great brand to have a look at.
Wilier Road Bikes Sizing Chart
What Size Wilier Bike Do I Need?
Wilier has a very clever tool for determining your optimum bike size. Situated on each bike's page on their website, the tool allows you to input data such as height and leg length for the algorithm to determine which size bike would suit your needs best. See below for an example. You can also download a detailed 'Accu-fit' table to help you decide.
---
Wilier Mountain Bikes
Wilier produces a large number of mountain bikes, split into racing, endurance, and leisure categories, including but not limited to, the Urta, 110FX, 110, and the 101X.
The Italian brand manufactures all kinds of mountain bikes including hardtails, e-MTBs, and full-suspension rigs. The Urta SLR is the brand's cross-country racing machine, and prices start from 5,400€ (roughly $6,550). There are several versions of the bike allowing you to pick and choose your groupset and components. Although, all variations come with an integrated monocoque handlebar and a monocoque carbon fiber frame.
The 101X is a lightweight hardtail designed for cross-country racing. A bike destined to be raced, it is stable on the descents and incredibly agile on the climbs. Prices start from 1,750€ (roughly $2,100) and you can choose your groupset level. There are many positive Wilier 101X mountain bike reviews, including this one from BikeRadar, who agreed it provides an incredibly stable ride.
Wilier is the title sponsor of the Wilier 7C Force Squadra Corse mountain bike team, and they have had several seasons of success on the Wilier Triestina bikes. They compete across stage races, cross-country, and mountain bike marathons across the globe, and you can find out more about them here.
Although Wilier Triestina is not as well-known for their mountain bikes, the success of their team suggests the bikes are race worth in cross-country and marathon mountain biking.
---
Wilier Triathlon Bikes
The only Wilier tri bike in the Italian brand's stable is the Turbine.
Therefore, the Wilier Triestina TT bike is engineered for speed. Furthermore, the bike was built on four guiding principles for developing a winning TT/tri bike. Braking efficiency, ease of transportation, aerodynamics, and position adjustability for the rider.
Triathlon bikes are a relatively modern innovation in cycling, arriving on the scene late in the 1980s when Ralph ...
The Wilier time trial bike is available in a choice of four colorways, including Cromovolato light blue, Black/Red, Black/Yellow, and Astana Pro Team replica. It's the same bike the WorldTour road cycling team Astana Premier-Tech uses as well as their sponsored triathletes Amelia Rose Watkinson and Andreas Dreitz.
Prices start from 7,600€ (roughly $9,250) but of course, you can tailor your purchase to create your dream bike, with different groupset and component options to suit.
---
Wilier Gravel Bikes
In terms of gravel bikes, Wilier Triestina now produces a small collection of gravel bikes, each with different frame compositions.
The Jena is their carbon fiber racing machine. The Jaroon is the brand's steel-framed gravel bicycle, and the Wilier Jareen gravel bike is constructed from aluminum. Each has its benefits and drawbacks, but the main differences between the three bikes are their frame materials.
Built to defy expectations of a gravel bike, and to become a do-it-all bike that can handle anything from singletrack to bikepacking, the Wilier Jena is a carbon fiber framed wonder bike.
With race-geometry but without compromising on comfort, the Jena is the perfect partner for your next gravel race as much as it is your next bikepacking trip. It's available in a choice of five colorways, and prices start from 3,000€ (roughly $3,650).
The Jaroon and Jareen are the two endurance-based gravel bikes from Wilier Triestina. They are built with comfort in mind but do not compromise on speed or agility.
Wide tire clearances of up to 42mm allow for extra grip on the trails. And the carbon monocoque forks mean it will soak up any of the road buzz and vibrations.
They are both available in three different colorways, and prices begin from 2,250€ (roughly $2,750) for the Jaroon and MSRP $1,500€ (roughly $1,820) for the Jareen.
---
Wilier Accessories
Wilier Triestina also sells plenty of accessories, including apparel for on and off-the-bike, clothing accessories, and equipment.
The clothing they sell includes things like Astana Premier-Tech replica jerseys and plenty of Wilier branded cycling kits. This is great if you want to match your bike!
In addition, the online shop also sells clothing accessories which include things like helmets, socks, gloves, and arm/leg warmers. Again, these are great for supporting the brand without buying a bike.
Finally, the Italian company sells Wilier bike parts and equipment. This includes wheels, brake pads and discs, frame bags, cycling computers, and anything else you might need to get started on your cycling journey.
FAQ
---
Are Wilier bikes any good?
Wilier Triestina is well-renowned for its quality bicycles across the globe. This is partly due to their Italian heritage, but also the quality of the builds and brand history. It makes premium race bikes which is reflected in the price and quality.
Is there a Wilier CX bike?
Although there isn't a specific Wilier cyclocross bike, any of the gravel bikes would make decent cyclocross machines if you use the correct tire width.
The Jena is the obvious choice due to its lightweight frame composition, although the Jareen is also a great starting point for those on a budget.
What about the Wilier fat bike?
Currently, Wilier does not produce a fat bike. Although, this could change year on year as their catalog alters. For example, in 2016 they produced a fat bike called the FT 305.
Is there a Wilier track bike?
Similar to fat bikes, Wilier does not currently manufacture a track bike. The brand used to make one called the Track Pista, but it is no longer in production and would be very difficult to find elsewhere.
Are there any Wilier hybrid bikes?
There is one specific hybrid bike, the Triestina hybrid. This is a flat bar e-bike that Wilier has positioned as a commuter bike.
Where to buy second-hand Wilier bikes?
If you can't afford the expense of a brand new bike, then buying second-hand is a great option. Places like eBay and Facebook marketplace are great places to start. Just make sure that you go in knowing what you want and stick to a budget.
Wilier bike dealers
You can find Wilier bikes for sale across the globe – directly from their website or authorized dealers. There is a tool on the Wilier website for you to find your closest dealer.