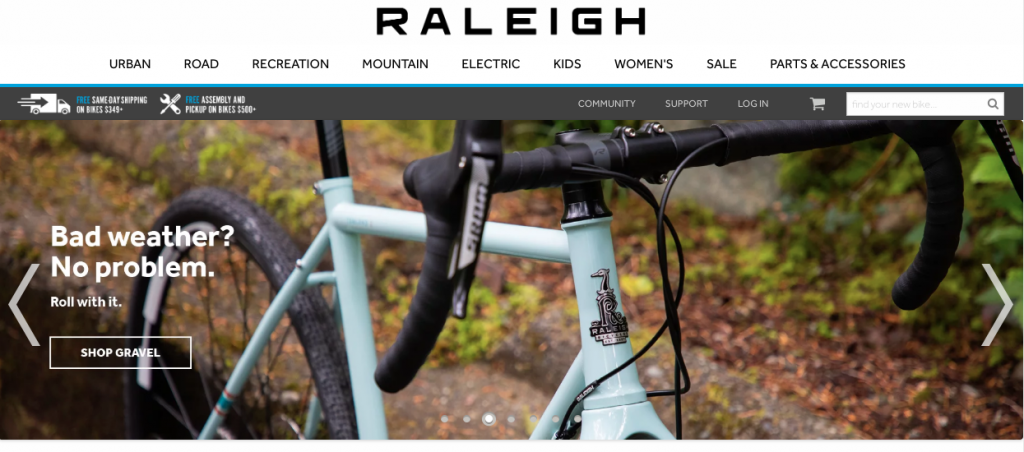 Raleigh Bikes Company is one of the pacesetters in the biking community. They chose to name the company after a famous street in the United Kingdom known as Raleigh Street.
Woodhead and Angois were the founding fathers of this company back in 1885. Many modern-day folks are likely to find it unbelievable that riding a bike at that time was considered a luxury.
Raleigh Bikes History
The founding fathers of Raleigh bikes were Richard Morris Woodhead and Paul Eugene Angois in 1885. It started off as a small bike shop in Raleigh Street. They decided to name it after the street since it was already part of their lives. They came up with the idea of producing bikes after discovering that there was a growing need for bikes.
It started off as a limited liability company under the management of Frank Bowden in 1888. By 1889, they had already registered it as a Private limited company. Before other companies were created, it enjoyed a great moment of monopoly by supplying bikes and other accessories across the globe by 1913.
They used the local press as their main marketing tool. In 1885, they approached the leading editor for Nottinghamshire Guardian to market their names under a secluded advertisement. They managed to secure their own column in this newspaper using a banner 'Woodhead, Angois and Ellis'.
The inclusion of Michael Ellis was because he had joined the business as a 'silent partner' thanks to his financial contributions.
From 1921 to 1935, it became necessary for Raleigh to construct motorbikes and tricycles and this led to the formation of Reliant Company. A Dutch corporation acquired its division and has been overseeing most of its activities since then. It chose Nottingham, the UK has its main headquarters. Raleigh earned an award in one of the Great British Design Quest owing to its enormous contributions to the biking community.
Even though demand for bikes in the mid-50s greatly increased, people started to prefer motorcars bikes. This did not deter them from increasing their production by 1979. In fact, they attained the mark of producing up to 10,000 bikes each year.
World War 2 may have slowed down on their production because their workshops set the ground for the production of military ammunition. Slowly, they adjusted their schedules by acquiring another shop at Russell Street. With 6 employees, they managed to sell at least 3 bikes per week.
Once again, Bowden replaced Ellis as a silent partner.
With time, he secured a good name for the business by increasing its production. His contribution to the biking industry was recognized all around the world. His death in 1921 did not hinder the progress of the company but he is still fondly missed. Following his demise, his sons, Sir Harold and Baronet, took over the business.
Reliability Above All
For a long time, Raleigh has been at the forefront of promoting bike sports. It created the TI Raleigh team that reigned between the 1970s and 1980s. By then, Joop Zoetemelk had already won the Tour de France proudly riding on a Raleigh bike. This resulted in a co-sponsorship agreement with Panasonic. It has also donated bikes to French teams.
At Raleigh, they take pride in conducting quality assurance measures to ensure the bikes are in good shape. They will inspect everything from the frame alignment, wheels, brakes, and gears. All the accessories are correctly fitted to prevent any damages from occurring.
Since it is already partially assembled, customers can finish up the process if they have the technical ability. This will not cost you anything. The consumer can avoid the potentially mind-boggling assembly process by purchasing an already assembled bike from Amazon. Alternatively, they can take the bike to a bike shop so that it can be assembled by a mechanic who normally charges a small fee.
Raleigh Models Range

As a very old bicycle company, Raleigh managed to construct various types of bikes, including urban, road, adventure, mountain, electric, and more.
Continue reading below to find out more about the individual categories and model families.
Raleigh Electric Bikes
Raleigh stocks a wide range of electric bicycles, including cruisers, mountain bikes, road bikes, and hybrids. The prices are quite affordable, with the cheapest Raleigh e-bikes costing only $1,700, which is comparable to the market average. Raleigh uses a combination of midrange and high-quality components on their bikes, including Shimano drivetrains, Alex rims, Kenda tires, and SR Suntour forks. The bikes will appeal to cyclists who want an easy commute to work or to enjoy recreational weekend rides.
Raleigh Detour IE
MSRP $2,400
The Raleigh Detour IE is one of Raleigh's best electric commuter bikes, built for zipping along city roads and cutting across parks. It has an SR Suntour front suspension fork for eating up potholes and Kenda K Guard puncture-resistant tires for any sharp debris in the street.
The Detour IE is powered by a 40Nm Bosch Active Line motor and 400Wh Bosch PowerPack battery which lasts up to 50 miles (80km). A Shimano Altus drivetrain provides 7 gears to keep you moving along when the battery gets low and Tektro hydraulic disc brakes will ensure you stop quickly in any weather.
---
RetroGlide 2.0 IE
MSRP $2,150
The Retroglide is a stylish 26″ cruiser bike with a relaxed seating position for easy riding along the beachfront.
The thick treaded Kenda 2.3″ tires mean you'll be able to cruise along hard sand, dirt track, or gravel roads with no trouble. The 250W Bosch Active Line motor provides up to 42 miles (68km) of assisted cycling at a maximum of 20mph. For a bit of extra push, the Shimano Tourney groupset provides a range of seven gears so you can get around town easily. The lower-quality gears and mechanical disc brakes mean the RetroGlide is a noticeable step-down from Raleigh's higher priced models. However, it means its more affordable and still offers good value for money.
---
Misceo IE
MSRP $1,800
The Misceo IE is one of Raleigh's most affordable e-bikes and one of few electronic bikes you'll find under $2,000. It's a standard hybrid-style commuter bike with a comfortable upright position and a rear rack for luggage.
The bike is powered by an SR Suntour motor in the rear hub powered by a 410Wh battery that gives a huge 62 mile (100km) range. Add to that a decent 8-speed Shimano Altus drivetrain with Tektro hydraulic disc brakes and you have a top-quality e-bike at a low cost. The Misceo IE even has a front suspension fork plus large 45mm tires, so you get a very comfortable ride over almost any terrain. Lights, fenders, and rear rack are all included.
---
Special IE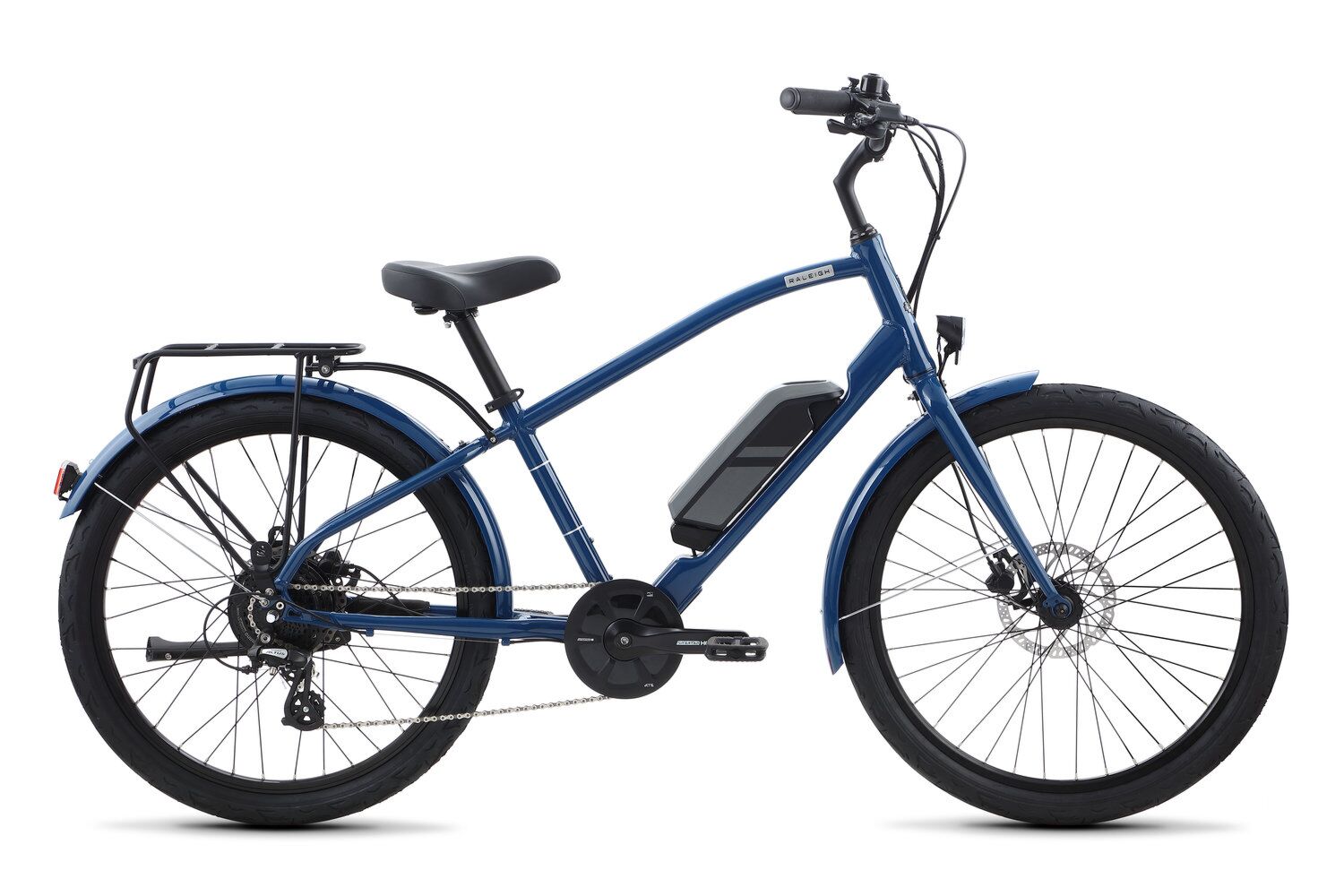 MSRP $1,700
At only $1,700, the Special IE is one of Raleigh's lowest-priced e-bikes along with the TalusIE.
The Special IE is Raleigh's more affordable electric cruiser bike despite having a better 8-speed Altus drivetrain and hydraulic disc brakes. However, they decided to go with the SR Suntour rear hub motor here, powered by its long-range 410Wh battery that will take you 62 miles (100km). Considering the Special IE comes fully equipped with fenders, lights, kickstand and rear rack it's surprisingly affordable.
---
RetroGlide Royale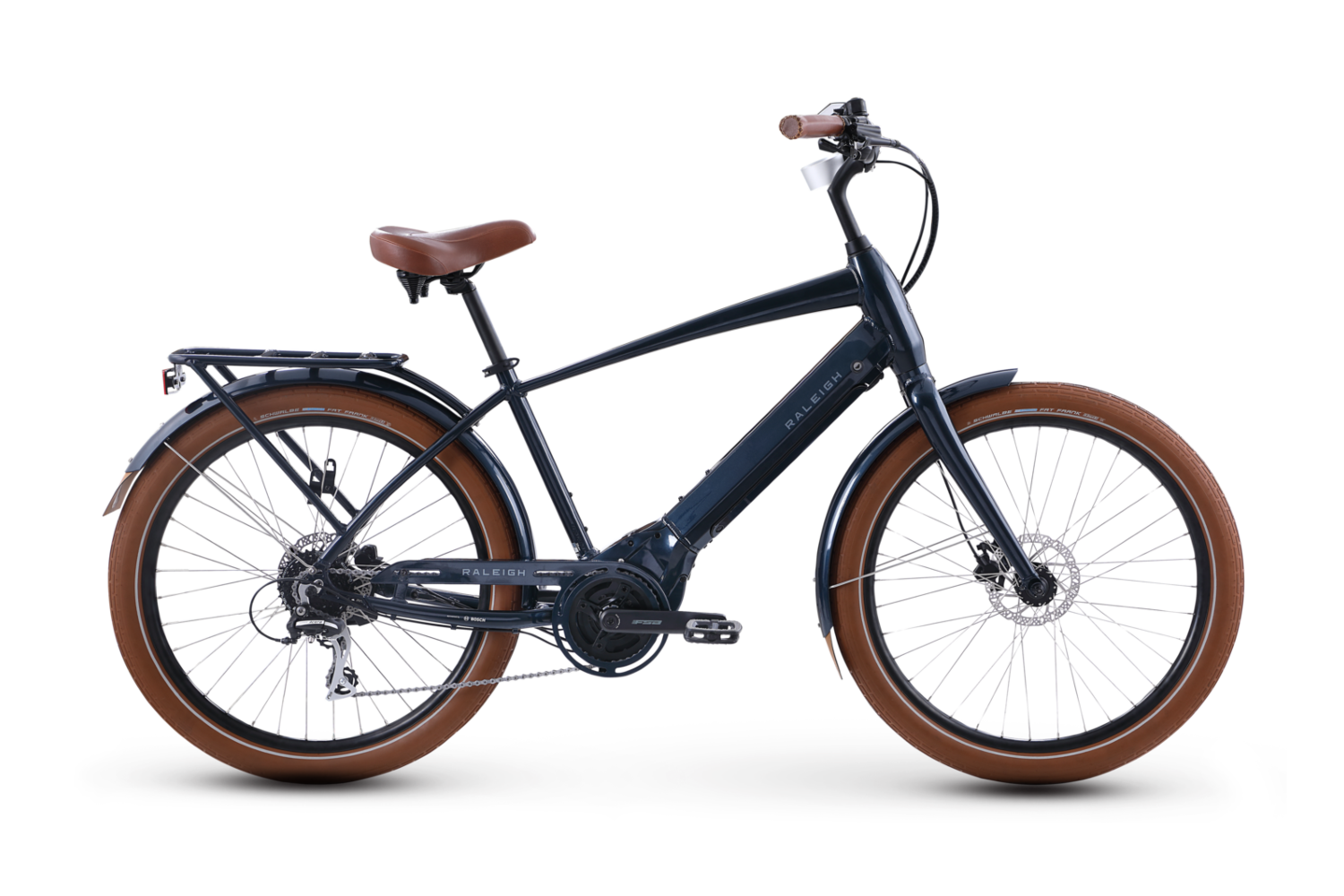 MSRP $2,650
Raleigh's RetroGlide Royale is the leader in its e-bike range, coming fully equipped with all the bells and whistles. It offers a leisurely, laidback riding position for cruising down the boardwalk or through town.
The Royale uses a 50Nm Bosch 250W Active Line engine powered by a 500Wh battery that gives 53 miles (85km) of range at 20mph. For gearing, Raleigh went with the upgraded Shimano Acera 8-speed groupset with Tektro hydraulic disc brakes and Schwalbe Fat Frank tires. It's a strong collection of high-quality components that can't be faulted but unfortunately, it means the Retroglide Royale is only for those with big budgets.
---
Venture IE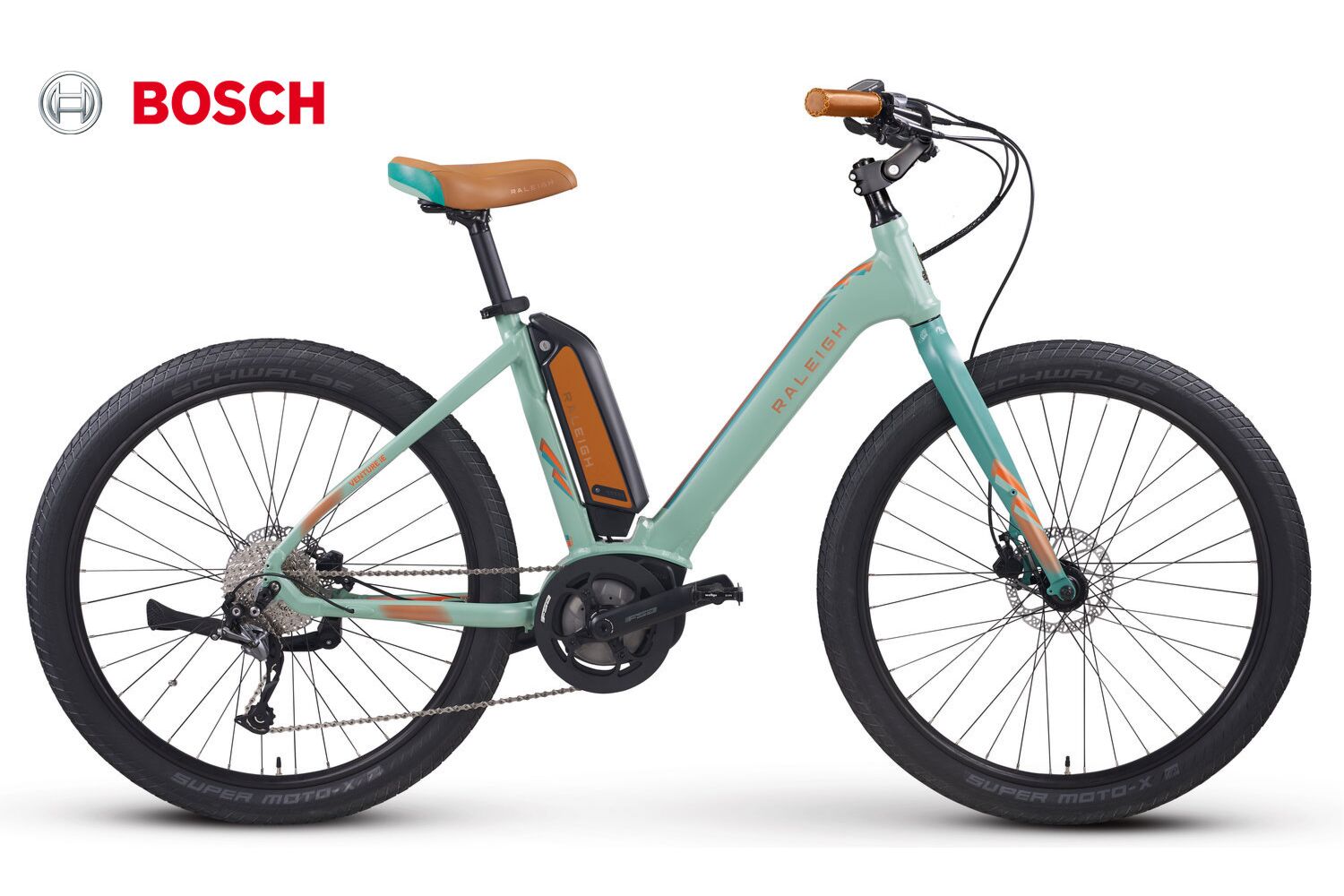 MSRP $2,499
The Venture is a first-class commuter e-bike from Raleigh with some impressive specs.
The lightweight alloy frame is fitted with a 250W Bosch Active Line motor and 400Wh powerpack, assisted by a Shimano Alivio groupset and Tektro hydraulic disc brakes. Raleigh has decided to mix it up a bit, putting mid-size 27.5″ wheels on the Venture with thick 2.4″ Schwalbe tires. It's a good-looking bike that feels great but with only a 42-mile range, it doesn't go as far as most other e-bikes.
---
Redux IE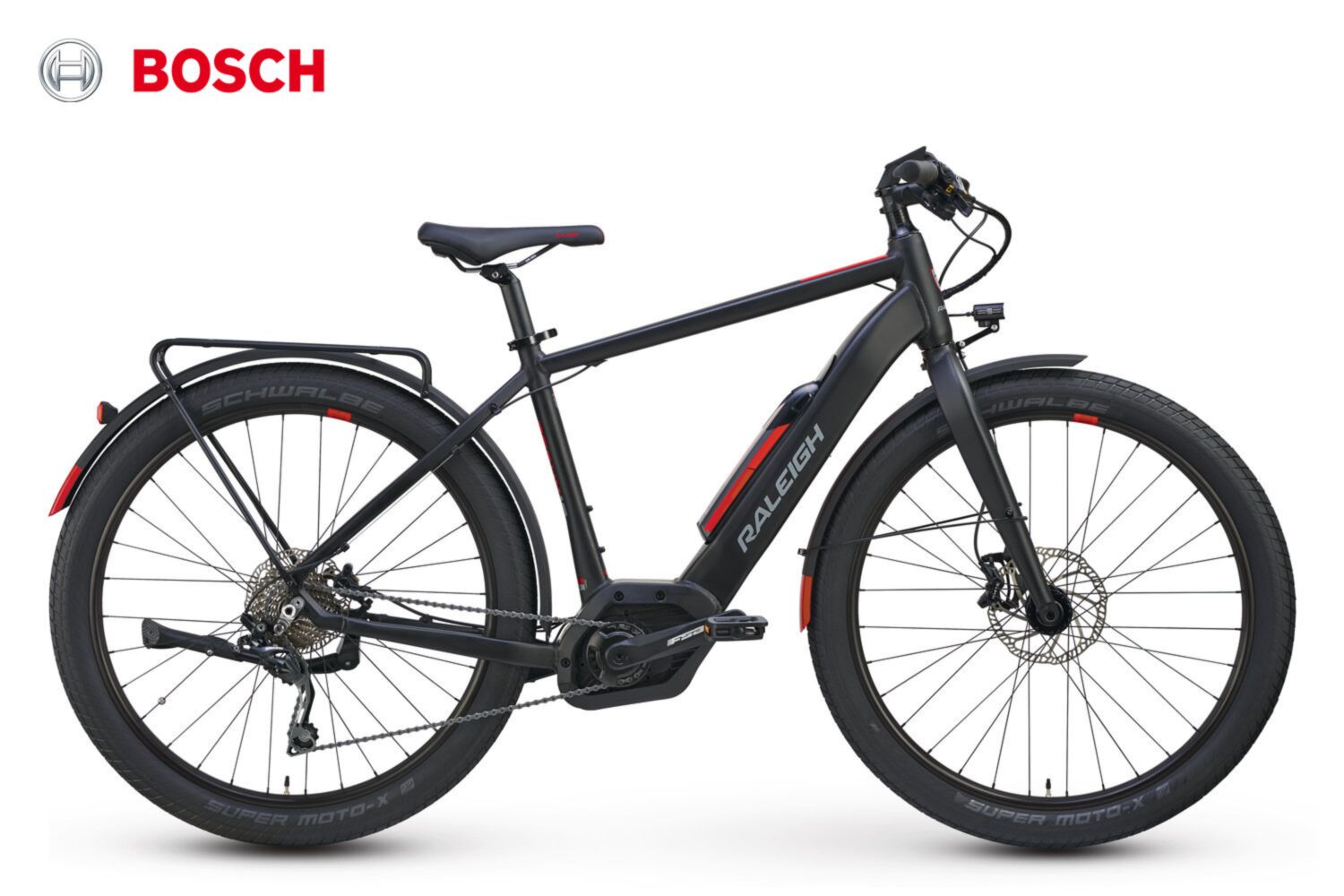 MSRP $3,499
The Redux IE is a powerful electric bike with some MTB features to make it more off-road ready.
The huge 350W motor is clearly designed to provide high power and is supported by a 500Wh battery that will take you up to 65 miles (104km) on one charge. With lights, fenders, and a rear rack included, the Redux IE would make a great electric touring bike. It has thick Schwalbe tires, hydro disc brakes, and a top-quality Shimano Deore 10-speed gearset. Surprisingly, the Redux lacks front suspension – an addition that would have made it mountain-ready.
---
Talus IE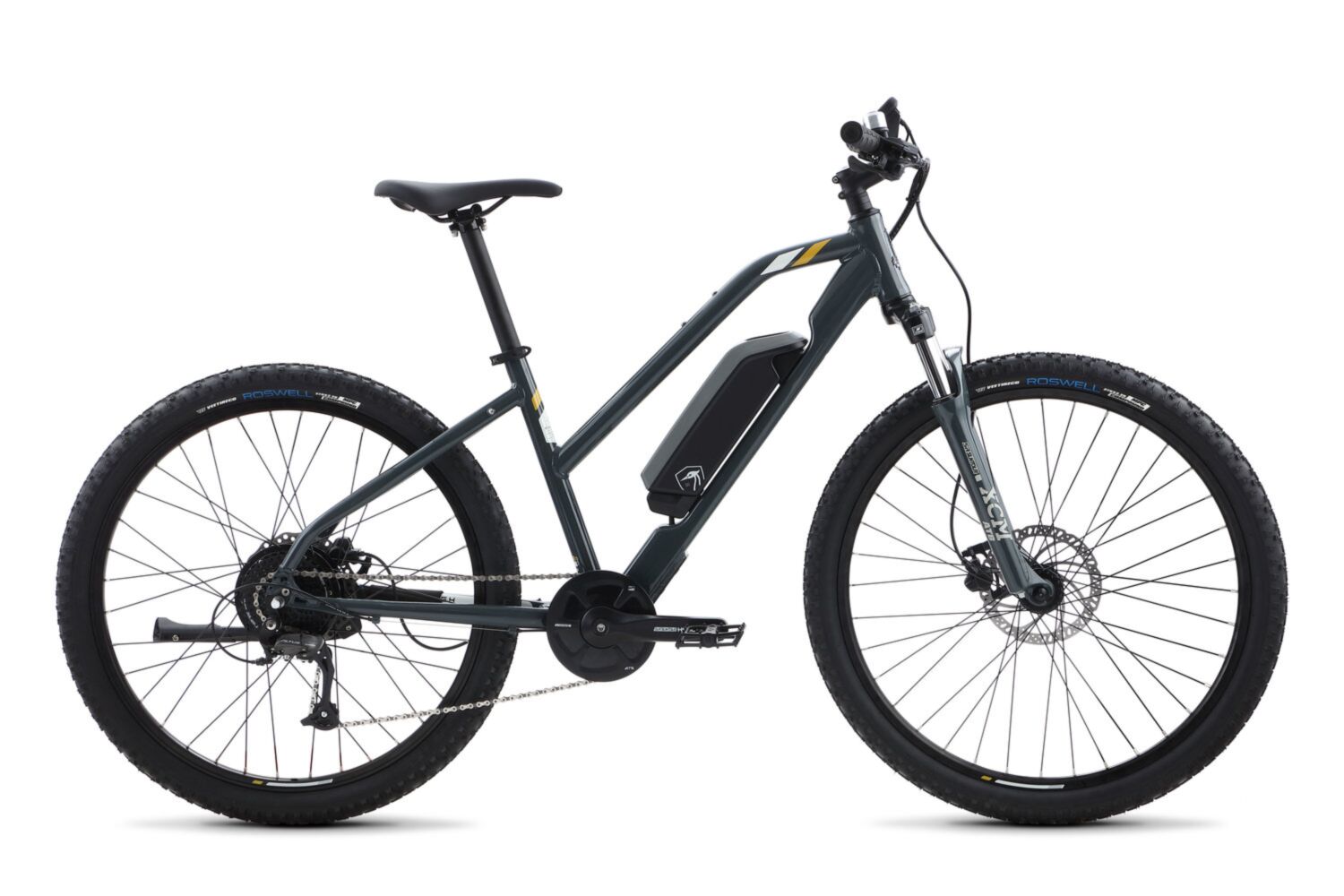 MSRP $1,700
The Talus IE is an electric trail bike designed for tackling various off-road conditions like gravel, dirt, and single-track.
It uses 27.5″ wheels with wide 2.25″ tires to handle sketchy surfaces, plus an SR Suntour 80mm front suspension fork to eat up any bumps and vibrations. An SR Suntour E25 Performance rear hub provides 60Nm of torque and can go up to 62 miles (100km) on a single charge of the 410Wh battery. It's supported by a set of 9-speed Shimano Altus gears and Tektro hydraulic disc brakes. For an electric trail bike, the Talus IE has some high-quality parts and offers good value for money but the alloy frame is a bit heavy for off-road.
---
Sprite IE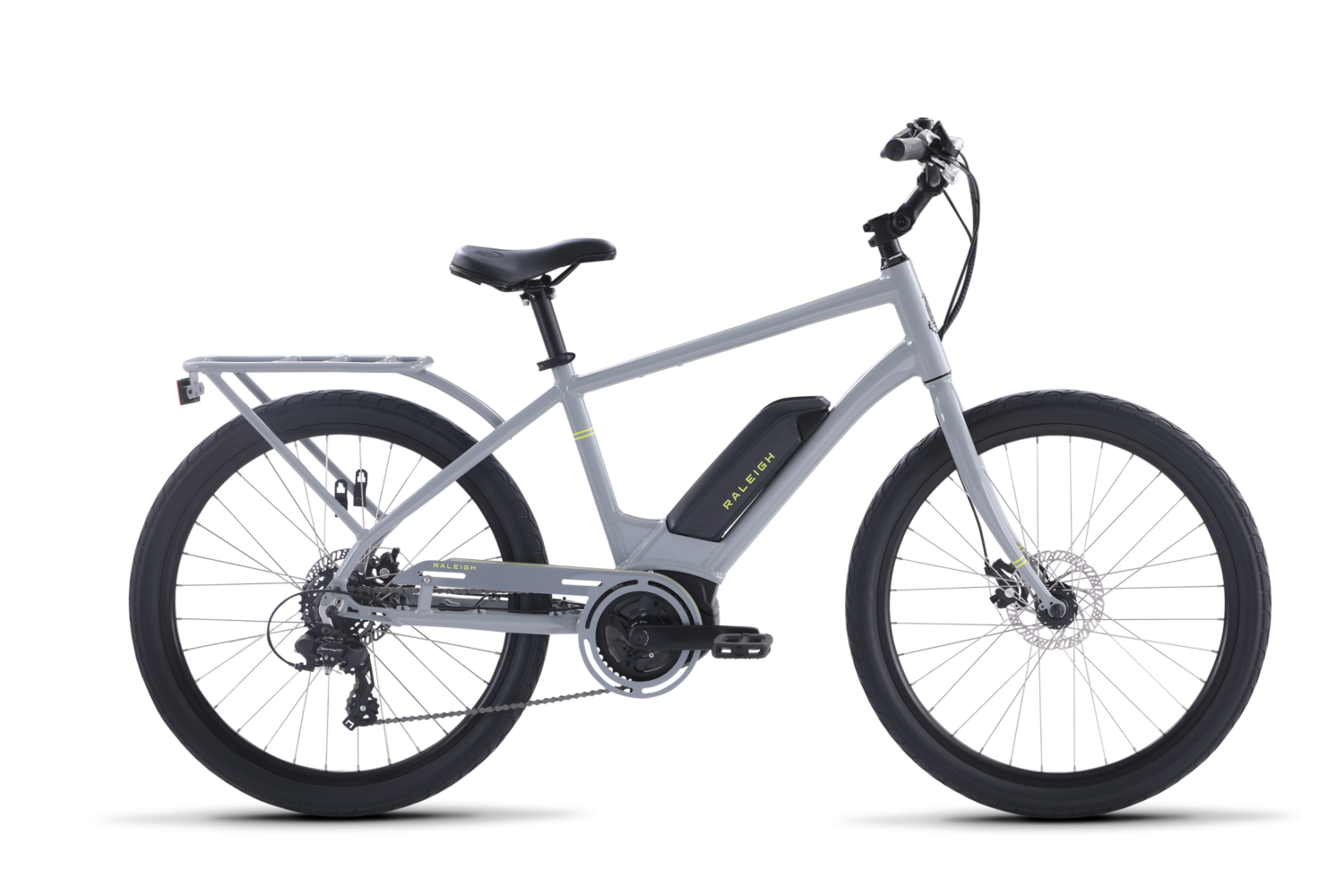 MSRP $2,150
The Sprite IE is a decent mid-priced commuter bike powered by the 40Nm Bosch Active Line motor and 400Wh PowerPack.'
It has a comfortable upright seating position and comes equipped with a rear luggage rack, making it ideal for daily commutes or trips to the shops. It uses a solid fork with mechanical disc brakes and smooth-rolling 26″ wheels. Gearing is provided by a 7-speed Shimano HG-200 cogset and TX-800 derailleur, which is sufficient. Although this is a road-specific bike, a front suspension fork would have been a nice addition for those pesky potholes or bumps.
---
Tristar IE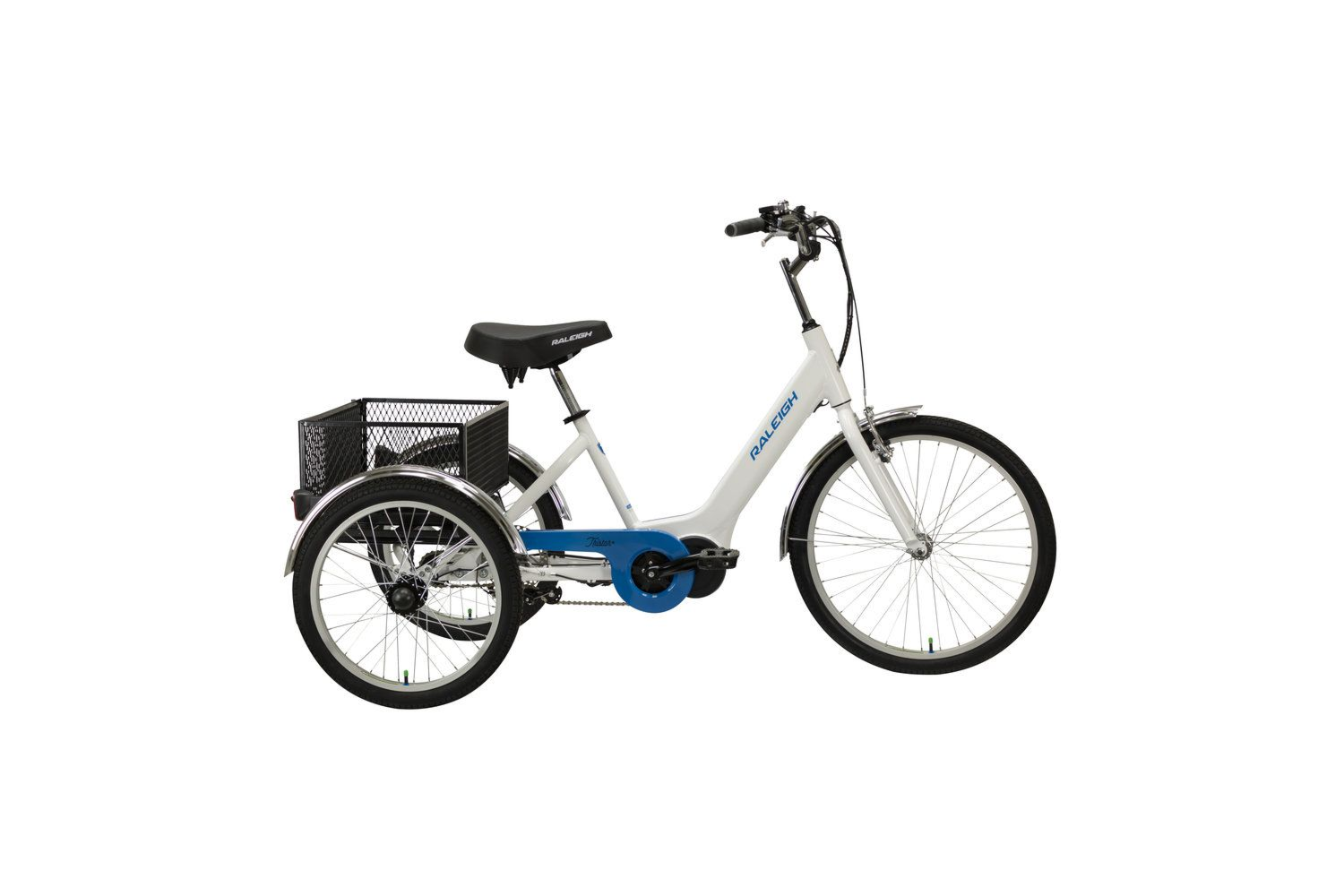 MSRP $2,900
Raleigh's Tristar IE is an electric delivery trike, with two rear wheels supporting a large basket.
It's ideal for any business collecting market produce, conducting big shopping trips, or doing deliveries around town. It's powered by a 350W TranzX M16 motor and 417W battery that will go 30 miles (48km) on one charge. However, if the battery dies you only get 3 speeds to choose from on the Sturmey Archer drivetrain, so don't get stuck on a hill with a heavy load! The mechanical disc brakes and other various finishing parts are of decent quality for the price.
---
Raleigh Mountain Bikes
Raleigh's MTBs are designed to complement your riding style. They execute both downhill and trail tasks for every rider.
They are tough, light, and come with very strong frames. Also, they can be ridden on dirty, rocky, bumpy, and other harsher terrains.
They include Talus ($329), Talus 2 ($379), Skan Sport ($1,799), Tekoa Comp ($1,000) and Ziva Comp ($1,000).
---
Road Bikes by Raleigh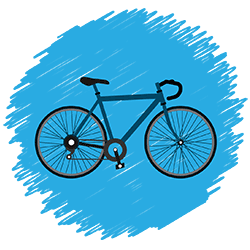 Raleigh road bikes have become the pacesetters for the biking industry today. They owe their respect to pavements and their classic style has not changed one bit. The company has maintained the use of aluminum and carbon to create frames.
They include; Grand Sport for $999, Grand Prix for $2,199, Grand Vitesse at $2,199, Record Ace at $1,199 and Super Course for $899.99. The priciest bike under this category is known as Roker Sport which goes for $2,299.99.
---
Where to Buy Raleigh Bikes?