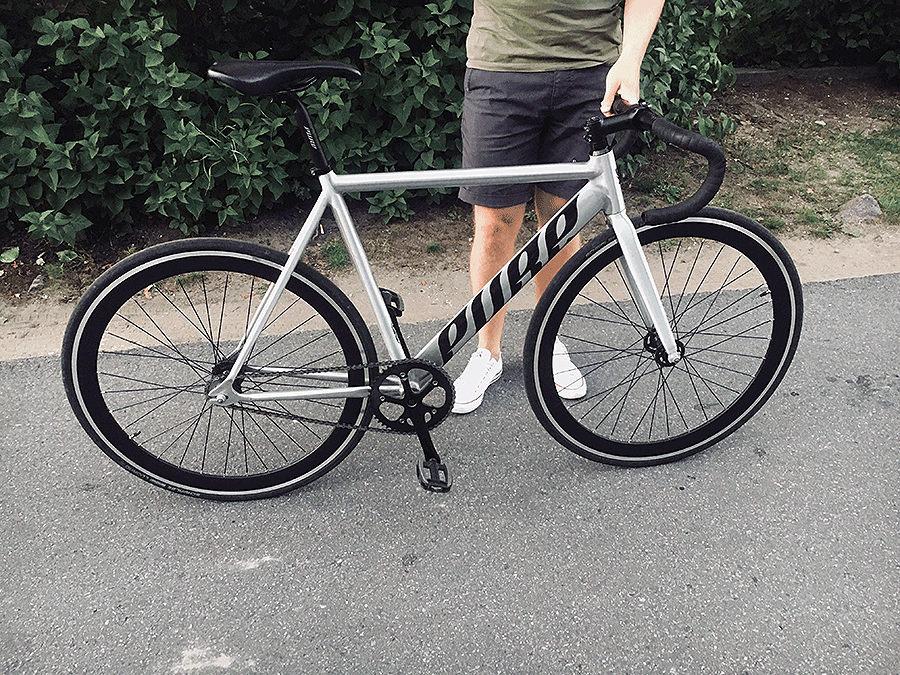 Pure Cycles, also known as Pure Fix bikes was launched by two Californian students as a way to address a gap in the campus cycling market.
They hoped to make a bike that was simple, affordable and appealed to students who needed to get around town.
Originally called Pure Fix Cycles, the brand focused on the fixed-wheel track bike design that found popularity in the US after 2000. Since then, the company has grown to become an international supplier of high-quality, purpose-built bikes that cover a range of styles.
Range of bikes
The Pure Cycles range covers various forms of city cycling from fixies, coasters, commuters, e-bikes, and road bikes. It serves:
Track cyclists
Racers
Bike messengers
Work commuters
Recreational riders
..but doesn't include any MTB or off-road disciplines.
Most of their bikes are aimed at the student market and they try to keep prices under $500, although they do offer two higher-quality road bikes between $1,000 and $1,500.
---
Pure Cycles – Urban Commuter bike
MSRP: $499
The Pure Cycles Urban Commuter is the perfect vehicle for zipping around town, grabbing some groceries, or getting to work and back. It has mount points to attach a rack on the back so you'll be able to carry small loads for collections, deliveries, or a change of clothes.
The 8-speed SRAM A1 drivetrain freewheels on the flats and provides more than enough gears for the rolling hills of LA or San Francisco. The WTB Slick tires give maximum road contact and Tektro disc brakes provide quick stopping power.
This is a great bike if you plan to do more than just get from A to B. It'll get you out and about on the weekends, visiting nearby sites and seeing more of your cities surrounding nature.
---
Pure Cycles – Original
MSRP: $399
This is the bike that started it all, the original Pure Cycles steel-framed fixie. Built-in the style of a traditional fixed-gear track bike, with minimal parts and only a single front pivot brake. It features a 44T crank and 15T fixed rear cog or 16T freewheel cog.
The wheelset is made up of Pure Cycles' own alloy 40mm Deep-Dish rims with a flip-flop hub and 28mm WTB Thickslick tires. This is the perfect low-maintenance bike for zipping around campus, meeting up with friends, or just having fun.
---
Pure Cycles – Prestige Road Bike
MSRP: $1,499
The Prestige is Pure Cycle's top-shelf road bike, with all the bells and whistles of a serious road race contender. The Chromoly steel frame is punctuated by a lightweight carbon fork to ensure strength and comfort over long distances.
Pure Cycles have chosen the top-quality Shimano Ultegra groupset to provide excellent braking and a wide range of gears for hill climbing or flat-out charging.
The lightweight Mercury S2C alloy rims are wrapped in easy rolling 700x32C Hutchinson Epsilon tires. To complete the package, the Prestige has 3T road-style ergonomic dropbars, a high-class Fizik saddle, and FSA fittings.
---
Pure Cycles – Pro Road Bike
MSRP: $999
This toned-down road bike has slightly fewer features than the Prestige but still offers value for money considering the parts. It comes with a Tange 2 Chromoly frame and fork and is packed with top quality FSA components on the headset, crank, and BB.
For gearing and levers, Pure Cycles have gone with Shimano's popular 105 drivetrains which is supported by Promax disc brakes. The wheelset features the Mercury S2C alloy rims with 700x28c Hutchinson Fusion 5 tires.
This is an excellent road bike for exploring the city or countryside on long weekend rides or semi-competitive sportives.
---
Pure Cycles – Pure City Step-Through – 3sp
MSRP: $499
This convenient step-through commuter bike adopts a classic vintage feel for those cyclists with a penchant for the old days. Cruise around town in style with the City Step-through's sweeping curves and tan leather saddle and grips.
The frame is built from hi-tensile steel for extra strength and uses a Shimano Nexus internal gear hub to provide three different speeds.
It comes in two different sizes, with either 26″ or 29″ wheels, each with 35mm tires for comfortable, smooth-rolling. Rear rack, fenders, and a kickstand are all included so you're ready to hit the pavement as soon as it arrives.
---
Pure Cycles – Coaster Bike
MSRP: $279
This is the most affordable and hassle-free bike in the Pure Cycles range. It's a single-speed steel fixie with no brakes, utilizing a simple coaster brake on the pedals so you just need to push back with your feet to stop. This keeps both costs and maintenance down as it has no cables, levers, or other moving parts.
The crankset has a 42T chainring connected to a fixed 16T rear cog with no flip-flop hub. For the wheels, you get Pure Cycles own 25mm alloy rims wrapped in 700x32C lightweight Freedom Wedge tires. Comes in three sizes.
---
Parts & Accessories
Pure Cycles sells a range of cyclist accessories from lights, racks, and fenders to clothing and saddlebags. The majority of parts and components are aimed at simplicity and style rather than tough and long-wearing. They are perfect for mild city cycling and will add a bit of flair and functionality to your bike.
Get an urban front rack for $49 or a large rear rack for $59. An adjustable rear pannier rack is $35 and a simple front basket $23. Simple clip-on lights are $9 with a bright Pure Cycles headlamp costing $36.
In the parts shop, you'll find all the extra bits and pieces you need for repairs or replacement, including Thickslick tires ($28), nylon pedals ($16), handlebars ($18), tubes ($10), and saddles (from $10). You can even pick up an original Pure Cycles fixed gear for only $99.
---
Pure Fix Cycles Size Chart
Frame – Height Range
Micro – 4'3″ – 4'7″
XS – 4'8″ – 5'1″
S – 5'2″ – 5'6″
M – 5'7″ – 5'11"
L – 6′ – 6'3″
XL – 6'3″ – 6'5″
XXL – 6'5″ +
---
Pure Cycles Dealers
There are several Pure Cycles premium dealers spread across the wider LA area, with a few in Santa Monica and Burbank plus one in Manhattan Beach. Their bikes are also available at several chain stores across LA, including Bike Attack, Incycle, Jax Bicycles, and REI.
You'll also find Pure Cycles products for sale at independent bicycle retailers like Willy's in Sylmar, Around the Cycle in Pasadena, Helen's in Marina Del Ray, Bikecology in Torrance, and the Bicycle Whisperer in Venice Beach.
Online, you'll find Pure Cycles products for sale at REI retailers and Amazon.