Jamis Bicycles started life in 1979 in Tallahassee, Florida, when founder Ron Jamis released his revolutionary 'Earth Cruiser', one of the first beach cruiser bikes. At the time, Jamis was using East Coast Cycles as its distributor and went on to release several more cruiser and MTB bikes throughout the '80s, including the Boss Cruiser, Boss Explorer, Dakota, Lightfoot, and Roughneck.
Towards the end of the '80s, Jamis began producing its first road bikes, the Eclipse and Quest, followed by comfortable hybrid-style bikes like the Coda and Tangier  In the '90s it branched out into the competitive MTB market, producing both hardtail and full-suspension bikes with modern shocks and top quality drivetrains.
Acquisition
Around this time, Jamis Bicycles was acquired by the long-established US bicycle manufacturer G. Joannou Cycle Co and began building its bikes on a larger scale in Taiwan and China. Modern MTBs like the hardtail Dragon, released in 1993, catapulted Jamis to fame. It featured fillet-welded Tange Prestige tubing with RockShox suspension and a 24-speed Shimano XTR drivetrain.,
Founded in 1979 with a bike called the 'Earth Cruiser'
First Bike – the 'Boss Cruiser' 1981
Over the following years, several full-suspension bikes like the Dakar and Diablo helped solidify Jamis' place in the professional MTB scene. The Diablo was the first MTB with a vacuum-resin-transferred-molded carbon fiber monocoque frame, securing it a nomination for Bicycling Magazine's Editor's Choice award. Later, in the early 2000s, the Dakar Comp and Dakar XLT won Mountain Biking magazine's Bike of the Year and Best All Mountain Bike awards respectively.
Since the late 2000s, Jamis has released several full carbon road and MTB bikes, including its record-breaking Zenith T-series time trial bike. It was one of the first companies to begin using the rare 650B wheel size way back in 2010, long before it became a standard feature in mountain biking.
Jamis Bicycles Expertise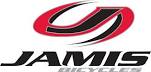 Most Jamis riders simply want something that turns their day into an adventure riding experience. This comes as no surprise because it is believed that riding mountain bikes through rough terrains is one of the most difficult experiences for any rider.
The company received various awards for the best value full suspension bikes by a famous bike magazine between the years; 2001 and 2005.
Jamis Bikes Company thrives on producing the highest quality parts and other cycling accessories. It has continued to produce road, mountain, single-speed, and triathlon bikes.
Their technical experts also offer seasonal tune-ups and repair services to guarantee top performance. An increase in prices has been caused by a scarcity of resources. All the same, people still can't get enough of these state-of-art gadgets.
Jamis Bicycles Products
---
Full Suspension MTBs
Jamis' proprietary suspension technology, 3VO, is used on its high-end full suspension bikes to provide optimization on three variables: instant center, axle path, and leverage ratio.
It's used on two bike models, the 29" Portal with 130mm of travel and the 27.5" Hardline with 160mm of travel. Both bikes are available in full carbon or aluminum frames, with prices ranging from $3,200 to $8,500.
On its aluminum mid-range and introductory trail bikes, Jamis uses its older but still award-winning MP2 suspension technology. Bikes with MP2 suspension include the Faultline A1 and A2 for $2,400 and $1,900 respectively, and the $1,700 Dakar.
Hardtails
Jamis' hardtail trail bike range includes three 29" bikes, the Reynolds steel-framed Dragon with SLX drivetrain and Fox 34 fork, and the aluminum Komodo and Highpoint, both with a RockShox fork and Deore drivetrain.
On the higher end, you get the 29" Dakota and 27.5" Nemesis XC hardtails, with carbon frames, SRAM XX1 Eagle drivetrains, and Fox 32 Float forks with 100mm travel. On the lower-end, Jamis sells three affordable aluminum hardtails, the Durango, Trail X/Helix, and Divide.
Road Bikes
The Ventura is Jamis' flagship road bike, with two aluminum options and a women's specific version. The top-range A1 at $1,200 features a carbon composite fork with Shimano Sora gears, Alex rims, and Tektro mechanical disc brakes.
They also sell a gravel-specific road bike, the Renegade, ideal for off-road riding, commuting, or bikepacking. It comes in carbon, steel, and aluminum versions with prices ranging from $1,000 to $3,700.
Hybrid and Recreational
Jamis sells several hybrid bikes for urban riding, fitness, and fixed-gear riding. These include the comfortable Coda and Sequel commuters, the steel-framed Beatnik fixie, and the fun aluminum Allegro bikes. 
It also sticks to its roots, with several traditional recreational bikes available, including the Hudson, Explorer, and Jamis Cruiser series. These simple, low-cost bikes are perfect for weekend rides and trips around town.