The brand Ghost Bikes is no longer a ghost in the cycling world. This German-based bicycle company has been massively popular in Europe for several decades but has only recently started conquering the rest of the world, including the USA.
Ghost had humble beginnings, but it quickly rose through the ranks and is now shoulder to shoulder with some of the most popular manufacturers in the world.
Their main selling point is the value you get for the money, which not many other companies can match.
In case you still do not know much about them, we're here to help you out. This brand overview is intended to tell you all you need to know about Ghost bikes and their rich assortment of:
Mountain
Hybrid
Road
Kids'
Electric
This is a longish overview, but don't ghost us just yet, you're going to enjoy it!
Ghost Bikes: The Humble Beginnings
Ghost has been around for almost three decades, since 1993. The company started as a small project after Uwe Kalliwoda and Klaus Möhwald came together to share ideas and address some shortcomings the industry had at the time. The first bike they made in their garage in a small German town was called LECTOR. This was a lightweight and stylish hardtail bike, considered to be a game-changer at the time.
The LECTOR achieved great success in many European countries and provided a strong basis for Uwe and Klaus to continue making quality and groundbreaking bikes.
Ghost Bikes Today
Ghost bikes have come a long way from their humble beginnings in 1993. Today, they are a recognizable and reputable brand, cherished by tens of thousands of cyclists around the world.
Their bikes can be often seen conquering roads, trails, and lanes around the world, and their flagship models frequently win high-profile races.
Ghost sponsors and equips some of the most successful riders in the cycling world, such as Anne Terpstra, Lisa Pasteiner, and Sina Frei. The Ghost Factory Racing Team regularly wins podium positions in Word Cup XC races.
Ghost also has a strong impact on the cycling industry as a whole by frequently improving their technologies, solving cycling problems, and raising the bar when it comes to cycling standards.
Ghost Bike Models
As we have mentioned before, Ghost makes a lot of different types of bikes. All the bicycles they make are organized into Fully, Hardtail, Lanes/Road, Kids, and E-Bikes sections. At the moment, they make almost 40 different models, each with its own distinct features.
When it comes to prices, Ghost mostly makes mid-range bikes intended for cycling enthusiasts and fitness riders. However, that does not mean that other classes of cyclists won't be happy with the choice.
They also offer a decent selection of entry-level and high-end carbon bikes. Therefore, everyone should be able to find something that fits their needs, riding style, and most importantly—their pocket!
Let's take a look at some of their best-selling models and the ones we love the most. These include Kato & Kato X, Lanao, Square Cross, as well as their Kids Bikes and Electric Bikes. 
Ghost Mountain Bikes
Ghost Kato & Kato X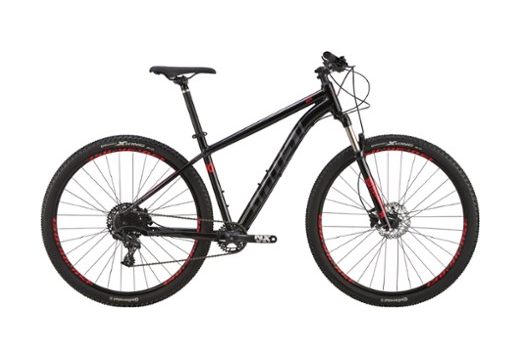 Related: Ghost Kato 5.9 vs Kato FS 2.7
Aluminum frame
Hardtail models
Beginner/recreational
Different wheel sizes
Balanced geometry
Shimano and SRAM components

Kato and Kato X are two best-selling aluminum hardtail mountain bikes made by Ghost. They are perfect all-around models that you can use to ride around your area and explore beautiful fire roads and single-tracks. At the moment, the Kato line-up has 10 models, whereas the Kato X line-up offers two models.
Kato is a bit more basic and more affordable than Kato X, but both are quality bikes made with durable and reliable materials and well-known Shimano and SRAM components that will meet all of your needs. All of the models in these two line-ups come with disc brakes, so they are ready to hit the trails.
To whom: Ghost Kato and Kato X are ideal bikes for riders who are either buying their first mountain bike or want to switch to a slightly more advanced model.
---
Ghost Lanao
Women-specific geometry and specs
Hardtail & Full-suspension
Beginner model
Different wheel sizes
A wide range of groupsets
Disc brakes
Ghost Lanao is one of the best entry-level hardtail bikes for women produced by Ghost. There are 8 distinct models in this line, each slightly different than the last one and more suitable to a different type of rider.
All of these bikes have women-specific geometry and saddle, so they are built to fit a woman's body. They are also all rack carrier ready so you can fit them with bike bags for longer rides.
Lanao models come with Shimano components that range from Tourney to XT groupsets, which makes these bikes ideal for complete beginners and for slightly more experienced and ambitious riders.
To Whom: Ghost Lanao is the perfect first bicycle for female riders with little experience on mountain and forest roads. It's a great first trail, commute, or leisure-time bike.
---
Ghost Hybrid Bikes
Ghost Square Cross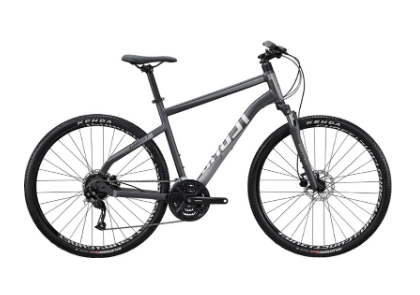 Related: Ghost Square Cross review
Aluminum frames
Front suspension
Off-road-ready tires
Stylish design
Everyday commuters
Disc brakes
SRAM and Shimano components
The Ghost Square Cross is a beautiful line-up of hybrid bikes capable of whichever test you plan to put them on. These are beginner and mid-range models perfect for anyone who wants to stay fit, lose weight, have fun, or commute from work to home and vice versa.
There are six models in this group of bikes, all of which have 28″ wheels, wide tires, and disc brakes. The components on these bikes range from Shimano Altus and Shimano XT and there are also two models with SRAM NX parts. These bikes are mudguard-ready as well, so you can ride them in all conditions.
To Whom: Ghost Square Cross is a line-up of hybrid bikes made for riders looking for a two-wheeler to commute, stay fit, have fun, and ride both on and off the beaten track.
---
Ghost Kids' Bikes
Ghost has not forgotten about the youngest and the most passionate riders among us. They make a wide range of kids bikes that are suitable for different ages, heights, and riding purposes.
All of the kids' models are split into two groups: XC Tour and XC Race. The XC Tour has a wide range of mountain bikes with wheel sizes that range between 12″ and 24″; however, the majority of models have either 20 or 24-inch wheels. The XC Race, at the moment, has just one hardtail model with 26″ wheels for older kids.
If your youngster still doesn't know how to ride a bike, you can teach them on one of Ghost's balance bikes or on one of the models with training wheels. Whatever bike you choose, the different colors, designs, and sizes will certainly make your child happy.
---
Ghost E-Bikes
The demand for e-bikes around the world is on the rise. More and more people are looking to buy them, no matter if they prefer mountain or road cycling. If you are one of those who recognize the benefits of going electric, Ghost has some treats for you that you should check out.
The E-Bikes section on the Ghost website has a collection of different types of electric bikes including full suspension, hardtail, and hybrid models. So, no matter what kind of riding you prefer, that won't stop you from adding some more juice to your rides.
These electric bicycles are powered by either the Shimano Steps 8000 or by Bosch Motors with high-capacity batteries that can go for some time. The line-ups include both aluminum and carbon models, with different quality groupsets, so you can find the perfect fit for your bike collection.
---
Ghost Hybride Square Trekking 5.8 Electric Bike
MSRP $3,700
Standard & Step-through frames
The Square Trekking 5.8 is a commuter e-bike and part of Ghost's Hybride electric bike line. It has a strong and rigid aluminum frame with 700x42c tires powered by a 500W Bosch Performance motor. For braking and pedal-assistance you get an 11-speed Shimano Deore drivetrain with Tektro hydraulic disc brakes.
For added comfort, the Square Trekking 5.8 has a front suspension and comes equipped with built-in lights, a kickstand, fender, and a luggage rack. This makes it the ideal out-of-the-box city commuter or recreational weekend touring bike that should last for years without needing any upgrades or add-ons.
---
GHOST Hybride SLAMR SX 3.7+ Electric Mountain Bike
MSRP $5,300
The Hybride SLAMR SX 3.7 is an electric MTB with full suspension and an aggressive downhill frame design. With both a steep seat tube angle and integrated dropper post you know this bike is tailor-made for easy climbs followed by sharp descents.
The powerful Shimano Steps 8000 engine will drag you up mountains with ease, while the RockShox Yari fork and Super Deluxe rear coil make downhill charging a smooth and (relatively) safe affair. For some added pedal-power you get a 12-speed SRAM NX Eagle groupset and Tektro disc brakes to catch those sharp, unexpected corners.
---
GHOST Hybride Square Trekking B1.8 AL Electric Bike
MSRP $2,900
This affordable commuter hybrid from Ghost is a great entry-level e-bike for those looking to make the move to electric cycling. The strong and feature-packed bike comes fully equipped with lights, fenders, kickstand, and a luggage rack. It's perfect for hassle-free shopping, visiting friends, or a relaxing cycle to work.
For nipping around town you get a Bosch mid-drive motor powered by a 500W integrated lithium-ion battery that will take you up to 30 miles on one charge. If it runs out, the 9-speed Shimano Altus drivetrain will get you home. The thick 42mm tires coupled with front suspension fork ensure a smooth ride, while the Tektro hydraulic disc brakes provide solid stopping power in any weather.
All The Cycling Gear You'll Ever Need
Apart from building all of the amazing bikes we have just drooled all over, Ghost also makes other cycling necessities.
Having a quality bike is a prerequisite to start cycling; however, it is not the only thing you'll need to do it if you want to do it safely and do it well.
When it comes to cycling gear, Ghost makes all sorts of cycling apparel, accessories, bike parts, and so on. Basically, you can equip yourself from head to toe with products with the label "Ghost" on them and hit the roads or the trails.
---
Apparel
Wearing quality apparel on your rides is important. It will help you feel more comfortable, make your riding easier, and make you more efficient. A new piece of cycling clothing can even be great for motivation when you struggle to find a reason to hit the road or the trails on a bad day.
Ghost makes all types of cycling-specific clothing as well as casual clothing. You can get whatever you need, including shirts, arm/leg warmers, wind jackets, vests, tights, jerseys, hoodies, and pants.
We love the colors and patterns, which there are many of, so you will have no problem matching your apparel with your Ghost bike. The collection includes both summer and autumn/spring clothes, with short and long sleeves.
---
Accessories
The old cycling rule says that you can never have too many cycling accessories. You can find lots of different types of accessories made by Ghost on their website, which will make your rides more comfortable and turn your bike into a more practical machine.
Some of the accessories found in this section include caps, beanies, mufflers, helmets, bike bags, backpacks, and more. They come in different colors and are made of quality materials, so they should last a decent time and look good as well.
---
Bike Parts
Last but not least, in case you are too rough on your Ghost bike and need any replacement parts, Ghost can provide them for you.
You can also visit this section if you wish to make any upgrades to your machine and make it more capable or more comfortable on the rides.
Ghost does not make too many bike parts, but there are some essentials that you can get, such as stems, saddles, seat posts, water bottle cages, water bottles, kickstands, handlebars, pedals, and some other things.
---
Ghost Events
If you're uncertain about Ghost bikes and still cannot decide whether they are the right choice for you, why not see them and test them in person?
Ghost is proud of their creations so they frequently boast with their bikes at important cycling events all over the World. They have a habit of taking their flagship bikes to bike parks and letting people ride them and test their numerous features.
Apart from having fun, testing the bikes, and perhaps buying one, you can also talk to Ghost employees about their creations and cycling in general. At the moment, they are doing this tour only in Europe, but hopefully, they will spread it to other continents as well.
---
Ghost Technologies
Ghost is not just a company that takes parts from other brands and put them together, sticking their logo on the finished product.
Their engineers and designers make frames and other bike parts themselves in-house. To date, they have pioneered numerous technologies and completely transformed the cycling industry with some of them.
Some of the technological solutions you can see on their bikes include composite bushing, DC brake mount, LC and UC carbon, 4-bar-linkage rear suspension system, forged yokes and dropouts, Ghost forks, and so much more.
That's just one of the reasons the athletes sponsored by Ghost regularly accomplish podium finishes on Ghost bikes.
Ghost has more than 300 employees who work hard to make every next bicycle that leaves the production line better than the previous one. That's why their two-wheelers have a good reputation among riders, as being strong and dependable machines.
---
Bike Wiki
Bike Wiki is Ghost's treasure trove of cycling knowledge. If you're not sure what kind of a bike you need, what all of the components and parts do, and which size you should get, definitely read through this section.
Choosing the right size is often the most difficult part of buying a new bike, so Ghost has done all it could to make the process easier for you. All you need to do is type your height in centimeters into the calculator and you'll get a recommendation of the size which you should get.
Here, you can also learn about the differences and main characteristics of different types of full suspension, hardtail, and road bikes. This can help you choose exactly which type of bike is most suitable for your needs and riding preferences.
Finally, you can also educate yourself about the different frame materials and wheel sizes. There are so many different ones that it is quite easy to get confused. Here, you can learn what each material and size is best for and make a confident decision in the end.
---
Warranty
When it comes to the warranty Ghost provides for their bikes, they fully comply with German and EU laws. The warranty on frames from 2017 on bikes from category 5 is three years. For frames on bikes from categories 0, 1, 2, 3, and 4, the warranty is 5 years.
However, paintwork, decorations, and additional frame components and bearings are excluded from the warranty as they are susceptible to wear and tear.
In case you are dissatisfied with your Ghost bike, you should address all your warranty claim to the retailer from whom you have bought your bike.
---
Where to Buy Ghost Bikes?
As you have learned by now, Ghost bikes are quite popular and thus easy to find no matter whether you live in Europe or in the US.
Here are some of the best, most reliable retailers where you can buy Ghost models:
REI
Chain Reaction Cycles
Wiggle
---
FAQ
Ghost bikes attract a lot of attention both on the Internet and on the trails. That's one of the reasons why we have decided to write about it.
The other reason is all of the questions we frequently get about this bike brand.
Let's answer some of the most common ones.
Are Ghost Bikes Good?
Yes, Ghost makes durable and reliable bikes using quality branded materials. Their bikes are characterized by a fantastic value to money ratio, which is what most riders like about them. So if you want to get a lot of value without spending much, get a Ghost bike.
Who Makes Ghost Bikes?
Ghost bikes are made by more than 300 employees working at the company headquarters in Germany. Ghost is one of the rare manufacturers that has not outsourced its production to China and other Asian countries, which is a big plus for many riders.
What are Ghost Bikes Made of?
Ghost bikes are made from high-quality materials, such as aluminum and carbon. When it comes to carbon, Ghost makes their bikes using either LC (lightweight carbon) or UC (ultra-lightweight carbon). If you're into competitive cycling and want to save as little weight as possible, get the UC variation.
Where are Ghost Bikes Made?
Ghost bikes are made in Europe, in the little town of Waldsassen located in Bavaria, Germany. This is where the comany's headquarters are located and where the whole Ghost story began a long time ago. Ghost is one of the rare brands that did not move its production to Asia.
Is Ghost a Good Bike Brand?
Yes, Ghost is a good bike brand. All of their bikes are built to last using high-quality materials and components. Ghost bikes are equipped with Shimano and SRAM groupsets which are known for their reliability. You may rest assured that your Ghost bike will last for years.