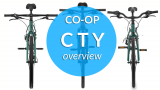 Online bicycle retailer REI has developed its own line of products under the brand name Co-op Cycles. Co-op bikes cover all genres of cycling from road ...
Co-op bikes are a perfect alternative to many well-known bike brands by having the same set-up at a way better price tag! The DRT series features a whole ...
Coronavirus has come as an unpleasant surprise to the entire planet. Governments around the world are still learning how to cope with the new situation and ...
Editor choice
The Niner Air 9 and Air 9 RDO are two of the most distinctive mountain bikes from Niner's collection. RATING: Great value! BEST FOR: Suitable for beginners, ...
Best value
Raleigh Merit 1 is proof that you can get a decent, aluminum road bike with quality Shimano components at a very affordable price. Of course, more money will ...
Best seller
Sixthreezero EVRYjourney is intended for casual riders who put comfort and fun ahead of speed. If your motivation for purchasing a bike is having a versatile ...
Editor choice
Tommaso Monza (MSRP $1040) is the perfect choice for a rider who wants to spend around $1,000 on a road bike and expect fantastic value for recreational and ...
Editor choice
Cannondale Trail 7 is an all-around capable hardtail bike aimed toward entry-level riders who enjoy cycling recreationally and going off the beaten track from ...
Best value
Tommaso Forcella is one of those bikes that offer a lot but asks for little. This Italian-designed road bike has a fantastic ratio between value and money. It ...
Best seller
Tommaso Imola is an elegant entry-level road bike beauty built for cycling enthusiasts and recreational weekend riders. It's perfect for those who are looking ...
Sorry. Author have no deals yet
Browsing All Comments By:

Sam Millers