Cycling with Kids – A Beginner's Guide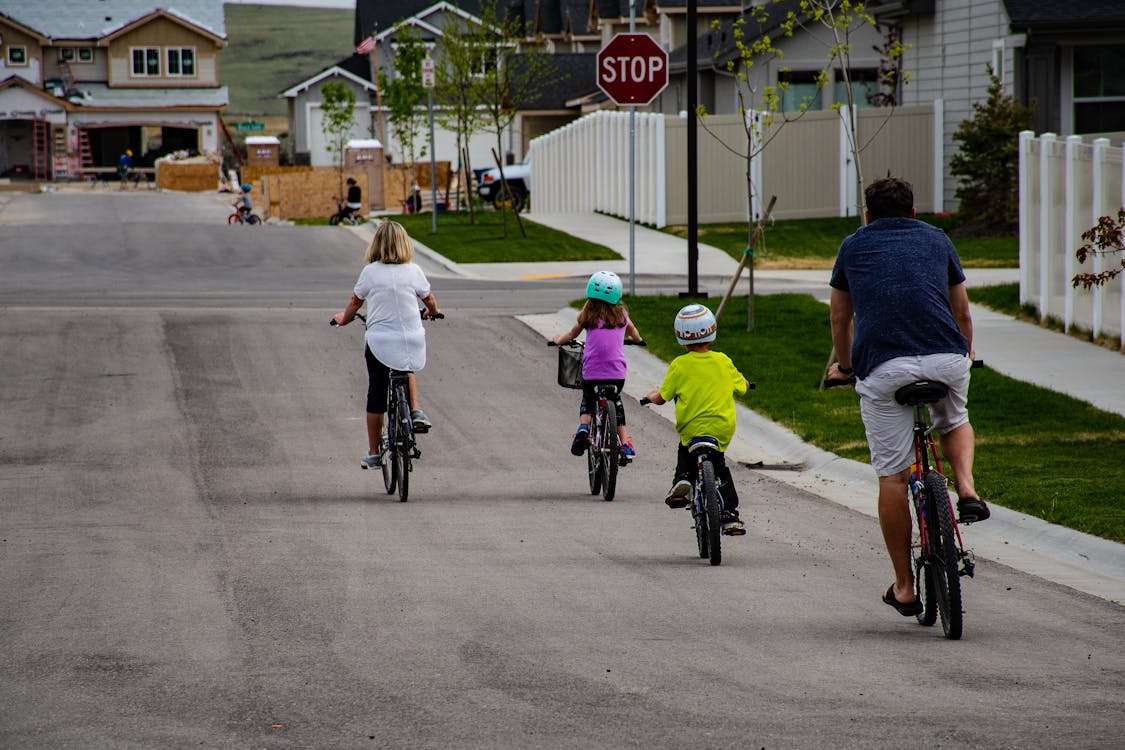 Cycling with children is a great activity for both kids and parents. It allows you to participate in the activity you love while getting your favorite little people involved at the same time.
When done correctly, riding with kids is safe and enjoyable. In order to best prepare for cycling with your child, we've put together this guide with some quick tips for success.
When your child reaches about 12 months of age, you can begin exploring the world by bike. Most child bike seats are suitable for children of 1-4 years with a maximum weight of 50lbs.
Once your kid reaches the age of 4 or 5 you can begin teaching them to ride with an assisted bike or on an autonomous kids' bike.
Before setting off, you must ensure you have the appropriate gear for your child, supplies for the trip, and know a suitable route to ride. In this article, we explore the various options for biking with kids. We also cover the gear you will need, safety tips, and how to keep your kids entertained along the way.
---
Table of Contents
1. Ride Expectations & Entertainment
2. Kids Cycling Gear
3. Pre-ride Checklist
4. Cycling With Your Kids
5. Where to Ride & Safety Tips
---
1

. Ride Expectations & Entertainment
---
Expect a Different Ride Than You're Used to
Most cyclists are accustomed to riding alone or with friends, enjoying the pace and route they get to set themselves.
Riding with kids is a completely different experience, so don't expect it to be the same as your normal rides. Expect to ride at a slower pace, and include more stops along the way. You are also responsible for providing an engaging and fun experience for your child.
Do all of this, and you will see that cycling with your kids is one of the most rewarding ways to spend time together.
How to Keep Your Kids Entertained
Providing an engaging ride can be easy or a little tricky depending on the type of gear you have.
For example, front-mounted child bike seats are perfect for entertaining your tiny passenger. Using this type of seat, the child is upfront and involved with the ride. They can hear everything you say and see everything happening ahead.
A kids' bike trailer is another great way to bring your children on an adventure. However, this mode requires some more preparation because the child is not as involved with the ride, and it is more difficult to talk to the child back in the trailer.
For kids' bike trailers, we advise taking along a toy, a snack, a sippy cup, or a blanket to help keep them entertained. You can also point to different things along the way to get them interested in the journey.
A good way to keep kids entertained is to talk to them. This can be done easily with a front-mounted seat as we mention above. Although, for rear rack bike seats and trailers, try to find a path or trail that isn't noisy so you can both hear each other.
Additionally, if the destination you choose is fun for your kid, such as the playground, park, or a favorite restaurant, it will be easier to keep them engaged and excited for the ride.
---
2

. Get the Right Kids' Gear
---
It's important to have the right gear to make sure every ride is safe, fun, and comfortable for you and your kid(s). Let's take a look at the different gear and when you need it.
Helmet
The most important safety equipment for you and your kids whenever you get on the bike, as a rider or a passenger. It's helpful to get young children in the habit of wearing their helmets from their first ride, and it is also the law in most states.
Visit your local bike shop with your kid to test out their child helmets. Choose one that fits comfortably and tight enough that it doesn't slide around. A loose, poorly fitting helmet will not protect your child's head properly.
You can check US bike safety standards here to ensure the helmet you choose is approved.
Pads & Gloves
When your child begins riding alone they will, without doubt, fall over repeatedly during the process of learning balance and technique. This isn't much of an issue if they ride in the right places, but you can avoid lots of bumps and grazes with a good set of elbow and knee pads, along with some padded gloves.
Clothes & Sunblock
Children are very sensitive to the elements, and riding in the heat or on cooler days requires extra preparation.
Always apply sunblock before heading out for a ride from spring to fall, even on cloudy days. For children who aren't riding, dress them in an extra layer, such as a long-sleeve shirt, and a sun cap.
On winter days, ensure children have plenty of layers on to keep them toasty. As any cyclist knows, cold wind while riding can be extremely uncomfortable, and even worse if you're not generating any heat from riding.
---
3

. Pre-Ride Checklist – What to Do Before Setting Off
---
Laws – Know the bike and traffic laws in your local area, including the essential gear such as helmets and lights
Bike Check – Always check your bike and your children's bicycles before you head out on your ride. Ensure the ABC's (air, brakes, chain) are in good working order
Gear Check – Make sure your child's helmet and safety gear are worn properly. For the helmet, ensure the forehead is covered and straps fastened snugly but not too tight. Check you have your biking essentials for emergencies and repairs
Route Plan – Plan your route to avoid busy roads and periods of high traffic. Also, make use of trails and multi-use pathways wherever possible
Supplies – Pack enough snacks and water for you and your kid(s), as well as some supplies to keep your child entertained if necessary
---
4

. Cycling With Your Kids
---
Cycling with children has a couple of distinct progressions that we'll discuss as three stages.
Before you start each stage with your child, make sure that they are developmentally ready with enough strength and understanding to be comfortable and safe.
Let's take a look at the first of the three stages: children as passengers.
Children as Passengers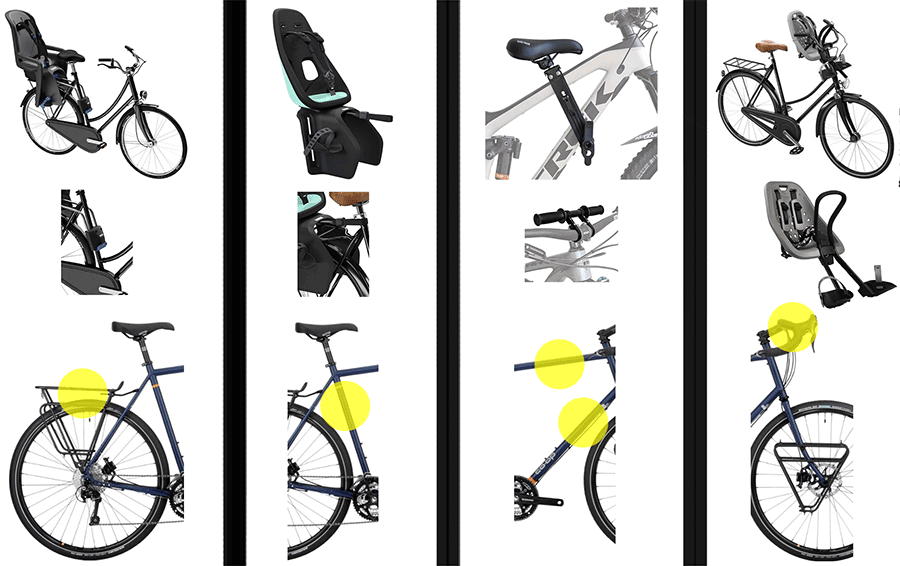 From the age of about 12 months, children are ready to join their parents on biking adventures. This can last for up to five years for some kids until they turn six (or reach roughly 50lbs in weight).
There are three common ways to do this:
Bike seats
Kids' trailers
Cargo bikes (front or back-loaded)
With any of these options, always make sure that the model is compatible with your bike before purchasing. It's also important to note that no single method is better than the next, it simply comes down to you and your child's preferences, budget, and your bike's compatibility.
Kids' Bike Seats
Children's bike seats are the most popular way to bring kids on a ride, as long as they can sit and support themselves and their heads. The mount type, features, weight, capacity, and price vary hugely among brands and models. The three types of bike seats are rear, frame, or handlebar-mounted.
Prices range anywhere from $30 to $300 and the weight capacity of these seats is between 33 to 50lbs.
Cycling with a child bike seat requires some practice to get used to. There are big differences in balancing and steering, as well as getting on and off the bike with a child on board. A kickstand can be a very helpful addition to your bike if you plan on using a kids' bike seat.
The Different Options
Rear-mounted – These models are generally fixed to the seat post with a special mounting bracket or to a rear pannier rack. These are popular because they are the easiest to use and are compatible with most bikes.
You can attach and remove pannier-mounted seats quickly and easily, making them a convenient option for parents with a rack already installed.
Frame-mounted – This type of seat is useful because you can install it on most adult bikes as they require minimal attachments. Frame-mounted seats can also support kids weighing up to 60lbs which is slightly more than the rear-mounted alternative while being both lighter and cheaper.
This type of seat ensures an engaging and exciting experience for parent and child as you can have a clear conversation due to the seat's positioning in front of you. One downside is the child is more exposed to the wind if you are cycling in cold weather, and they will be more exposed in the event of a sudden stop. Check out the Shotgun bike seat as an example.
Handlebar-mounted – Front-mounted handlebar seats are best suited to younger kids between 12 months to 3 years. This type of seat also provides an interactive and engaging ride, while maintaining the comfort that is sacrificed in front frame-mounted seats (mountain bike kids' seats).
It is generally easier to ride with a handlebar-mounted seat as balancing is not as difficult. Again, the disadvantage is children feel more of the wind and might be more exposed if you brake hard (although, some models include a windshield bike attachment). Handlebar-mounted child bike seats are also more limited in their attachment compatibility.
Kids' Bike Trailers
Kids' bike trailers are another excellent tool to involve kids in bike rides in a comfortable and safe way. Bike trailers are, on average, much more expensive than bike seats, but they do offer a unique experience and functionality that bike seats lack.
Child bike trailers are super stable, meaning they require less balancing while riding and will not tip over when you stop. They also keep children safer than bike seats as they are strapped into a separate unit in case of sudden braking or a crash, and are covered by rain/bug covers that come installed with most trailers.
Another great benefit is that you can take two children along as most trailers are for two kids with weight capacities between 80 to 100lbs. This extra carrying capacity allows you to take some extra cargo (snacks, diapers, toys) in the convenient pockets included in most models.
Although good-quality bike trailers (like Burley trailers) help keep children safe and happy, they do require more planning in some cases as they are larger and harder to store upon arrival at your destination (most fold flat for storage, but are still bulky).
Additionally, your child may become bored due to being far away from you and disengaged from the riding experience itself. Finally, all the extra weight makes it more difficult to ride up any sort of gradient or against the wind.
Cargo Bikes
Cargo bikes are another great and lesser-known way to tote your young kids around town while running errands or on an adventure with you. You can also use them for transporting regular cargo like groceries, as well as your kids.
The two common types of cargo bikes for kids include front-loaded and back-loaded (long-tail). Front-loaded models have a bucket-style container between the front wheel and the handlebars. Meanwhile, long-tail models use a built-in elongated rack that runs over the back wheel.
Electric cargo bikes are especially effective to assist you with carrying heavy loads of up to 550lbs (rider and cargo combined).
These bikes are great for creating an engaging experience for your kids, also allowing you to carry two children at a time. They are highly customizable too, allowing attachment of pannier bags, safety handrails, or rain covers/screens for front-loaded versions.
The downside of this style of bike is you cannot remove the cargo hold to have your bike for a normal leisure ride as you can with trailers and bike seats. Additionally, you must be careful to cover any areas where your kids' clothes or hands may get caught while riding.
---
Assisted Riding
Once your kids reach about 2 years of age, they can slowly begin their journey of learning how to cycle. To do this, there are three options that can be used independently or as a learning progression.
Balance Bikes
A kids' balance bike is essentially a bike without pedals or a drivetrain made roughly for kids two to five years old.
This type of bike is aimed at helping kids get used to the feeling of being on a bike, steering, and finding the balance needed to ride on their own.
While on a balance bike, children use their feet to move forward and brake when necessary. For this reason, they are only suitable for very short rides.
Once your child becomes confident on a balance bike, making the transition to a regular kids' bike will be much easier, and may eliminate the need for training wheels completely.
Training Wheels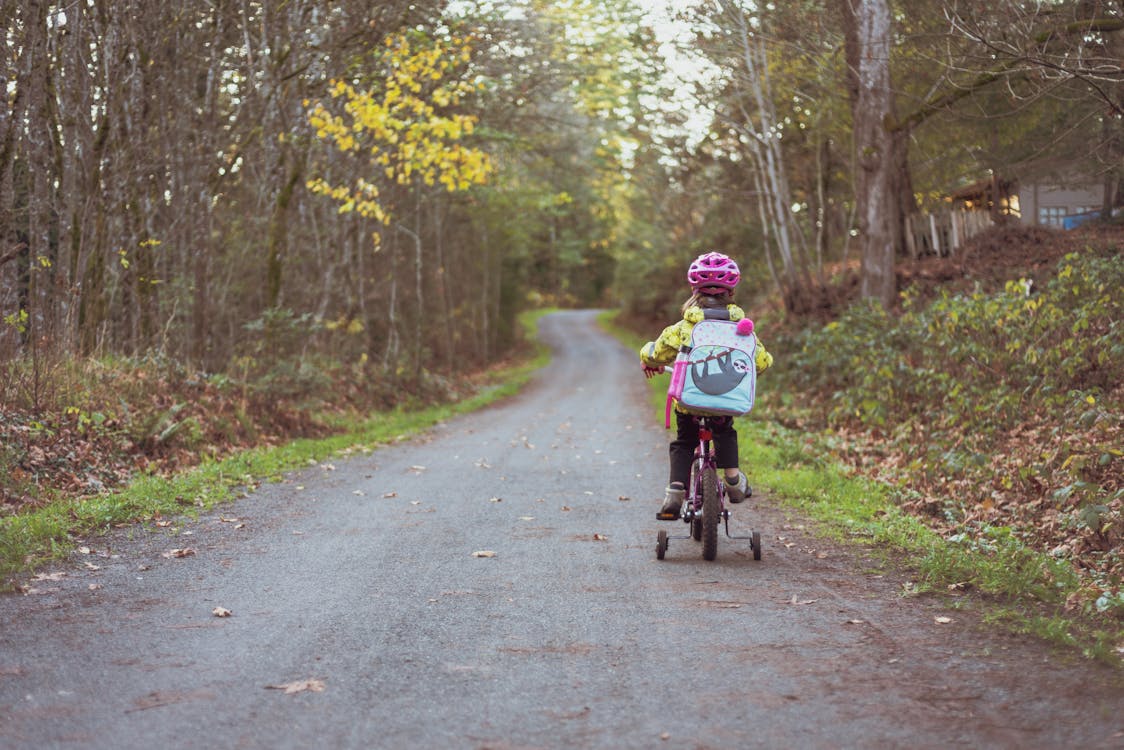 Stabilizing wheels are a great way to give your child (ages 3-5) the confidence to begin cycling by themselves, using a simple attachment that you can remove when they are ready to go solo.
Some kids' bicycles come with training wheels pre-installed, which can also be removed when they're ready.
Tagalong Bikes
Tagalong (trailer) bikes are another great way to get your kid cycling before they are ready to go alone, or who can cycle but can't keep up on longer rides.
Tagalongs work best for slightly older kids ages 4+. They function by connecting to your bike's seat post or stem with a clamp. The child is towed along smoothly on half a bike with non-steering handlebars and pedals that they can use to contribute to the ride.
You can also find towing arm attachments that work in the same way, however, allowing you to tow your kid's regular bike, lifting the front wheel, and towing it along that way.
---
Riding by Themselves
Once your child is ready and able to ride alone (around the age of five), it is time to get them their own kids' bicycle.
The independence of cycling alone is exhilarating for kids. It is also an excellent way to exercise from a young age and allows parents and children to bond by enjoying the activity together.
Buying The Perfect Bike for Your Child
Many parents make the mistake of purchasing a bike that their child will grow into eventually in order to save money. This is a mistake. A poor fit can negatively affect your child's experience, can be unsafe to ride, and potentially cause injuries.
Kids' bikes come in four different measurements (14", 16", 20", 24"), by wheel size instead of frame size. While the bike sizes overlap, 14" and 16" bikes are best for kids ages five to seven. 20" suit kids age five to ten, and 24" for kids eight and over.
The right size will depend on your child's height of course. You also want them to sit on the saddle and be able to touch a foot on the ground still.
When starting out at four or five years old, a single-speed bike will be adequate for most kids. As they get older, you can change for a bike with more gear options.
Finally, to maximize the amount of time a child can use their bike, you can fit some kids' bicycles with spacers and longer stems.
---
5

. Where to Ride & Safety Tips
---
While your kids are passengers with you, it is best to ride during periods of low traffic, and on quieter roads.
Ideally, you can ride mostly on trails and multi-use pathways where there is minimal noise, allowing you to engage with your child better. However, if your area doesn't have a good cycling infrastructure, it's best to stick to residential streets.
When teaching your child to ride, quiet bike paths, parks, and driveways are great places to learn.
Once riding independently, it's best to stick to non-motorized routes for the first few years where possible. Young kids will not be fully in control of their speed or bikes starting out and are also unable to judge the movement of other traffic properly.
When riding with them, it's best to ride out front on roads and busier trails to lead the way. On quiet trails and bike lanes, it should be safe for them to set the pace out front.
---
Conclusion
A bike ride is one of the most rewarding things a cyclist parent can do with their little one. Not only that, it introduces them to a healthy and fun activity which they can do for the rest of their life should they want to.
When your child begins to join you as a passenger, get the right gear and the best type of seat for you and your kid.
Once they begin to learn how to cycle, make sure they have a helmet, gloves, and pads to protect them from the inevitable falls, and always be patient and encouraging.
Finally, remember that it's your responsibility as a cyclist to show them the best of cycling, so just relax and enjoy the ride!