The most off-road capable and on-road comfortable road bike ever made! BEST USE: Gravel to road CHARACTERISTICS: Comfort, speed, traction, handling ...
Proponents of electric bikes, or eBikes, believe they represent the next logical evolution in green transport. eBikes solve the issue of fossil fuel usage and ...
Ghost Square Cross 1.8 is by far one of the best money-can-buy hybrids in its price range! Buying a new bike is a considerable investment both for your ...
No wonder the Co-op Bikes have been REI's best-selling bike brand lately - they simply produce the greatest value bikes for the whole family. Another favorable ...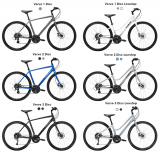 Trek's Verve range of hybrid bikes has received excellent reviews since its release. The majority of users say they offer excellent value for money, providing ...
The Cannondale Bad Boy 3 is an aggressive hybrid bike for extreme urban cycling. It's the kind of bike that tells drivers: "Stay out of my way!" If you're ...
Introducing the best women's bikes in 2020! Cycling has always been a growing trend for a good reason - It's easy and enjoyable while clearing your mind ...
MENU 1 0 1 Best Women's Step-Through Hybrids Best Women's Hybrids Best Women's Hybrid E-Bikes Among the wide variety of bikes to choose from, there is one ...
MSRP: $485 Top Features: Aluminum frame, 75 mm of travel, hydraulic disc brakes, 27.5"/29" wheels, trail-ready geometry Best for Beginners and light trail ...
Trek Marlin 5 is an entry-level trail bike perfectly suited for beginner riders and enthusiasts who need a dependable two-wheeler to hit the trails or ...
Sorry. Author have no deals yet
Browsing All Comments By:

Sam Millers