Trek's 27.5" Roscoe hardtail MTB range is aimed at recreational riders looking to hit the dirt track and have some weekend fun in the backcountry. The series ...
Salsa's Timberjack line of mid-range hardtail MTB trail bikes is aimed at intermediate trail riders and long-distance bikepackers. They all feature relaxed ...
Proponents of electric bikes, or eBikes, believe they represent the next logical evolution in green transport. eBikes solve the issue of fossil fuel usage and ...
Ghost Square Cross 1.8 is by far one of the best money-can-buy hybrids in its price range! Buying a new bike is a considerable investment both for your ...
No wonder the Co-op bikes have been REI's best-selling bike brand lately - they simply produce the greatest value bikes for the whole family. Another ...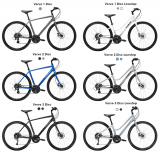 Trek's Verve range of hybrid bikes has received excellent reviews since its release. The majority of users say they offer excellent value for money, providing ...
Full Review -main features -full specs -sizing Bad Boy 2 vs Bad Boy 3 -2019 vs 2020 Bad Boy 3 upgrades Lefty Q/A The Cannondale Bad Boy 3 is ...
Introducing the best women's bikes in 2020! Cycling has always been a growing trend for a good reason - It's easy and enjoyable while clearing your mind ...
MENU 101 Best Women's Step-Through Hybrids Best Women's Hybrids Best Women's Hybrid E-Bikes Among the wide variety of bikes to choose from, there is one ...
Positives: Excellent bang for buck Powerful mechanical disc brakes Decent entry-level components Negatives: A bit heavy MSRP: $485.00 Top ...
Sorry. Author have no deals yet
Browsing All Comments By:

Sam Millers